[ESP/ENG] Impétigo, la popular "brasa" / Impetigo, the popular "hot coal"
---

---
 Un cordial saludo a toda la comunidad, un placer saludarles, por acá su servidor:
@galejandrovv
.

  Hoy les hablaré sobre una patología muy frecuente en la edad pediátrica: el impétigo.





 A cordial greeting to the entire community, a pleasure to greet you, here is your server: @galejandrovv.

  Today I will talk about a very common pathology in children: impetigo.





¿QUÉ ES EL IMPÉTIGO?
¿WHAT IS IMPETIGO?
---
 También conocido coloquialmente como "brasa", es una patología bacteriana y contagiosa de la piel, causada, principalmente, por estafilococos. Puede afectar a personas de cualquier edad, pero, es mucho más frecuente en niños, sobre todo cuando hay condiciones higiénicas deficientes y/o hacinamiento.
  Also known colloquially as "hot coal", it is a bacterial and contagious pathology of the skin, mainly caused by staphylococci. It can affect people of any age, but it is much more frequent in children, especially when there are poor hygienic conditions and/or overcrowding.



¿CÓMO SE TRANSMITE?
¿HOW IS IT TRANSMITTED?
---
  Las bacterias producen infección al penetrar la piel a través de lesiones casuadas por modeduras, picaduras, quemaduras, escabiosis, traumatismos.

  Se puede producir autoinfección durante el rascado, es decir, la persona se rasca las lesiones y luego se lleva las manos a otra parte del cuerpo, donde posteriormente se producen nuevas lesiones. También es posible la infección de persona a persona, sobre todo cuando hay contacto de una persona infectada con la piel lesionada de otra persona.
  Bacteria cause infection by penetrating the skin through injuries caused by bruises, bites, burns, scabies, trauma.


  Autoinfection can occur during scratching, that is, the person scratches the lesions and then moves their hands to another part of the body, where new lesions are subsequently produced. Person-to-person infection is also possible, especially when an infected person comes into contact with the broken skin of another person.





TIPOS DE IMPÉTIGO
TYPES OF IMPETIGO
---
  Existen 2 tipos, el ampolloso y el no ampolloso (costroso).
Ampolloso: es el menos frecuente y con menos transmisible; consiste en ampollas llenas de líquido claro, la cual se rompe con facilidad y dejan costras; afecta, principalmente, tronco y genitales.

No ampolloso: es el más frecuente y con mayor tasa de transmisibilidad; consiste en pápulas que luego se convierten en vesículas, de bordes eritematosos; éstas se rompen con facilidad, forman exudado y posteriormente dejan costras; afecta, principalmente, cara y extremidades.
  There are 2 types, bullous and non-bullous (crusty).
Bullous: is the least frequent and least communicable; consists of blisters filled with clear fluid, which break easily and leave crusts; It mainly affects the trunk and genitals.

Non-bullous: it is the most frequent and with the highest rate of transmissibility; consists of papules that later become vesicles, with erythematous edges; these break easily, form an exudate and later leave scabs; It mainly affects the face and extremities.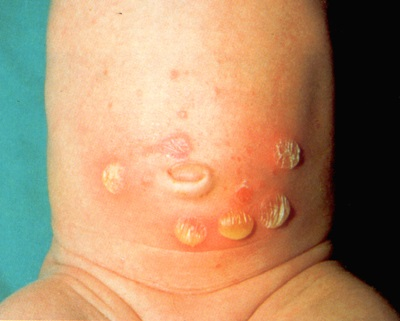 Fuente / Source Impétigo ampolloso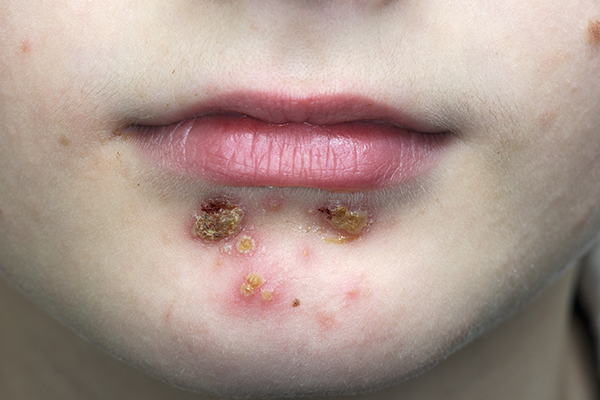 Fuente / Source Impétigo no ampolloso (costroso)

TRATAMIENTO
TREATMENT
---
 Consiste en tratamiento antibiótico, tanto tópico como sistémico. Se puede indicar cremas a base de mupirocina o bacitracina.

 El tratamiento sistémico dependerá de la gravedad y extensión de las lesiones, generalmente se indica tratamiento por vía oral a base de oxacilina, amoxicilina con ácido clávulanico, cefadroxilo o algún macrólido. Si las lesiones son graves y extensas, se debe iniciar tratamiento endovenoso a base de los antibióticos mencionados anteriormente.
  It consists of antibiotic treatment, both topical and systemic. Creams based on mupirocin or bacitracin may be indicated.

 Systemic treatment will depend on the severity and extent of the lesions. Oral treatment based on oxacillin, amoxicillin with clavulanic acid, cefadroxil or a macrolide is generally indicated. If the lesions are severe and extensive, intravenous treatment should be started based on the antibiotics mentioned above.




---
 Espero haya sido de tu agrado el contenido de éste post, agradezco su colaboración con comentarios, upvote's y repost. Hasta la próxima.
  I hope the content of this post has been to your liking, I appreciate your collaboration with comments, upvote's and repost. Until next time.


---


---

PRIMUM NON NOCERE

---
---