TerraUSD (UST) Is Coming to Cosmos Hub
About a month ago (how time flies!), I wrote a post about Cosmos Hub, Osmosis and specifically, how one could earn a much higher APR on their CRO tokens than on crypto.com. One month later, the APR is still strong for the CRO-OSMO pool, into the 3 digits area.
On the same post I remarked Cosmos Hub didn't have a stable coin, either native or on a blockchain interlinked with its ecosystem. Yet...
This morning I read a post about Terra ecosystem and its stable coin UST. Yes, it's UST (ticker of TerraUSD), not USDT, the stable coin of Tether.
While the author @revisesociology presented in its post options to use UST (and not only) in the Terra ecosystem itself, this seems like an ecosystem which understands the power of interoperability.
A year ago TerraUSD was announced as the interchain stablecoin.
Since then, UST has been bridged to Ethereum and Solana.
But they haven't stopped expanding. Next in line is Cosmos Hub. They already upgraded their blockchain to allow the interlink with Cosmos. All is needed is the approval of the stakeholders to be switched on and the interlink become effective. I suppose they already have a majority support for that or they wouldn't have bothered.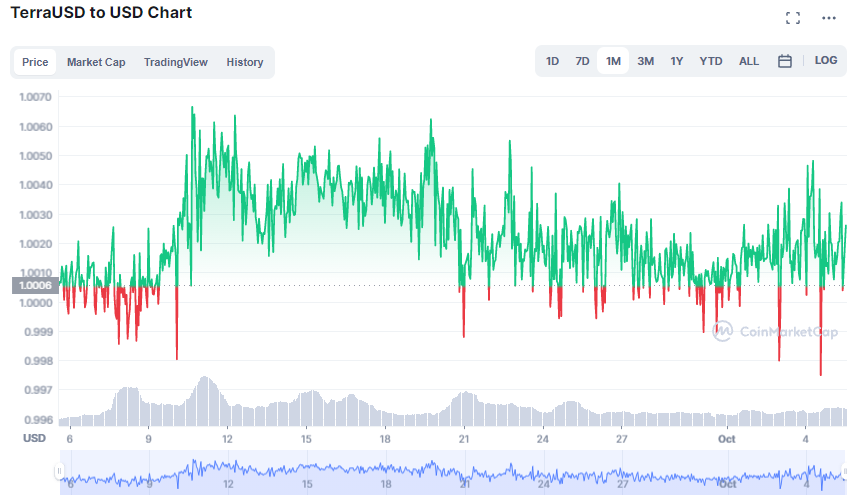 In about two weeks, we should probably have IBC transfers activated between Terra ecosystem and Cosmos Hub. And the first major stable coin on Cosmos (there is another one that I know of, less known - EEUR from e-Money).
This is a major move, especially for Cosmos Hub, which now has in its network a blockchain with a stable coin that has traction, but also for Terra, which gains access to almost 20 blockchains this way.
You can read more about it in this post from a few days ago.
UST is an algorithmic stablecoin. So is HBD. Maybe we can learn something from this. I wonder what Hive's cooperation with Telos is about...
Posted Using LeoFinance Beta
---
---