SPK Network May Be Closer Than We Imagine!
Few of us probably realize how lucky we are to be on Hive at this time. Sure, this luck could be the result of years of continuous struggles and uncertainties already. But we are here, now, that's what's important, ultimately.
Splinterlands showed us what's possible, and how quickly mass adoption comes, when it comes. And this is important for everyone on Hive, not only those who have Splinterlands assets and are involved with the game.
Right now, Splinterlands has taken over the majority of activity on Hive. If the numbers put out by @penguinpablo or @splinterlands are too abstract for you, take a look at this page and scroll down:
https://hiveblocks.com/
Here's a screenshot: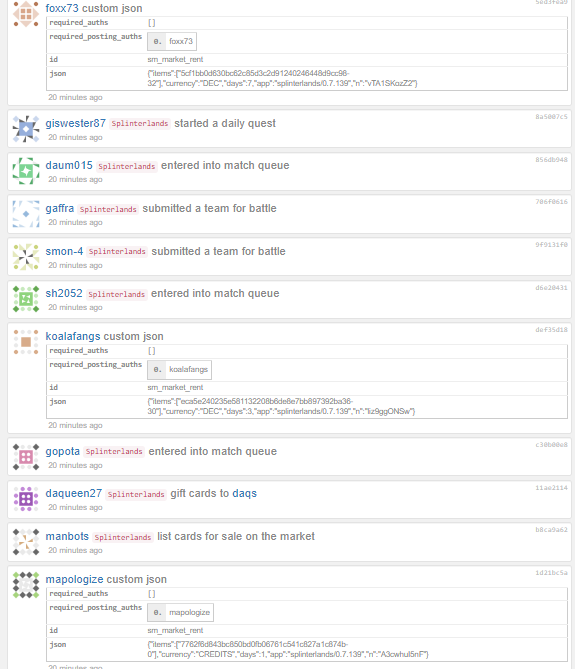 ALL transactions from the screenshot above are Splinterlands-related.
Tell me, how many non Splinterlands-related operations did you find at first glance? And that's a random moment in time.
But Splinterlands is only the first real breakthrough coming from the Hive ecosystem.
Hive's technology and community are put on the map through these trials the ecosystem goes through. The right people take notice (even when they don't say anything) and we all will benefit. Just because we are here now, doing our smaller or greater part in the early days. At some point, Hive will be too good and battle tested to stay on the sidelines.
I've listened to the Community Token Talk podcast with @theycallmedan and @starkerz this morning.
These guys and the team behind have taken a huge task creating the SPK Network the right way, and it will have ramifications in so many areas.
One new thing I learned while listening was about these SONs (Sidechain Operating Nodes) that run smart contracts and oracles on SPK Network, which can in fact be included by any blockchain which chooses to use them, and they can communicate with any other SON, regardless of the blockchain which includes it.
That means, if I understood this well, that using SONs it would be possible to interconnect any blockchains or a blockchain with its sidechains.
I wonder how this solution compares to what Cosmos proposes for interconnecting blockchains. I don't know enough of either to tell.
Another news the 3Speak guys brought us is that SPK Network might not be as far as we imagine, by taking in consideration the tasks that have been tackled.
They are very close to launching multiple testnets, for various components of SPK Network. Just by saying multiple testnets, we can realize how huge the project is. And these testnets might be ready as soon as next week. Or not. But they were hoping they'll be ready before the next podcast.
We are getting closer to having another huge project on Hive besides Splinterlands. We certainly need more than a successful and popular game, to become relevant as a blockchain.
I believe the release of SPK Network will be a major event in the early history of Hive.
Posted Using LeoFinance Beta
---
---