Did You Experience Issues Connecting to Matic Mainnet via Metamask? Here's the Solution.
For the past couple of days I was trying to check whether I received some small funds sent to Matic Network (i.e. my Metamask account).
The amount was very small, so I didn't bother very much, didn't check a blockchain explorer or something like that. All I wanted was to log into Metamask and see those funds there.
The process was simple and without headaches...
Try logging into Metamask on Matic Mainnet
Something went wrong
Try to login to a different network (BSC) and succeed.
Retry once more on Matic and fail again
Don't bother to investigate after continued failure to login
Retry next day
I could afford to go this way, since I have very few funds on Matic, and I wouldn't miss them terribly if I'd lose them completely.
By the third day I had realized the problem was more serious than what I imagined it would be - something related to Matic high congestion.
So, I started investigating.
Apparently, I was not the only one having this issue. The problem could be, although I didn't find out with a 100% certainty, that the RPC node is no longer functioning properly, or it's down entirely.
And the solution to this is to re-add the Matic Mainnet custom RPC to Metamask, with a different RPC. You may delete the previous connection once you see the new one works, but that's up to you. I deleted it.
Where did I find the new custom RPC details?
I used this website which appear to be the official source for Polygon devs. I thought they should have a working RPC there. And they did. Along with the process to add it to Metamask, if you forgot it.
Details are as follows, if you experienced issues with your current Matic Mainnet connection on Metamask, and want to try another:
Nework Name:
Polygon Mainnet
Chain ID:
137
Currency Symbol:
MATIC
Block Explorer URL:
https://polygonscan.com/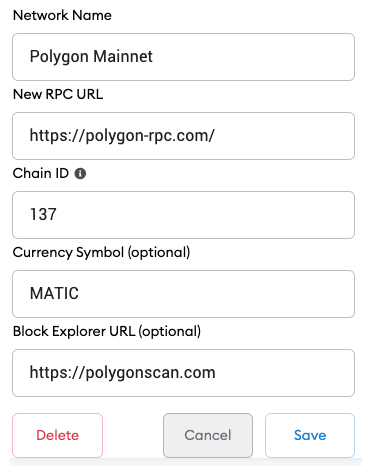 When assets with value are involved, losing access to them can be really scary. I also treated it as a lesson, to be careful where I go and how much skin/many assets am I willing to commit in unfamiliar environments. But in this case, nothing was lost and if it were, it would have been very little.
And here's another thing where Hive excels. Nodes go down on Hive too from time to time. Nowadays, the end users rarely know when something like that happens, because they are switched by the interfaces automatically. But even before - or if they wouldn't be switched automatically - you could almost immediately learn what's going on and what is the solution from the community.
Posted Using LeoFinance Beta
---
---