[ESP//ING] Reading challenge part 2 Day #1: A book based on a true story | Reto de lectura parte 2 Día #1: Un libro basado en una historia real.
💕Hola queridos lectores 💕
💕Hello dear readers 💕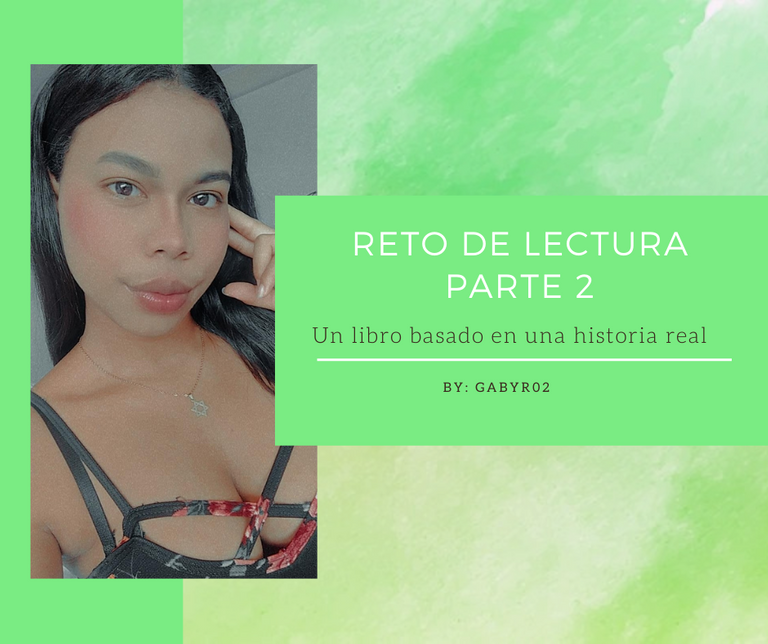 ---

Cómo ya saben hace poco culminé con la primera parte del reto de lectura, creado por la maravillosa @nathyortiz . Y obviamente al ver que también creó una segunda tarde, solo pude unirme y disfrutar nuevamente de este reto tan hermoso que nos permita hablar de libros que nos han marcado de una forma u otra. Así que aquí vamos, una historia basada en hechos reales, mi elección: It Ends With Us

As you know, I recently finished the first part of the reading challenge, created by the wonderful @nathyortiz. And obviously seeing that she also created a second afternoon, I could only join and enjoy again this beautiful challenge that allows us to talk about books that have marked us in one way or another. So here we go, a story based on true events, my choice: It Ends With Us.

SINOPSIS | SYNOPSIS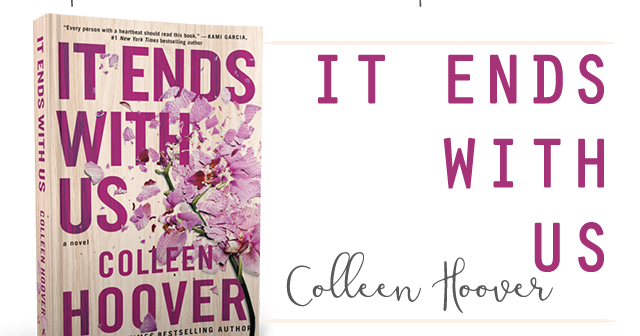 FUENTE
A veces, la persona a quien más amas es la que más te lastima. Lily no siempre lo ha tenido fácil, pero eso nunca la detuvo de esforzarse por la vida que ella quería. Ha recorrido un largo camino desde el pequeño pueblo de Maine donde creció: se graduó de la universidad, se mudó a Boston y comenzó su propio negocio. Así que, cuando siente una chispa con el hermoso neurocirujano llamado Ryle Kincaid, de repente todo en la vida de Lily parece casi demasiado bueno para ser verdad. Ryle es autoritario, terco, y tal vez incluso un poco arrogante. También es susceptible, brillante y tiene una debilidad por Lily. Pero la aversión total de Ryle hacia las relaciones es inquietante. En lo que las preguntas acerca de su nueva relación la desbordan, también lo hacen los pensamientos de Atlas Corrigan, su primer amor y una conexión al pasado que dejó detrás. Él fue su espíritu gemelo, su protector. Cuando Atlas aparece repentinamente, todo lo que Lily ha construido con Ryle se ve amenazado. Con esta novela audaz y profundamente personal, Colleen Hoover entrega una historia desgarradora que le abre un camino nuevo y emocionante como escritora. It Ends With Us es un cuento de amor inolvidable que conlleva un precio altísimo.
Sometimes, the person you love the most is the one who hurts you the most. Lily hasn't always had it easy, but that never stopped her from striving for the life she wanted. She's come a long way from the small Maine town where she grew up: graduating from college, moving to Boston, and starting her own business. So, when she feels a spark with the beautiful neurosurgeon named Ryle Kincaid, suddenly everything in Lily's life seems almost too good to be true. Ryle is overbearing, stubborn, and maybe even a little arrogant. He's also touchy, bright, and has a soft spot for Lily. But Ryle's total aversion to relationships is unsettling. As questions about her new relationship overwhelm her, so do thoughts of Atlas Corrigan, her first love and a connection to the past she left behind. He was her kindred spirit, her protector. When Atlas suddenly appears, everything Lily has built with Ryle is threatened. With this bold and deeply personal novel, Colleen Hoover delivers a heartbreaking story that opens up a new and exciting path for her as a writer. It Ends With Us is an unforgettable tale of love that comes with a steep price.

Descarga emocional | Emotional discharge

" Alerta este párrafo con spoilers" | "Alert this paragraph with spoilers"
Lo que golpea de It Ends With Us no es la historia, bueno no, la historia golpea un montón, sientes y entiendes todo, pero lo que sepulta tu corazón es la nota final de Colleen dónde cuenta como esta historia está basada en su vida familiar, en como su madre aguantó un sinfín de abusos por parte de su padre, ella fue parte de la estadística, de esos números... Pero logró vencer y salir adelante, gracias a Todo lo que es bueno en este mundo, esa mujer no murió a manos de quién amaba como muchas otras si lo han hecho. Siento que debería hacer este post sobre cómo no dejarte maltratar por nada ni por nadie, pero lastimosamente la línea que debo seguir es otra, así que voy a concluir esta idea diciendo: Vete, quien lo hizo una vez, volverá a hacerlo, y tú no tienes que esperar a que vuelva a suceder.
What hits in It Ends With Us is not the story, well no, the story hits a lot, you feel and understand everything, but what buries your heart is Colleen's final note where she tells how this story is based on her family life, how her mother endured endless abuse from her father, she was part of the statistics, of those numbers.... But she managed to overcome and get ahead, thanks to All that is good in this world, that woman did not die at the hands of the one she loved as many others have. I feel I should do this post about how not to let yourself be abused by anything or anyone, but unfortunately the line I have to follow is another one, so I will conclude this idea by saying: Go away, who did it once, will do it again, and you don't have to wait for it to happen again.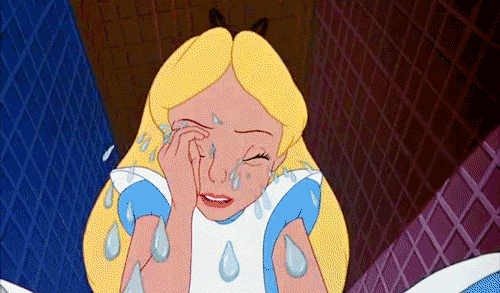 "Volvemos a territorio sin spoiler"| "We're back to spoiler-free territory."
Dicho esto, puedo centrarme en la historia, Lily y Ryle son una pareja bastante Interesante, Lily es dulce pero también independiente, no es todo lo que nos hacen creer los estereotipos, es una mujer que se preparó, que montó su propio negocio, que es fuerte y tiene bases sobre las cuales crecer, sinceramente no necesita esperar a que nadie la rescate o le arregle la vida, pero aún así conoce a Ryle y tiene una conexión perfecta con el, por lo que obviamente inician una relación, entonces ¿Qué podría salir mal? Ambos son ambiciosos, quieren crecer, académicamente están preparados y tienen que hacer y como hacerlo, ¿cierto? Nada debería salir mal... Pero la vida nunca es así.
En medio de todo el inicio de su relación aparece Atlas, el ex de Lily y quién hará temblar la confianza y terquedad de Ryle en si mismo y en su relación. Y de aquí en adelante vienen más problemas.
That said, I can focus on the story, Lily and Ryle are quite an Interesting couple, Lily is sweet but also independent, she is not all that stereotypes would have us believe, she is a woman who prepared herself, who set up her own business, who is strong and has foundations on which to grow, she honestly doesn't need to wait for anyone to rescue her or fix her life, but yet she meets Ryle and has a perfect connection with him, so obviously they start a relationship, so what could go wrong? They are both ambitious, they want to grow, academically they are prepared and they have what to do and how to do it, right? Nothing should go wrong... But life is never like that.
In the middle of all the beginning of their relationship appears Atlas, Lily's ex and who will shake Ryle's confidence and stubbornness in himself and in their relationship. And from here on out comes more trouble.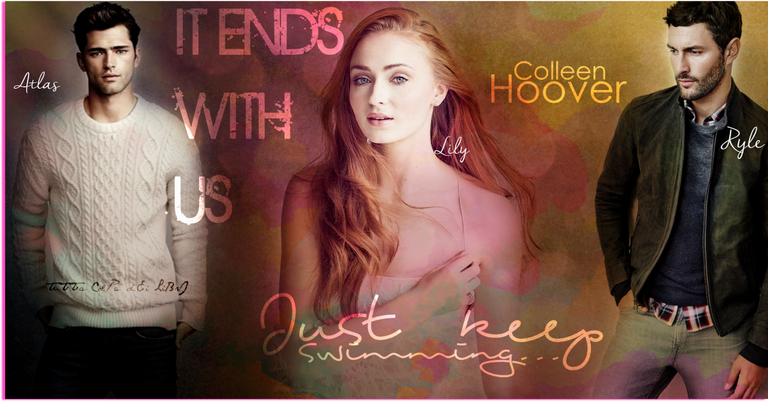 FUENTE

Collen Hoveer hace algo que en pocas novelas he vivido (y que en ella parece ser muy recurrente) y es hacernos enamorar del villano, del que comete las fallas más grandes. Siempre consigue la forma de volverlo más humano antes nuestros ojos, lo hace comprensible, aún cuando hagan cosas que no deberían ser comprendidas y aceptadas. En los libros siempre nos venden que debes esperar y ayudar a que una persona cambie, siempre vemos cómo los fuckboy, los chicos malos, las chicas desatadas cambian al enamorarse, dejan sus vicios, todo mejoran y son felices para siempre. Pero en la vida real no es así Nemo, en la vida real no pasan esas cosas, y nuestra autora en este libro rompió esos estigmas, a veces antes de enamorarte eras una persona ejemplar... A veces el amor hace sacar una parte de ti que no necesitabas conocer.
Collen Hoveer does something that in few novels I have experienced (and that seems to be very recurrent in her) and that is to make us fall in love with the villain, the one who commits the biggest faults. She always manages to make them more human in our eyes, she makes them understandable, even when they do things that should not be understood and accepted. In books we are always sold that you should wait and help a person to change, we always see how fuckboys, bad boys, unleashed girls change when they fall in love, leave their vices, everything gets better and they are happy forever. But in real life it's not like that Nemo, in real life those things don't happen, and our author in this book broke those stigmas, sometimes before falling in love you were an exemplary person.... Sometimes love brings out a part of you that you didn't need to know.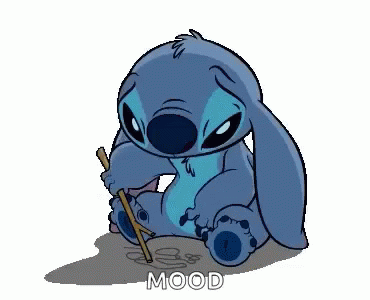 Este libro rompió con muchas creencias que yo tenía, por muy feo que suene, nunca comprendí porque una mujer que era golpeada (y tenía otras opciones) se mantenía ahí, siempre creí que ya era algo que no estaba bien dentro de ellas, pensar: "Mi cielo, te están pegando, ¿Que haces ahí todavía?", "No seas masoquista"... Pensar el "Yo ya mi hubiera ido" "No aguanto maltrato de nadie". Me di cuenta de cuántas mentiras puedes pensar solo leyendo un libro, no tuvo que pasarme para entender muchas cosas, aún quiero creer que no tendría ese tipo de "consideraciones", pero eso no quita que entiendo mucho más todo, y llega un punto dónde al leerlo te queda la interrogante más grande ¿Que hago? Porque Ryel de verdad no es una mala persona, tu lo ves, tu ves todo, y aunque a veces solo quieres sacar a Lily de ahí, también entiendes porque se queda.
This book broke with many beliefs that I had, as ugly as it sounds, I never understood why a woman who was beaten (and had other options) stayed there, I always believed that it was something that was not right within them, thinking: "Honey, they are beating you, what are you still doing there? Thinking "I would have left by now" "I can't stand mistreatment from anyone". I realized how many lies you can think just reading a book, it didn't have to happen to me to understand many things, I still want to believe that I wouldn't have that kind of "considerations", but that doesn't take away that I understand much more everything, and there comes a point where reading it you are left with the biggest question: What do I do? Because Ryel really isn't a bad person, you see it, you see everything, and even though sometimes you just want to get Lily out of there, you also understand why she stays.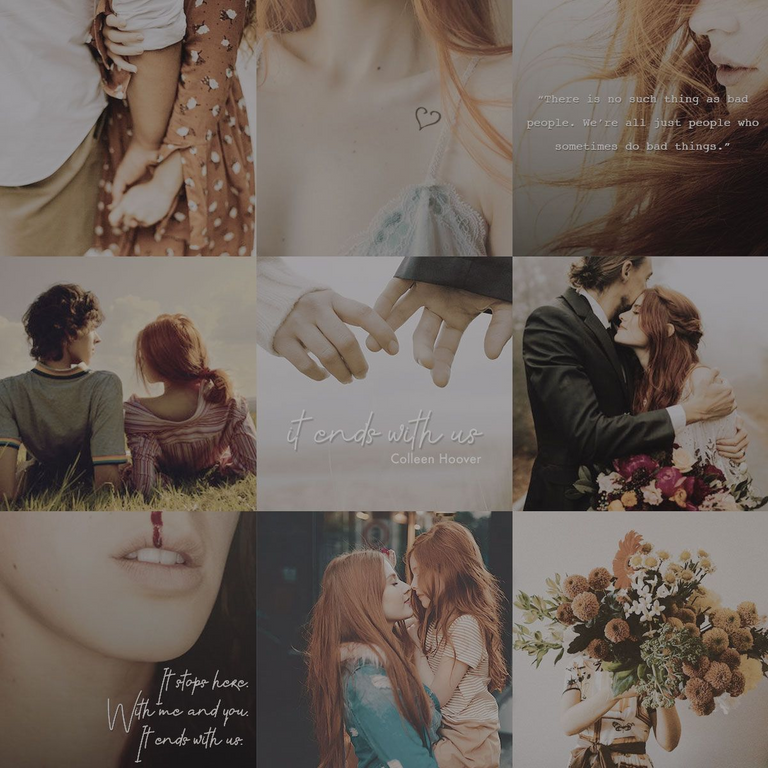 FUENTE

Mi resumen de todo esto es: A veces necesitamos un cambio de enfoque para tener una mejor perspectiva. Las personas no siempre son malas, solo toman malas decisiones. Deberías leer este libro para que puedes entender mejor mi reseña. Y de verdad intenté hacer una reseña sin hacer demasiados spoilers, así que lo siento si no quedo muy clara.
My summary of all this is: Sometimes we need a change of focus to get a better perspective. People are not always bad, they just make bad decisions. You should read this book so you can better understand my review. And I really tried to do a review without making too many spoilers, so I'm sorry if I'm not very clear.


Y bueno está fue mi participación en la segunda parte del reto de lectura, día #1. Espero que lo hayan disfrutado y que los haya incentivado a leer esta historia llena de verdades crudas y personajes con una historia interesante. Nuevamente gracias a @nathyortiz por crear está iniciativa, un pequeño espacio donde podemos hablar más sobre la lectura.
And well this was my participation in the second part of the reading challenge, day #1. I hope you enjoyed it and that it encouraged you to read this story full of raw truths and characters with an interesting story. Thanks again to @nathyortiz for creating this initiative, a small space where we can talk more about reading.
---
Invito a: | I invite:
@marijo0, @val.fancy, @jesus-elias05, @maria-alejandra


Gracias por leerme y hasta un próximo post
Thanks for reading and see you in a future post

Edición: Canva // Edition: Canva
Traducción: Deepl. // Traslation: Deepl.

Todos los gif usados en este post son propiedad de tenor y sacados de la opción de peakd.com
All gifs used in this post are property of tenor and taken from the peakd.com option.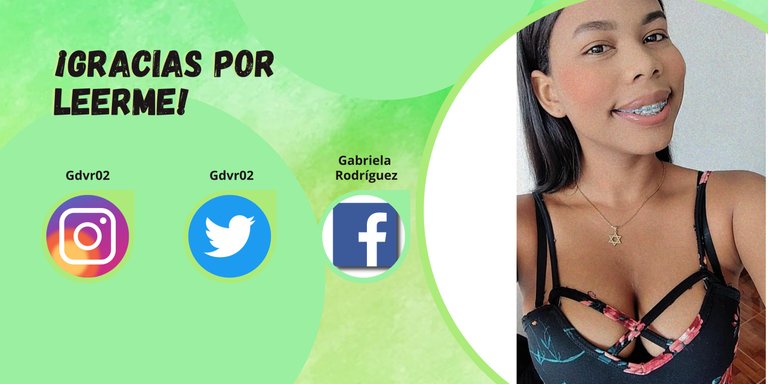 ---
---