[ESP//ING] Fall-inspired makeup: easy and beautiful 🍂| Maquillaje inspirado en otoño: fácil y hermoso 🍂
🍁Hola queridos hivers🍁
🍁Hello dear hivers🍁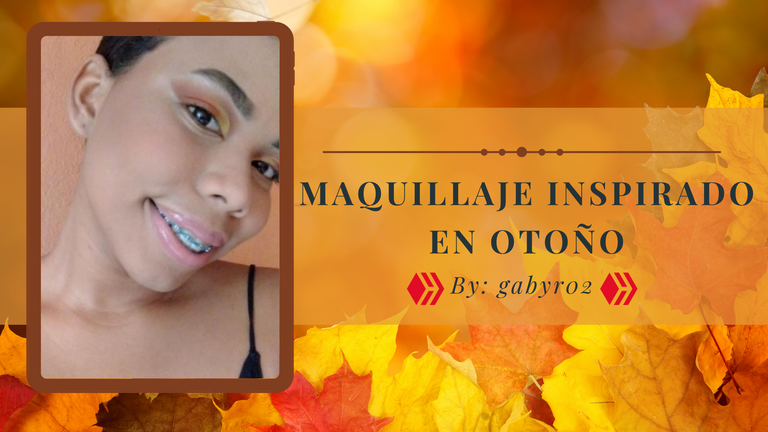 ---

Cómo todos sabemos existen 4 estaciones: primavera,verano, invierno y mi favorita de todas: Otoño. Esta estación para mí es una de las más hermosas del año, los colores son preciosos y es una época dónde no hace calor excesivo pero tampoco un frío que pueda congelarte, en mi país, lastimosamente no se vive el otoño plenamente, aún así no me quita la emoción y mucho menos mis ganas de disfrutar lo hermoso de esta temporada, así que decidí hacer un maquillaje inspirado en esta bonita estación y espero que todos me acompañen en el proceso.
Cabe destacar que no soy maquiladora profesional pero el maquillaje siempre ha formado parte de mi vida y es algo que me encanta hacer en mi tiempo libre

As we all know there are 4 seasons: spring, summer, winter and my favorite of all: Autumn. This season for me is one of the most beautiful of the year, the colors are beautiful and it's a time where it's not too hot but not too cold to freeze, in my country, unfortunately we don't live autumn fully, even so it doesn't take away my excitement and much less my desire to enjoy the beauty of this season, so I decided to do a makeup inspired by this beautiful season and I hope you all join me in the process. I'm not a professional makeup artist but makeup has always been part of my life and it's something I love to do in my free time.

Antes de comenzar a hacer el maquillaje como tal, hice mis cejas con una sombra marrón oscuro, resalté su forma con un poco de corrector en una parte inferior y en la superior con base. Luego de eso preparé mi párpado usando un corrector claro, casi blanco y lo sellé con usando una brocha para difuminar y un poco de polvo suelto, esto me ayuda a poder difuminar mejor los colores que luego iremos aplicando.
Before I started doing the actual makeup, I did my eyebrows with a dark brown shadow, highlighted their shape with some concealer on a lower part and on the upper part with foundation. After that I prepped my eyelid using a light, almost white concealer and sealed it with using a blending brush and some loose powder, this helps me to be able to blend better the colors that we will be applying later.


Ya que nuestro párpado está preparando, buscaremos a nuestro mejor amigo en este maquillaje: La cinta adhesiva. La cual colocaremos desde la comisura final de nuestro ojo haciendo una diagonal que llegue hasta el final de nuestra ceja.
Since our eyelid is ready, we will look for our best friend in this makeup: The masking tape. Which we will place from the final corner of our eye making a diagonal that reaches the end of our eyebrow.


Ahora comenzaremos nuestro maquillaje aplicando una sombra marrón, la más oscura que tengan y la colocaremos en todo nuestro párpado con movimientos circulares, tratando de hacer una colita hacía en final del ojo dónde tenemos nuestro pedazo de cinta adhesiva. Luego de eso usaremos una sombra marrón más clara para difuminar bien el marrón oscuro.
Now we will start our makeup by applying a brown shadow, the darkest one you have and we will place it all over our eyelid with circular movements, trying to make a little tail towards the end of the eye where we have our piece of masking tape. After that we will use a lighter brown shadow to blend the dark brown well.


Una vez difuminado nuestro marrón, continuaremos haciendo un corte de cuenca con un corrector claro, yo usé uno casi blanco. Luego iremos aplicando una sombra naranja en la parte más externa de nuestro ojo y hasta la mitad del mismo.
Once we have blurred our brown, we will continue by cutting the eye socket with a light concealer, I used an almost white one. Then we will go applying an orange shadow on the outermost part of our eye and up to the middle of our eye.


Ya que colocamos nuestra sombra naranja, tendremos que colocar una sombra amarilla, y aquí comenzaremos a difuminar muy bien las 3 sombras intentando que no se vea mucho el corte entre colores. Aplicamos rimel y listo.
As soon as we have placed our orange shadow, we will have to place a yellow shadow, and here we will start to blend the 3 shadows very well, trying not to let the cut between colors show too much. We apply mascara and that's it.


Ya solo queda terminar el resto de tu piel como a ti te guste. Aquí te dejo el resultado que este hermoso maquillaje inspirado en otoño.
All that's left is to finish the rest of your skin the way you like it. Here is the result of this beautiful fall-inspired makeup.

Nota: Si tienes pestañas puedes colocarlas para darle el toque final a este hermoso maquillaje💕
Note: If you have eyelashes you can attach them to give the final touch to this beautiful makeup💕


Y bueno este fue mi mejor esfuerzo haciendo un maquillaje de ojos inspirado en otoño, una de las estaciones más lindas. Sinceramente a pesar de lo fácil que puede parecer, tuve un momento en el que pensé que no me quedaría bien, pero decidí no rendirme y nada, entendí que el verdadero truco del maquillaje es un buen difuminado y mucha paciencia. Espero que les haya gustado.

And well this was my best effort doing an autumn inspired eye makeup, one of the most beautiful seasons. Honestly despite how easy it may seem, I had a moment when I thought it wouldn't look good, but I decided not to give up and nothing, I understood that the real trick of makeup is a good blending and a lot of patience. I hope you liked it.

Gracias por leerme y hasta un próximo post
Thanks for reading and see you in a future post

Edición: Canva // Edition: Canva
Traducción: Deepl. // Traslation: Deepl.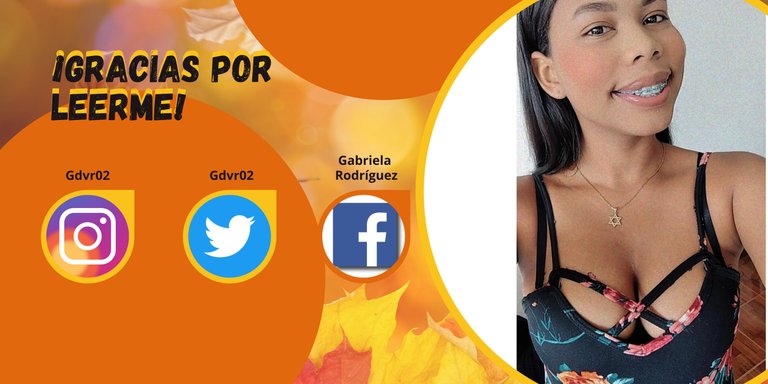 ---
---