Mis primeros packs Gladius / My firts Gladius packs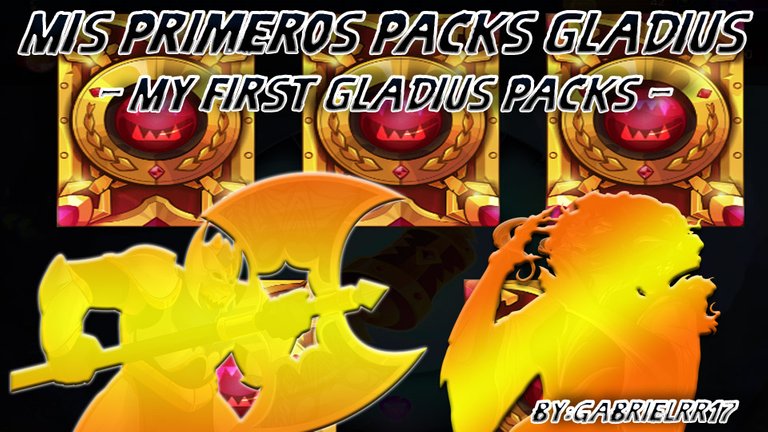 Png and background from Splinterlands
---
Saludos, por acá estoy de vuelta luego de una fuerte jornada universitaria. La publicación de hoy trata de mis primeros packs Gladius como bien señala el título. Lo cierto es que me alegra bastante finalmente tener esta oportunidad, pues hace tiempo que estaba en una guild y no había podido optar por causa de que aún somos pequeños con respecto a los edificios. Pero poco a poco iremos creciendo más y más.
La siguiente meta que tengo sería seguir aportando para pronto poder utilizarlas en batalla, la ventaja que aportan es descomunal, son cartas sumamente poderosas. De estar en rankeds el asunto posiblemente estaría bastante desbalanceado y serían muy caras.
Greetings, I'm back after a hard day at university. Today's post is about my first Gladius packs as the title says. The truth is that I am very happy to finally have this opportunity, because I was in a guild for a long time and I had not been able to choose because we are still small in terms of buildings. But little by little we will grow more and more.
The next goal I have would be to continue contributing to soon be able to use them in battle, the advantage they bring is huge, they are extremely powerful cards. If they were in rankeds the matter would possibly be quite unbalanced and they would be very expensive.
---
Como bien mencionaba hace poco fue que se cumplieron los requisitos para poder comprar los paquetes Gladius, la cantidad de Merits que se producen tampoco era tan alta, sin embargo aún así logré reunir 9655, suficiente para comprar 4 packs. El próximo debería poder comprarlo pronto, veré si soy capaz de aguantar la tentación de abrirlo antes de tener al menos 2.
As I mentioned a little while ago the requirements to be able to buy Gladius packs were met, the amount of Merits produced was not that high either, however I still managed to collect 9655, enough to buy 4 packs. The next one I should be able to buy soon, I'll see if I'm able to resist the temptation to open it before I have at least 2.
---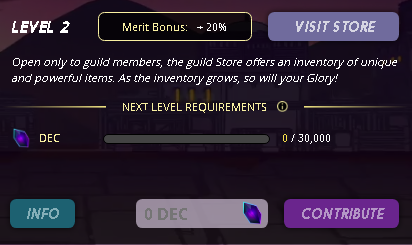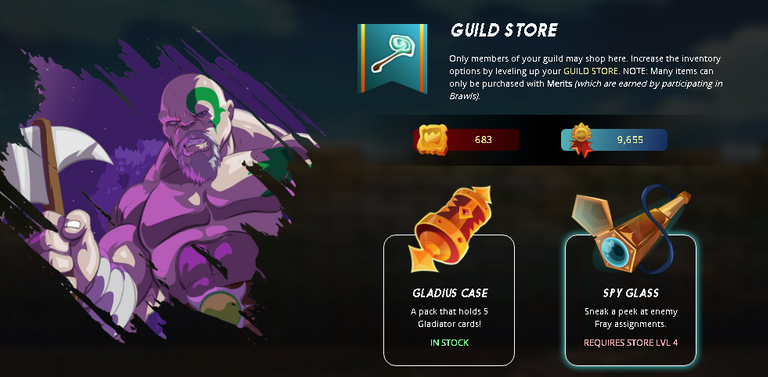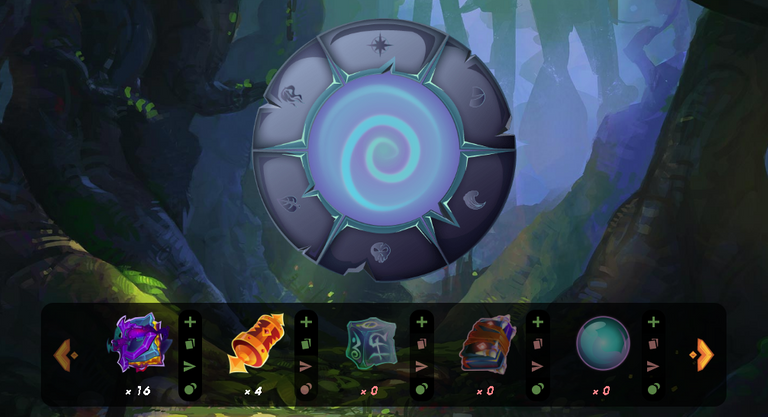 ---
El primer pack no tuvo mucho que destacar en cuanto al tipo de cartas, 4 comunes y una rara. Sin embargo me parece bastante fuerte "Krash WanderFord" en una estrategia que se centre en esquivar. Para el segundo hubo 3 raras, "Captain Katie" y ese guardia gigante del hacha me parecieron bastante peligrosas. En la tercera oportunidad el gran guardia del hacha hace presencia de vuelta pero con aspecto de oro. Esa carta me ayudará bastante con la acumulación de poder.
The first pack didn't have much to highlight in terms of card type, 4 common and one rare. However I find "Krash WanderFord" quite strong in a strategy that focuses on dodging. For the second there were 3 rares, "Captain Katie" and that giant axe guard looked pretty dangerous to me. On the third chance the big axe guard makes a return presence but in gold guise. That card will help me quite a bit with the power buildup.
---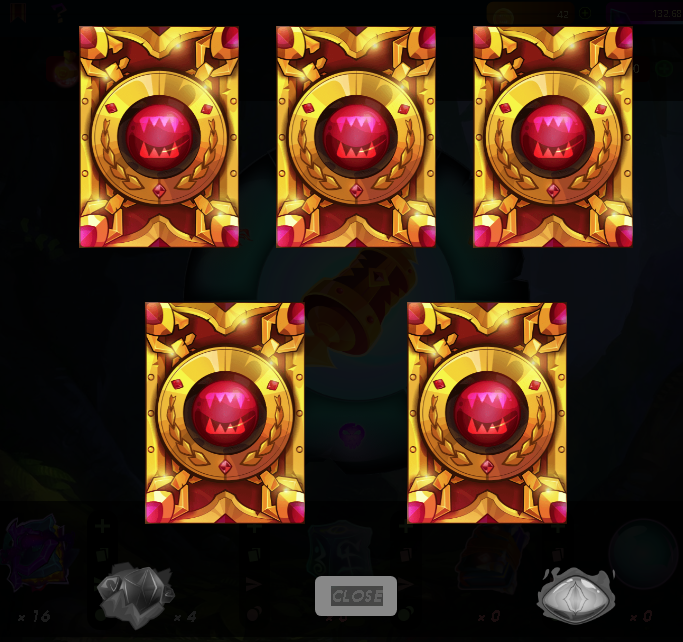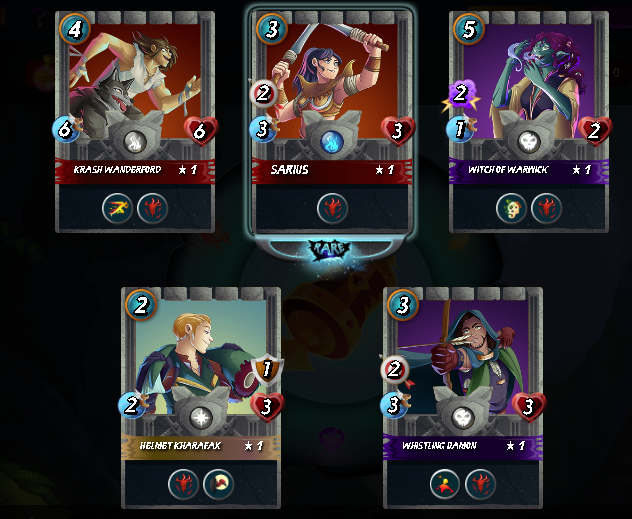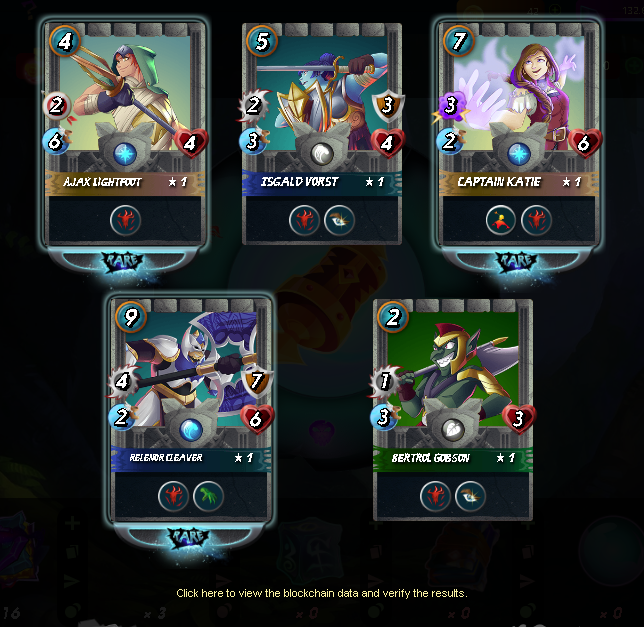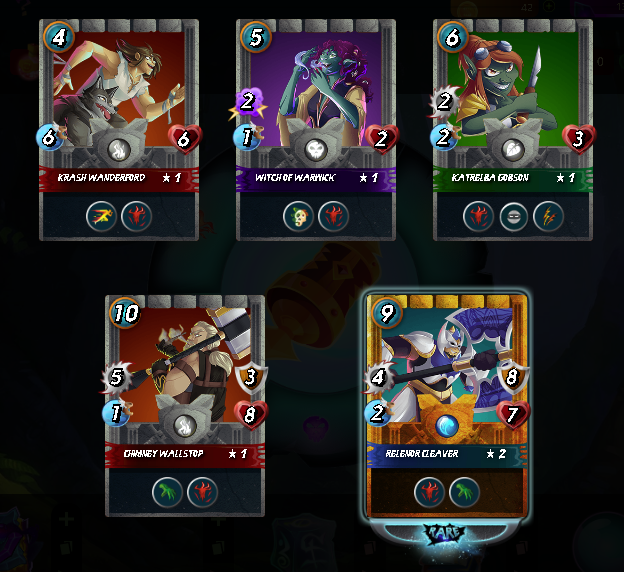 ---
Para el cuarto pack también hubo otra grata sorpresa, la aparición de una dorada pero esta vez común. Me pareció bastante curioso que apareciesen 2 doradas en tan solo 4 packs, la verdad no estoy seguro de las posibilidades de que eso suceda pero supongo que no han de ser tan altas.
En este mes también descubrí una herramienta genial para saber tus ganancias en las recompensas diarias. Es excelente, genera un hermoso reporte con pngs bastante bien posicionados y el valor aproximado de tu botín. Se las recomiendo, se llama "SplinterShare".
For the fourth pack there was also another pleasant surprise, the appearance of a dorada but this time a common one. I found it quite curious that 2 golds appeared in only 4 packs, the truth is I'm not sure of the chances of that happening but I guess they must not be so high.
In this month I also discovered a great tool to know your earnings in the daily rewards. It's excellent, it generates a beautiful report with pretty well positioned pngs and the approximate value of your loot. I recommend it, it's called "SplinterShare".
---

---
Puedes seguirme por acá si lo deseas:
You can follow me here if you want:

---
---