Calculadora de longitud, diámetro y área de una circunferencia | C++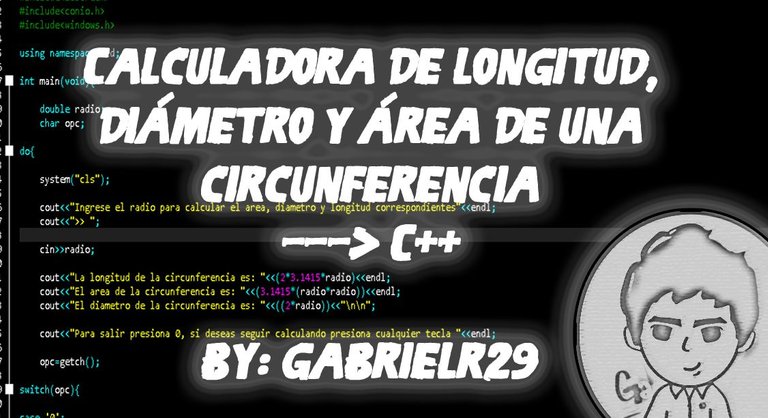 ¡Hola! Acá traigo más programación, llevaba un buen tiempo sin tocar este tema... Andaba escribiendo un poco y dibujando, a veces variar ayuda en los bloqueos creativos.
En esta ocasión se trata de calcular la longitud, diámetro y área de una circunferencia, es un ejercicio bastante simple, recuerda bastante al primero que traje de C++. Es un clásico entre los primeros ejercicios que mandan a resolver para ir "tomando" la ola de esto de la programación.
Hello! Here I bring more programming, I had a long time without touching this topic.... I was writing a little bit and drawing, sometimes varying helps in creative blocks.
This time it's about calculating the length, diameter and area of a circle, it's a pretty simple exercise, it reminds a lot to the first one I brought in C++. It is a classic among the first exercises that they send to solve to go "taking" the wave of this of the programming.

Usé las librerías de siempre, para entrada y salida, para usar algunas funciones extra y poco más. No toqué la parte de math.h porque sustituí el "pow" por una multiplicación simple que resolvía las operaciones con elevaciones al cuadrado. Declaré una variable double para recibir el radio para resolver las ecuaciones correspondientes, luego varios "Couts" para mostrar en pantalla los resultados y luego un switch para elegir si continuar o no. Todo dentro de un "do-while" para mantener el bucle, es decir, se cierre solo cuando el usuario lo decida y no después de una sola ejecución de los algoritmos.
Y poco más, al ser el problema simple, el código no se alarga demasiado, aunque con un verificador (para limitar la entrada por teclado) y un par de mejoras estéticas, habría tomado un poco más.
I used the usual libraries, for input and output, to use some extra functions and little else. I didn't touch the math.h part because I replaced the "pow" with a simple multiplication that solved the operations with squared elevations. I declared a double variable to receive the radius to solve the corresponding equations, then several "Couts" to display on screen the results and then a switch to choose whether to continue or not. All inside a "do-while" to maintain the loop, that is, it closes only when the user decides and not after a single execution of the algorithms.
And little else, being the problem simple, the code does not get too long, although with a verifier (to limit keyboard input) and a couple of aesthetic improvements, it would have taken a little longer.
---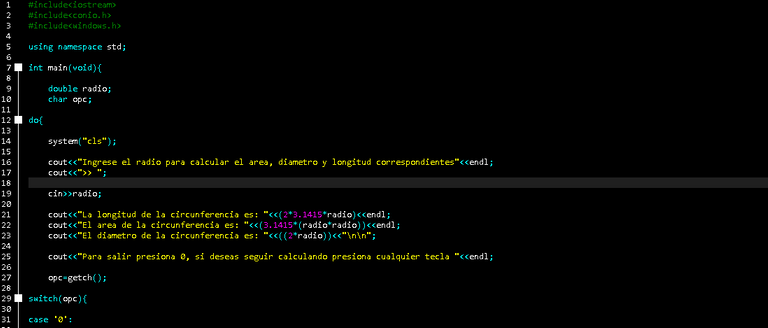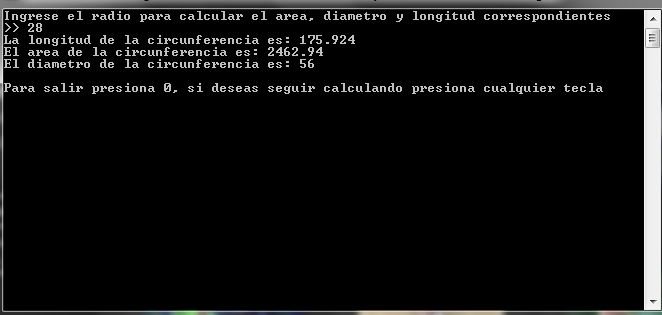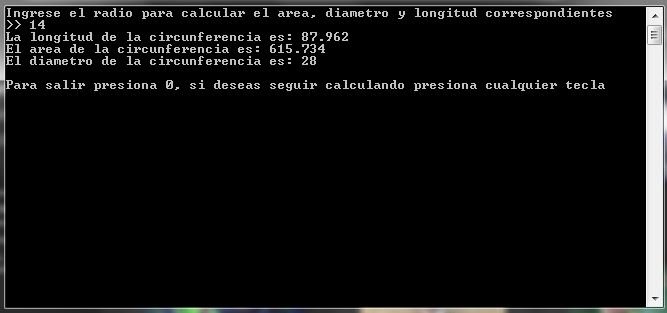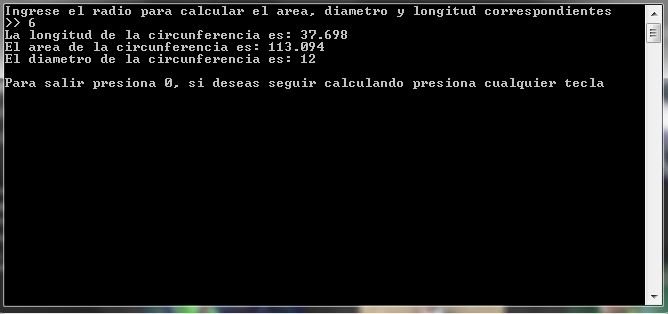 ¡Y bueno... Eso es todo por hoy! Ojalá que esta calculadora simple de datos de circunferencias los haya ayudado ¡bendiciones!.
Si te interesa otro tutorial de programación acá te dejo los links a los que he realizado hasta ahora:
And well... That's all for today! I hope this simple circle data calculator has helped you, bless you!
If you are interested in another programming tutorial here are the links to the ones I have done so far:
---
| Nombre de la publicación / Name of the post | LINK |
| --- | --- |
| Calculador de datos para un triángulo rectángulo en C++ | 1 |
| Concecionario de autos, ejercicio en JAVA | 2 |
| Calculador de edad básico C++ | 3 |
| Inversor de números de tres cifras | 4 |
| ¿Cuántos números de 3 cifras existen cuya suma sea 10? - ¡Respondiendo a otro usuario! C++ | 6 |
| Calculadora simple, cifra menos significativa y portada simple C++ | 7 |
| ¡Vistazo a BeatUDO! [ESP-ENG] JAVA | 9 |
| Comprobar si un número de dos cifras es primo C++ | 10 |
| Conversor de pulgadas a 7 unidades distintas C++ | 11 |
| Comprobar si un número es capicúa (Máx 5 cifras) C++ | 12 |
| Comprobador de caracteres C++ | 13 |
| Calculadora de índice de masa corporal C++ | 14 |
| Calculadora de factoriales C++ | 15 |
| Conversor (Grados Celsius - Fahrenheit - Kelvin) C++ | 16 |

Puedes seguirme por acá si lo deseas:
You can follow me here if you want:

---
---