Live Summit - The Chosen [Let's Play Games #10]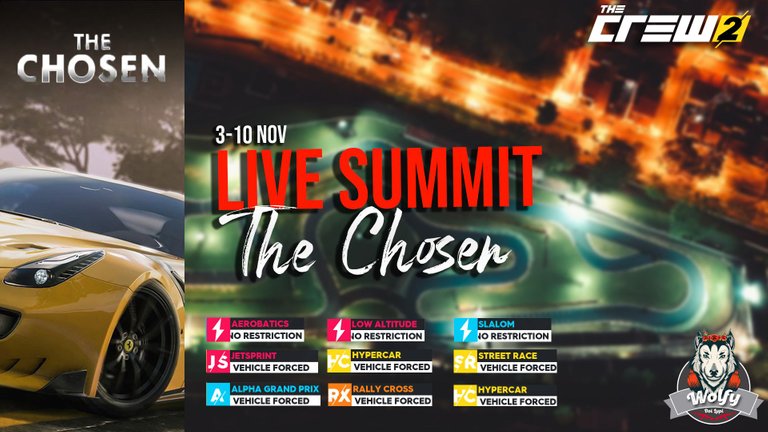 Alright, it looks like the long wait is getting closer to come to an end!
After I kept mentioning in my posts how much I'm looking forward to the new Motorpass Season in The Crew 2 because it will bring a bunch of missions daily and rewards accordingly, we can, at last, feel closer to that moment considering that the current Motorpass just ended and the new one will be launched in every moment from now on!
But before we jump into it, let's take a look over the weekly Live Summit named The Chosen which brought a new set of races to be completed for some nice rewards that are really important in for the Motorpass, and you will see why soon.
However, The Chosen will be available from 3-10 November with the following missions:
Aerobatics - where you have to fly a plane and get through some gates matching the figures shown with a score of at least 2,350 points. [No Restriction Race]
Low Altitude - another race where you are needed to fly a plane but this time you have to keep the flight as close as possible to the ground and for as much time as you can. It's required to collect at least 5,170 points to qualify further. [No Restriction Race]
Slalom - being needed to make slalom between the objects placed on the ground in the shortest time possible and score a total of at least 2,610 points. [No Restriction Race]
Jetsprint - a race on the water against the time where you have the finish the race faster than 02:32:203 minutes in order to qualify further. [Vehicle Forced - no need to own or purchase it]
Hypercar - is the category with some of the most expensive and fast cars where you race against other 7 players and have to reach Top 3 to win the race. [Vehicle Forced - no need to own or purchase it]
Street - a similar race with the previous one but with some less powerful cars. You still need to reach Top 3 to have the race completed. [Vehicle Forced - no need to own or purchase it]
Alpha Grand Prix - a race with open-wheel cars where you have to cross the finish line in one of the first 3 positions to win the race. [Vehicle Forced - no need to own or purchase it]
Rally Cross - an off-road race where you also have to be amongst the first 3 players to qualify further. [Vehicle Forced - no need to own or purchase it]
Hypercar - another race with those expensive cars but where you have to make sure you are crossing the finish line faster than 06:15:000 minutes. [Vehicle Forced - no need to own or purchase it]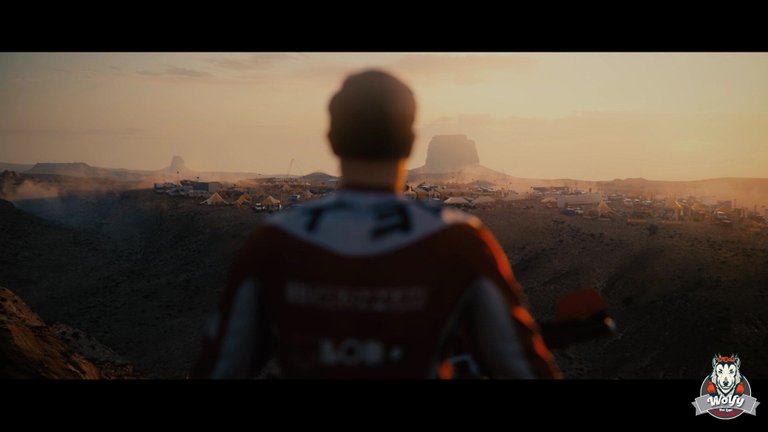 As you have probably already noticed, you will see that 6 out of the 9 missions available include a Vehicle Forced which means that you don't need o own or purchase any cars for these races, such a relief!
This is a great opportunity to save some extra bucks and use them in the following Live Summits which won't come with the same advantage like this one.
Playing races with a Vehicle Forced also means that it's not up to how much you upgraded your car because everyone is equal in the race and the only thing you need is the driving skills that would either bring you or not, a score over 100,000 points.
Personally, I didn't have problems with any of the races because I already knew most of the trails and owned some of the Vehicles Forced which was a bonus for me knowing how to control them and don't be the first time I drive those vehicles, but the thing that made me really excited is the rewards from the 6th and 8th race where each of them comes with a recompense of 5,000 CC.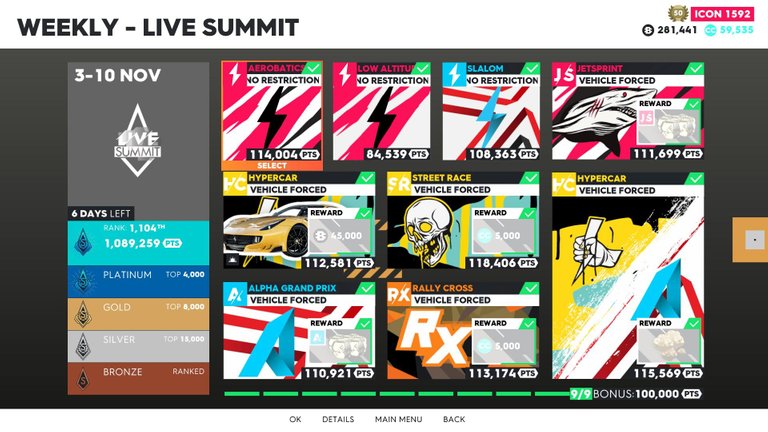 Now you might be curious what these CC mean and why I'm so happy to earn them as reward. Well, CC stands for Crew Credits and they can be used to either purchase vehicles instead of using your usually bucks, but also for some exclusive bundles of custom tunning cars that are available for a limited time only.
However, I'm going to use these CC points for the Motorpass which will come with a total of 50 tiers where each of them brings you a reward, but for that, you need to upgrade your account and you will have two options for that where each of them brings something in plus from the other one.
Unfortunately, as much as I waited for the update to be made on the game today, on a simple search on google it showed that the Motorpass will come out on 25th November, which to be honest I think it's a wrong date having experience from the past seasons where they appeared in the same day with the event, but as soon as it's launched, I'll be back here with the news and more details about it 😀
Prizes available depending on your rank:
Platinum: Ferrari F12tdf
Gold: Pink storm smoke (Epic vanity item)
Silver: Porsche 911 GT3 RS (All visual parts)
Bronze: 35K Followers
Level: 1592
Completion races: 9/9
Races with a score over 100,000: 8/9
Currently placed in the summit: 1,104/1,089,259
| Game | The Crew 2 |
| --- | --- |
| Release Date | 31st May 2018 |
| Played On | Steam + Ubisoft |
| Genre | Multiplayer |
| Hours Played | 253 hrs |

All rights reserved.

FIND ME ON:
↪ Blog: http://gabrielastravels.wordpress.com/
↪ Fiverr: https://www.fiverr.com/gabrielatv/
↪ Discord: GabrielaTravels#0104
↪ Facebook: https://www.facebook.com/gabrielaistraveling/
↪ YouTube: https://www.youtube.com/gabiivdesign
↪ Instagram: https://www.instagram.com/GabrielaTravels/
↪ Twitter: https://twitter.com/GabrielaTravels
↪ Patreon: https://www.patreon.com/GabrielaTravels
---
---