Let's travel together #268 - Cimitirul Eroilor și Veteranilor de Război (The Cemetery of Heroes and War Veterans of Sibiu)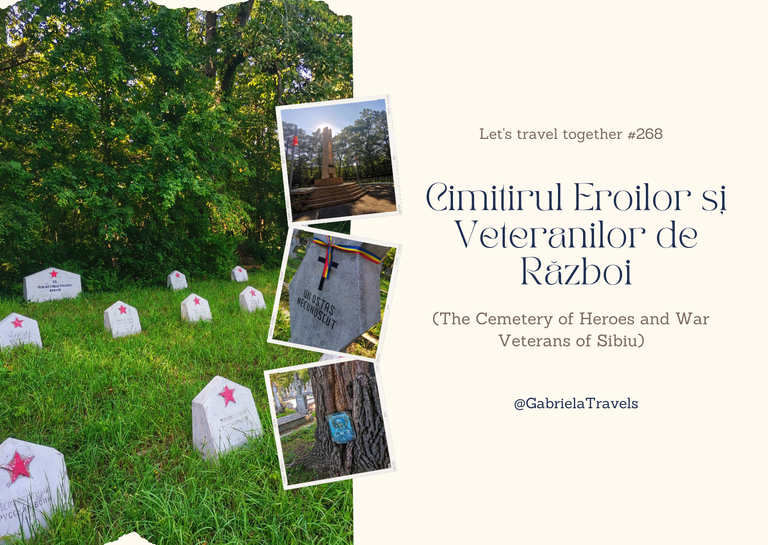 While we will never be able to meet the real heroes of the world who fought for the peace the countries out there enjoy in the 21st century, there are still a few things that we can do which are the least we can offer as a "thank you."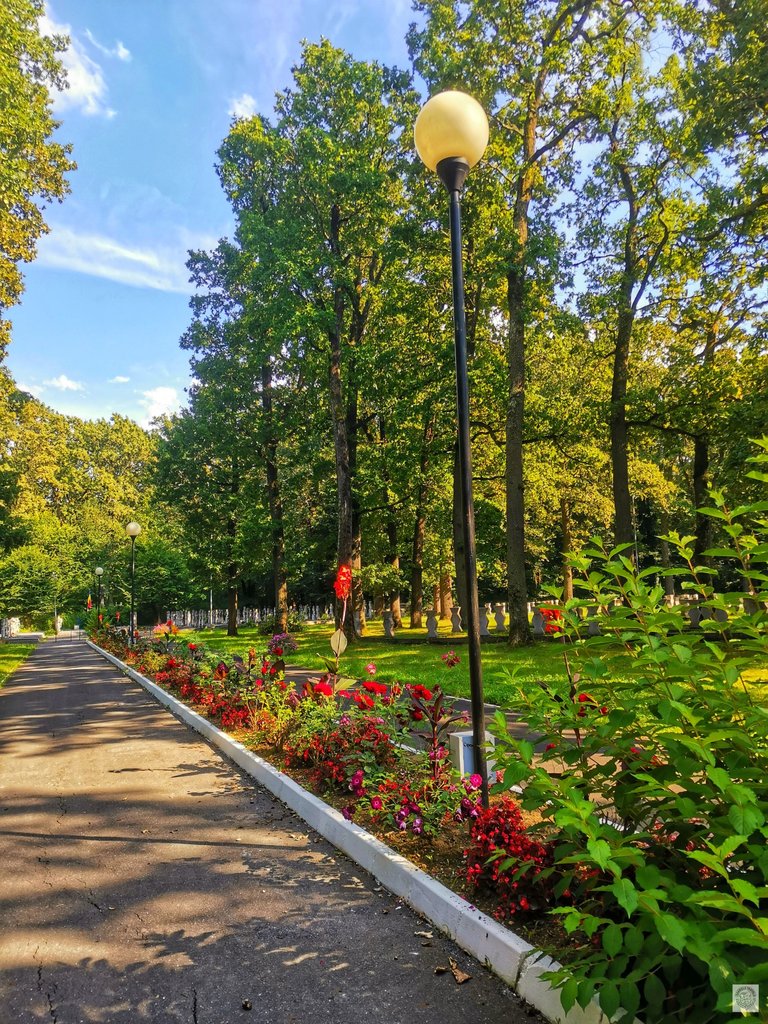 A few weeks ago, my cousin and a friend of hers announced me and my sister that they will cross Sibiu and it would be nice to hang out.
Since it's been a while when we've last saw each other and since you can never get enough of seeing loved ones, we accepted the proposal right away, already looking for a place where to meet and enjoy a drink while sharing what's new in each other's lives.
We picked a location fairly far from the center of Sibiu because there were a lot of events going on back then and the city was terribly crowded, so we decided to meet in a more chill location.
The location we picked was just 10 minutes away of walking from the cemetery that makes the subject of today's post and since we had to wait a bit until our cousin and her friend will arrive, we decided to enter the cemetery that we crossed countless times but never actually entered it.
Visiting a cemetery dedicated to those who fought to protect the country when it was needed and basically sacrificed their lives for ours, was not the first time for us. Though, even if I've lost count of how many places like this one I've seen before in Romania, it's always a feeling that you keep reviving whenever you get the chance to.
It's not like I get a large smile on my face while walking through graves because that's definitely not the case, but it makes me feel like it's the little I can do to show my appreciation for those who have all the right to be called heroes. So for this reason I and my sister entered a place that despite it has a sad story behind, it's very colorful and welcoming encouraging more and more people to stop by.
Click on the images to see them in full resolution
As I always like finding something interesting that makes a place unique in front of others from the same field, the same happened at The Cemetery of Heroes and War Veterans of Sibiu which actually represents a 3in1 place where people of different nationalities are welcome to pray for those who lost their lives during the war, the cemetery being split in more categories for each of these heroes.
Since the cemetery we are talking about is located in Romania, the first part of it which visitors get to see is the one dedicated to Romanian soldiers and veterans that, unfortunately, has become more and more popular in the last few years. Hence why, you shouldn't be surprised to notice some of the graves having fresh flowers and candles around them, as well as the death year written on it being a fairly recent one.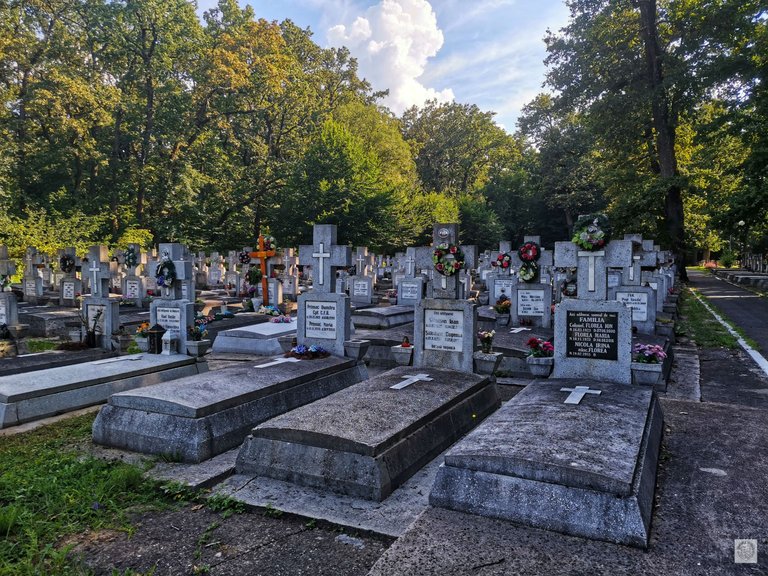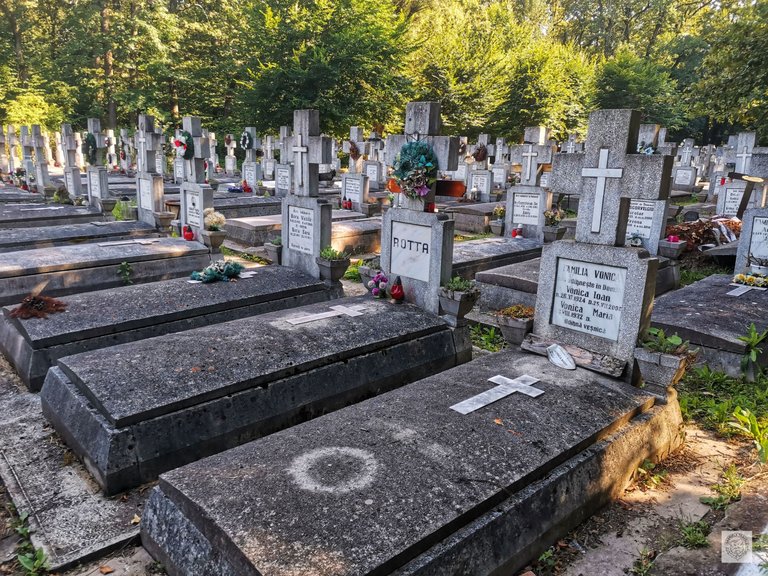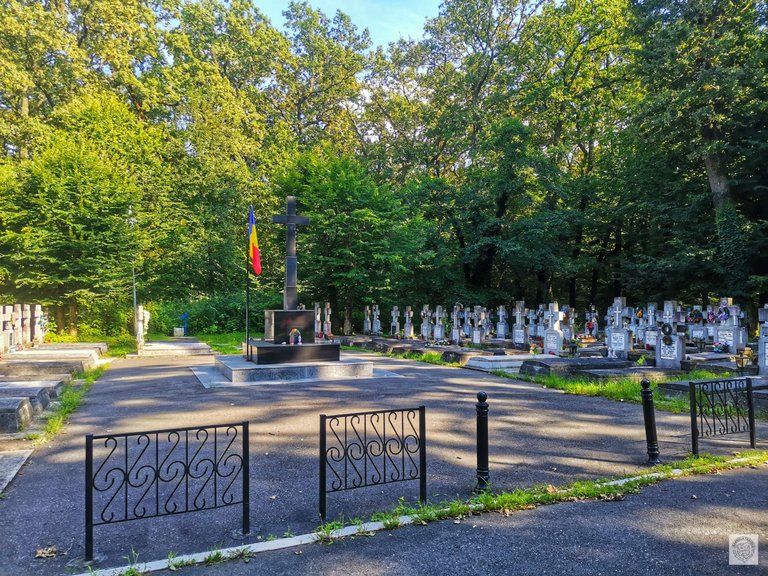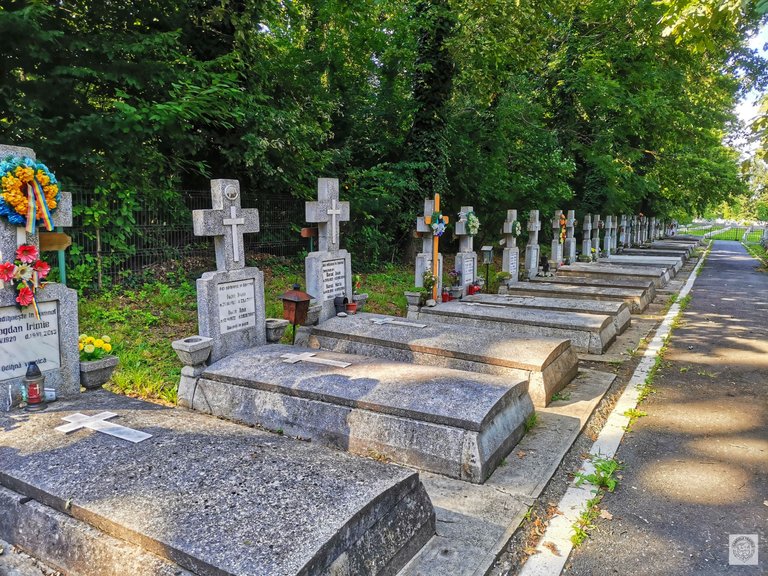 Click on the images to see them in full resolution
Even though it's been quite a while since WWII ended, Sibiu still has 10 veterans alive, for whom the pain they feel while walking through the graves is not the same as ours because some of these names represent their friends and colleagues who perhaps died in front of them and who's stories will never be able to be described into words, but only feelings that are unable to be shared further.
Also, it's not a new thing anymore that the times Romania has to go through are very troubled lately since the war between Russia and Ukraine happens at the border with Romania and there are different parts of bombed drones reaching our territory once in a while. But with an uncertain future and yet a country that is far from what it used to be during WWI and WWII when people didn't feel ashamed to say that they live in Romania, it's pretty clear that we should commemorate those who lost their lives back then more often than one day per year - 9th May - The Day of Victory Against Fascism.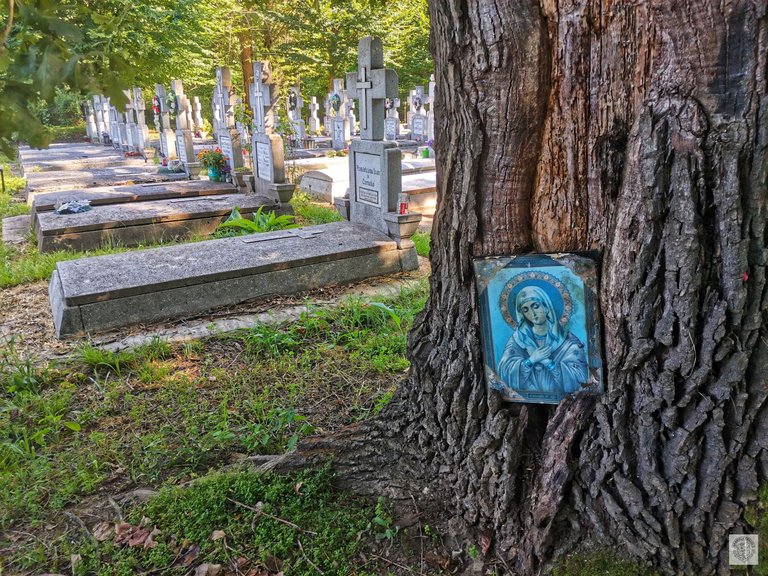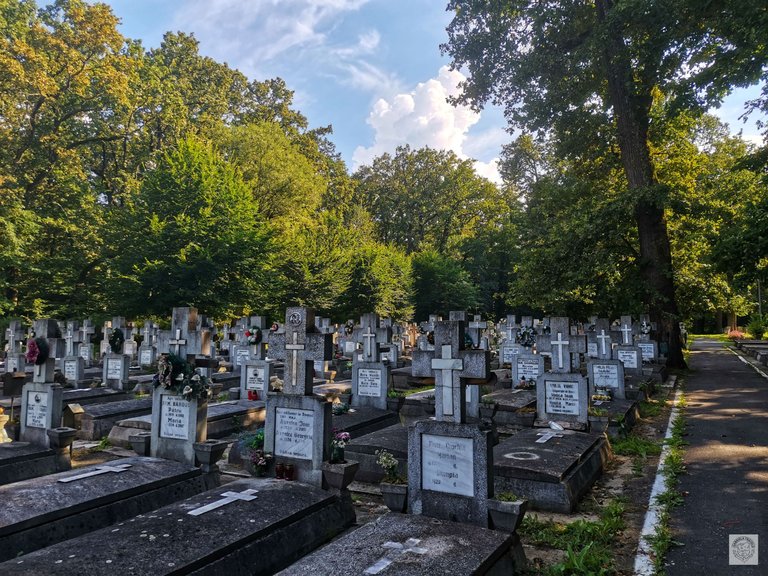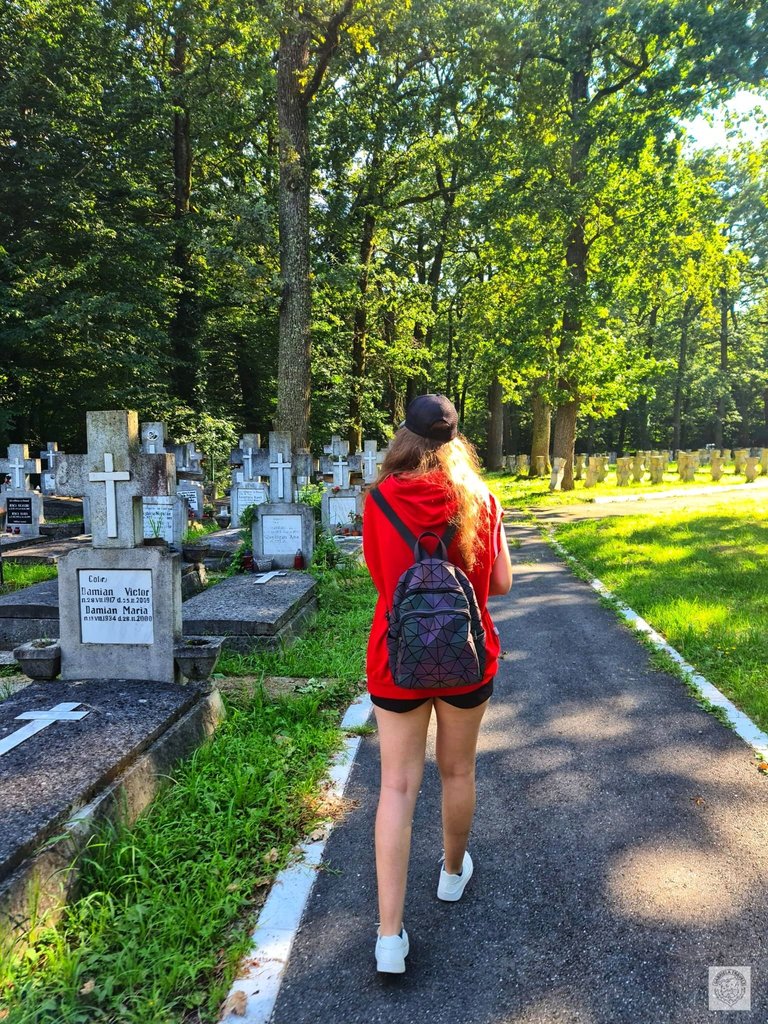 Still along with the graves that were carefully arranged, there is also a one-of-a-kind tree that has an icon implemented in its trunk like a quick reminder that no matter what your faith is, when things like these happen, God (in all its forms) is the single one by your side.
Judging by how the icon looks in 2023, I can guarantee that it has at least a few tens of years, yet a period which made it attended lots of stories, people, and new bodies finding their peace in this cemetery.
Click on the images to see them in full resolution
Right next to the Romanian cemetery, there is another one which is at least atypically from what you get to see while roaming these lands and especially cemeteries. But as we all know, the two wars that marked this world the most, included many nationalities fighting for the same victory that other countries were also looking for.
Hence why, you shouldn't be surprised to see German names on the graves from the side of Romanian heroes, nor to see a full place dedicated to the Soviets.
There are some rumors that every place dedicated to the Romanian soldiers who lost their lives in wars was supposed to also come with one of these cemeteries for the Soviets to show that there is peace between the two countries. Even though things are still uncertain whether it's just rumors or reality, in Sibiu, this thing is as real as possible, with 315 graves dedicated to the soldiers of the Red Army, from which 55 are unknown, being unable to be identified after their death.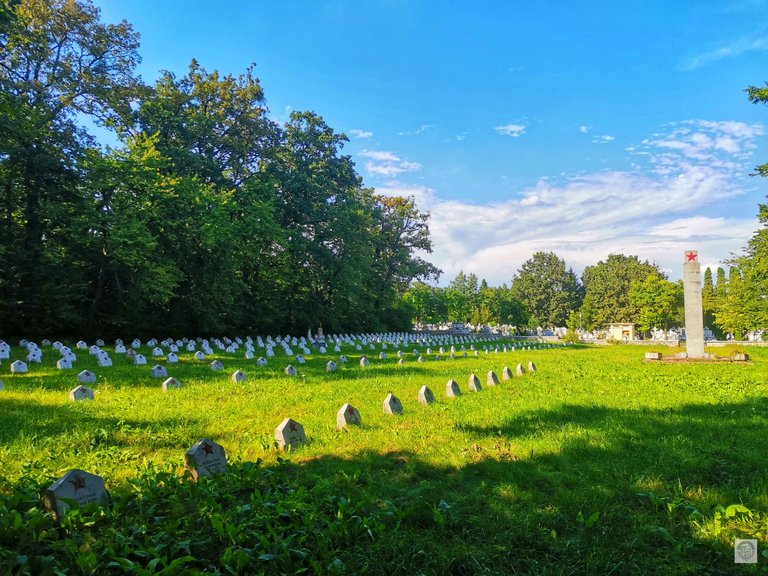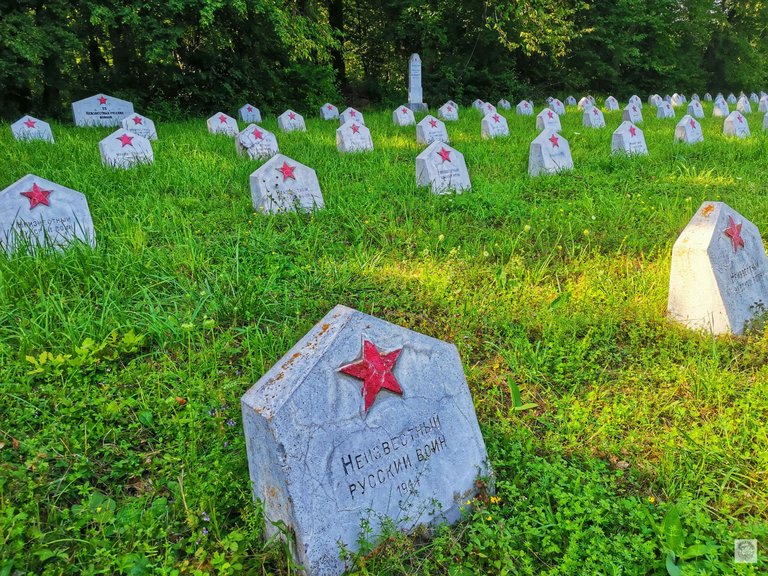 A thing that is certain though, is that the last ceremony made on this part of the cemetery for the Sovietics happened in 2010, and still at the same time the access between the graves was prohibited by arranging all kinds of fences around the cemetery that allow visitors to only notice them from the distance.
From my knowledge, the Sovietics harmed Romanians quite a lot a while ago talking about rapes, betrayals, lies, thefts, and a lot more, so I guess these still weigh pretty much when it comes to the scale of the friendship between the two countries.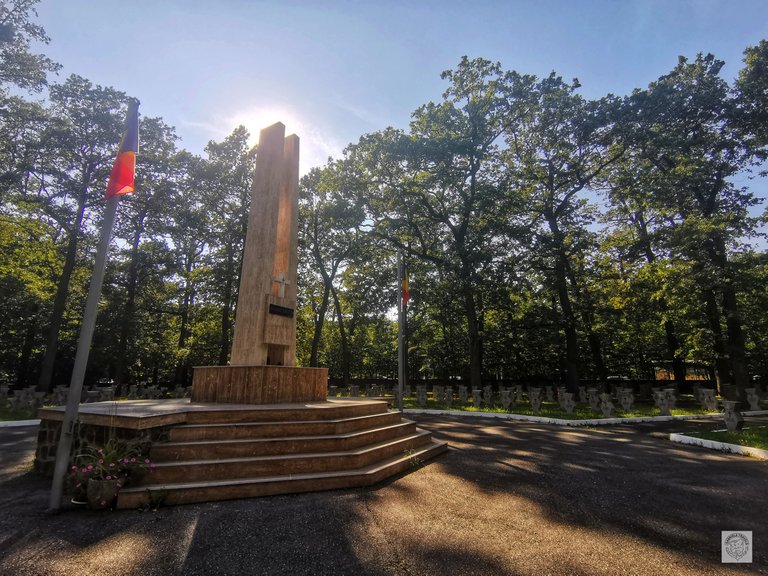 Click on the images to see them in full resolution
After we checked from the distance the 2nd cemetery within the area that is known under the name The Cemetery of Heroes and War Veterans of Sibiu, we had one last walk towards the last section of our spontaneous trip which perhaps is the most valuable one.
So, while the first section of this post shares a lot of graves with both people who lost their lives in the war, people of high influence in Sibiu, or simply the families of these, there is also arranged another section that is exclusively dedicated to the soldiers and the real heroes of the country.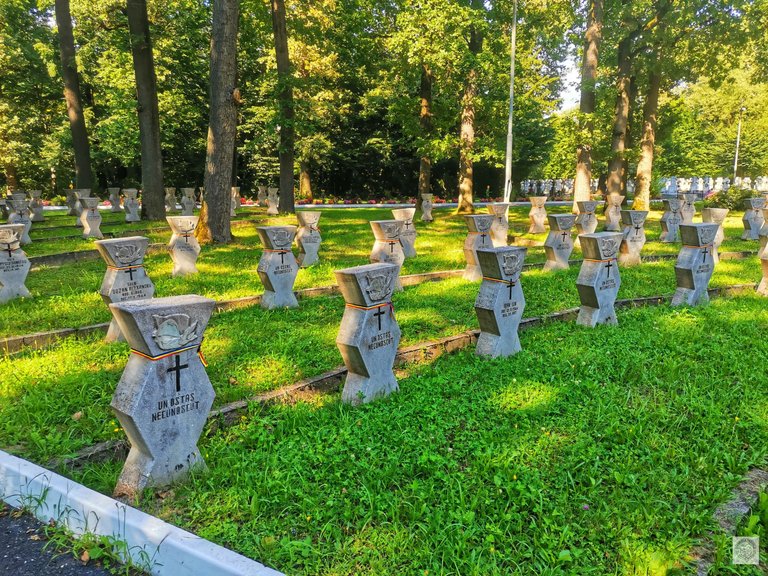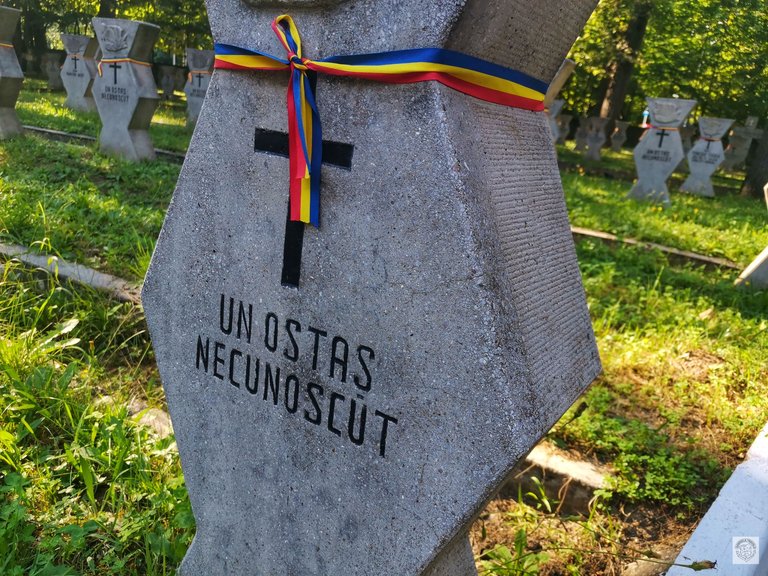 Similar to the situation met at the Soviet cemetery, along with the graves that clearly say who rests there, the name, and the position held in the army, there are some graves where it's simply written "un ostas necunoscut" meaning "an unknown soldier".
Honestly, I think I'll never be able to understand the pain a woman or mother feels when lets her husband or soldier go to fight for the country but he never returns, nor get the chance to see him for one last time and offer him the well-deserved prayer and burial.
But a thing that I do appreciate is seeing the cemetery being well maintained even with the passage of time, as well as having fresh ribbons of honor around the graves to make those who are resting there aware that they weren't, and will never be, forgotten.
---
The Cemetery of Heroes and War Veterans of Sibiu is located on Calea Dumbrăvii, Sibiu 550399 and it can be easily reached by taking a bus ride which have stops either right in front of the cemetery or close to it. The buses that have stops in that area are 13 and 14 and just a few hundred of meters away from the cemetery there are also the Zoo and the ASTRA open-air museum that worth a visit too.

SEE YOU IN THE NEXT TRIP! 🗾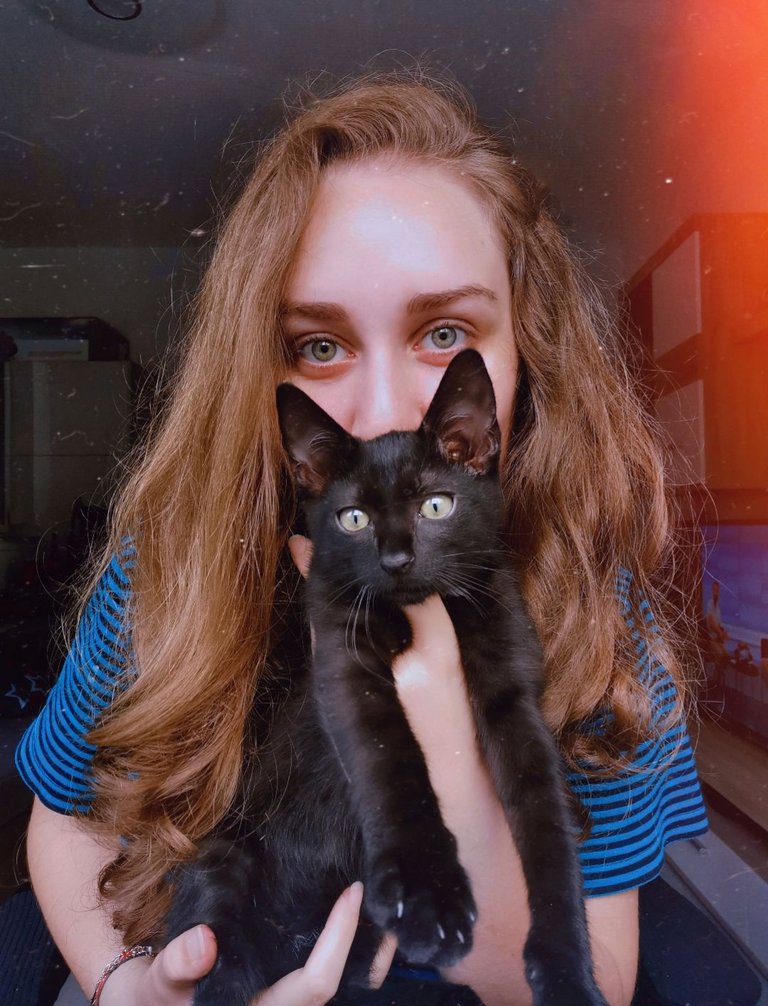 Gabriela Travels is the FOUNDER of "Festival Mania" who started this community from the passion of attending various festivals and with the purpose of encouraging more people to explore festivals all around the world and share their experiences. At the same time, Gabriela is an independent Graphic Design Freelancer since 2019 completing over 600+ orders in this time and collaborating with various businesses and people from all over the globe. Additonally, Gabriela has her own corner on the internet since 2017 where she writes various articles for her blog, the most popular being the travel ones (260+ articles written on this field), but also abording other topics as well, like game reviews, movie and series reviews, photography posts, cooking recipes and more, boosting the total number of articles written to 550+ blog posts. Gabriela is also a gamer since she was 11 years old and gaming remains one of her biggest passions along with traveling, editing, cooking, and doing various sports activities.
~ @GabrielaTravels ~

Let's keep in touch:
↪ Blog: http://gabrielastravels.wordpress.com/
↪ Fiverr: https://www.fiverr.com/gabrielatv/
↪ YouTube: https://www.youtube.com/@GabrielaTravels
↪ Instagram: https://www.instagram.com/GabrielaTravels/
↪ TikTok: https://tiktok.com/@gabrielastravels/
↪ Discord: GabrielaTravels
↪ Facebook: https://www.facebook.com/gabrielaistraveling/
↪ Twitter: https://twitter.com/GabrielaTravels

Click on the banner above for more details

---
---