Let's travel together #266 - "Valea Sâmbetei" Chalet (Făgăraș Mountains)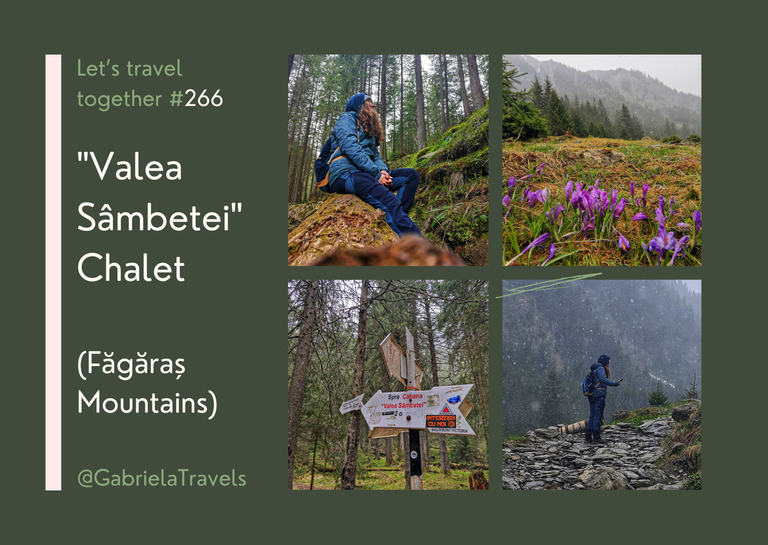 Making your way to a wonderful destination is amazing, but what happens when your destination is entirely offered by nature where beauty meets no boundaries?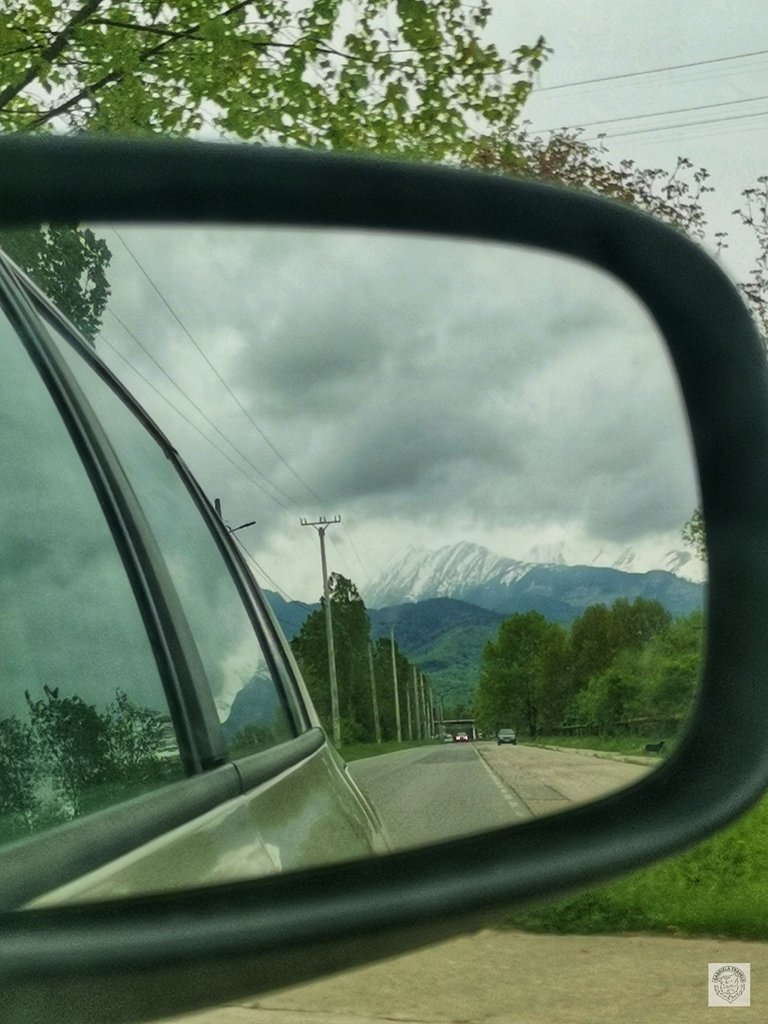 With a crazy world in continuous change, and a life that it seems everything but not ours anymore, it's very hard to make plans these days - or at least this is how I feel.
One of the major changes that some of you might have noticed on my blog posts if you've been following me for at least a few years, is that there are very few moments with outdoors moments explored, and most of them are from memories and forgotten folders anyway.
That's becaus is real, the tradition I along with my family has built for over 10 years exploring less known parts of Romania yearly for at least 10 days in a row, has stopped for 2 years and that caused less places explored, most of them happening in the surroundings of the places we are currently living.
There is no doubt my heart stopped beating the same ever since because I've always said that the single place I can only feel myself is somewhere in the mountains, away from traffic noise, people, and a good plan, but I did learn to appreciate more these moments instead of looking towards them as normality because it definitely is not.
That's how I realized how blessed I was living like this for a long while and that it's not an easy thing anymore, especially after I was sick of COVID two times and my mother three times and the pain of any small effort is real. Not to mention the crazy inflation and prices that keep going up like there are no limits... and considering that we were spending most of the money on gas because we always opted in for sleeping in a tent and having a modest life, the difference of prices is very easily to be felt these days.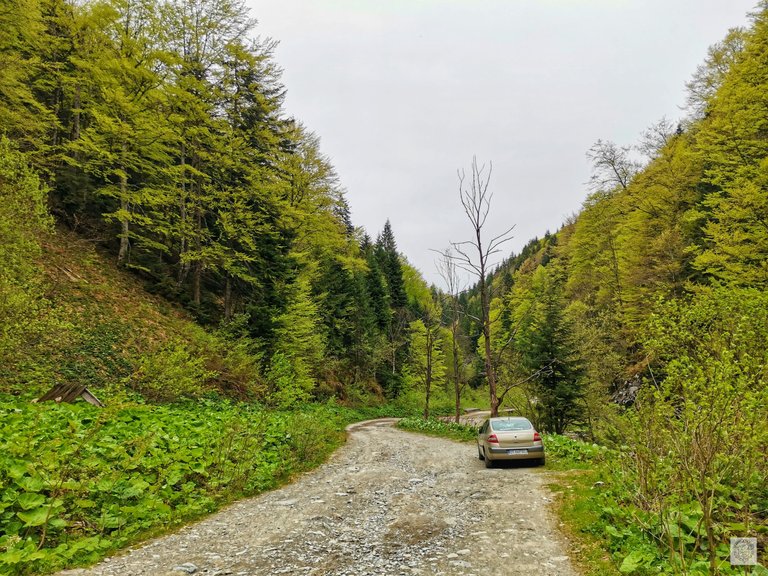 Happily, at the end of May, it was one of those exceptions that we haven't felt in a while, being more determined than ever to reconnect with the mountains and follow a path that we've been following from the shadow and always wondered when the moment to make our way to it will come. If will ever come.
The period we decided to have this trip was picked fairly spontaneously without thinking too much, hence why we ended up wanting to explore a beautiful place on a fairly weird day with lots of different weather conditions that already seemed discouraging from the moment we saw the gray sky.
However, since we do have experience hiking the mountains and know that it's hard to take note of some weather conditions because it always acts differently in the mountains, we still wanted to give it a try. So we left the car on a forest path where we saw another vehicle being parked, and began our hike.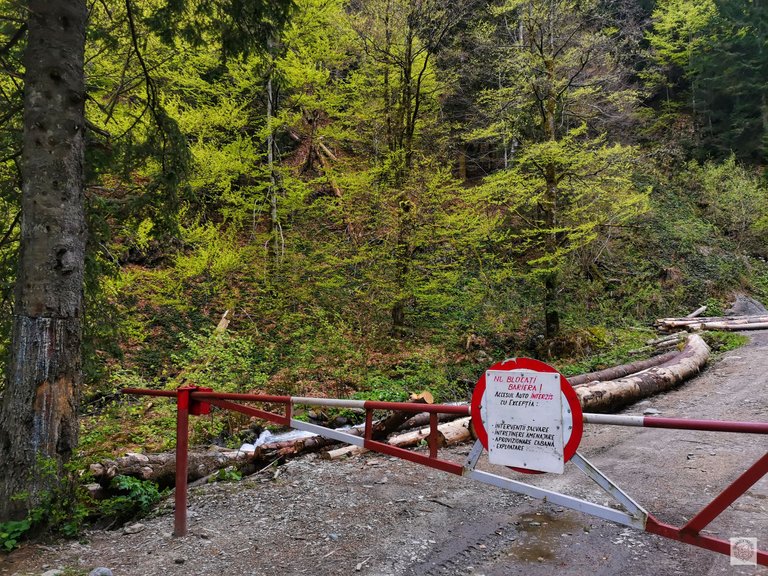 We only walked for about 10 minutes until we met a barrier showing that the access was forbidden with the car from there on, so while we were in doubt if we should continue our drive for a few more hundreds of meters, now we knew that we've made the best choice.
It was weird seeing though that the single exceptions of those who can cross the barrier with the car are in case of rescue interventions while it was obvious that a lot of illegal forest cuts are happening from here on. That can also be seen in the background of the barrier that already presents a landscape with some trees resting on the ground, without having any sort of mark indicating they had to be cut down.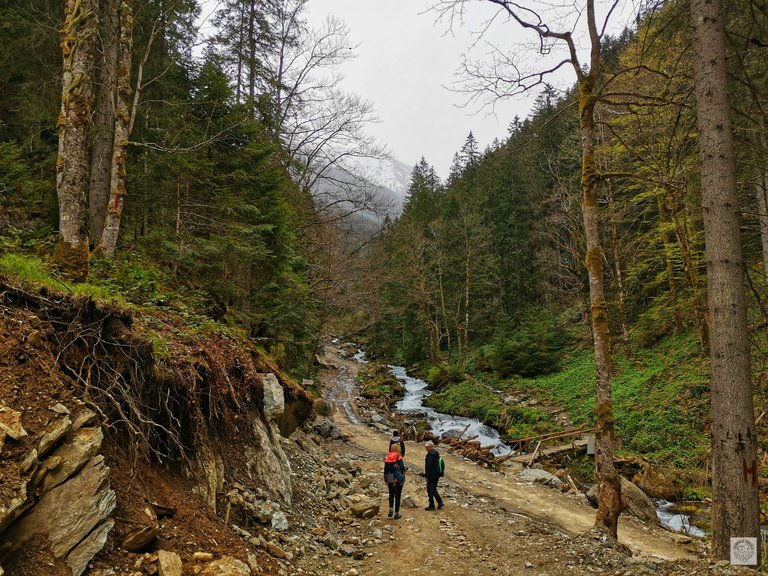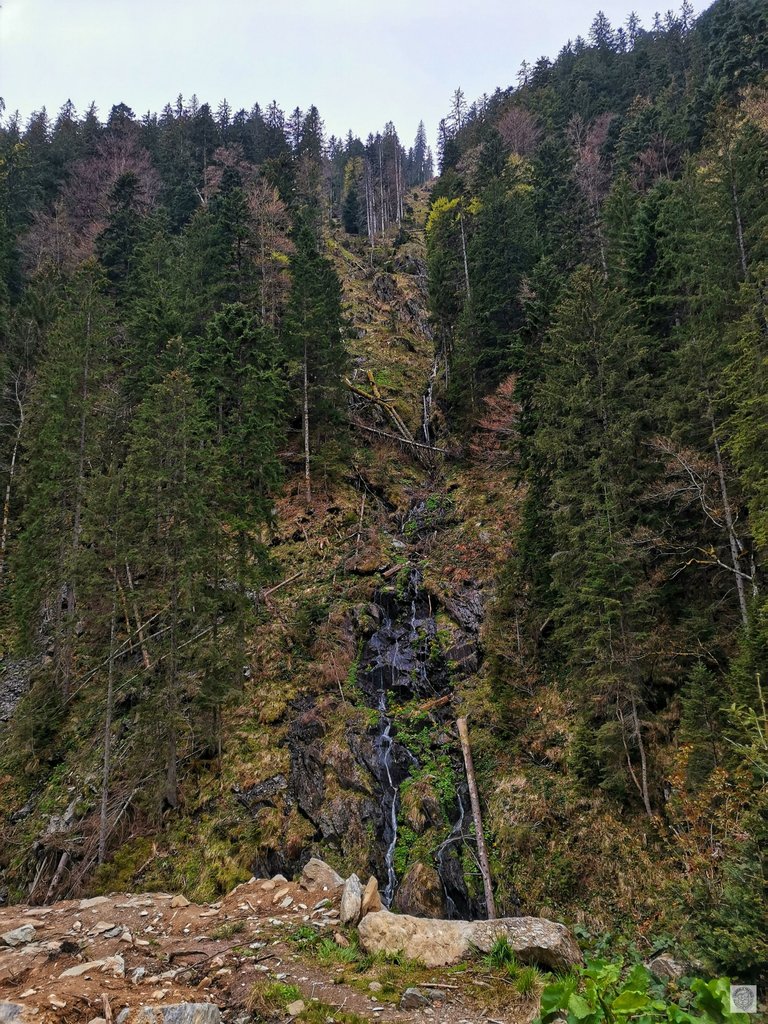 I know this is not a common landscape, or at least not something that someone should get used to, but unfortunately, in Romania, is hard to have a mountain hike without having the beauty surrounding you constantly interrupted by landscapes like these from above, where a simple waterfall is not complete without plenty of trees falling around her. Or literally any part of nature sharing the same landscape once in a while.
I do agree that this kind of landscape is often met in spring especially when avalanches occur and sweep entire areas of trees, but when this happens, there aren't left stumps on the surface, nor have a full team of people building roads, and making their way deeper and deeper in nature, because no one mobilizes so quickly when it comes to doing good.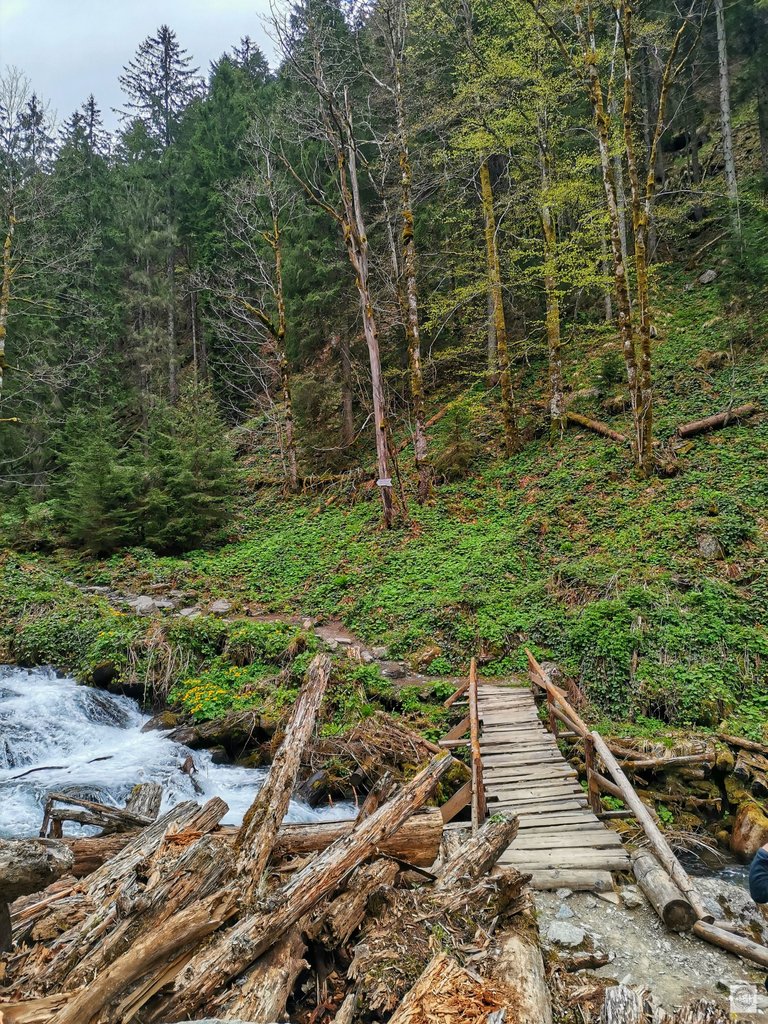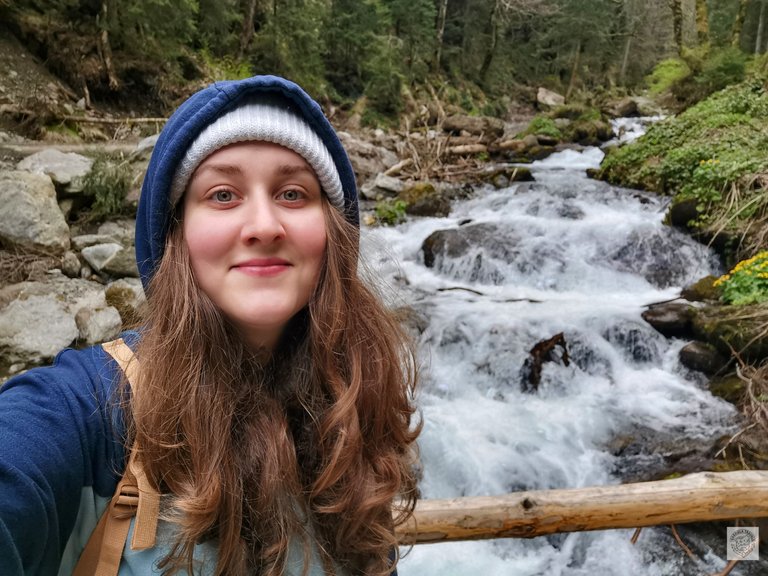 Anyway, since it was our first reconnection with the mountains in a long while, we refused to let any bad aspects noticed on the way to our destination ruin our moods because we missed that kind of feeling way too much to let it be gone in a moment due to the illegal things happening in the country we were born in.
So we ended up crossing the single bridge we met on the way, which seemed like being part of the landscape very well. Later on, we found out that we could still continue our hike on the left side without crossing the bridge because it would end up in the same spot but considering that the marks indicating "Valea Sâmbetei" Chalet were on the right side, we picked the safest option for our trip.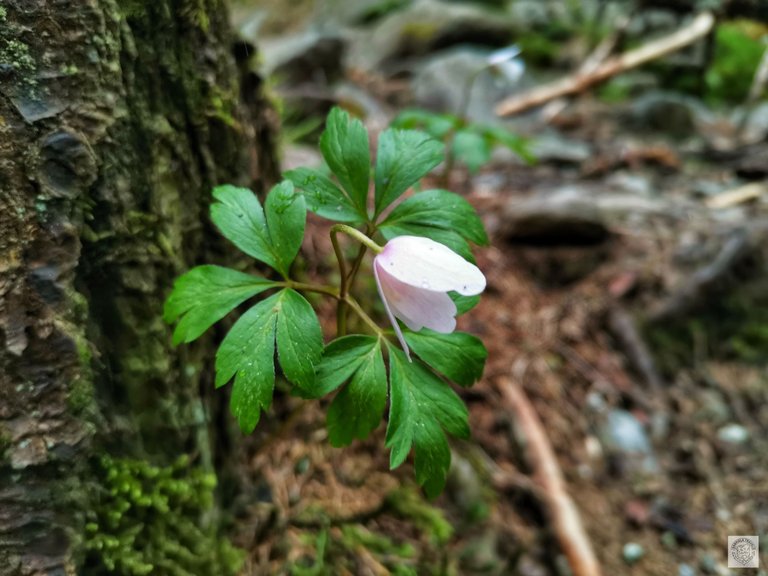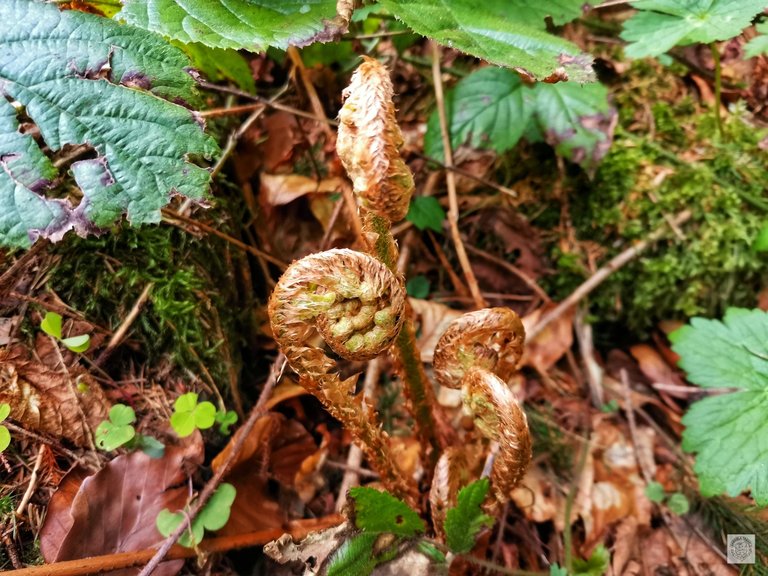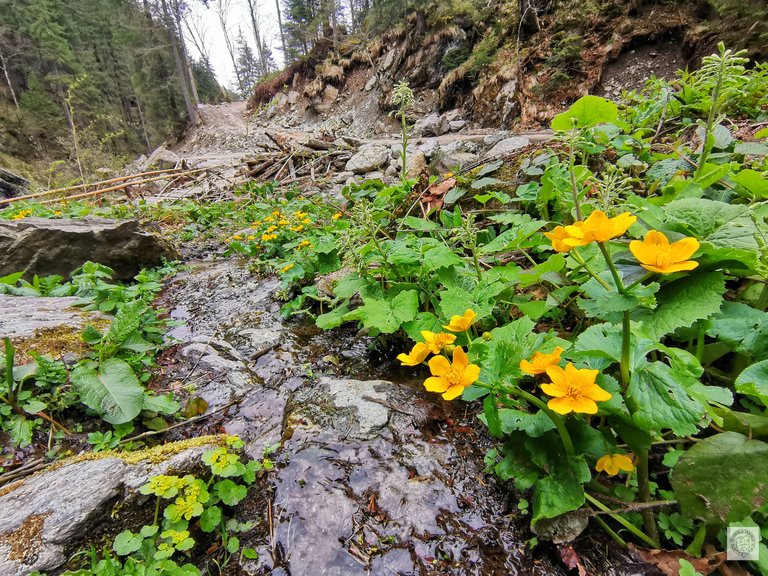 Of course, the occasion of discovering flowers and species of plants that can only resist in the mountains couldn't be missing, so our mood started getting better, only keeping our eyes open in front of the good parts of nature and refuse once again to observe the intervention of human who tend ruining places in most of the cases.
Click on the images to see them in full resolution
Our powerless bodies weren't the single thing that made us slow down the rhythm we were used to have during our hikes, but also the water debt which was crazy, not talking about a tiny river crossing by but about huge amounts of water that never stopped surprising me in how big volumes they kept flowing, some of these even reaching the path we had to hike, the water always flowing through the rocks we had to step over.
However, we didn't have other plans for the day, nor tried beating a score so we took all the time we needed for breaks and to admire the view we didn't know how much it would take until meeting again.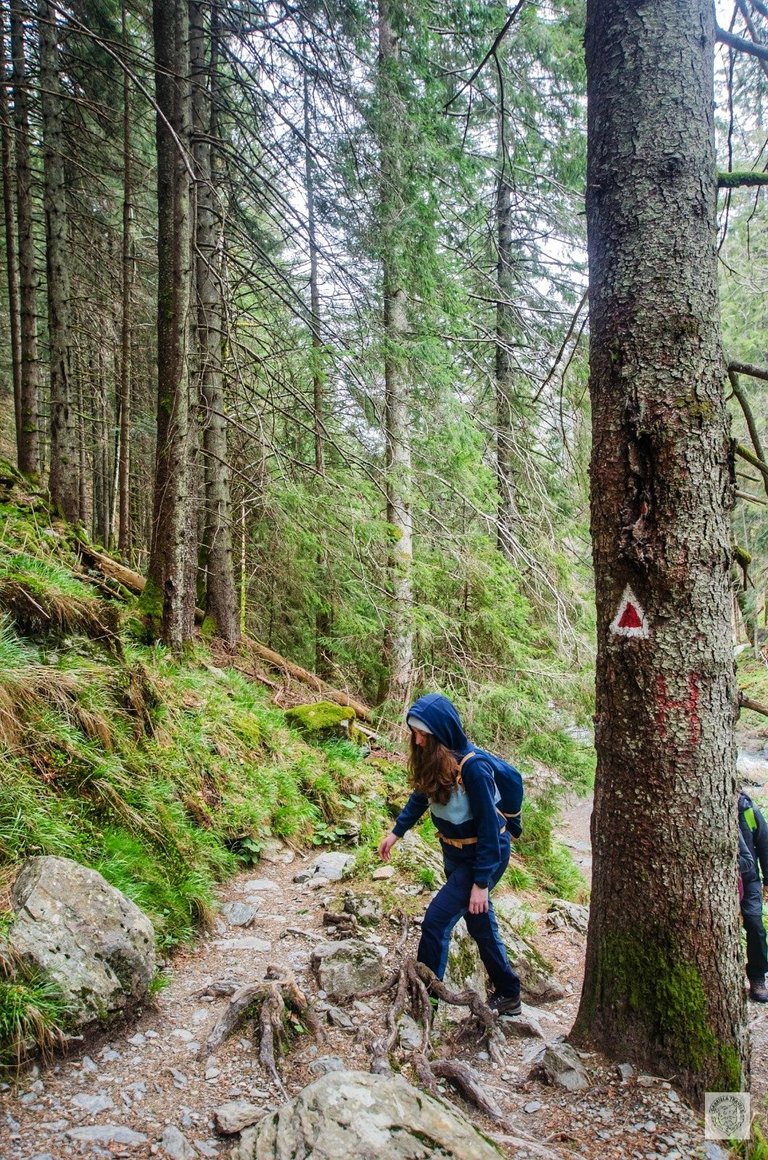 The thing that caught us by surprise was the inclined surface we had to keep hiking because we did our homework and read about the trail on the internet before venturing on it and there were mentioned just 2 or 3 parts of the trail that involved hiking, while the rest of the path was supposed to be fairly normal.
In reality, we only had one part of the surface with no inclined surface, while the rest of it was challenging our feet to the fullest, and for I and my mother who don't manage using our feet anymore as we used to do a few years ago, did feel like a challenge but which we accepted with our arms wide open.
It was actually a good moment for this kind of training in the mountains because as I said at the beginning of this post, the weather was quite cold, so all the efforts were in our favour making sure our bodies always remains warm and ready for more challenges offered by nature.
And thank God, we had plenty of that from now on!
I know this might feel a bit early to mention, but as some of you might know, the weather up in the mountains is never the same with that at the bottom, so with every single step we were making on to the top, we started feeling closer and closer to something that we didn't expect to experience at the beginning of the summer.
We actually began this adventure with some heavy wind, then encountered slight rain which was more of a drizzle because it never managed to reach the ground as a water drop almost freezing right away.
Click on the images to see them in full resolution
Happy or not, while we were in the forest and constantly had trees protecting us in one way or another from the rain that was slowly turning into snow, we only felt the need to take our jackets on, rather than facing the challenge offered by the temperature that started going down drastically.
But we still continued our journey like a normal thing, not thinking about returning to the car for even one second.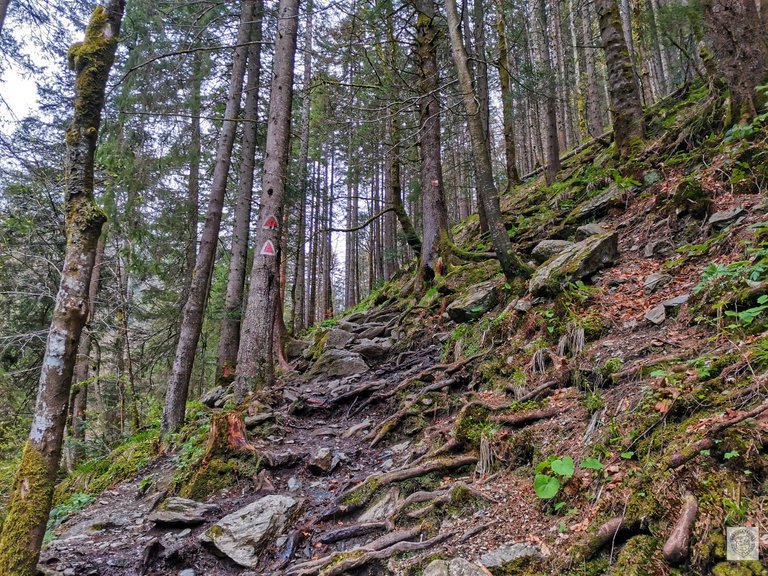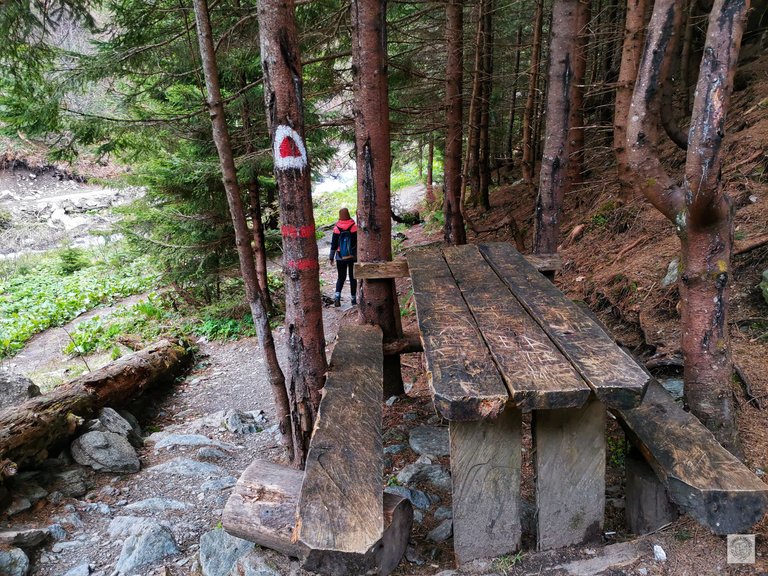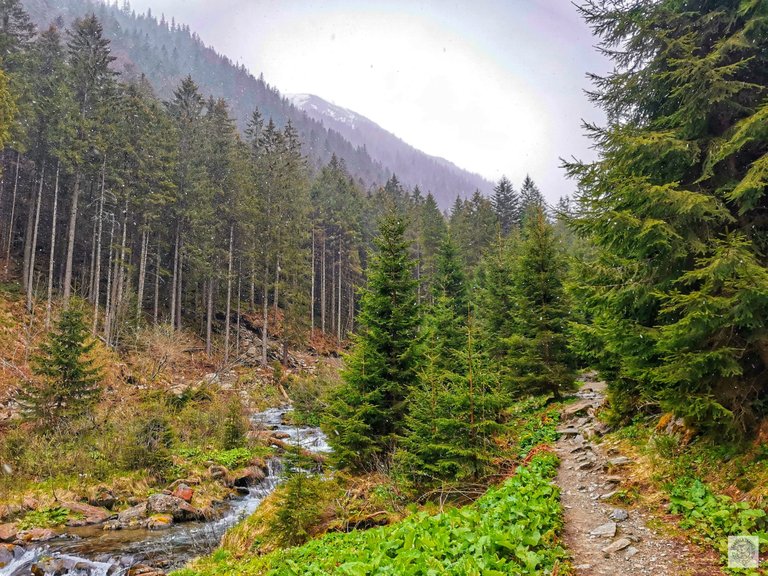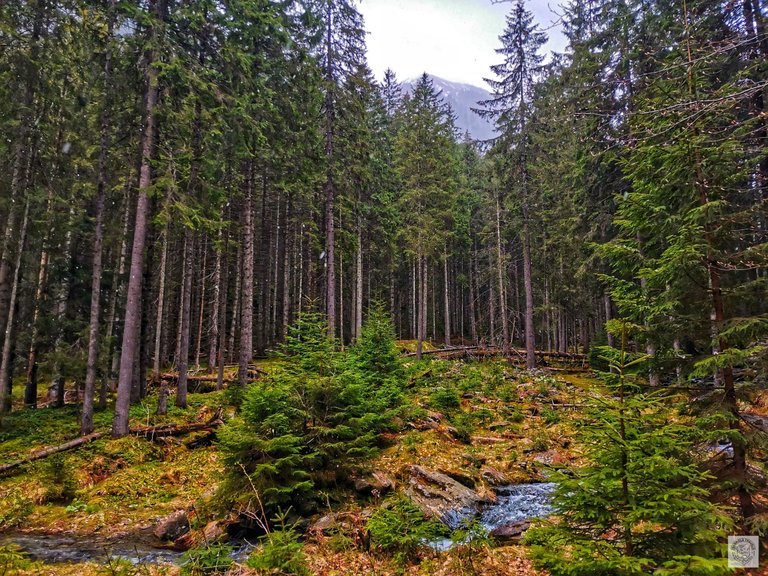 As soon as we crossed the last part of the forest and met a resting point with a table and two benches that we promised we will stop eating at when we return from our trail, we were welcomed by a different nature, still beautiful but yet a lot wilder, being accompanied by a slight snow which started feeling like small needless on our faces that were already frozen by the cold wind that never stopped.
We actually even met another group of tourists who were coming from the destination we were chasing who did tell us that up there is heavy snow and the fog is already taking its place too, so wished us luck and gave us the well needed spoiler in order to be convinced on the decision we will make further.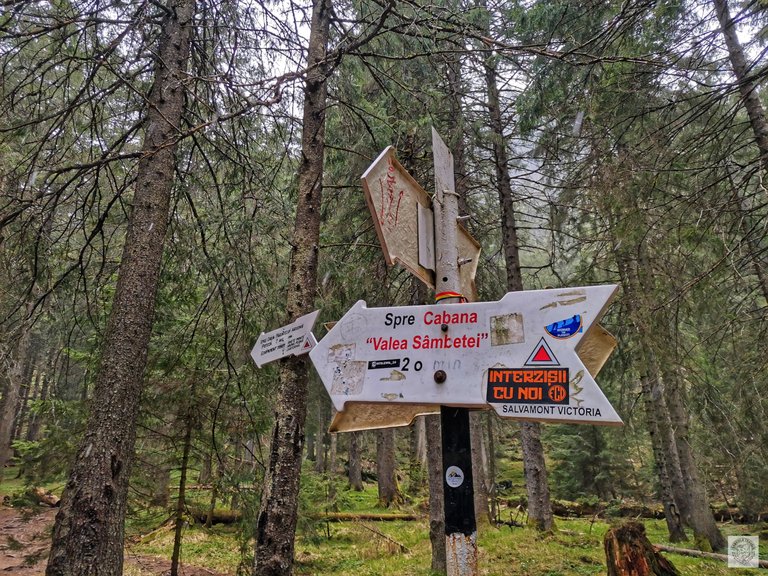 A thing that I always appreciate on the mountain tracks I followed along these years, is that no matter how well they are known by tourists or not, in most cases you will find plenty of marks showing you the way, whether it's painted on a rock or tree. However, a thing that is not so common, is represented by those panels that show you how much time is left until you meet the destination.
It's true that I did hike paths that had this kind of boards quite often on the way, but when you began a trail that says it will take around 2.5 hours to reach the destination at the beginning of it, and there are already 3 hours that passed and you've seen no panel anymore, you might begin asking questions. Happily, our assurance that we are still on the right path was confirmed a bit later when one of these informative panels mentioned around 20 minutes more until we reach "Valea Sâmbetei" Chalet, but which based on our condition and the weather that was becoming worse from one minute to another, we did expect a longer period until we make it to the destination.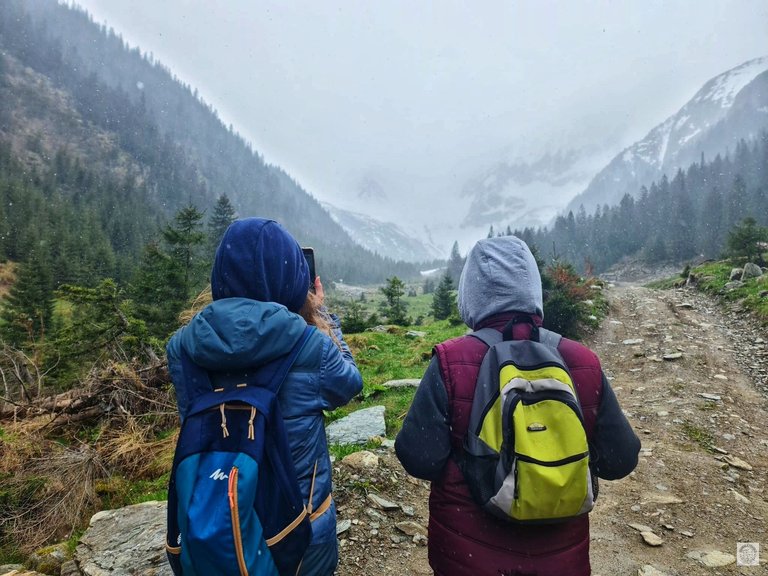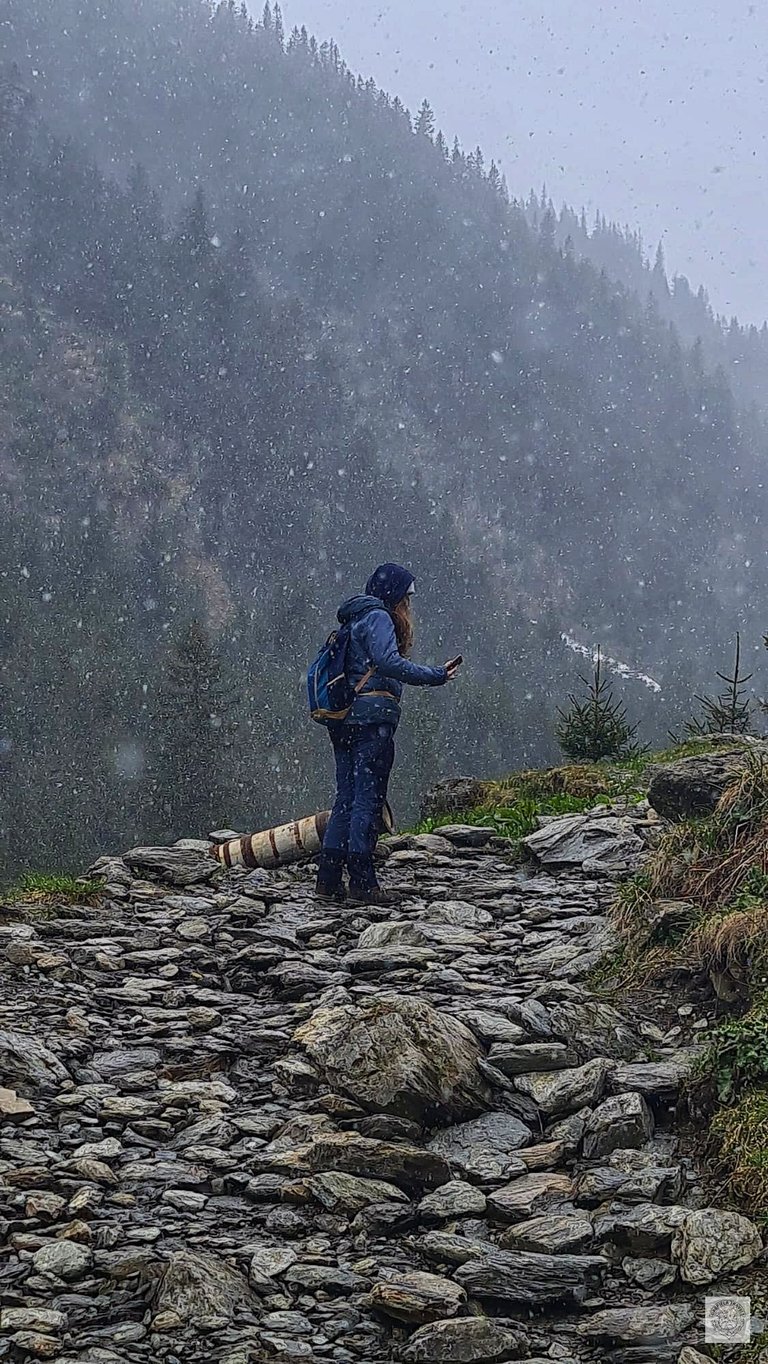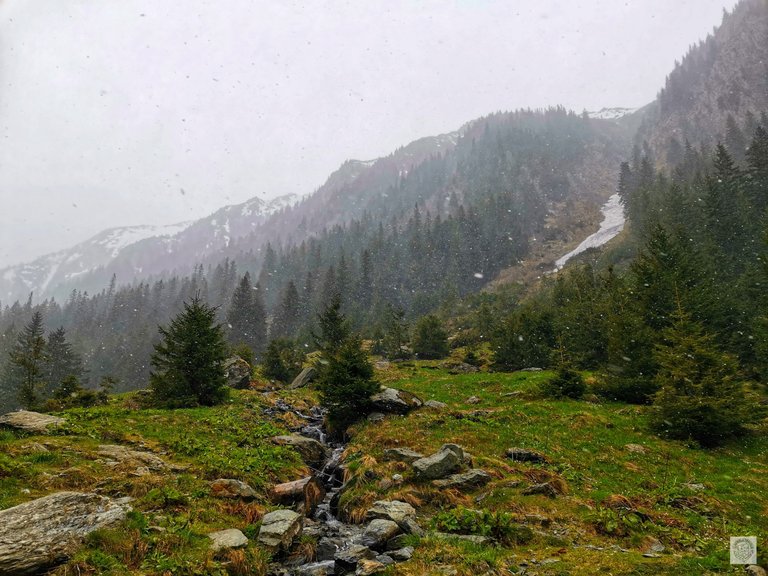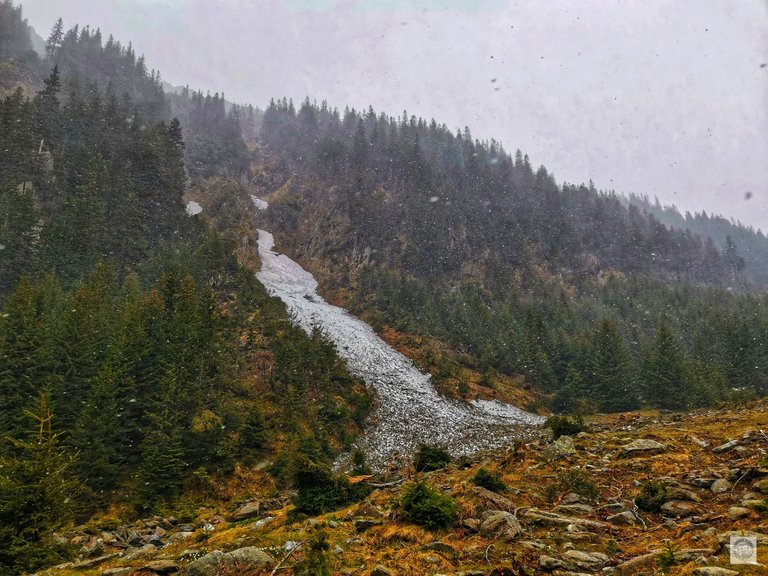 Actually, the bigger challenge was only starting from this point on, because we were leaving behind the forest and isolated path we followed that somehow still protected us more or less from the snow. But being on the last hundred of meters until we reach the chalet, the path was slowly taking the center of attention, bringing us through a more powerful and unfriendly wind who semeed like trying to stop our journey, being perfectly accompanied by the sharp snow who forced us to protect our faces with scarves and eyes with glasses. it would be literally impossible to keep walking without these because we weren't able to see anything in front of us anymore since our eyes were in constant pain.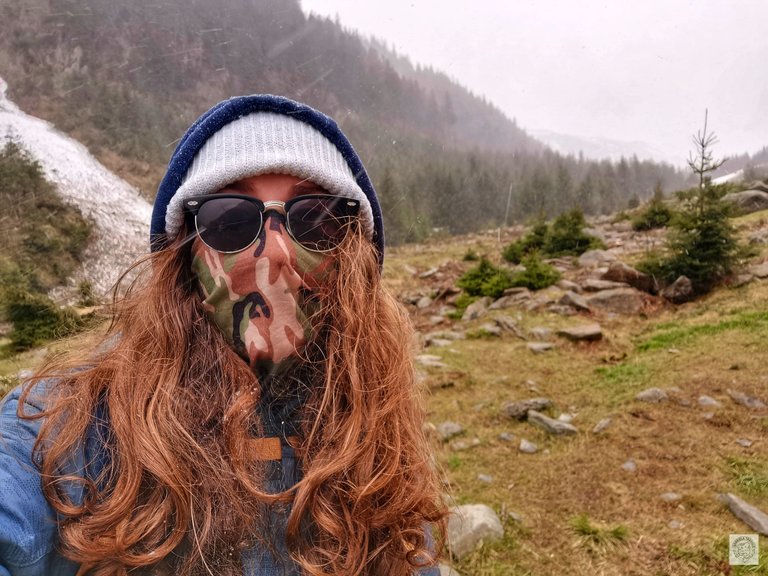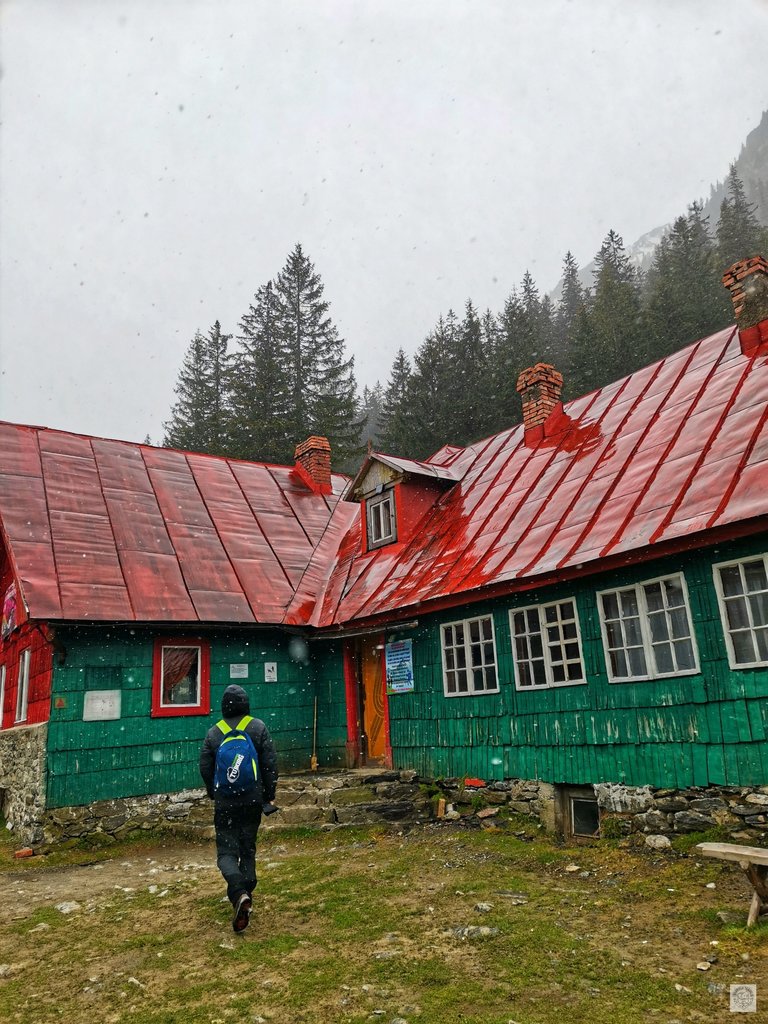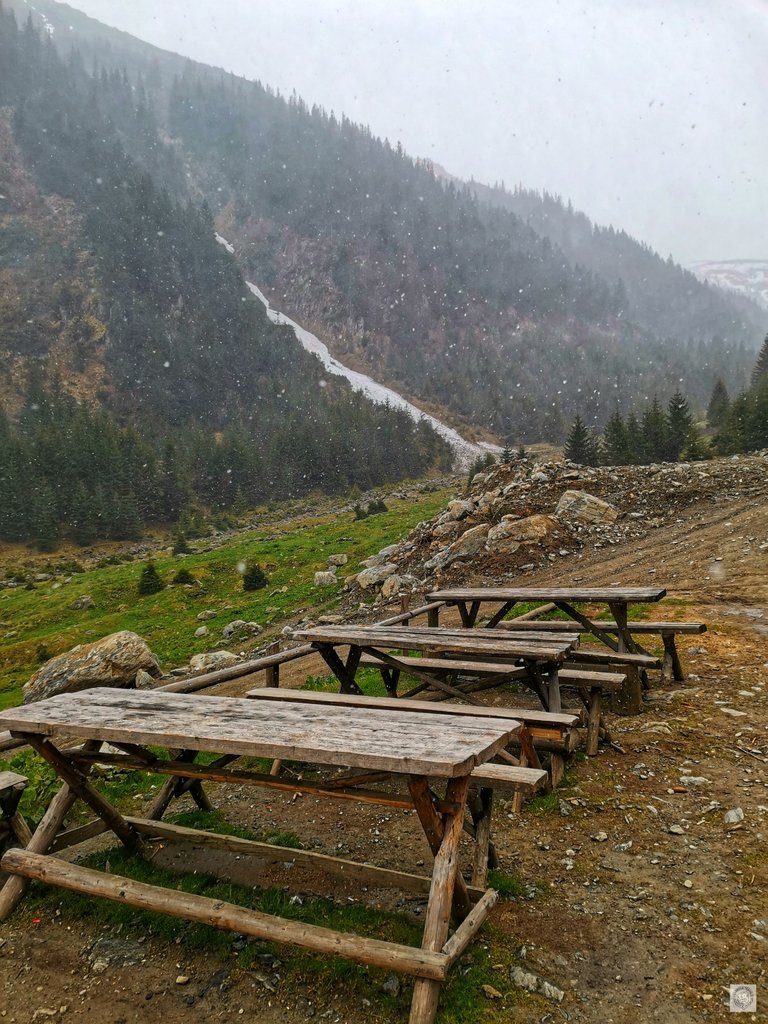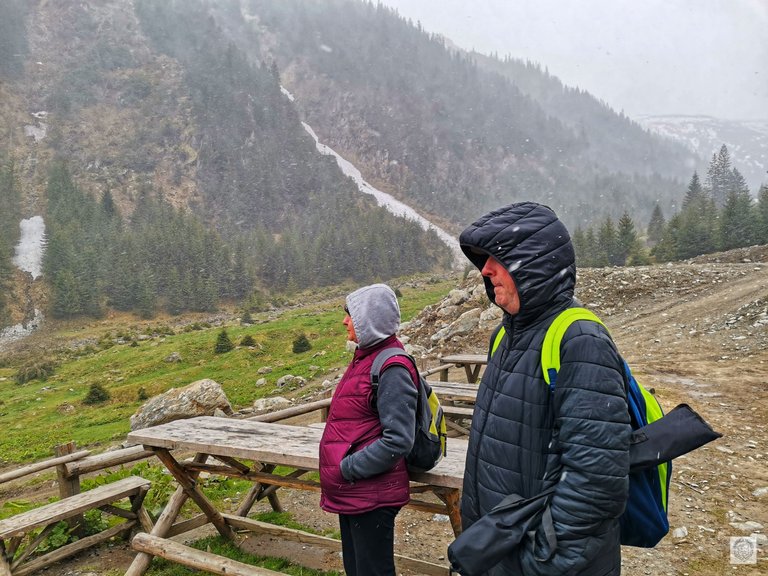 When we reached the chalet that was closed at the moment of our visit, my parents and sister decided to stop and rest there, with the desire to return to our car once we are done with the pictures.
However, while the cabin itself doesn't actually represent a point of interest, talking about a fairly old construction that looks the same as it was in the '90s, the things that make this place so popular and loved by tourists is also offered by nature, namely, a valley full of purple crocuses (RO: brândușe) which can be mainly enjoyed between 15th April and 15th May depending on the weather conditions.
While there was nothing to see in front of the cabin, at first we thought that we arrived way too late to admire their beauty anymore, but considering that there was another cabin in the distance and I knew about the famous pictures with the valley painted in purple in front of a cabin, I still wanted to give it another try and continued my hike alone to convince myself whether the flowers were gone or not.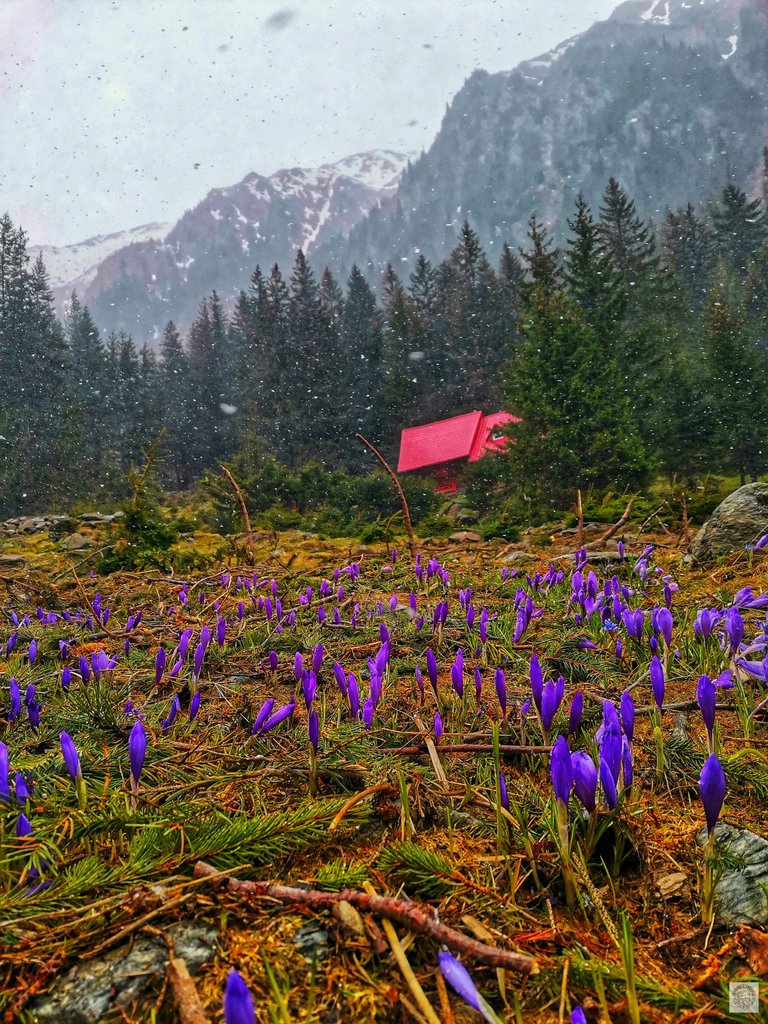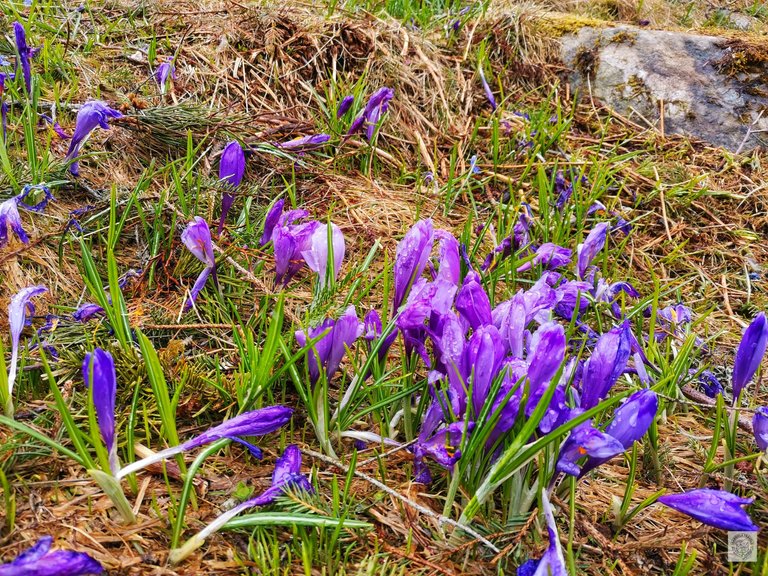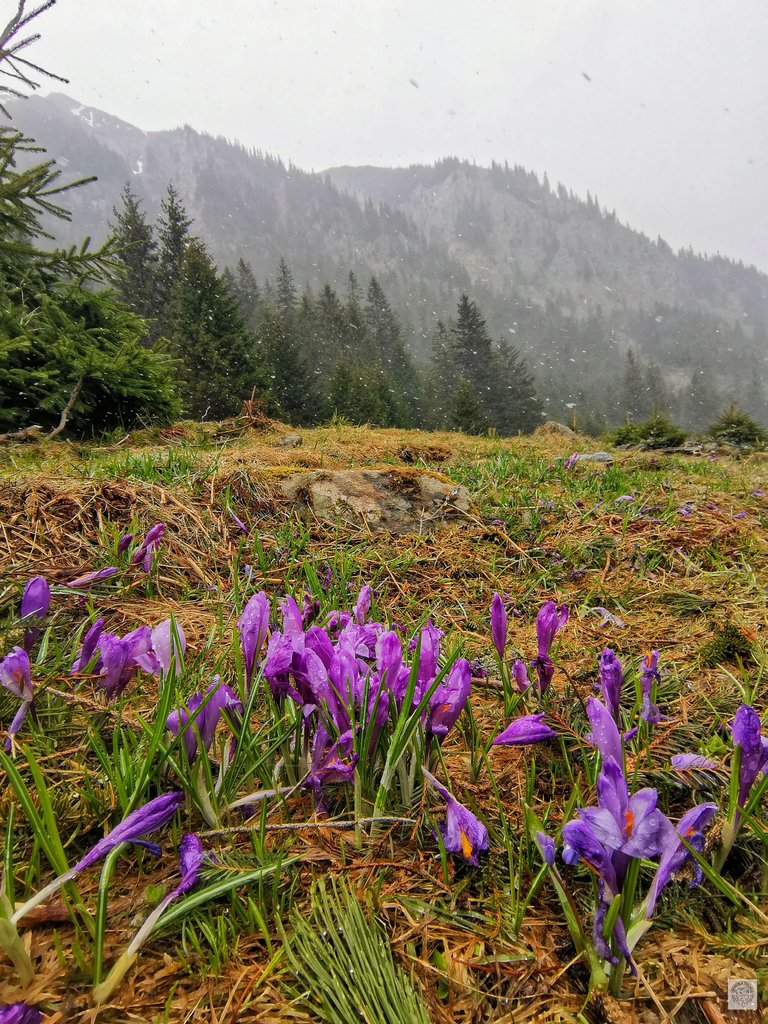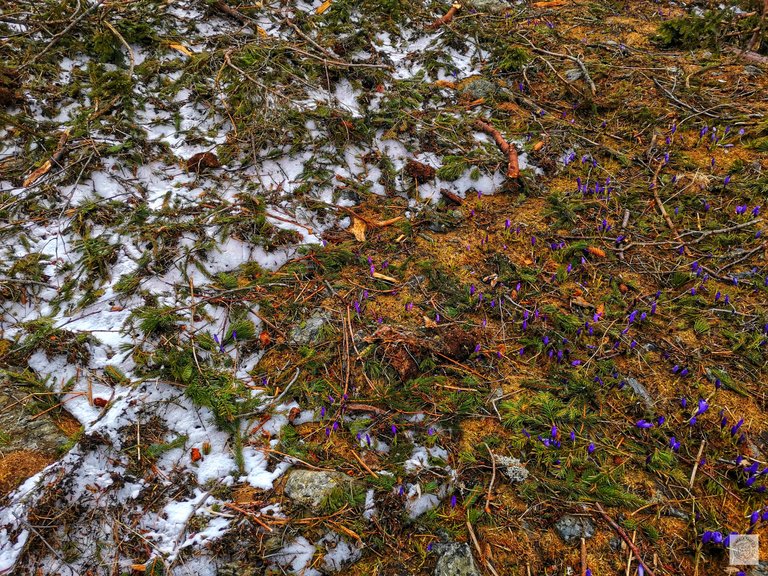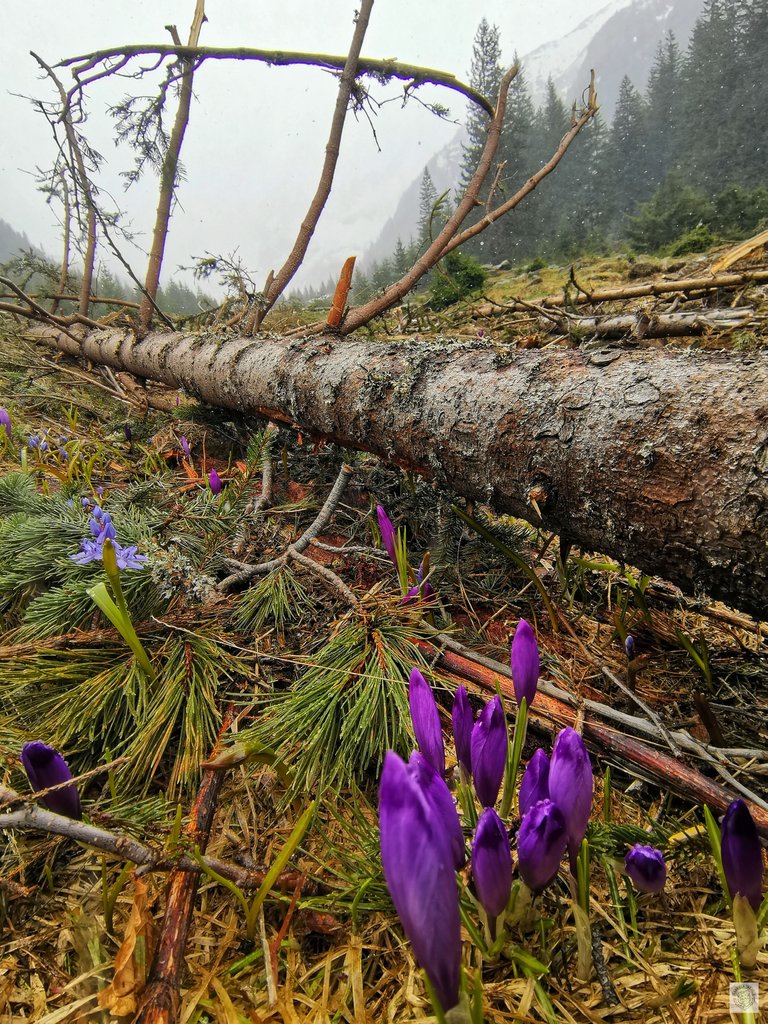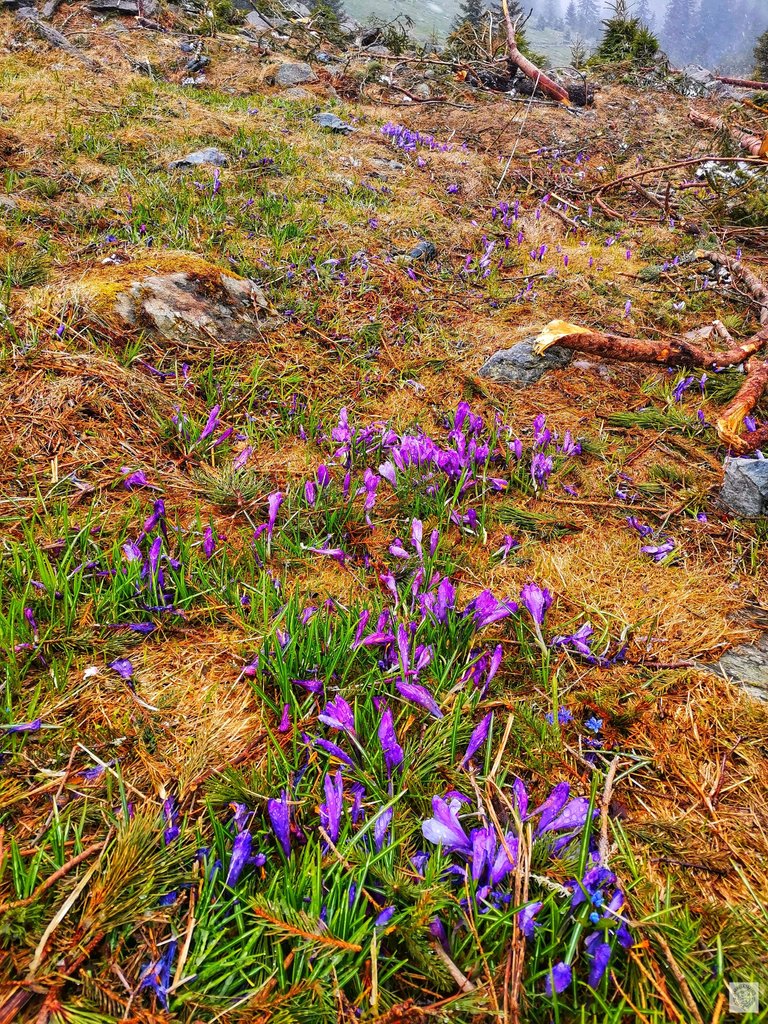 Just like any beautiful and challenging hike, it turned out that our efforts were paid off, because I managed to find some spots with the flower that describes the best this part of the mountains. It's true that most of them were frosted and died before blooming due to the snow and heavy wind, but it still felt like a deep breath of fresh air.
The biggest pain was not being able to admire the view in its complete view which is usually completed perfectly by the mountains which seem just one step away from here, but which couldn't be visible due to the fog that was slowly erasing the landscape around us.
I'll still borrow a picture from the internet and attach it down below though, so you can understand better what I'm talking about: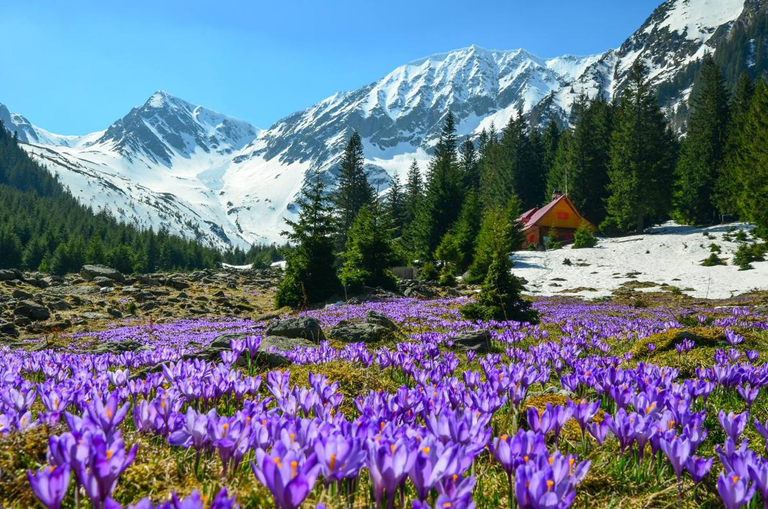 Source
The chalet dates since 1927 and it was initially built as a place of hunting where anyone who was hunting the animals crossing this valley had a place where to sleep during the night, but with the passage of time it turned into one of the most spectacular and scenic landscapes offered by nature when the full valley becomes purple and tourists make their way to the top.
While there are not many good things to be said about either the drink or food served at the chalet, it's still admirable that the construction resisted for almost 100 years despite the various moments when it was ruined by powerful weather conditions or avalanches. But along these aspects, it always ended up being renovated and never have it missing from the pictures of the tourists who like returning here over and over again, yet a thing that I'd like to repeat myself too.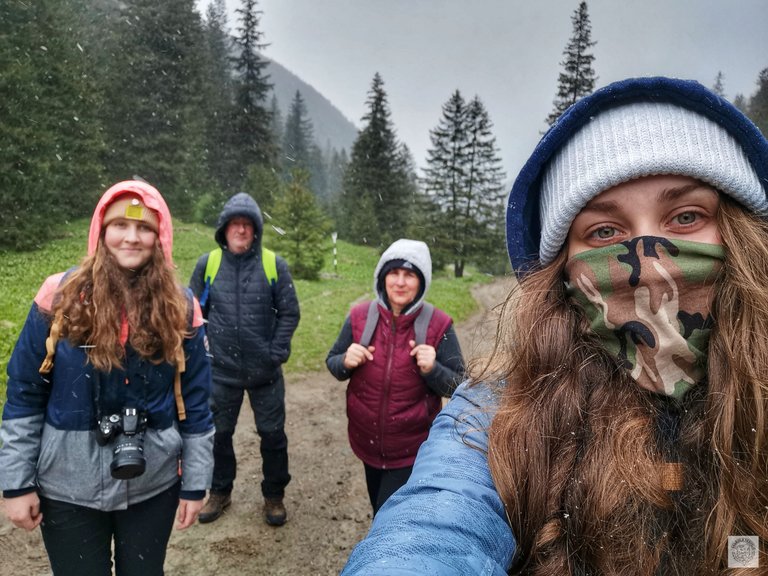 The trail measures around 17 km and it takes at least 5 hours to make it, but for us was a bit over 6.5 hours since we had plenty of breaks either to rest or to take pictures and admire the beauty that we missed for a long while. The altitude difference is of 690 meters and the trail is open any time of the year, with the mention that it's the most spectacular during the spring, and a bit dangerous during the winter.
"Valea Sâmbetei" Chalet is located in Făgăraș Mountains on the territory of Brasov county. In order to reach the cabin, the trail begins from Sâmbăta de Jos village, being followed by the road that crosses Sâmbăta de Sus until you reach Brâncoveanu Monastery. Fairly close to the monastery, there is the Touristic Complex Sâmbăta where you will begin seeing the road signs leading to the cabin, but there is a bit more road that you can drive on if you want to shorten the route with a portion of the forest road.

SEE YOU IN THE NEXT TRIP! 🗾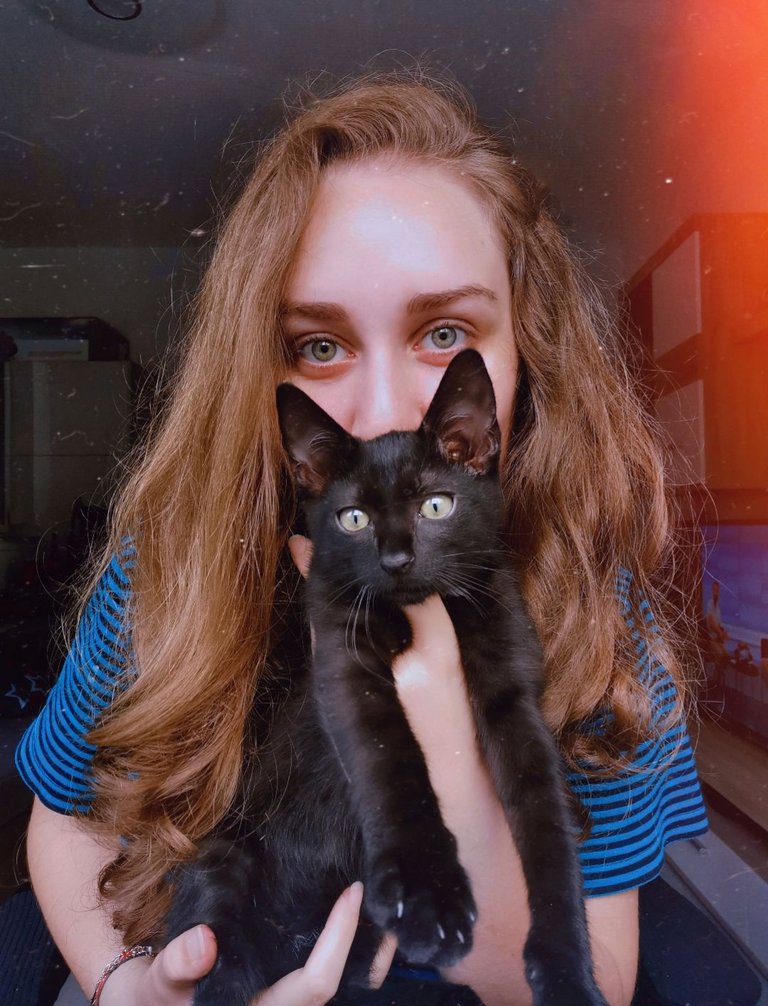 Gabriela Travels is the FOUNDER of "Festival Mania" who started this community from the passion of attending various festivals and with the purpose of encouraging more people to explore festivals all around the world and share their experiences. At the same time, Gabriela is an independent Graphic Design Freelancer since 2019 completing over 600+ orders in this time and collaborating with various businesses and people from all over the globe. Additonally, Gabriela has her own corner on the internet since 2017 where she writes various articles for her blog, the most popular being the travel ones (260+ articles written on this field), but also abording other topics as well, like game reviews, movie and series reviews, photography posts, cooking recipes and more, boosting the total number of articles written to 550+ blog posts. Gabriela is also a gamer since she was 11 years old and gaming remains one of her biggest passions along with traveling, editing, cooking, and doing various sports activities.
~ @GabrielaTravels ~

Let's keep in touch:
↪ Blog: http://gabrielastravels.wordpress.com/
↪ Fiverr: https://www.fiverr.com/gabrielatv/
↪ YouTube: https://www.youtube.com/@GabrielaTravels
↪ Instagram: https://www.instagram.com/GabrielaTravels/
↪ TikTok: https://tiktok.com/@gabrielastravels/
↪ Discord: GabrielaTravels#0104
↪ Facebook: https://www.facebook.com/gabrielaistraveling/
↪ Twitter: https://twitter.com/GabrielaTravels

Click on the banner above for more details

---
---