Let's travel together #265 - Catedrala Mitropolitană Sfânta Treime din Sibiu (The Metropolitan Cathedral of Sibiu)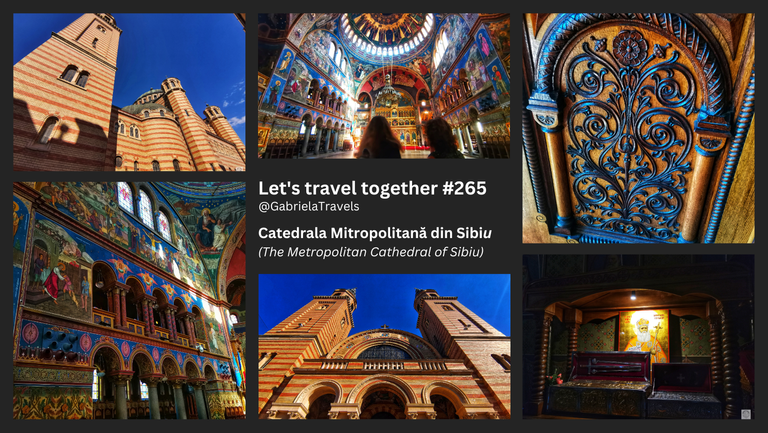 Faith can come in many forms and there is no need to debate this subject too much, but it becomes more and more important in our lives especially while the life we all live becomes more mad with each passing day.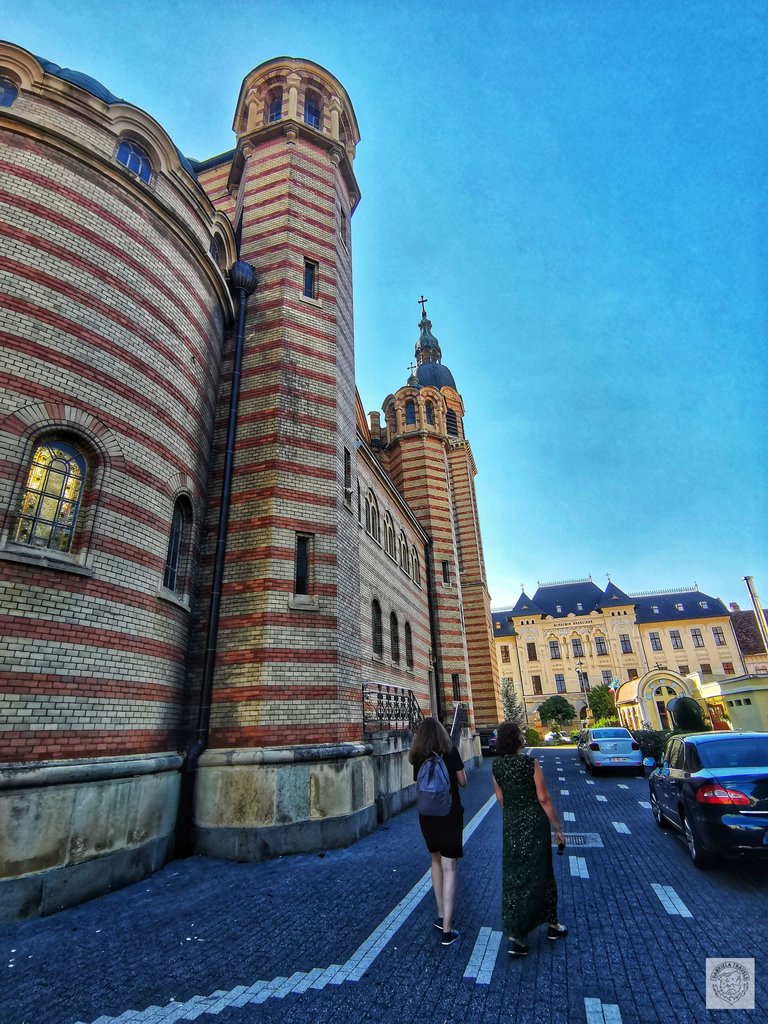 With this being the 2nd year in a row when I no longer go on my yearly road trip in Romania, seeking for the unknown and exploring the map from north to south and from east to west, I have plenty of time to enjoy the local traditions, attend festivals but also to dig deeper in what Sibiu has to offer for both the locals and the tourists.
And while I am a bit of both since I wasn't born in this part of the country, nor too close to Transylvania, I keep feeling like I am on a long vacation that no one knows when or if will ever end.
This is also a pretty good excuse to always search for a new place to visit whenever I get the chance to, but since it's been quite a long while since I entered a religious place with the main purpose of visiting it, last summer I managed to taste that feeling again in the company of my sister and mother.
Actually, along with the many mountains hiked and wild parts of nature explored during the yearly road trip I mentioned earlier, we were also checking out historical monuments that could be anything from castles to citadels, from monasteries to the ruins of who knows what building used to be there.
A thing that I always said and I'm pretty sure I'll keep my opinion for a while, is that monasteries or religious places in general, will eternally represent a great source of admiring some less common architecture, and paintings but also chests with their mysteries.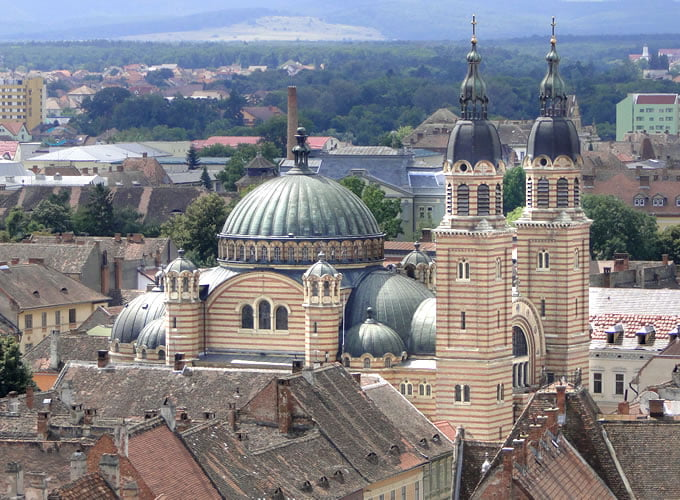 Source
The such place we ended up visiting is known as Catedrala Mitropolitană Sfânta Treime din Sibiu and I had to borrow a picture from the internet with a shot taken from the drone in order to understand how grandiose the building is and that it deserves a visit by anyone passing by, no matter what their faith is.
This actually reminds me of a mosque or Constantinople, which makes it amazing to have a similar building in Romania but with a different purpose behind it. It actually makes me feel a lot closer to places I wish to visit one day.
Click on the images to see them in full resolution
Even if I failed terribly taking a complete picture of the building due to its incredible sizes that ended up exceeding the frame offered by my phone, I took a few moments to capture the main entrance to the cathedral which somehow made us feel very welcomed. Not that there should be a different kind of feeling but I heard lots of people who don't visit religious places just because they feel a strange energy and always end up hitting the road back home and only maintain a spiritual connection with God.
Click on the images to see them in full resolution
The architecture of the cathedral is not less impressive because it dates since 1906 when the building was first raised over the remains of a Greek cathedral that served as an episcopal place between 1797-1799.
And while at the beginning of this post I said that somehow this place reminds me of the former Saint Sophia Cathedral in Constantinople (current Ayasofya Great Mosque), on q uick search on the internet I found out that this was the initial plan actually. To build The Metropolitan Cathedral of Sibiu in the style of a Byzantine basilicas that turned into recreating Ayasofya Great Mosque but on a smaller scale. Which is both crazy and amazing at the same time!
However, having the cathedral built wasn't something easy because for more than 60 years, the orthodox people of Transylvania took part in a lot of spiritual battles since there was no orthodox church around and waiting for one to be raised turned into a real pain, especially since Romania is known for having some of the most faithful people in Europe and the need of speaking to God was becoming more and more powerful.
Click on the images to see them in full resolution
Once we passed the big doors we got to share a similar need and emotion too due to the specific energy any religious place has which always manages to turn us from simple visitors into faithful tourists who are not in a rush anymore taking pictures here and there but actually dedicate a few moments sitting on a chair, praying, and simply listening to the silence that often says more than words.
Happily, no matter if there are some sort of feasts undergoing, the church is open most of the day, despite the day of the week, which makes it get visited by many kinds of people with different interests.
Another interest we had along with that of visiting the cathedral, was also bringing my mother to the single place in the country where can be found a very beloved priest in Romania that has a different connection with his audience because it got involved in various conferences and televised debates, also being a teached and a writer. And while my mother follows him quite a lot on the internet and also read his books, we thought it will be a fairly nice activity to fulfill our day with.
Unfortunately, the priest wasn't there since it gets involved in many other things, as mentioned above, but it still felt nice walking in his second home and share the same energy. For my Romanian readers who most likely will recognize his name, I'm talking about Constantin Necula.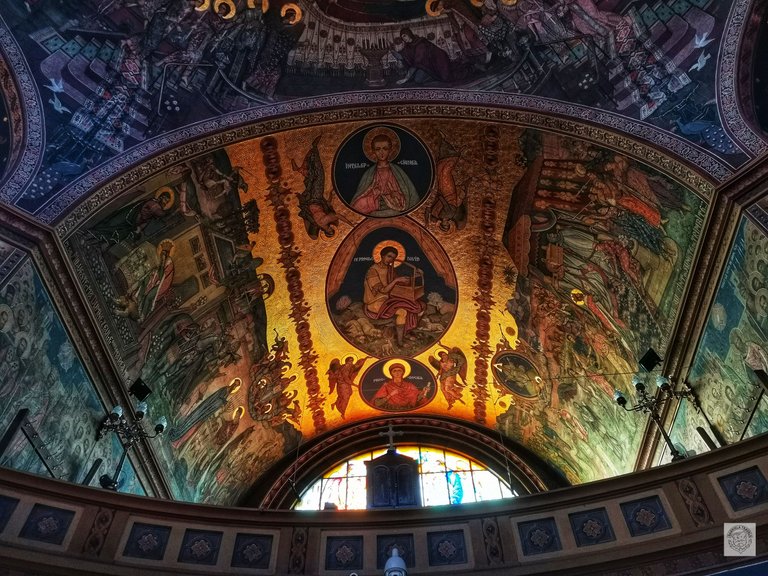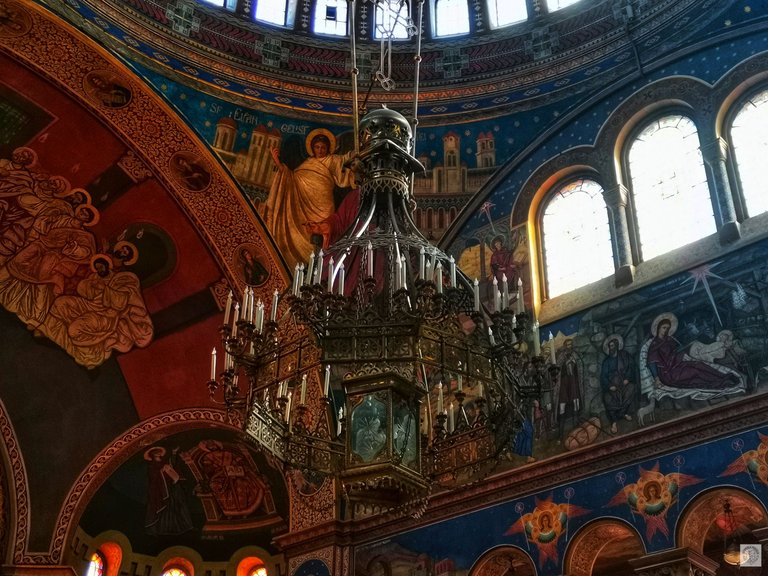 Click on the images to see them in full resolution
The architecture from the inside is no less impressive, also following a Byzantine style no matter if we speak about the arches, columns, or the rest of the details.
Each arch is composed of four identical columns that add another level to the building which we can call the little Constantinople.
One of the main points of interest which also captured my curiosity and made me stare at it for a while, was represented by the circular ceiling resembling a dome with tens, if not hundreds, of different stained glass windows and paintings, each with their own story.
Click on the images to see them in full resolution
And even if it's not the best comparison I could make, somehow, whenever I watch the paintings from a religious place I always end up thinking about tattoos. I know these are very different types of art and I've often read that they don't go along very well, in my head they make some kind of connection especially since each tattoo says more or less a story, which is also the case of all the religious characters are surrounding us while making our steps in a church.
Because they all have their own story, just like each one of us has.
Click on the images to see them in full resolution
Though, with so much beauty surrounding us at, literally, any step, we couldn't forget to take some pictures of the treasures that often represent a good place where to pray, away from the rest.
But just like each part of the cathedral represents something interesting no matter what your age and faith is, so do the towers surrounding the building which are 45 meters long and create a powerful sound when the bells are rung.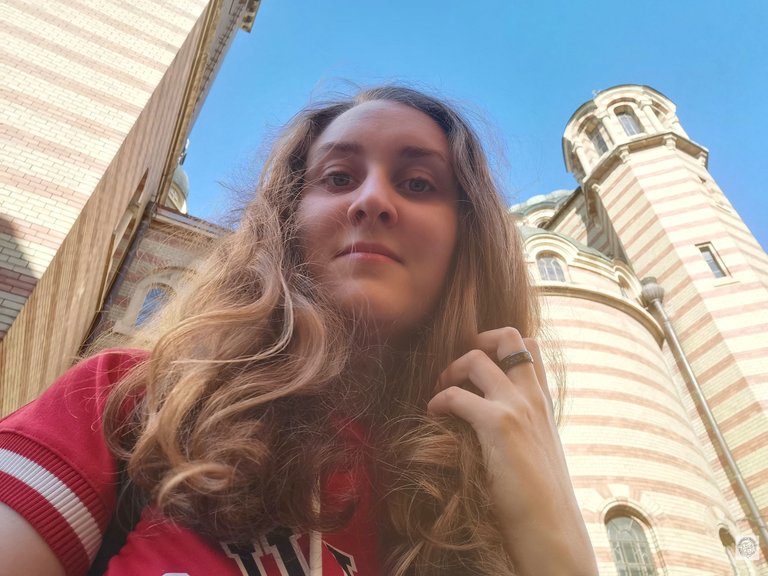 Click on the images to see them in full resolution
We ended up spending a bit more time close to the church by surrounding it and checking its architecture entirely, then we slowly made our way home. Unfortunately, with so much malice out there with each passing day, lots of disasters both in life but also in nature, and meeting more branches of evil at every minute, it's sad to see that less and less people tend reconnecting with God no matter their faith.
I remember when I was a kid that I was spending a lot of time in church with my grandparents that taught me from an early age how important faith is, because just like spiritualism, it can keep you sane in a very mad world. Which I ended up feeling a lot more powerful in the last few years when lots of things affected the planet in many forms.
Catedrala Mitropolitană Sfânta Treime din Sibiu (The Metropolitan Cathedral of Sibiu) is located on Street Mitropoliei 33, Sibiu 550179 and can be visited any day of the week between 7 AM and 8 PM. There is also a little shop inside the yard with religious souvenirs, books and other similar things that can be bought at a small price either as a memory or as a gift for your grandparents or the religious members of your family.

SEE YOU IN THE NEXT TRIP! 🗾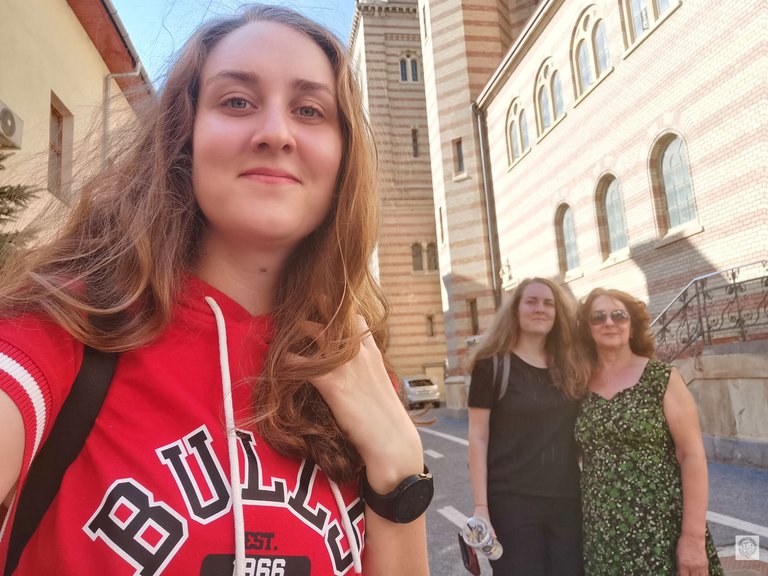 Gabriela Travels is an independent Graphic Design Freelancer since 2019 completing over 600+ orders in this time and collaborating with various businesses and people around the world. At the same time, Gabriela has her own corner on the internet since 2017 where she writes various articles for her blog, the most popular being the travel ones (250+ articles written on this field), but also abording other topics as well, like game reviews, movie and series reviews, photography posts, cooking recipes and more, boosting the total number of articles written to 550+ blog posts. Gabriela is also a gamer since she was 11 years old and gaming remains one of her biggest passions along with traveling, editing, cooking, and doing various sports activities.
~ @GabrielaTravels ~

Let's keep in touch:
↪ Blog: http://gabrielastravels.wordpress.com/
↪ Fiverr: https://www.fiverr.com/gabrielatv/
↪ YouTube: https://www.youtube.com/@GabrielaTravels
↪ Instagram: https://www.instagram.com/GabrielaTravels/
↪ TikTok: https://tiktok.com/@gabrielastravels/
↪ Discord: GabrielaTravels#0104
↪ Facebook: https://www.facebook.com/gabrielaistraveling/
↪ Twitter: https://twitter.com/GabrielaTravels

---
---