Friday Market full of flavors at the first Lavender Fest held in Sibiu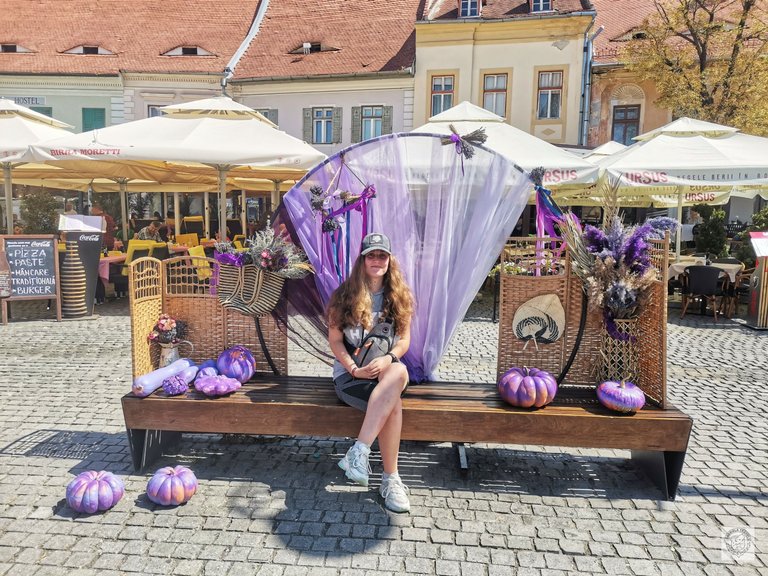 Hello everyone! Hope you have a nice and chill end of the week! 💜
While this is just my 4th post for the #MarketFriday thingy organized by @dswigle, I always pick very carefully my posts for this community which honestly I wish I could post at least once per week. But since shopping is literally at any step and anyone can do pretty much all the requirements to qualify for this kind of posts, I do try my best to only bring unique and interesting markets that I personally explored and formed a proper opinion about.
So, for today's post, everything will be mostly related to lavender since this is also the name of the festival (Lavender Fest), but what makes it so special is that it represents the first edition held in Sibiu.
It's not a surprise anymore that Sibiu has no days off during the summer and the beginning of autumn when it comes to festivals of all styles, but while some are at their 30th edition or more, there are also these kinds of events that are born these days and which I can't wait to see more editions of and how their evolution goes from just a few stalls to maybe a few hundreds one day.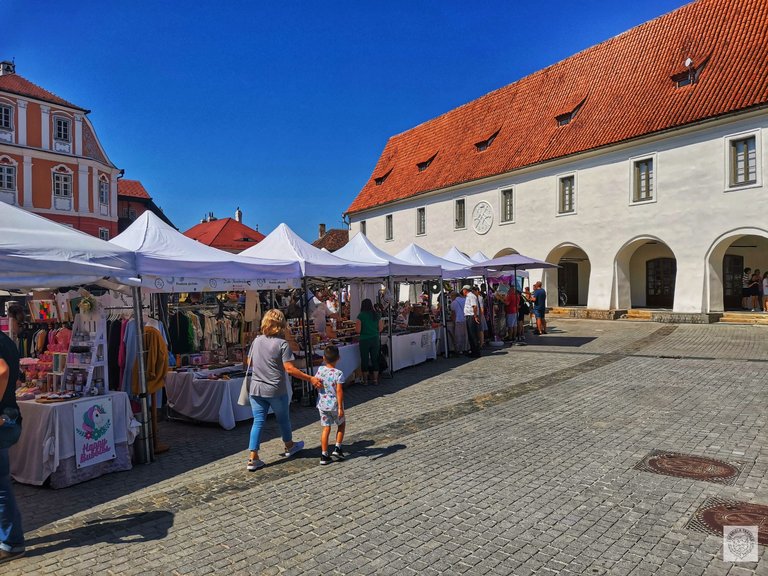 This very first edition which was held between the 24th to 27th of August, brought around 50 artisans and lavender producers from all over the country, all of them sharing the love for lavender in many forms, from simple toys to decorations, from natural syrups and juices to cosmetics, and a lot more.
Personally, I was never a fan of how lavender smells but I do love its color and the energy it gives you while being around a bush of this plant. At the opposite pole is my mother who always loved it, having pretty much a lot of things with lavender as the main theme.
Unfortunately, none she nor my father managed to make it on time to visit I and my sister as they do monthly, so she missed this festival which I'm sure she would have loved to see especially since there were a lot of flavors in air around this market which would make anyone stop by, no matter their level of curiosity. So, along with my sister, we thought that we should take advantage of this moment and check out the fair with the thought of buying something to bring to our parents as a little surprise during our quick visit to the place where we were born.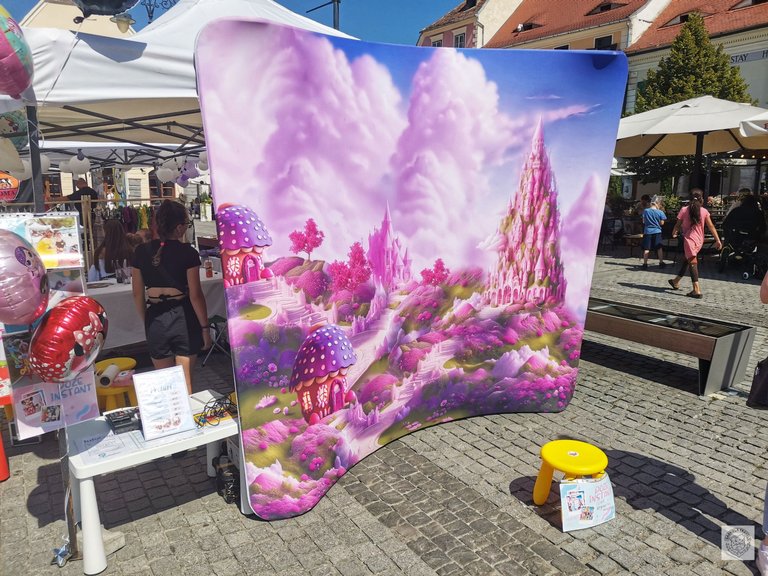 Along with the stalls that I can't wait to share pictures of, there were also two nice places where both adults and kids could take pictures as a memory, the first such organized space being in the featured image, and the 2nd one the one from above which had a more fairy tale vibe.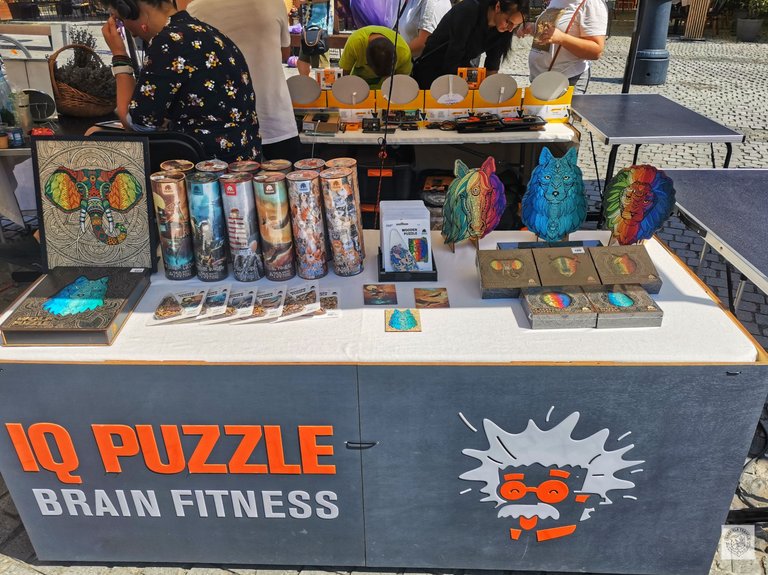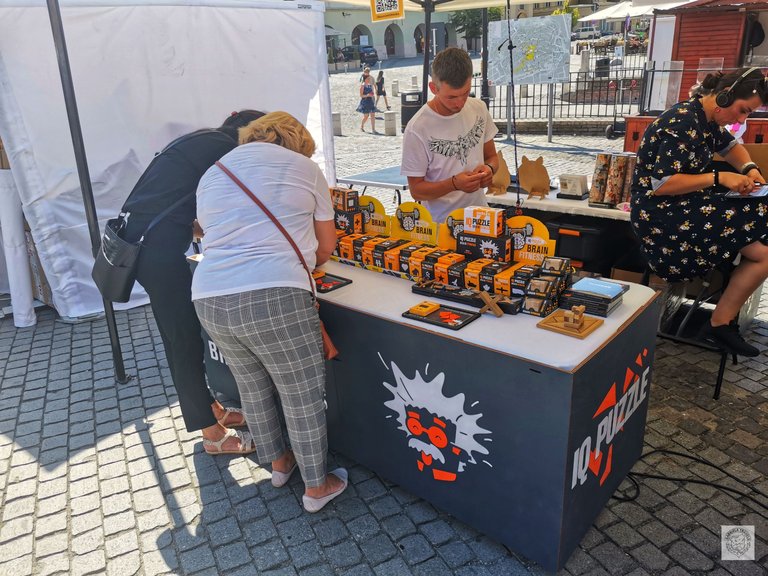 Though, there were two stalls that I called intruders because no matter how much time I spent in front of them, I really couldn't find anything lavender-related. I mean, I do love puzzles, board games and activities who train your brain in general, but since each seller should focus on lavender from one point of view or another, I don't understand how they made it to the festival.
But I'm not going to judge as I'm sure there were a lot of people interested in this kind of things too, and returned home with some new games for themselves or their kids.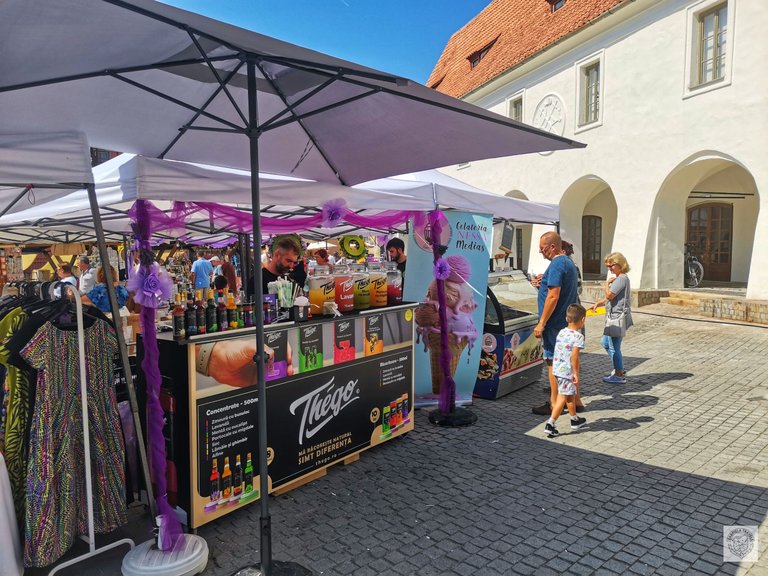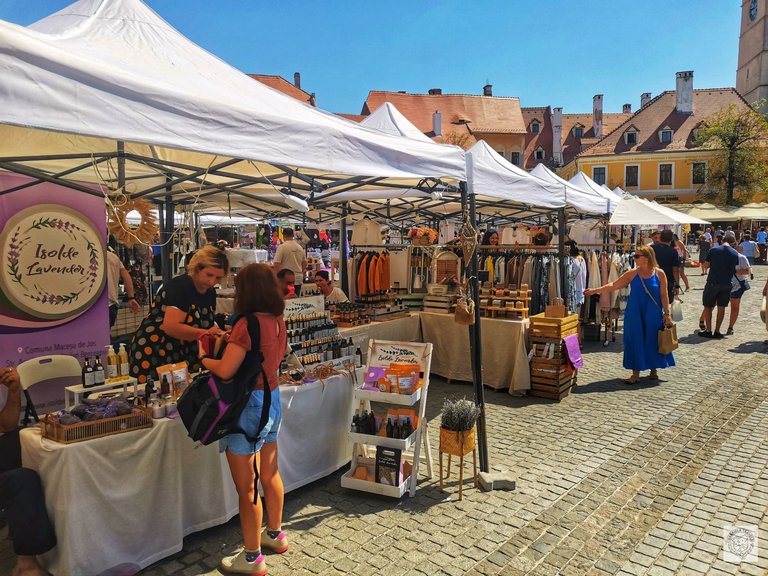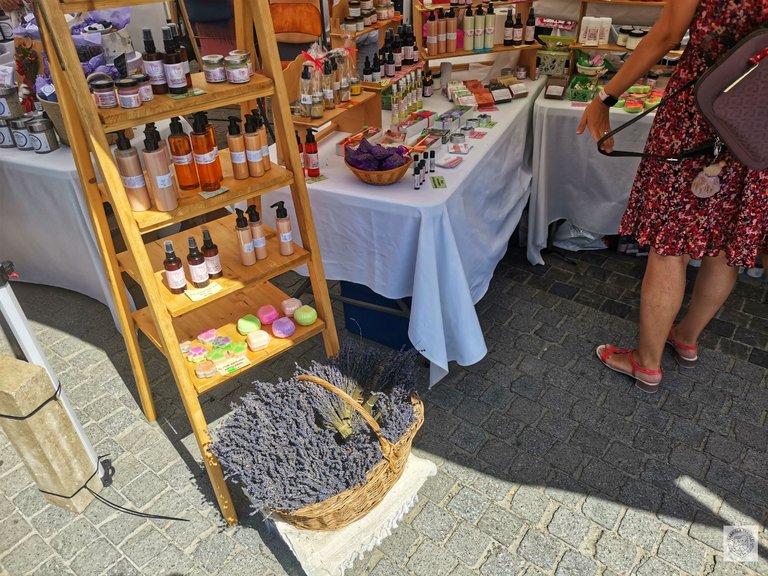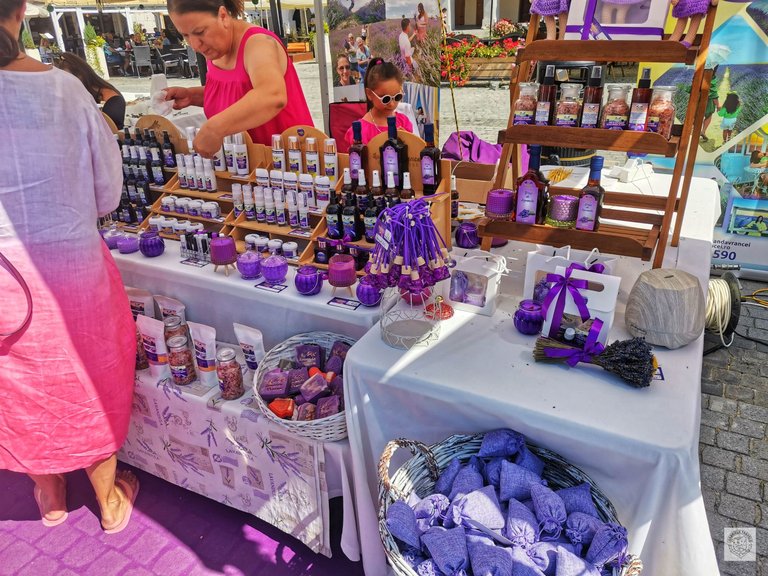 And now that we are done with the things that felt a bit out of the lavender theme, it's time to take a look at the stalls that got involved as best as they could, also coming up with smart ways to reinterpret the given theme.
Along with the small bags of lavender or bouquets that were not missing from almost any stall, there were oils, syrups, soaps, sea salt, and almost any cosmetics.
However, while these can represent pretty much a common thing to return with from a Lavender Fest, there were also some less 'boring' products to buy, some of them also making us bring out the wallet from our backpacks.
The first things we wished to try for ourselves were the lavender juice and ice cream, but since not all of the sellers accepted the payment by card, we had to give up on this thought and look out for something else.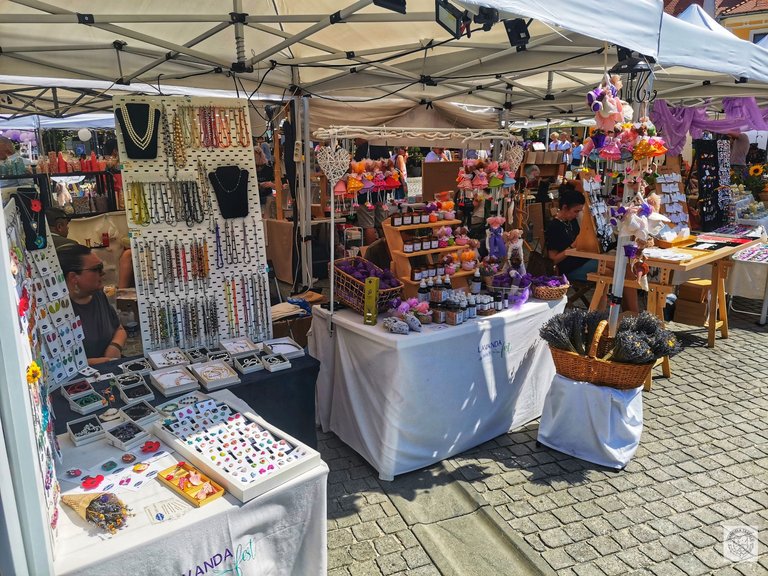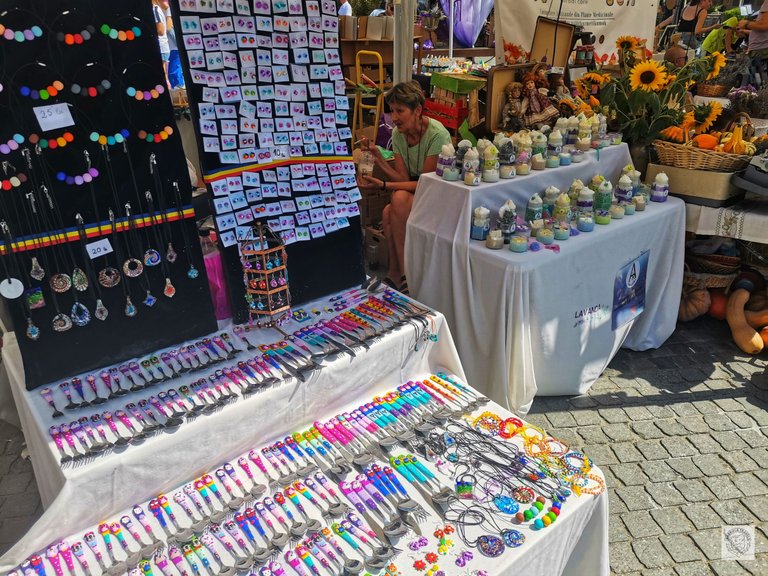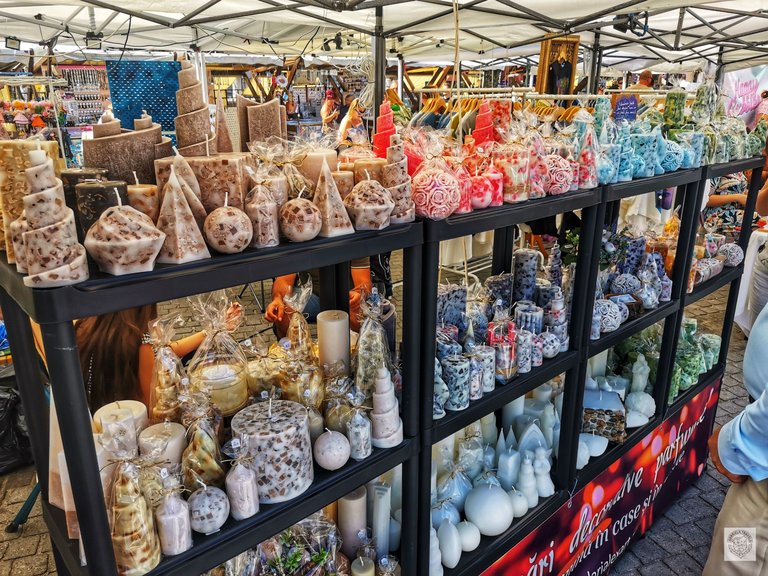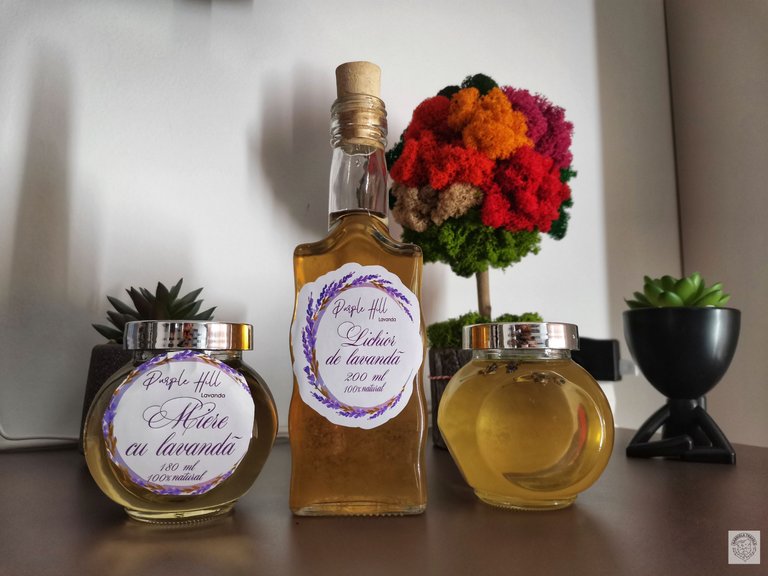 The products that captured my curiosity the most and I found as some smart ways abording the given theme, were the honey and liquor made entirely from lavender, the candles which even though they are pretty common under many forms and flavors this was the first time seeing them created in a jar similar to desserts, but also the handmade toys, clothes and accessories that included lavender in their composition in a way or another.
However, while the temptation was big to purchase more things than those we returned home with, we resumed buying a bottle of lavender liquor and two small jars of lavender honey.
The lady we bought these from was really friendly and wanted to let us taste the products even just from pure curiosity without being forced to buy them afterwards but while we are not fans of lavender as I previously mentioned, we got these without tasting. Both the liquor and the honey are 100% natural and the jars even have small sprigs of lavender inside which give a really beautiful look.
We also had a quick conversation about lavender syrups that we intended buying but which she suggested us not getting from this kind of fairs because they are full of preservatives to resist on a hot day of the summer if not consumed right away. And that it's better to get them from local producers where you will be confident that you are buying a 100% natural product.
Did you ever attend something like this so far?
Personally, I can't wait for the next edition of this one to buy some more products for my parents, and it did feel like a beautiful experience even though lavender is becoming more and more popular these days. At least on this part of the globe. 😁
Don't forget to let me know in the comments if something from the attached images got your attention or if you've attended something similar in your country. Would be nice to find out if it's a unique fair or pretty common out there!
---
More fairs attended so far: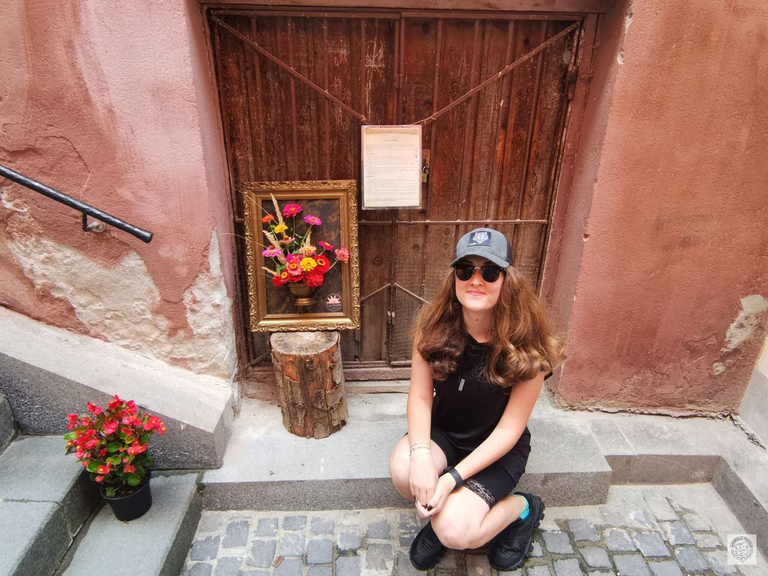 Gabriela Travels is an independent Graphic Design Freelancer since 2019 completing over 600+ orders in this time and collaborating with various businesses and people around the world. At the same time, Gabriela has her own corner on the internet since 2017 where she writes various articles for her blog, the most popular being the travel ones (250+ articles written on this field), but also abording other topics as well, like game reviews, movie and series reviews, photography posts, cooking recipes and more, boosting the total number of articles written to 550+ blog posts. Gabriela is also a gamer since she was 11 years old and gaming remains one of her biggest passions along with traveling, editing, cooking, and doing various sports activities.
~ @GabrielaTravels ~

Let's keep in touch:
↪ Blog: http://gabrielastravels.wordpress.com/
↪ Fiverr: https://www.fiverr.com/gabrielatv/
↪ YouTube: https://www.youtube.com/@GabrielaTravels
↪ Instagram: https://www.instagram.com/GabrielaTravels/
↪ TikTok: https://tiktok.com/@gabrielastravels/
↪ Discord: GabrielaTravels#0104
↪ Facebook: https://www.facebook.com/gabrielaistraveling/
↪ Twitter: https://twitter.com/GabrielaTravels

---
---