🍿 "Euphoria" series (2019) - starring Zendaya, Hunter Schafer and Jacob Elordi [Film review #5]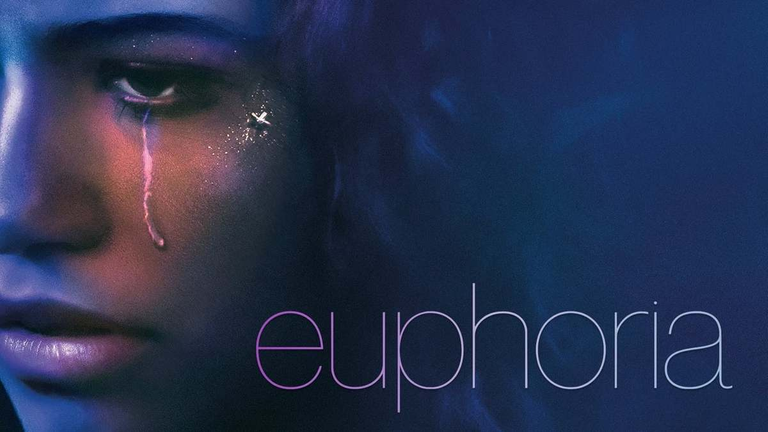 Source

Hey hey! What have you been watching lately? Any series or movie discovered that is worth being watched?
Personally, I've never been a fan of watching series just because I don't have the patience to wait one week until a new episode comes out. However, since my boyfriend got a subscription to HBO Max, I changed my perspective a bit and we even watched 2-3 series together, having another one that we started yesterday.
Anyway, when it comes to picking a series to watch, we don't really know what we should pay attention to or which is considered a good or bad one, so we mostly make our choices based on the actors we heard about. But when you get to see a series because one of your favourite actors is in the main role, everything is taken to the next level.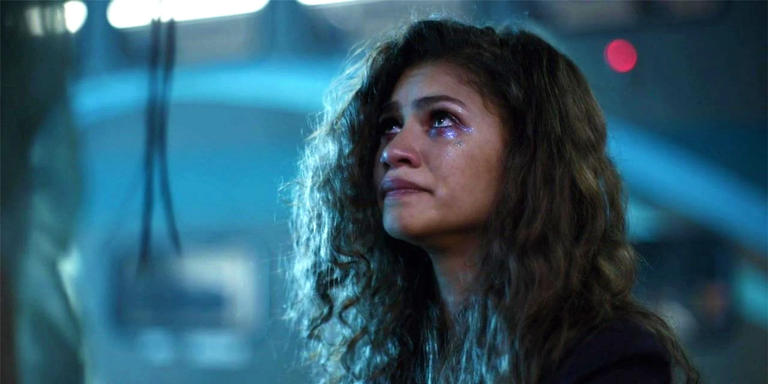 Source
The actor I'm talking about is, no one else but, Zendaya.
I'm that kid who was born before 2000 and my whole youth was spent watching the Disney stars like Zendaya, Miley Cyrus, Selena Gomez, Demi Lovato and a few more. Anyway, since most likely everyone knows the bad decision Demi and Miley had in their lives almost breaking aggressively the image created in the years they appeared on Disney Channel, I'm happy to see that Zendaya kept her head up even if she had some challenges too.
Not to mention that we are both born on the 1st of September and she's very alike to a friend of mine from the way she looks to the way of thinking and her behaviour. It's impossible not to love her! ❤️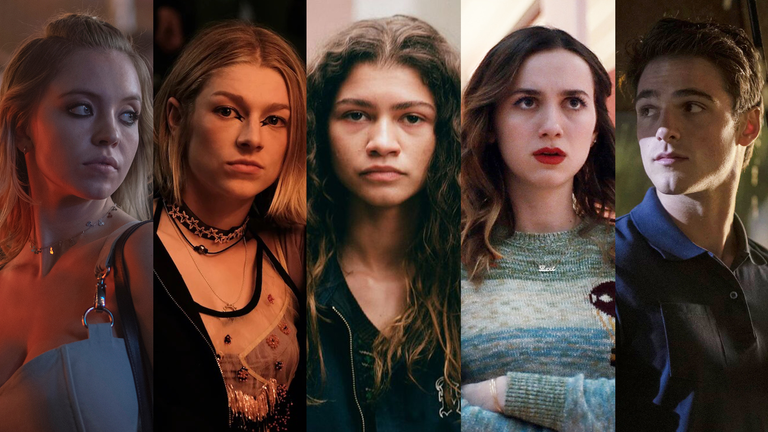 Source
Introduction
The first season of "Euphoria" series was released in 2019 and it's produced by Sam Levinson which is both an actor and filmmaker who adapted the series after an Israeli show with the same name, but where the life of Rue (played by Zendaya), is based on the experience of the producer when he was a drug addict in his late teens.
Even though Rue is the main character of the series, you will notice that her life is well linked to the other people who will become more or less part of her experience while fighting to win the battle against drugs that started when she was a kid and lost her father.
While the first episodes of the first series are mostly based on introducing all characters and their lives which are very different, from being a drug addict to becoming a transgender, from having some traumas since you were a kid, to the dangers that many American kids are supposed to every day, this series turned out in a very complex scenery that makes you be more aware of the risks of each step you make forward.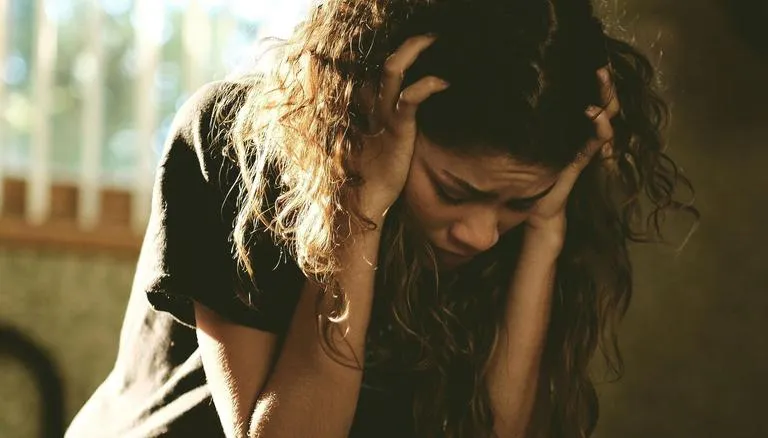 Source
Description
The series starts having Rue coming home after she gets out of detoxification that even though it sounds like a good step forward, especially for her mother and sister who used to have lots of fights because of her behaviour and overdoses that brought her close to death for a few times, sooner or later everything will show that it was another wonderful illusion because as long as she doesn't resolve her emotional issues, she won't be able to leave behind this addiction.
At the same time, Jules (played by Hunter Schafer) presents the life of a transgender that has to go through all the depressions battles from a young age stemming from her gender dysphoria which hides her emotional insecurities in another bad habit but which, happily, won't include drugs as well.
Along with the lives of the two girls that pretty soon will become best friends, there are shared the lives of some other students such as Jacob that was traumatized by his father seeing sexual content with him cheating on his mother, with Cassie who even though is a very cute girl, she is very naive and trusts people too quickly, with Fezco that even though is the main drug dealer, his past is also very cruel learning him how to deal with life from an early age, and many more.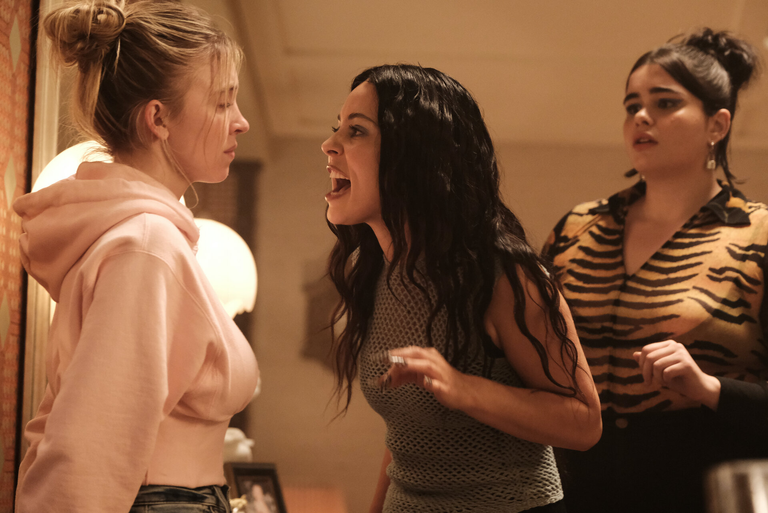 Source
Anyway, while the series can be easily categorized as a chaotic life with literally lots of problems coming over even if the previous ones haven't been solved yet, there are plenty of lessons to learn from every single episode. There are even a few declarations shared all around the internet that not only the fans of the series had to take a break after each episode to understand better what they were part of, but also the actors who said that Euphoria is a very difficult and deeply emotional series to watch.
There are only 2 seasons released so far, the first one being mostly focused on the ruined lives of many teenagers with lots of explicit sequences, while the 2nd season will be taken to the next level that will touch your heart differently.
Even the main star of the series, Zendaya, warned the fans of the series about the 2nd season that will be very hard to watch and brutal, which I totally have to agree with, especially after many episodes being ended in tears. Plus, all the warnings have been confirmed after the first episodes which immediately delivered on the promise with many new twists that no one ever thought about but also delicate situations that will show once again how fragile life is.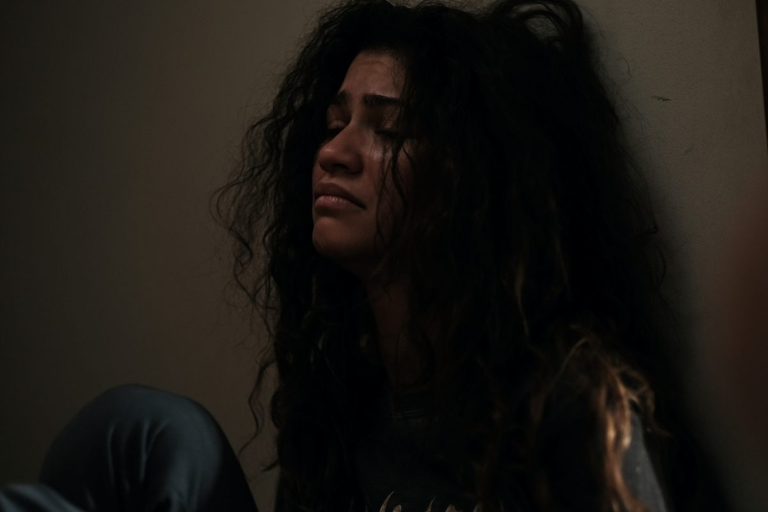 Source
Opinions
While the first season is mostly based on the tag of mature audience which might turn out a little bit too detailed for the younger ones, the 2nd season was more close to the emotions I had to deal with in the past few years, talking about anxiety, depressions, losing control and mental breakdowns, that we all know it sort of became a list of things which are not missing from the lives of the younger generations but which I do feel like a series like Euphoria could help with the explicit situations the people can get through if they don't learn how to control the things from their heads and hearts.
I'm sure that we all got into that moment in life when you feel completely alone having all your family members and friends confronting you for your behaviour that is actually 100% controlled by the emotions you can't describe in words, so if you know what I'm talking about, hang in there when you will watch Episode 5 from the Season 2 that presents the run and havoc Rue wreaks on the people in her life, which will make the life become a lot messier than it already was.
There's so much pain that it's bubbling to the surface in many people's lives which sometimes makes it feel like it's hard to be alive hoping there is some sort of 'skip' button to that moment, but just as hard as it is to get through the desperate and broken moments in real life, as extremely physically painful was to watch the series.
"The reason I'm an actor is I'm quite an empathetic person and what I often do, I take on a lot of other people's pain and a lot of other people's stress and fears and anxieties, as well as my own, and I think [that scene] just allowed me to just kind of release all of that. And I'm very grateful that I'm in a space where I feel comfortable and safe, and with actors and actresses that I'm obviously very close with. After every take, we're hugging each other, we're talking through it, we're embracing, checking in, because obviously, it's like a war zone." - Zendaya explained.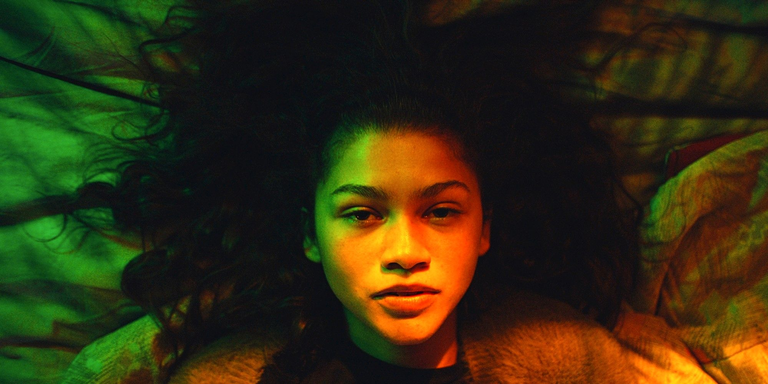 Source
Conclusions
Even if it might seem like another teen drama series riding its own shockwaves, Euphoria is a kaleidoscopic study of the younger generations and all the dangers they are supposed to, as well as bullying and emotional traumas that way too few are aware of.
The series is far away from the common shows you are watching a new episode of every week, because it's wacky and insane, serious and emotional, showing in brutal sequences that being a drug addict or abused, not being accepted in society or feeling like you will never see the sun rising on your path, turns out more emotional than expected. It's a series that you can easily watch a few times and still feel like it's not enough.
Considering the mature nature of the show and all the explicit sequences of the drugs and mental breakdowns, I do feel like this shouldn't be watched by people younger than 16 years old even though at the same time it could help some of them to take care better of their lives.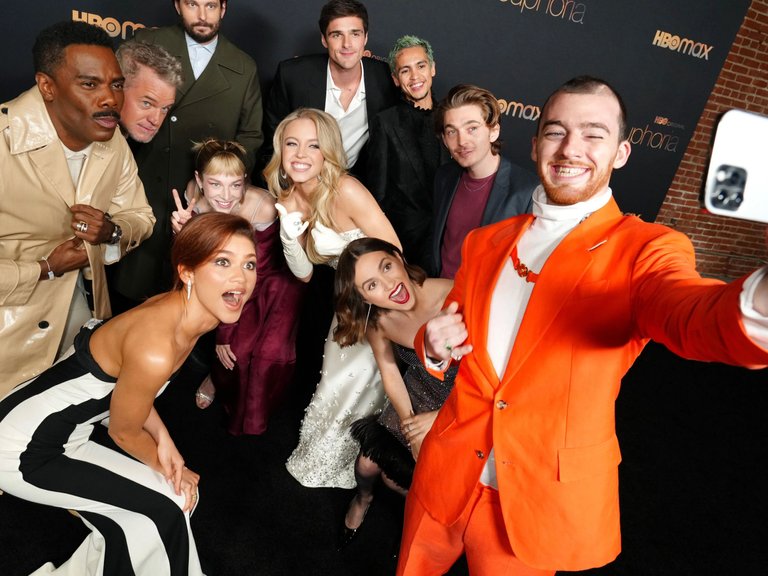 Source
Season 3 is coming
Though, as many emotions are trying me while I'm writing this article, there is also a more exciting thing to announce. Namely, the actors have reunited and are already working on the 3rd season of the series which most likely we'll get to see on the little screens at the beginning of 2023.
The official announcement was made a month ago and there is no trailer ready to see what we should expect from the 3rd season but considering how everything ended in the 2nd season, I'm sure no matter what I will think about, my expectations will be, again, exceeded. And I can't wait for that!
In the meanwhile, here are the trailers for the first 2 seasons of the Euphoria series that I'm sure will help you understand better what's everything about if my review wasn't very clear. Also, I watched this on HBO Max but I'm sure you can also find it online if you don't have a subscription.
Have you seen "Euphoria"?
And if so, what feelings are trying you when you think about all the stories shared in a single series?
Did you find yourself in any of the cases presented?
| Details | |
| --- | --- |
| Release Date | 16th July, 2019 (United States) |
| Duration | 0h 55m |
| Director | Sam Levinson |
| Main Actors | Zendaya, Hunter Schafer, Jacob Elordi |
| Genre | Drama |
| Production | The Reasonable Bunch, HBO Entertainment |
| IMDb Rating | 8.4/10 |

Don't forget to check out the rest of my posts too, from travelling to gaming, from photography to cooking recipes and more! ❤️

FIND ME ON:
↪ Blog: http://gabrielastravels.wordpress.com/
↪ Fiverr: https://www.fiverr.com/gabrielatv/
↪ Discord: GabrielaTravels#0104
↪ Facebook: https://www.facebook.com/gabrielaistraveling/
↪ YouTube: https://www.youtube.com/gabiivdesign
↪ Instagram: https://www.instagram.com/GabrielaTravels/
↪ Twitter: https://twitter.com/GabrielaTravels
↪ Patreon: https://www.patreon.com/GabrielaTravels
---
---