Liverpool remains in the race for the Premier League title [ESP – ENG]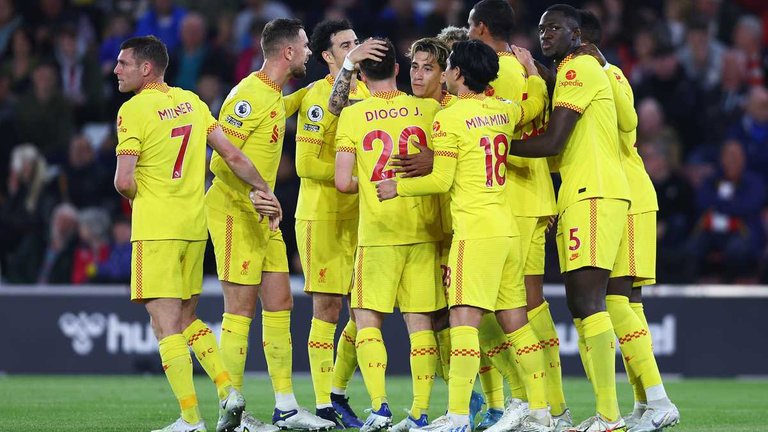 Fuente - Source
Saludos a todos los miembros de la comunidad, ¿cómo están? La definición de quién se lleva el título de la Premier League esta temporada 2021-2022 sigue en absoluto suspenso con este Liverpool de Jurgen Klopp quien tenía la necesidad de tomar las riendas de este partido contra el Southampton sumando puntos, puesto que escenario contrario suponía despedirse definitivamente del título, sin embargo, empatar en dicho encuentro lo hubiese colocado en una posición complicada respecto a su rival, el Manchester City, siendo este líder de la tabla con una diferencia importante de goles, destacándose que su último encuentro lo juegan contra el Aston Villa que no se muestra nada peligroso en comparación teniendo en cuenta las estadísticas. De cualquier manera si algo debe tener en cuenta dentro de este deporte es que todo puede pasar, por lo cual, habría que esperar hasta que todo esté jugado.
Greetings to all members of the community, how are you? The definition of who takes the Premier League title this season 2021-2022 remains in absolute suspense with this Liverpool of Jurgen Klopp who had the need to take the reins of this match against Southampton adding points, since the opposite scenario meant saying goodbye to the title for good, however, However, a draw in this match would have placed them in a complicated position with respect to their rival, Manchester City, being the leader of the table with a significant goal difference, noting that their last match is against Aston Villa, which is not at all dangerous in comparison considering the statistics. Anyway, if there is something to keep in mind in this sport is that anything can happen, so we should wait until everything is played.
Ahora, aun sumando este triunfo resulta cuesta arriba que sea Liverpool campeón de la competición teniendo en cuenta que Manchester City depende de sí mismo para alzar esta ansiada copa gracias a la diferencia de puntos, ahora con la misma cantidad de partidos disputados el Liverpool se encuentra un punto debajo de los líderes de la tabla, eso quiere decir que los rojos tienen que ganarle al Wolverhampton, esperando que el Manchester City no gane en su encuentro contra el Aston Villa, porque si no el equipo de Pep Guardiola se estaría llevando nuevamente la copa como lo hizo la temporada pasada. Esto es sencillamente la Premier League es su máximo esplendor en muestra de que en efecto, se trata de la liga con mayor competitividad del mundo, toda la emoción concentrada en unas últimas jornadas donde cualquier mal rendimiento se va a convertir en una tragedia con nombre de subcampeón.
Now, even with this victory it is uphill for Liverpool to be champion of the competition considering that Manchester City depends on itself to lift this coveted cup thanks to the points difference, now with the same number of games played Liverpool is one point behind the leaders of the table, that means that the reds have to beat Wolverhampton, hoping that Manchester City does not win in their match against Aston Villa, because if not Pep Guardiola's team would be taking the cup again as it did last season. This is simply the Premier League at its best, showing that it is indeed the most competitive league in the world, all the excitement concentrated in the last few rounds where any bad performance will turn into a tragedy with the name of runner-up.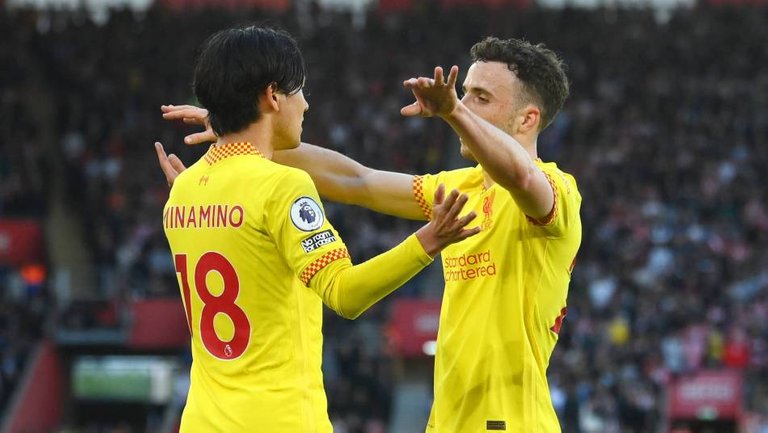 Fuente - Source
Después de una falta evidente no cobrada para el Liverpool y la salida perfecta del Southampton llega un gol que pese a la situación de la que provino muestra que el equipo local estaba encontrando los espacios para llegarle al arco rival en señal de su orgullo futbolístico... pero no fueron los únicos. El asedio de los rojos luego, metiéndose de lleno al ataque intentando encontrar los espacios por el medio, rindió sus frutos con el gol de Minamino, pese a que por están tan centrados en el ataque estaban a riesgo de quedar mal parados como se demostró en una aproximación del Southampton sacando al máximo la velocidad. Es increíble la confianza que demostraron después del gol del empate, con muchas llegadas de peligro con remates al arco pues encontraron su ritmo de juego así como espacios para atacar. Pudo percibirse la desesperación que tenía Jurgen Klopp por irse al medio tiempo para una nueva planificación.
After an obvious foul not charged to Liverpool and the perfect exit of Southampton comes a goal that despite the situation from which it came shows that the home team was finding the spaces to reach the opponent's goal as a sign of their soccer pride... but they were not the only ones. The Reds' siege then, pushing forward and trying to find space in the middle, paid off with Minamino's goal, even though they were so focused on attacking that they were at risk of being caught offside as demonstrated by Southampton's approach using their pace to the maximum. It is incredible the confidence they showed after the equalizer, with many dangerous shots on goal as they found their rhythm and space to attack. Jurgen Klopp's desperation to go in at halftime for a new planning could be perceived.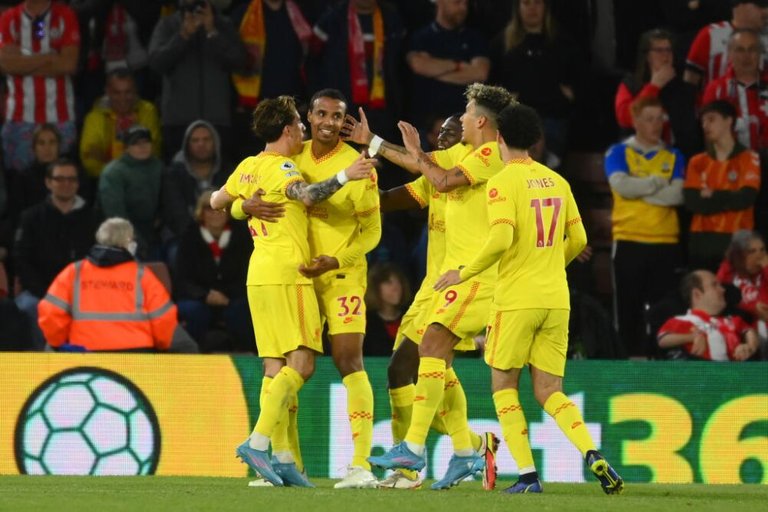 Fuente - Source
El segundo tiempo resultó en el dominio del Liverpool donde las triangulaciones y las asociaciones estaban presentes, intentando vez tras vez hacer su gol de la victoria para asegurar esos tres (3) puntos tan necesarios. De cualquier manera, la diferencia la hizo una pelota parada donde Matip pudo hacer valer su estatura con un gol de rebote que vale oro en estas circunstancias. Después de todas las llegadas al arco rival, que el gol del desempate llegara de esta forma me resulta un tanto graciosa porque la superioridad del Liverpool era notoria, con un dominio de juego mayor, pero no pudo marcar con desarrollo de juego por falta de ese poco en los últimos momentos de jugada de cara al arquero. El peligro de un nuevo empate no fue inexistente, pero finalmente el Liverpool fue capaz de mantener la ventaja para quedar con una mínima diferencia con el Manchester City mirando a la jornada final de esta temporada.
The second half resulted in Liverpool's dominance where triangulations and partnerships were present, trying time after time to score their winning goal to secure those three (3) much needed points. However, the difference was made by a set piece where Matip was able to make his stature count with a rebound goal that is worth gold in these circumstances. After all the chances, the fact that the tie-breaking goal came in this way is a bit funny to me because Liverpool's superiority was notorious, with a greater control of the game, but they could not score with game development due to the lack of that little bit in the last moments of play in front of the goalkeeper. The danger of another equalizer was not non-existent, but in the end Liverpool were able to hold on to their lead to stay within a whisker of Manchester City going into the final day of the season.
Muchas gracias por leer, espero que tanto ustedes como sus familiares se encuentren muy bien de salud.
Thank you very much for reading, I hope you and your family are in good health.
---
---