Movies at Christmas: An indispensable tradition for Christmas Eve - Películas en Navidad: Una tradición indispensable para Nochebuena [ENG/ESP]
Christmas will always unite us in some way, even with the wonderful art that transcends the seventh art. I remember with some nostalgia my childhood days, when I waited for the gift of Santa Claus while watching movies with my dad. The nights were longer than usual; They seemed eternal on Christmas Eve. The next day was better because Christmas specials were on on all the channels: festive television programs graced the screen of our family TV.
La navidad siempre habrá de unirnos de alguna forma, incluso con el arte maravilloso que transciende del séptimo arte. Recuerdo con algo de nostalgia mis días de niñez, cuando esperaba el regalo de Santa Claus mientras veía películas con mi papá. Las noches se prolongaban más de lo normal; parecían eternas en la víspera de Nochebuena. Al día siguiente era mejor porque en todos los canales pasaban especiales de navidad: programas de televisión festivos engalanaban la pantalla de nuestra TV familiar.
They were unique moments!
¡Eran momentos únicos!
That was how the taste for cinema grew in my heart, because every December was a perfect season for the family and good movies; those that recounted love, drama, and hope with an iconic message: sometimes strange, other times bittersweet, and many others with picturesque and comic settings. Today, dear lovers of the seventh art, I wanted to join this wonderful initiative called "Christmas Contest", in which I will talk a little about those feature films that became another tradition for my family's Christmas days.
Fue así como el gusto por el cine fue agigantándose en mi corazón, pues cada diciembre era una temporada perfecta para la familia y las buenas películas; esas que relataban el amor, el drama, y la esperanza con un icónico mensaje: a veces extraño, otras veces agridulce, y muchas otras con escenarios pintorescos y cómicos. Hoy, queridos amantes del séptimo arte, he deseado unirme a esta iniciativa tan maravillosa llamada "Christmas Contest", en las cual hablaré un poco sobre esos largometrajes que se convirtieron en una tradición más para los días de navidad en mi familia.
Join me to relive those great moments!
¡Acompáñame a revivir esos grandes momentos!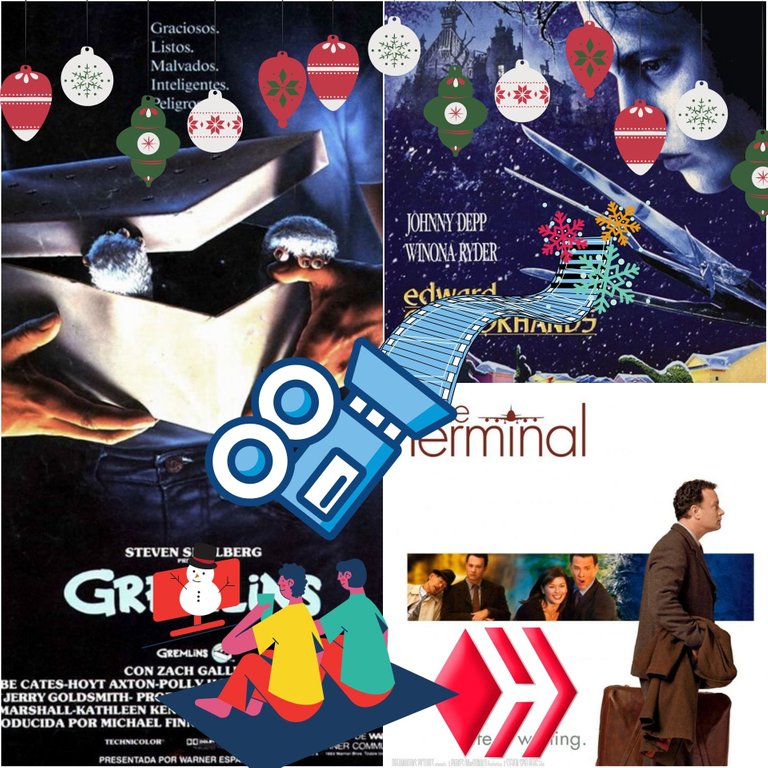 Image Edited with Onshot - Imagen Editada con Onshot

Movies at Christmas: An indispensable tradition for Christmas Eve.
Películas en Navidad: Una tradición indispensable para Nochebuena.
One of the customs that has never been absent during our Christmas Eve family reunion is the television in our living room, several armchairs, chocolate cookies and of course, a great movie. The most common in our selection of feature films, curiously, they shielded the message of Christmas under a somewhat different context. The magic of cinema is like that, just as unexpected as Scrooge's ghosts, so we chose from a wide variety of genres to puncture the night with humor, suspense, action, comedy, and some drama. In this way we enjoyed the exploits of a Bruce Willis and his Christmas misadventure for the main course, and we ended up with the Grinch for dessert. A strange combination, but fun.
Una de las costumbres que nunca ha faltado durante nuestra reunión familiar de noche buena es el televisor en nuestra sala, varios sillones, galletas de chocolate y por supuesto, una gran película. Lo más habitual en nuestra selección de largometrajes, curiosamente, blindaban el mensaje de la navidad bajo un contexto un tanto diferente. La magia del cine es así, igual de inesperada que los fantasmas de Scrooge, por lo que elegíamos dentro de una gran variedad de géneros para salpicar la noche con humor, suspenso, acción, comedia, y algo de drama. De esta manera disfrutábamos de las hazañas de un Bruce Willis y su desventura navideña para el plato principal, y terminábamos con el Grinch de postre. Una combinación extraña, pero divertida.
To say that I have only one favorite movie for Christmas is something that I do not believe myself. So I want to go further and talk about my 3 favorite feature films; I still fall short, but the ones I have selected have meant a lot to me for various reasons: they remind me of the child I was, that little one who sat in front of the sofa on Christmas Eve to enjoy the laughter as a family, and also the tears and the sighs. They say that within us there lives a child who yearns for every bit of his past, because these stories connect me with my most unbridled passion: cinema, precisely because my love for this beautiful art began.
Decir que tengo una sola película favorita para navidades es algo que ni yo mismo me creo. Por eso quiero ir más allá y hablar sobre mis 3 largometrajes favoritos; aun me quedo corto, pero los que he seleccionado han significado mucho para mí por diversos motivos: me recuerdan al niño que fui, a aquel pequeño que se sentaba frente al sofá durante Nochebuena a disfrutar de las carcajadas en familia, y también de las lagrimas y los suspiros. Dicen que dentro de nosotros viven un niño que anhela cada pedacito de su pasado, pues estas historias me conectan con mi pasión más desenfrenada: el cine, precisamente porque ahí comenzó mi amor por este hermoso arte.

3 - The Terminal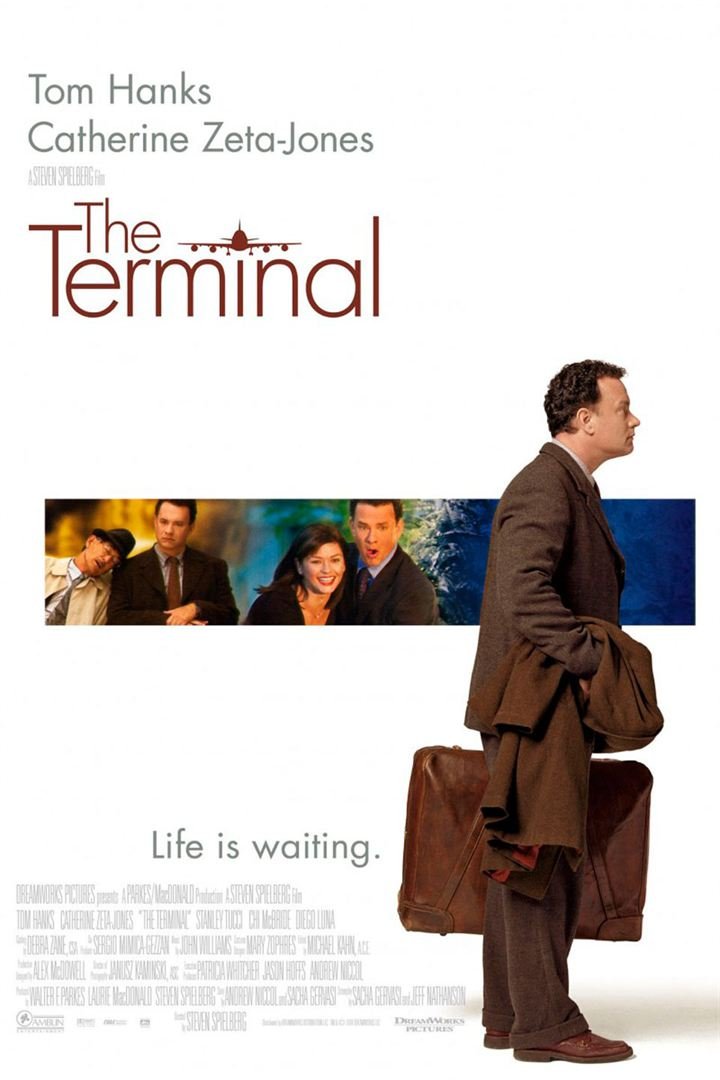 Source-Fuente
It was December 25; The day before we had suspended the Christmas party due to an unexpected fever that shook both me and my brothers. We spend all of Christmas at home, listening from afar to the sound of the rockets and the cheers that come after midnight and the presents. On that occasion in 2008, my dad managed to save tradition: we took the beds out to the living room and set up the television in front of us; We put on channel 12, known here in Venezuela as "Venevision"; they were having a Christmas special of movies, some very old and others a little more recent: I remember that one of them was the Polar Express, the other was the Grinch, but none of them I liked as much as the third; I recognized Tom Hanks and the smile won me over immediately, although the best came later.
Era 25 de diciembre; el día anterior habíamos suspendido la fiesta de navidad por una inesperada fiebre que me sacudió tanto a mí como a mis hermanos. Pasamos toda la navidad en casa, escuchando de lejos el sonido de los cohetes y los vítores que vienen después de la media noche y los regalos. Aquella ocasión del 2008, mi papá se las ingenió para salvar la tradición: sacamos las camas a la sala de estar e instalamos la televisión frente a nosotros; pusimos el canal 12, conocido acá en Venezuela como "Venevision"; estaban pasando un especial navideño de películas, algunas muy viejas y otras un poco más recientes: recuerdo que una de ellas era el Expreso Polar, la otra era el Grinch, pero ninguna me gustó tanto como la tercera; reconocí a Tom Hanks y la sonrisa me ganó de inmediato, aunque lo mejor vino después.
The film is called "The Terminal", a story whose name lives up to its premise. The scenarios were repetitive, but for some lovely reason: cafes, staircases, trinket shops ... John F. Kennedy becomes a prison, a confinement from which we too want to get out. And yes, that is the central axis of this feature film: "freedom".
La película se llama "La Terminal", una historia cuyo nombre hace mucho honor a su premisa. Los escenarios eran repetitivos, pero por alguna razón encantadores: cafeterías, escaleras, tiendas de baratijas… el John F. Kennedy se convierte en una prisión, en un encierro del cual nosotros también queremos salir. Y sí, ese es el eje central de este largometraje: "libertad".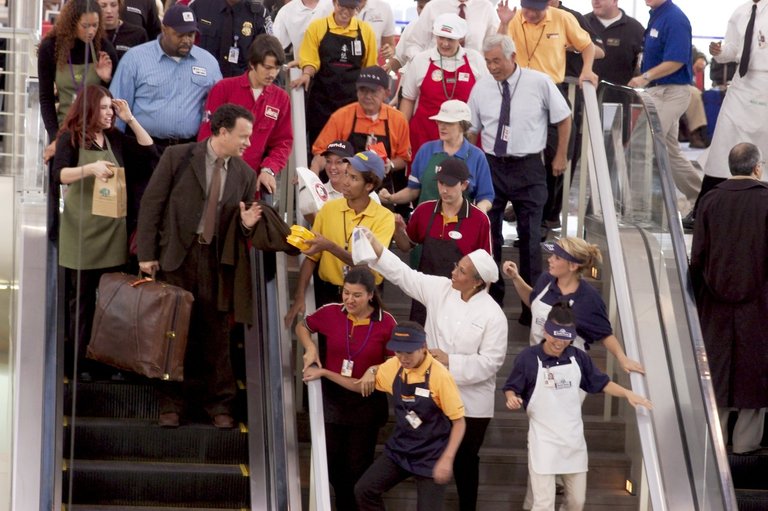 Source-Fuente
Tom Hanks plays Viktor Navorski, a man with a Russian accent who is trapped at the J.F by an unexpected political upheaval in his country. Without recognition of the legal status of his nationality, and threatened with prison if he set foot outside "La Terminal", poor Viktor resigns himself to a new life in the uncertainty of suitcases, closed spaces and airplanes in those that will not be able to climb. But even with everything against him, friendship and love give him vestiges of hope; Viktor's great charisma is a magnet for the employees of the Terminal who will soon give him all the support that a new friend needs, ah, and there is also Amelia, a beautiful woman who will arrow the heart of our stranded friend.
Tom Hanks interpreta a Viktor Navorski, un hombre con acento ruso que se queda atrapado en el J.F por una inesperada convulsión política en su país. Sin un reconocimiento al estatus legal de su nacionalidad, y amenazado con prisión en caso de poner un pie fuera de "La Terminal", el pobre Viktor se resigna a una nueva vida en la incertidumbre de las maletas, los espacios cerrados y los aviones en los que no podrá subirse. Pero aun con todo en su contra, la amistad y el amor le dan vestigios de esperanza; el gran carisma de Viktor es un imán para los empleados de la Terminal quienes no tardarán en brindarle todo el apoyo que un nuevo amigo necesita, ah, y también está Amelia, una mujer hermosa que flechará el corazón de nuestro varado amigo.
Whenever Christmas comes I remember this story; the first time I saw her she was 8 years old and had that hateful fever. It distressed me to see Viktor trapped in that airport. I didn't understand why he just couldn't leave, he even asked my dad: "Why can't that man go out on the street?" and although he explained to me and explained to me, I still didn't understand, perhaps because of my age. Every second of that Terminal became a delicacy of emotions, since the making of this film touches the most empathetic, generous and supportive side of humanity, feelings very adapted to the Christmas season. If you have already seen this film, you will know that its romantic, dramatic and somewhat comical essence is a magnet from beginning to end ... remember the scene of the cleaner running on the runway to stop the plane? An unforgettable classic brought to the camera by ingenuity Steven Spielberg.
Siempre que viene navidad me acuerdo de esta historia; la primera vez que la vi tenía 8 años y esa fiebre odiosa. Me afligía ver a Viktor atrapado en aquel aeropuerto. No entendía por qué simplemente no podía irse, incluso le preguntaba a mi papá: "¿Por qué ese hombre no puede salir a la calle?" y aunque él me explicaba y me explicaba yo seguía sin entender, tal vez por mi edad. Cada segundo de esa Terminal se convirtió en un manjar de emociones, pues la confección de esta película toca el lado más empático, generoso y solidario de la humanidad, sentimientos muy adaptados a la época navideña. Si ya has visto este largometraje, sabrás que su esencia romántica, dramática y algo cómica son un imán de principio a fin… ¿recuerdan la escena del limpiador corriendo en la pista de aterrizaje para detener al avión? Todo un clásico inolvidable llevado a la cámara por el ingenio Steven Spielberg.

2- Edward Scissorhands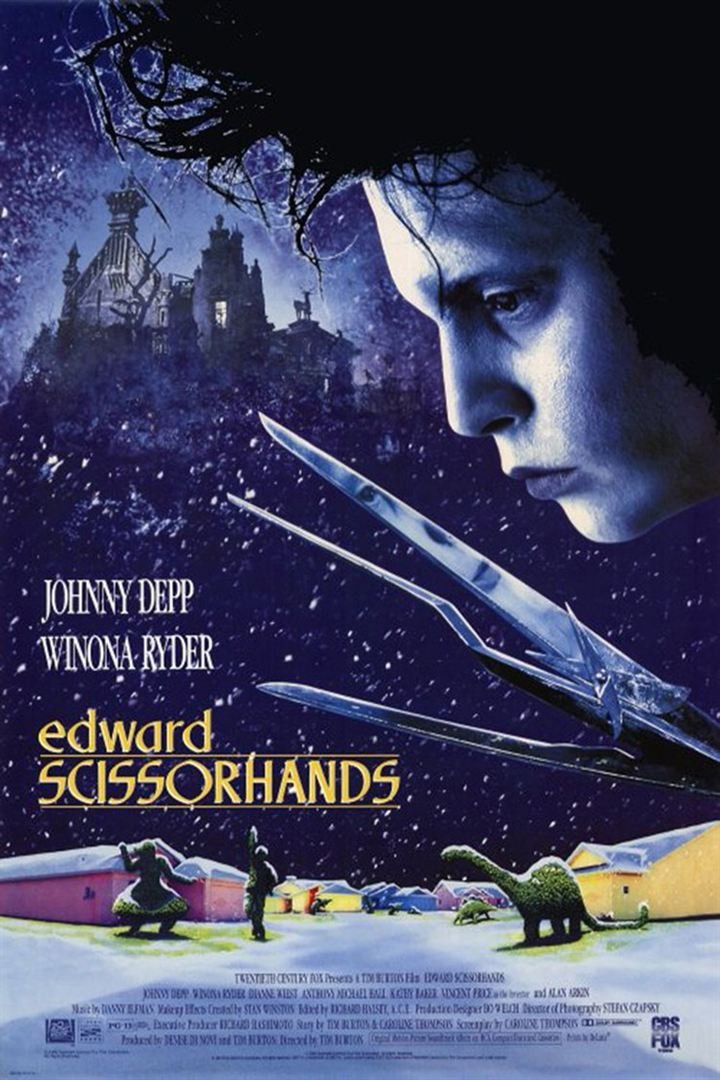 Source-Fuente
I started to love ice sculptures the first time I saw the film of that pale man with scissors instead of hands; that Christmas we all chose a movie to enjoy with almonds, soda and some cake. We gathered around the room and, as my brothers and cousins ​​had chosen stories more repeated than the morning heavens, as I always opted for something "different". So, as soon as I saw Johnny Depp in the DVD case with sharp stitches in his fingers, I said to myself: "Some horror is also valid on the eve of Christmas Eve." I was surprised to discover that it was actually a drama, romance, and some fantasy film.
Empecé a amar las esculturas de hielo la primera vez que vi el film de ese hombre pálido con tijeras en vez de manos; aquella navidad todos elegimos una película para disfrutar con almendras, gaseosas y algo de pastel. Nos reunimos en torno a la sala y, como mis hermanos y primas habían elegido historias más repetidas que los cielos mañaneros, pues yo como siempre opté por algo "diferente". Así que, en cuanto vi a Johnny Depp en el estuche del DVD con punzadas filosas en los dedos, me dije a mi mismo: "algo de horror también es válido en vísperas de Nochebuena". Quede sorprendido al descubrir que en realidad era un film de drama, romance y algo de fantasía.
At first nobody wanted to see "Edward Scissorhands" because they preferred "Home Alone ". But I insisted because it was my choice, and both my cousins ​​and my brothers had to resign themselves. The funniest thing of all was that they ended up loving the film, even shed tears for the nostalgic story that, even with dark tones, was able to move them. That night the room was silent; you only heard the crunch of almonds on your teeth. It was extremely fascinating.
Al principio nadie quería ver a "El joven manos de tijera" pues preferían a "Mi pobre Angelito". Pero yo insistí porque era mi elección, y tanto mis primas como mis hermanos tuvieron que resignarse. Lo más gracioso de todo fue que terminaron amando la película, incluso derramaron lagrimas por la nostálgica historia que, aun con tonalidades oscuras, fue capaz de conmoverlos. Esa noche la sala se enmudeció; únicamente se escuchaba el crujir de las almendras en los dientes. Fue sumamente fascinante.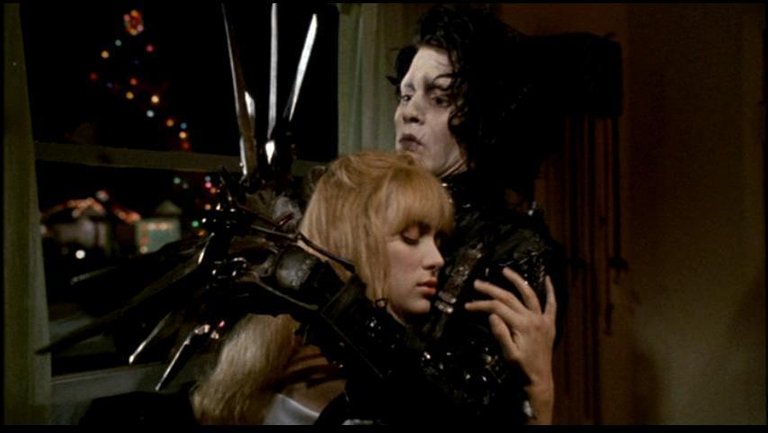 Source-Fuente
Tim Burton is a man of strange things, but also a teacher for falling in love with the weird, the unusual, and the terrifying. The Edward Scissorhandsno is more than a mirror to misunderstanding, to the terrible effect that arises from innocence and loneliness. Johnny Depp plays Edward, a kind of human and robotic combination. This silent, spiky-haired young man exudes a wonderful personality, despite the metallic claws he has instead of hands. Beyond his appearance, and his creepy scissors, Edward is capable of building beauty and inspiring love, motivating illusions and providing opportunities; Here is the most wonderful side of this movie.
Tim Burton es un hombre de cosas extrañas, pero también un maestro para enamorarnos de lo raro, lo inusual y lo terrorífico. El Joven Manos de Tijera no es más que un espejo a la incomprensión, al terrible efecto que surge de la inocencia y la soledad. Johnny Depp interpreta a Edward, una especie de combinación humana y robótica. Este joven silencioso y de cabello erizado destila una personalidad maravillosa, muy a pesar de las garras metálicas que tiene en lugar de manos. Más allá de su apariencia, y de sus tijeras espeluznantes, Edward es capaz de construir belleza y de inspirar amor, de motivar ilusiones y brindar oportunidades; He aquí el lado más maravilloso de esta película.

1- Gremlins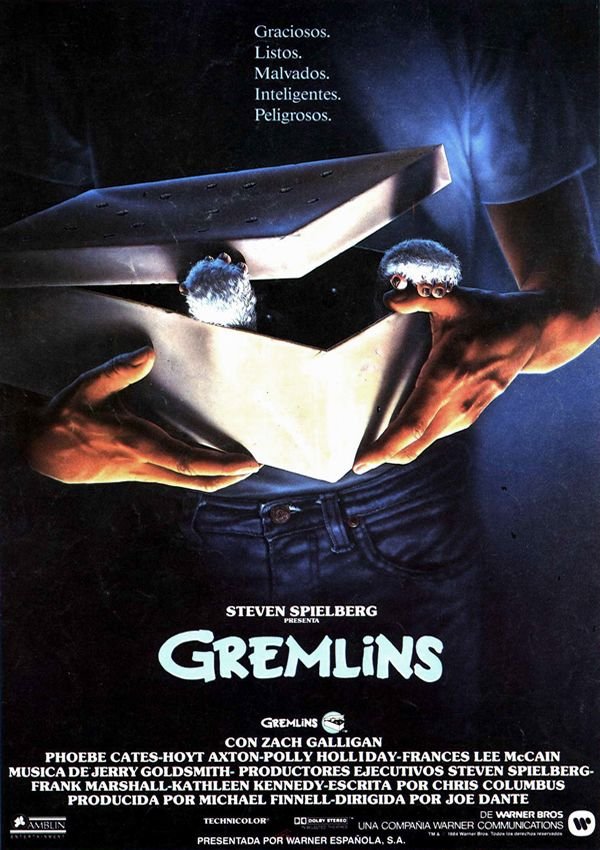 Source-Fuente
And from that day on I fear Christmas gifts ...
Y desde ese día le temo a los regalos de navidad…
We had a VHS, a little old, but it worked. My dad has a great collection of classic movies, and that night in 2010 we put the DVD aside to go back in time. At that time I did not know anything about the Gremlins very much despite being a classic movie. Dad convinced us, recounting his experience in the movie theater. The first thing I saw was that cute little creature called "Gizmo", what a cute! The second is an absurd rule: neither water nor light for Gizmo. The third thing I saw I did not expect; monstrous balls that transmuted into beings with fangs and big ears full of evil, chaos, destruction ... I was horrified, it was not your typical Christmas movie.
Teníamos un VHS, algo viejito, pero funcionaba. Mi papá tiene una gran colección de películas clásicas, y esa noche del 2010 dejamos a un lado el DVD para retroceder en el tiempo. En ese entonces no conocía nada sobre los Gremlins muy a pesar de ser una película clásica. Papá nos convenció, relatándonos su experiencia en la sala del cine. Lo primero que vi fue esa criaturita tierna llamada "Gizmo" ¡vaya monada! Lo segundo una regla absurda: ni agua ni luz para Gizmo. Lo tercero que vi no me lo esperé; pelotas monstruosas que transmutaban en seres de colmillos y orejas grandes repletas de maldad, caos, destrucción… me horroricé, no era la típica película de navidad.
But that dark touch was what I liked the most, because in an indirect way the message was clear: "gifts are monsters with big bows and bows; cute to look at, but with a ghoulish track record under the box ". The mockery of Christmas was clear; Those critters were obnoxious, but lovely. Can you love and hate at the same time? I prefer to feel it from this side of reality, because in the universe of this film no one wants to be there for Christmas Eve, unless you are green, small, strong with the water and weak with the sun.
Pero ese toque oscuro fue lo que más me gustó, pues de una manera indirecta el mensaje era claro: "los regalos son monstruos con moños y lazos grandes; tiernos a la vista, pero con un historial macabro bajo la caja". La burla a la navidad era clara; esos bichos eran detestables, pero encantadores. ¿Se puede amar y odiar a la vez? Prefiero sentirlo desde este lado de la realidad, porque en el universo de este film nadie quiera estar para Nochebuena, al menos que seas verde, pequeño, fuerte con el agua y débil con el sol.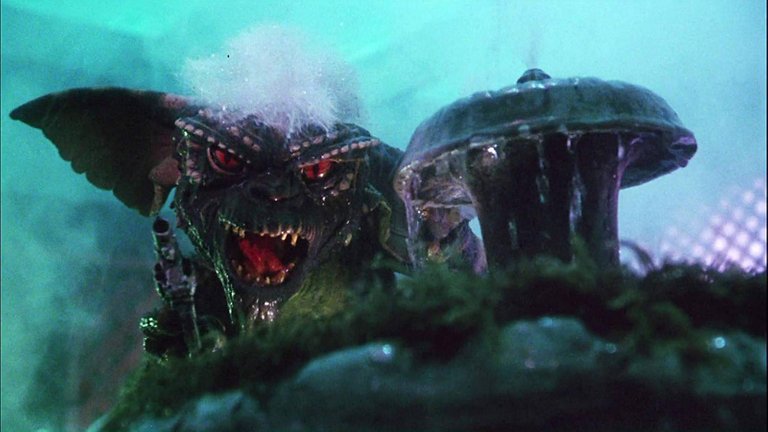 Source-Fuente
The Gremlins saw the "light" of cinema there in 1984, why did the best have to come out in the 80s? Joe Dante is the one who gets us into all this green monsters with a very careful direction with great touches of mechatronics. Produced by Steven Spielberg and written by Chris Columbus, the Green Pixies will be transformed into a comedic nightmare for anyone who enjoys them on Christmas Eve. Don't freak out if you see a Gremlins in your house, they'll just play around with you a bit. Of course, the fun will be for them, not for you ...
Los Gremlins vieron "la luz" del cine por allá en 1984, ¿Por qué en los 80 tuvo que salir lo mejor? Joe Dante es quien nos mete en todo este de monstruos verdes con una dirección muy cuidada con grandes toques de mecatrónica. Bajo la producción de Steven Spielberg y el guiòn de Chris Columbus, los duendecillos verdes se transformarán en una pesadilla cómica para cualquiera que los disfrute en vísperas de navidad. No te asustes si vez un Gremlins en tu casa, solo jugarán un poco contigo. Claro que, la diversión será para ellos, no para ti…
---

My dear friends from Movies And TV Show, it has been an honor for me to accompany you in this initiative. I also take this opportunity to wish you all a Merry Christmas (without Gremlins XD). My best gift has been to find this space where I have been able to express my great passion for movies. I can safely say that this is one of the strongest communities in Hive; to your entire team Prosperity and many blessings!
Mis queridos amigos de Movies And TV Show, ha sido un honor para mí acompañarlos en esta iniciativa. Aprovecho además para desearles una feliz navidad (sin Gremlins XD) para todos. Mi mejor regalo ha sido encontrar este espacio donde he podido expresar mi gran pasión por las películas. Puedo decir con toda seguridad, que esta es una de las comunidades más solidas de Hive; a todo su equipo ¡Prosperidad y muchas bendiciones!
And to the rest of the community: For a Christmas full of movies!
Y al resto de la comunidad: ¡Por una navidad llena de películas!

Join the largest cinephile community in Hive - ¡Unete a la comunidad de cínefilos más grande de Hive!
---

---
---