Upcoming Regulations - Is A Crypto Crackdown Coming?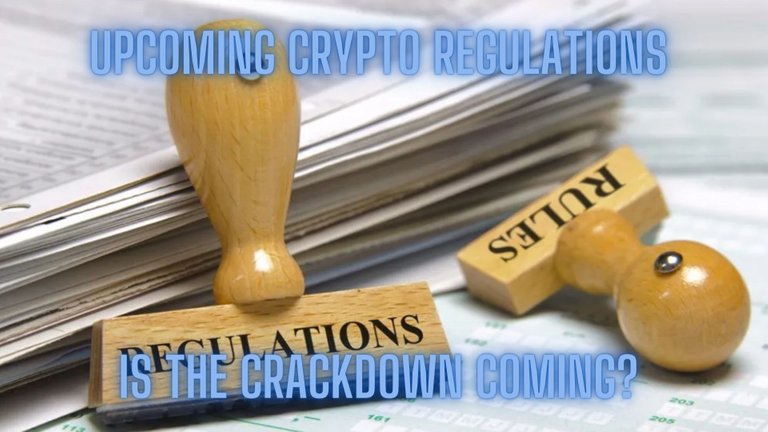 It looks like the crypto market is taking a short break to start pushing out new and better technologies like DeFi 2.0 or other interesting stuff. The only thing that could possibly stop these innovations are crypto regulations and it looks like they are approaching fast. In this article I want to talk about some recent regulations that might be interesting as well as discussing what it might mean for the rest of the crypto market.
Estonia
The first country in today's article is Estonia. The government expands its definition of Virtual Asset Service Providers (VASP). Essentially, this definition describes companies that are dealing with cryptocurrencies such as exchanges. In this definition Wallets and DeFi protocols such as Uniswap are considered now into the niche of VASPs. This also means that these things are supposed to be banned as for the new rules. If the proposal passes it will be legit in February and companies will have time to comply until March or else, they get fined. Those rules seem to be very harsh, but they have their origin in Estonia's history with money laundering. Therefore, the purpose seems to be understandable looking back at the events that happened. On the other hand, I don't really see DeFi protocols such as UniSwap being able to comply to these rules. All in all, I think it will be interesting to see how it all plays out.
South Korea
The second country in today's article is South Korea. It has instructed Google and Apple to remove P2E Games from their App-Stores. The reason for that is that users in South Korea are only allowed to earn about 10$ by playing P2E games. This seems like a very random rule to me but has its origins in money laundering as well. I think it is also important to point out that South Korea is very aggressive in general when it comes to crypto currencies.
This can be seen especially with the rules for exchanges. Which is mirrored in the latest rules that the South Korean government has introduced. Here, the exchanges can no longer accept deposits from users that are not fully verified. In a nutshell this means that every South Korean crypto holder will have to link their identity to the crypto currency wallet addresses if they want to use these crypto exchanges. This is a very dangerous rule when it comes to security of privacy which seems to be one of the biggest fighting points in the future.
Conclusion
It looks like Estonia and South Korea are the first ones to introduce such steps but will for sure not be the last ones. With that being said, I do not think that this is the complete right way to go. Especially if the main reason is money laundering. In my opinion these shady and criminal actions existed with fiat money and even during the Gold Standard and they will continue to exist in the future. I think it is a human trait which will be always there and can not be rotten out, therefore I don't really think that these actions against crypto will make it better in any way. In fact it will just make the parasite of money laundering smarter and invent new ways of doing that.
Published by ga38jem on
LeoFinance
On 4th January 2022
Posted Using LeoFinance Beta
---
---