Splinterlands - My Path So Far & 2022 Goals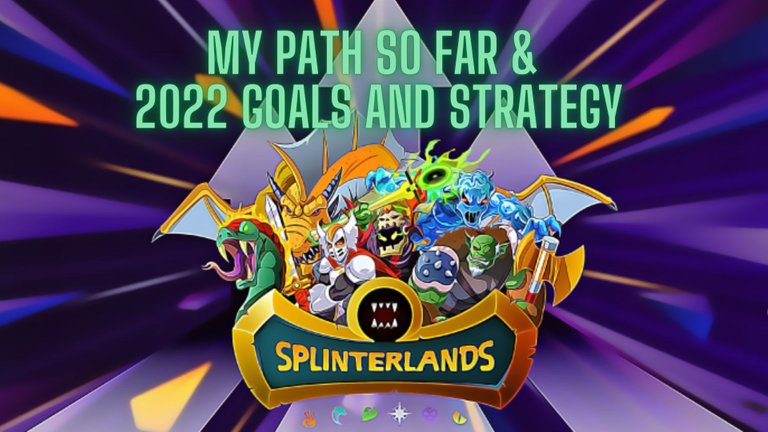 In today's article I want to recapture my path so far in Splinterlands. Furthermore, I want to talk about my strategy and goals for the year 2022. I can not give a prediction of how the markets will develop but I will try to include that in my strategies. With this out of the way, lets get into it!
My Way So Far
A little backstory for me: I was introduced to crypto earlier this year. Probably to the worst time possible, it was around the May crash when China announced its crackdown on crypto. After this initial shock I learned to love and hate this volatile crypto market and also began to learn about all of these interesting projects. By the end of July I stumbled across Splinterlands because I was searching for a cool P2E game to play. As a guy who played Yu-Gi-Oh in his childhood and who was constantly playing Hearthstone this was the perfect combination of both games. It was online and portable and I had ownership over my cards. Unfortunately for me, I was tricked by a scam a few days before I discovered this amazing game so I was very cautious with what I touched next.
This was the reason why I kept monitoring the game and by beginning of October I decided to start my journey here. I purchased the Summoner's Spellbook and was amazed by the variety of cards and abilities. As a player who likes to think about strategies this was perfect because you can have so many different strategies in this game. What really got me was that every single battle was different due to the mana restrictions and the different sets of boundaries. With this being said, I probably started at one of the worst times to start this game. I started when the changes happened that you only getting battle rewards from Bronze 2 onwards. This was very demotivating for me as I did not want to spend any additional money in a game I barely knew.
This was the moment when I started grinding. I began to accomplish the daily quests and learned the game and the mechanics every single day more and more. I managed to pick up some cool rewards but I never was lucky enough to receive a reward card. Until this one day! I managed to get a Common Venari Heatsmith. This was my first card that I owned and I was thrilled! From there on I wanted more.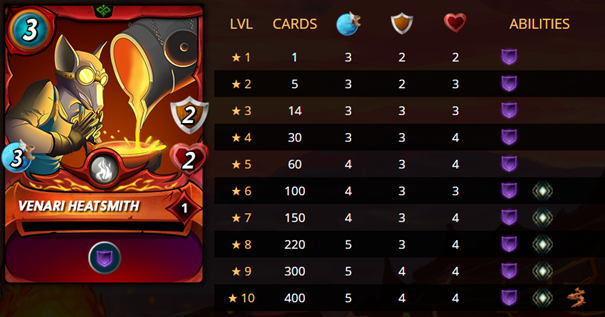 From there I learned about the opportunity to get cards delegated to you. Thanks to the amazing community I was able to be delegated cards that would make me go over the 1000 CP threshold. This was the next milestone for me because now I was able to earn my first battle rewards and in addition to that getting much cooler and more season rewards. My second season rewards and my third season had some amazing reward cards. My best reward card so far was the Djinn Chwala card. With this card I was even able to win some tight battles due to its Thorns ability.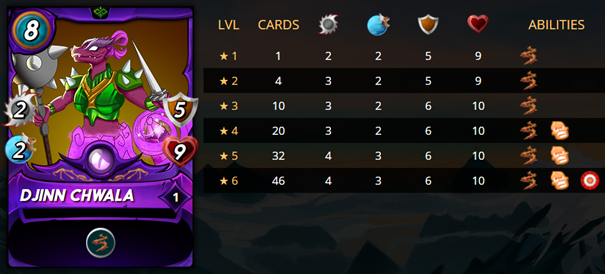 After that the Chaos Legion Expansion was released. At this point I was sure enough to invest some money into this game. My initial thought was to purchase some packs but because I hadn't any vouchers yet I was not able to purchase any packs. This will change when the General Sale start, but more on this later. I was able to purchase enough CP to be consistent in Bronze 1 now and that's where I am at currently.
Goals and Strategy Going Into 2022
For my goals I set myself for 2022 I am trying to be very conservative. We don't know how the markets will behave and we don't know how the prices of the cards will change but like I said in the beginning I will try to count that in. In general, my goal is to be consistent in Silver 3. Because I am already in Bronze 1 I think that this will be very manageable. This means that I need to improve my CP to at least 15k. I am hoping for the card values to drop over the next weeks so that I can cross off this target as quickly as possible. Like I mentioned in one of my previous articles, the current market situation is at its lowest since I started playing this game so I am trying to make the best of it. Additionally, there will be the General Sale in mid January which will flood the market with more Chaos Legion Cards. That will be the time where I am hoping to achieve my set 15k CP and maybe even more.
Why more you might ask? I learned very quickly that it is also possible to borrow and rent cards. I also noticed that by the end of the season the cards are getting very expensive to rent. That is why I will try to have some overflow for my CP so that I will be able to rent out cards and be able to stay in Silver 3 to get the 15 rewards chests. This is all possible thanks to @peakmonsters ! Without getting sponsored or anything, I really think that the service of renting cards is very exceptional. Furthermore, I am currently making about 1.4 DEC per win and I hope to bump it up to at least 2 DEC per win when I am in silver 3. For the people in silver 3, how much DEC do you get per battle on average? With this extra DEC I am hoping to acquire more cards and hence grow myself up to Silver 2 by the end of the year.
Another goal of mine is to keep writing articles about Splinterlands. With the amazing community that Splinterlands has it is really more than fun to write about this amazing game. It is very encouraging when a lot of players read these articles and leave a message. Another very cool factor is @monster-curator ! I always delegate all of my SPT towards this amazing channel. Not only will you get some return on your delegated SPT but you also encourage the people that this channel is voting up to produce more content. I think this is a truly great cycle to the top. Additionally, to that I think their website is pretty cool where you can purchase cards and get a pay back on your purchased cards. Hence why this is the second shout out!
And while I am talking about the great community I wanted to push the next topic out of the way. Recently, a lot of voices were caught saying that the game is dead or about to die. I can not agree to a single degree with these voices. Firstly, the whole crypto market was doing bad the past weeks and secondly, projects with such a cool community and especially with such a passionate team behind it will not just disappear from the landscape. I truly believe that even during a bear market or a crypto crackdown, this game will continue to thrive and get more players to play the game. And while I think that it is a little discouraging in the beginning, once you get to know the mechanics better, this game and its community is truly amazing.
With this being said, I hope you'all are having a great Christmas holiday! Thank you for reading!
If you haven't joined this game yet, feel free to join it with my affiliate link:
https://splinterlands.com?ref=ga38jem
Published by ga38jem on
LeoFinance
On 25th December 2021
Posted Using LeoFinance Beta
---
---