Crypto Portfolio August 2022
Due to holidays and good weather, I didn't post a portfolio report for July. Even worse, I did move around some stakes and those moves weren't all recorded correctly in my spreadsheet. So comparing the current month with the previous one isn't really possible.
Celsius
August is also the month that I did wrote off my Celsius holdings. I am trying to stake those tokens again. Which is strange for some, like BCH. I don't believe that the future for BCH is great, but still I do feel that I should have at least 2 BCH in my wallet. For others it is more common like ETH and BTC.
The things that happen with Celsius, do make me wonder how exchanges do fund the staking of their customers. Is that a ponzi or how do they fund this. Something try to look into this month.
Kucoin
I also did move out some funds from KCS. No idea why, but I only do have some Cronos and of course KCS there. I did reach my lower limit on the desired number of KCS, namely 300. I am thinking about pushing them towards 400. But not sure about that. It is still my dark horse.
Hive
Still on track to reach 10K HP at the end of the year. Too bad this growth isn't native. I do need to purchase Hive from the market to reach my goal. Most of it was funded by selling obsolete Splinterlands cards. And probably I will sell some more.
But it is nice to see, that regardless if I do post or not, that my HP does grow with around 2 Hive per day. If I do some more manually curating, this could increase a little bit.
TRX and Wink
Like I wrote 2 days ago, the Tron flagship gambling dapp is shutting down. So there wasn't any reason for me to hold Wink anymore. In contrast to Dice, Wink did kept its value pretty well. I do know that there is more usage than only Wink, but I am not going to put any investigation into this.
I decided to wait on the Live swap and didn't sell. Selling would have been stupid, at the moment that my stakes were released the value already did cripple. So better wait on the swap, which should have a better return.
Also doubting if I could keep TRX in my portfolio. I will give myself until the end of the year to have an answer on this question.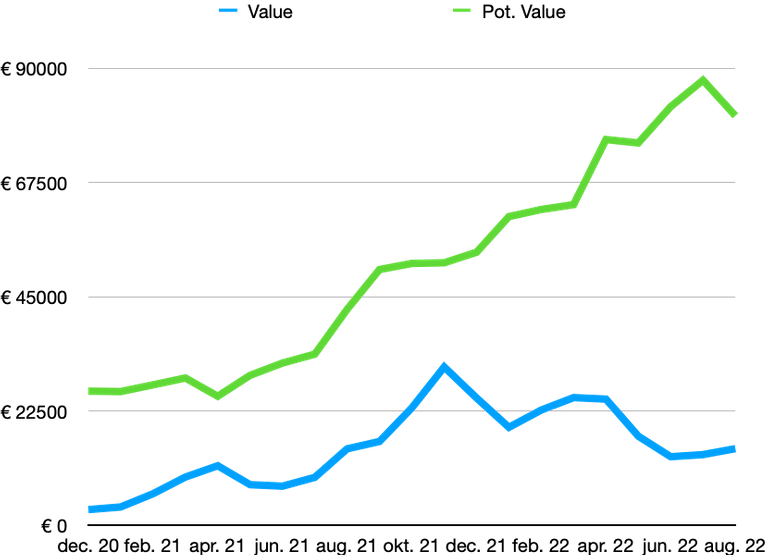 Although I did wrote of Celsius and the crippling of Live, the current value of my portfolio is almost the same as last month. The potential value did take a dive tough, but this is because I had some stakes double recorded in my spreadsheet. Luckily I wasn't thinking that I was rich!
I do expect market conditions more or less the same as in August, but due to the energy crisis in Europe it could take a dive. So I am keeping some USDT aside to make a move if I do feel the timing is right, which of course is always a gamble.
Cheers,
Peter
---
---