Denny Hamlin logró la victoria en Darlington RaceWay | Denny Hamlin wins at Darlington RaceWay [ESP-ENG]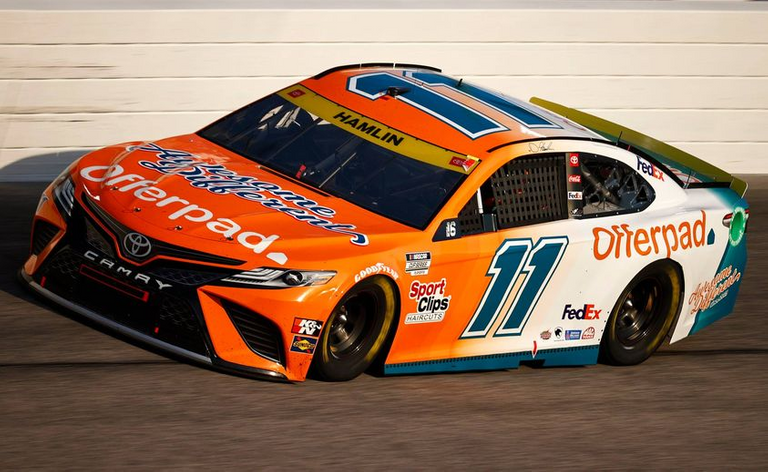 Fuente | Source

Bienvenidos a una nueva entrega de un pequeño análisis post carrera de la NASCAR Cup Series. El día de ayer se disputó la primera fecha de los Play-Off y de la ronda de 16, la cual fue ganada por el piloto por el piloto Denny Hamlin #11, donde dicho evento y como ustedes saben si leyeron mi previo, la competición se desarrolló en la pita Darlington RaceWay. Esta victoria es muy importante ya que no solo le da el boleto directo a la ronda de 12, sino que es la primera victoria de la temporada, algo que es muy importante ya que le da un envión para lo que resta de temporada y que más en los Play-Off que es donde realmente la victoria y los buenos resultados son una prioridad ya que nos acercamos a la recta final del campeonato. El piloto Toyota #11 Joe Gibbs Racing tuvo una dura batalla con Kyle Larson #5, quien tan solo lo derroto por un poco más de 0.200 segundos a su más cercano perseguidor, Larson quien se sintió muy frustrado al final de la carrera ya que fue bloqueado por el piloto de Gibbs. La verdad es que la victoria de Denny no me sorprendió ya que esta pista se le da muy bien, tanto así que logró su cuarto gane en Darlington, en lo que a CUP Series respecta.
Welcome to a new installment of a small post-race analysis of the NASCAR Cup Series. Yesterday was played the first date of the Play-Off and the round of 16, which was won by the driver by the driver Denny Hamlin # 11, where this event and as you know if you read my previous, the competition took place in the Darlington RaceWay pit. This victory is very important because it not only gives him the direct ticket to the round of 12, but it is the first victory of the season, something that is very important because it gives him a boost for the rest of the season and more in the Play-Off that is where victory and good results are really a priority as we approach the final stretch of the championship. The #11 Joe Gibbs Racing Toyota driver had a tough battle with Kyle Larson #5, who only beat him by a little more than 0.200 seconds to his closest pursuer, Larson who was very frustrated at the end of the race as he was blocked by the Gibbs driver. The truth is that Denny's victory did not surprise me since this track is very good for him, so much so that he achieved his fourth win in Darlington, as far as the CUP Series is concerned.
Esta fue una carrera muy emocionante y con un final de la misma magnitud, ya que como les mencioné Denny bloqueo a Larson, lo que ocasionó que este segundo se fuese contra el muro, lo que hizo que la carreroseria rozara con la llanta y saliera humo de la misma. Darlington es una pista que nunca decepciona y es que una pista que nos brinda unas excelente carreras, con roces, grandes adelantamientos, estrategias en pits por el desgaste de las llantas y lo demandante que es la pista. Una carrera bastante cerrada entre los dos primeros lugares, lo que le brindo un perfecto espectáculo al público presente en la pista y a los espectadores en la TV.
This was a very exciting race and with a finish of the same magnitude, since as I mentioned Denny blocked Larson, which caused the latter to go against the wall, which caused the car to rub against the tire and smoke came out of it. Darlington is a track that never disappoints and it is a track that gives us excellent races, with friction, great overtaking, strategies in the pits due to the wear of the tires and how demanding the track is. A very close race between the first two places, which provided a perfect show to the public present at the track and the viewers on TV.

Fuente | Source
El primer segmento de la carrera fue ganado por Denny Hamlin, seguido de KYLE LARSON en el segundo lugar y KURT BUSCH #1 en el tercero, mientras que RYAN BLANEY #12 y KEVIN HARVICK #4 completaron el top 5 de la etapa 1. MARTIN TRUEX JR #19, TYLER REDDICK #8, ARIC ALMIROLA #10, ROSS CHASTAIN #42 y JOEY LOGANO #22 fueron los que completaron el top 10, del 6 al décimo lugar, que le dieron puntos para el campeonato, desde 10 al primer lugar y uno menos para cada uno hasta llegar al décimo. En los Play-Off siempre es importante sumar la mayor cantidad de puntos posibles porque nunca sabremos cuando se le presentará un problema a los pilotos y equipos y pueden quedar fuera hasta por 1 punto, lo que sería algo decepcionante por todo el trabajo que se realizó en la temporada regular.
The first segment of the race was won by Denny Hamlin, followed by KYLE LARSON in second and KURT BUSCH #1 in third, while RYAN BLANEY #12 and KEVIN HARVICK #4 rounded out the top 5 in Stage 1. MARTIN TRUEX JR #19, TYLER REDDICK #8, ARIC ALMIROLA #10, ROSS CHASTAIN #42 and JOEY LOGANO #22 rounded out the top 10, from 6th to 10th place, which gave him points for the championship, from 10 to first place and one less for each to 10th. In the Play-Off it is always important to score as many points as possible because we never know when the drivers and teams will have a problem and can be out by as little as 1 point, which would be a bit disappointing for all the work that was done in the regular season.
El segundo segmento o etapa fue ganada en esta ocasión por KYLE LARSON, quien fue para mí el mejor auto de toda la carrera. El segundo puesto fue para CHRISTOPHER BELL #20, seguido de ROSS CHASTAIN, DENNY HAMLIN, KEVIN HARVICK, KURT BUSCH, JOEY LOGANO, CHASE ELLIOTT #9, RYAN BLANEY y COREY LAJOIE #7. La verdad que ninguna de los 2 primeros dos segmentos decepcionaron, en líneas generales fue una de las mejores carreras que he visto de la temporada, grandes adelantamientos, emociones por los roces constante de los pilotos contra el muro, la entradas en los pits donde los equipos deben está muy concentrados para no cometer errores, como suele ser el caso del equipo 11, quienes son los mejores desde mi punto de vista en lo que a paradas en los pit se refiere.
The second segment or stage was won this time by KYLE LARSON, who was for me the best car of the whole race. Second place went to CHRISTOPHER BELL #20, followed by ROSS CHASTAIN, DENNY HAMLIN, KEVIN HARVICK, KURT BUSCH, JOEY LOGANO, CHASE ELLIOTT #9, RYAN BLANEY and COREY LAJOIE #7. The truth is that none of the first two segments disappointed, in general it was one of the best races I've seen this season, great overtaking, emotions for the constant rubbing of the drivers against the wall, the pit entrances where the teams must be very concentrated to not make mistakes, as is usually the case of team 11, who are the best in my point of view as far as pit stops are concerned.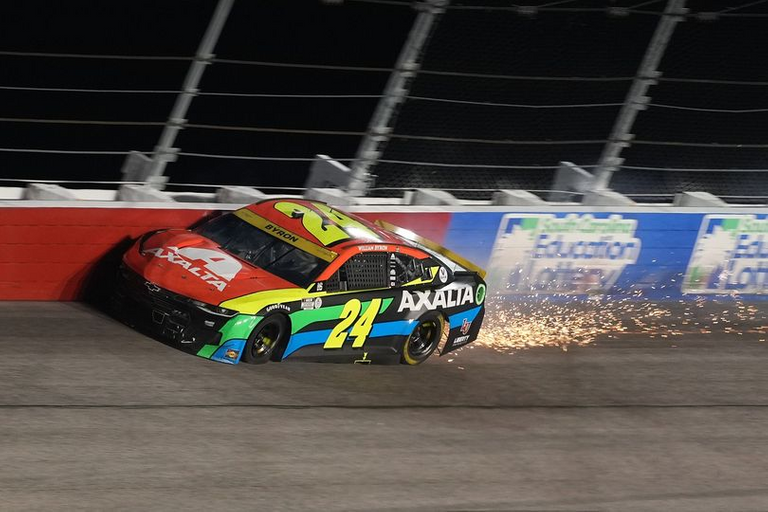 Fuente | Source
A pesar de que la carrera tuvo 19 banderas amarillas, la carrera fue bastante interesante. Si bien el número de banderas de precaución es alto, siempre debemos tomar en cuenta la dificultad de la pista y esta es conocida como la dama de negro porque los pilotos se van constantemente contra el muro, lo que ocasiona estas banderas amarillas o de precaución. La primera bandera fue en la vuelta 17, mientras que la segunda fue una bandera de competición que siempre se sacan con la finalidad de que los equipos puedan comprobar el desgaste de las llantas cuando no se pudo practicar mucho o hubo lluvia y toda la goma dejada por las llantas en la superficie de la pista se quita, lo que le da menos adherencia a los pilotos. La última de las banderas amarillas fue en la vuelta 330 a 37 del final por lo cual era la última parada de los pilotos en los pits para surtir de combustible y colocar llantas nuevas para terminar la competición.
Even though the race had 19 yellow flags, the race was quite interesting. Although the number of caution flags is high, we must always take into account the difficulty of the track and this is known as the lady in black because the drivers are constantly going against the wall, which causes these yellow or caution flags. The first flag was on lap 17, while the second was a competition flag that is always taken out in order for the teams to check tire wear when there was not much practice or there was rain and all the rubber left by the tires on the track surface is removed, which gives less grip to the drivers. The last of the yellow flags was on lap 330 with 37 laps to go so it was the last pit stop for the drivers to refuel and put new tires to finish the competition.
En conclusión me parece que fue una buena carrera, con un final emocionante y una merecida victoria por parte de Denny Hamlin, quien fue el segundo piloto en más liderar vueltas con 146, atrás de KYLE LARSON con 156. Para mi el mejor auto fue el 42 de Larson, pero bueno la final las carrera de NASCAR son así y gano el segundo mejor auto, lo que le da una tranquilidad para disputar las dos siguientes carreras restantes de la ronda de 16. Las siguiente carrera es la Federated Auto Parts 400 Salute to First Responders que se disputará el sábado 11 del presente mes y año en la pista de Richmond Raceway.
In conclusion I think it was a good race, with an exciting finish and a deserved victory by Denny Hamlin, who was the second driver to lead the most laps with 146, behind KYLE LARSON with 156. For me the best car was Larson's 42, but in the end NASCAR races are like that and the second best car won, which gives him a peace of mind for the next two remaining races of the round of 16. The next race is the Federated Auto Parts 400 Salute to First Responders to be held on Saturday 11 of this month and year at Richmond Raceway.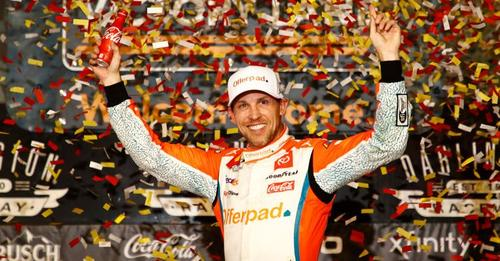 Fuente | Source
RESULTADO FINAL DE LA CARRERA
FINAL RACE RESULT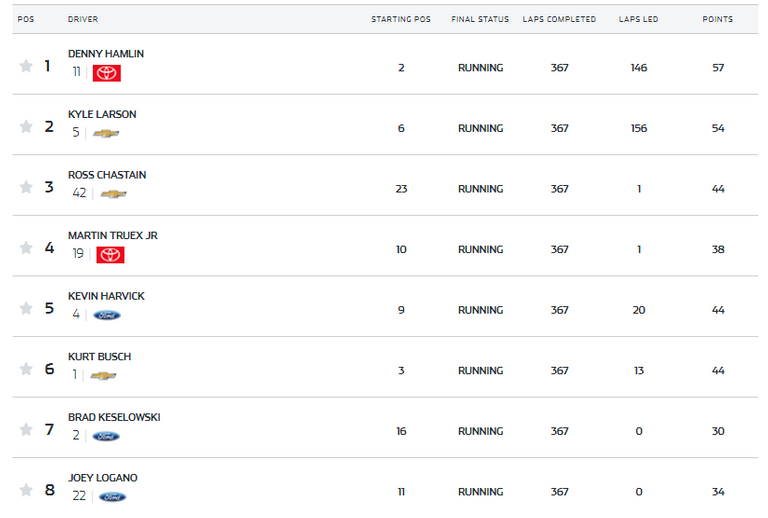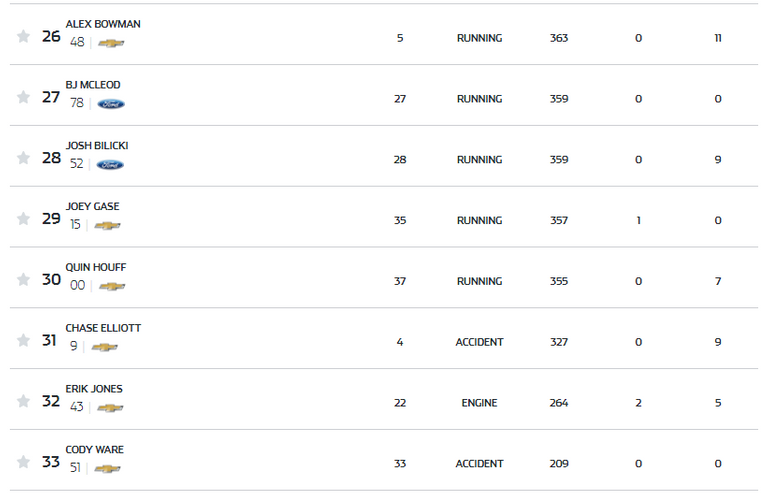 Fuente | Source
Estado del Campeonato luego del evento
State of the Championship after the event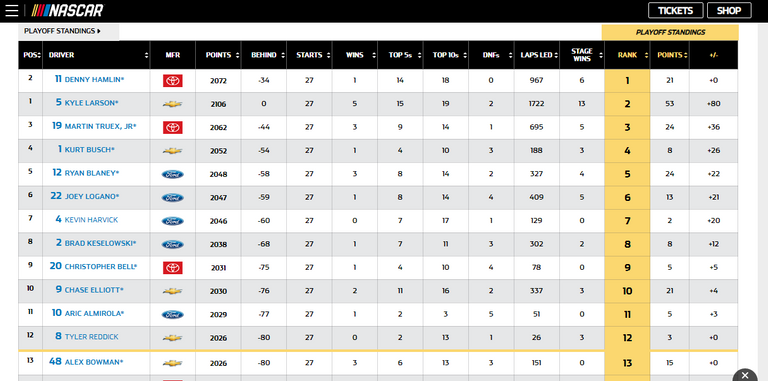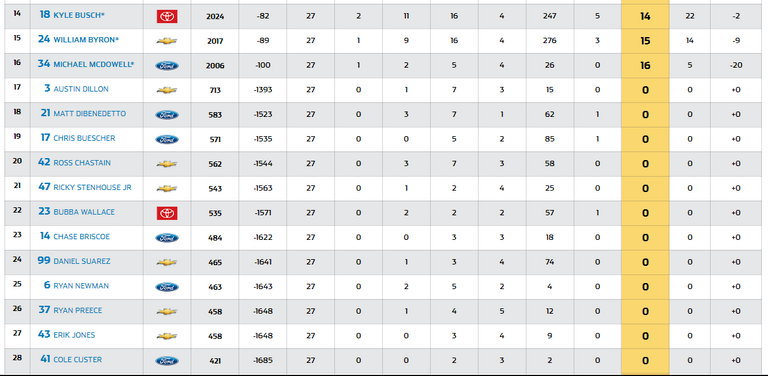 Fuente | Source

Separador de textos tomador del Post // Post taker text separator : Lucho en la pista (RETA A @equipodelta. | @franz54 reta a @equipodelta a Dibujar) Caricatura.
Gracias por su visita. Espero que les haya gustado. // Thank you for your visit. I hope you liked it.
Hasta una próxima oportunidad // Till a next chance
Sin más que decir, se despide de ustedes, su cordial servidor @franz54. // Without further ado, he bids farewell to you, his cordial server @franz54.

---
---