Wax Street Guild Brawl Update #1 1st Place Finish and Level 5 Store Upgrade!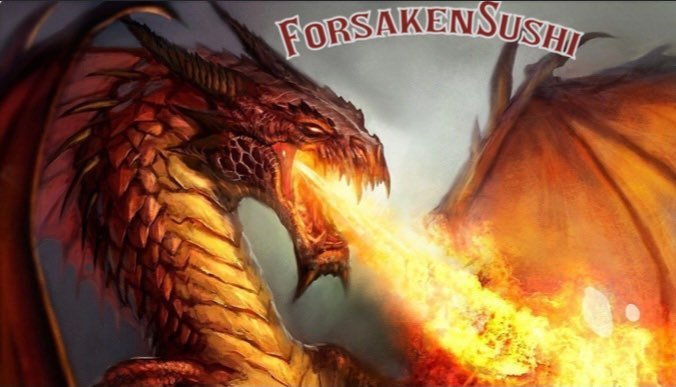 Hello and welcome to my first formal introduction to my wonderful Splinterlands Guild: Wax Street. I joined Wax Street in October of 2021, after starting Splinterlands in August of 2021. Wax Street was my first guild because I had avoided most guilds before that.

In my opinion its better to wait in most cases before joining a guild because most have a DEC requirement to join and a daily/weekly/seasonal contribution requirement of DEC for each member. If you join one of these guilds before you earn significant DEC through playing/renting, the costs of the guild may outweigh the benefits, especially if it is a low level guild without a high DEC bonus % per win / lacking brawl opportunities.

Wax Street was different, they were the first decently ranked and built up guild I had discovered with zero DEC requirement to join nor requirements to contribute on any regular basis. Their only stipulation at the time was 100k CP collection of owned cards. I met the requirement and have been happily in Wax Street since.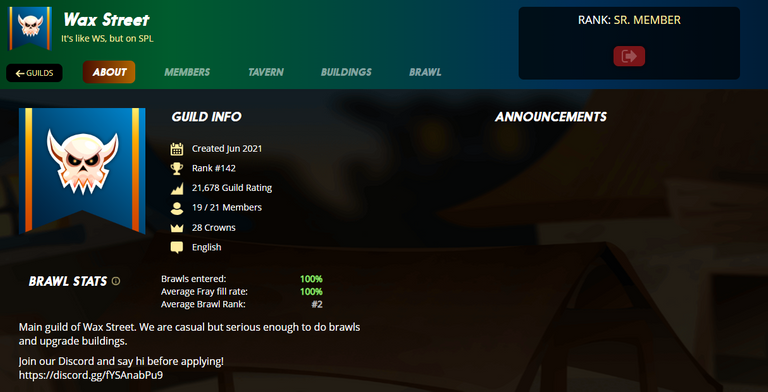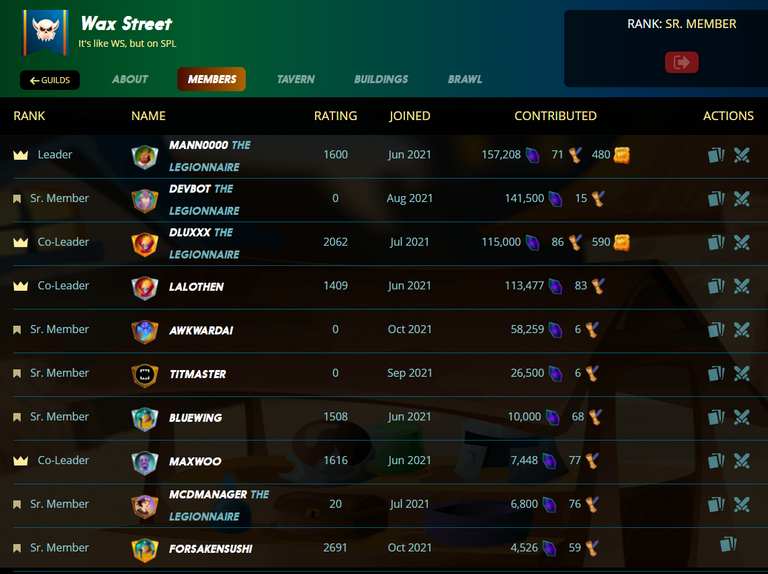 As you can see even though contributions are not a requirement at any stage, nor has anyone asked me to contribute one DEC ever, we have a solid list of core members who contribute for the greater good of our guild. This is a wonderful teambuilding aspect for the psyche in my opinion and results in more personal ownership over our contributions to the group.

So this is the first brawl results in our official blog record. Final Results Came in on March 16th 2022. We triumphed in this brawl obtaining the #1st Place position. This result afforded us a guild payout of 33 CROWNS used for upgrading guild buildings and individually participating members each received 2031 MERITS. This was a wonderful payout because not only did each member obtain enough merits for a gladius case, the guild obtained enough crowns to upgrade our store to lvl 5.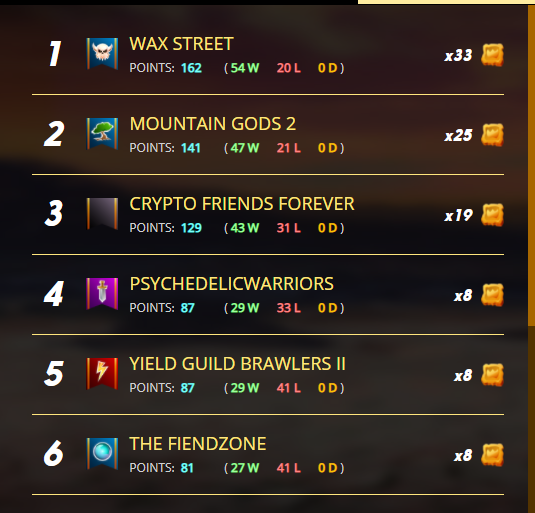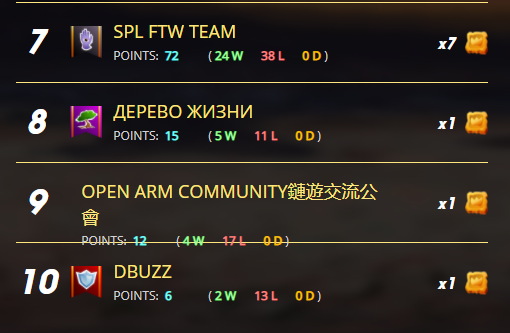 Our opponents in this brawl gave us good competition. Mountain Gods 2 (rank 251) guild came in 2nd place with 7 less wins than us. They are a solid guild and have given us quite good fights in the past. Crypto Friends Forever (rank 63) came in 3rd place with 11 less wins than us. I'm not sure if we have faced them before but they put up some solid fights also.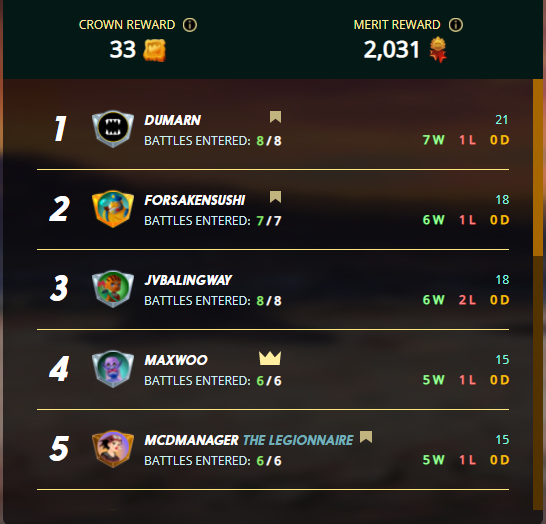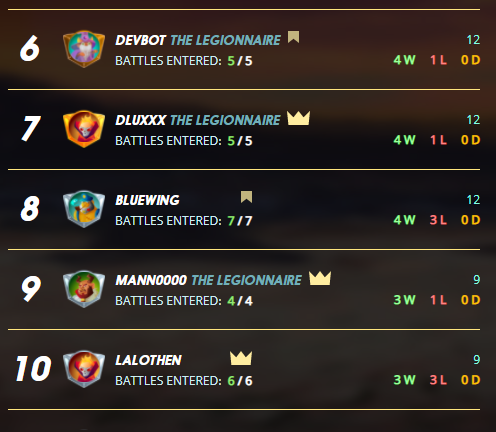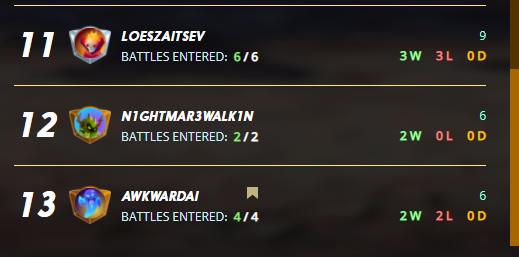 What can I say about these stats. Well I cant be more thankful to be brawling with this group of gentlemen. The weakest performance seen was 50/50 split win/loss ratio, and brawls are random and chaotic by nature. Everyone contributed and brought us to our victory and I thank the contribution of each and every one of our members.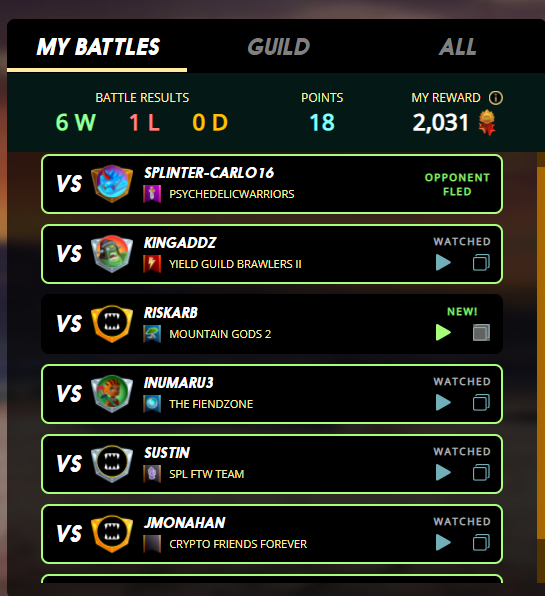 I was thankful for my personal performance on this brawl. It was quite a redeemer from my last brawl where I had more losses than wins for the first time since my 1st brawl ever. Very uncool @forsakensushi !! I/You have been redeemed by this victory ;)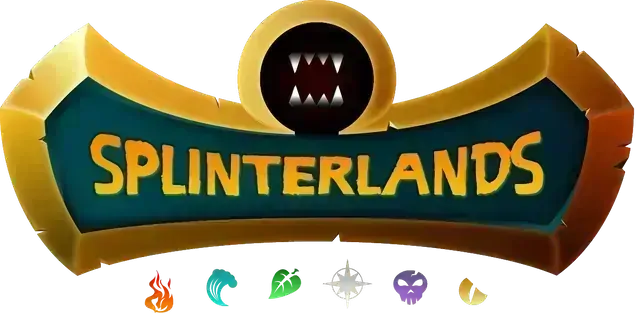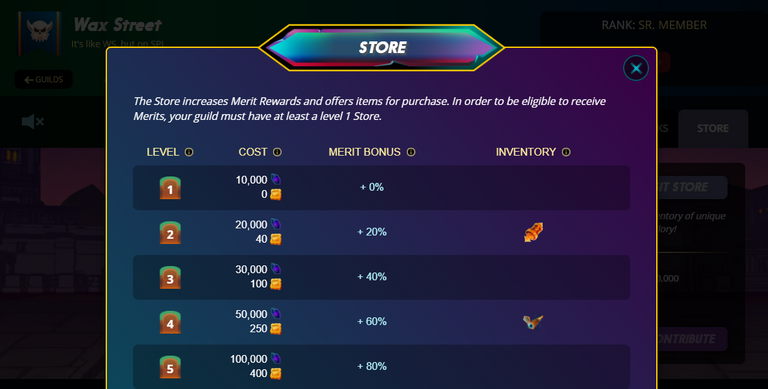 As a result of the crown income from our brawl victory combined with 100,000 DEC contributed by our alliance, we were able to make a huge long term upgrade, LEVEL 5 STORE. Why am I excited it looks like all it does is add 20% merit bonus, no new inventory. Well 20% merit bonus is huge, I would argue its more important than the bonus % DEC income from Lodge upgrades in the long run. This will increase your merit rewards from brawl over time, allowing you more gladius cases vs lower levels all other things held equal.
- Rock on Wax Street!!
---
---