Saturday Savers Club! Week #3 March 19, 2022 --Massive Stacking Hive Power-- Hive is ready to take off!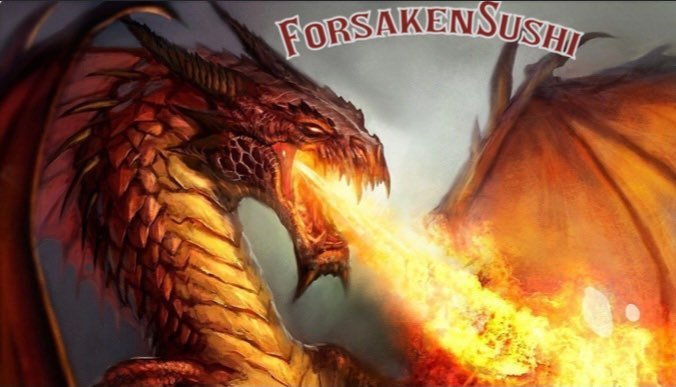 Thanks for stopping by for my 3rd installment of the Saturday Savers Club! I have been quite busy this week, but first lets look at the end goals of my savings plan, I expect to have these balances by Christmas 2022:
Please remember anything contained in this blog is not financial advice, it is my personal opinion and I am not a registered financial representative.
Goals:
--5000 Hive Power----------200,000 SPS--------- 50 EDSM-------100 EDS------------------300 SPI--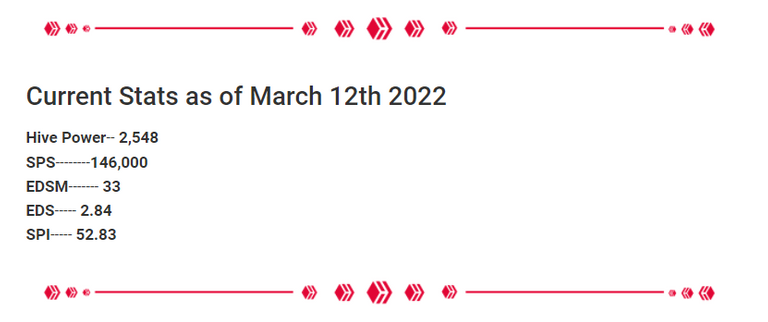 That was my progress as of last week, Saturday March 12th. Since then my portfolio has undergone a decent amount of changes.
In order to reach my goals I need to accumulate at these rates at the minimum.

Accumulation needed to achieve goal Based on estimate of 30 days/month, 40 weeks for 10 months for 2022:
Hive Power--357.8 per month, 89.45 per week, 11.92 per day
SPS--------6,494.5 per month, 1623.625 per week, 216.48 per day
EDSM------- 4.4 per month, 1.1 per week, 0.147 per day
EDS----- 9.877 per month, 2.469 per week, 0.329 per day
SPI----- 24.717 per month, 6.179 per week, 0.8239 per day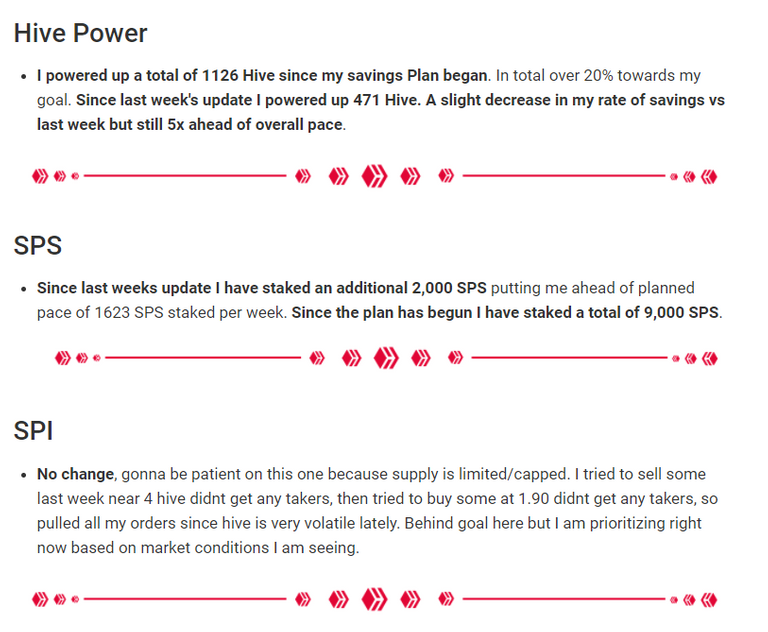 - That was last weeks review of Hive Power, SPS, and SPI.
Lets do a deeper dive this week!
--HIVE POWER--

As we can see the current price of hive is $0.915941 USD each. Currently we are in a consolidation phase in my opinion.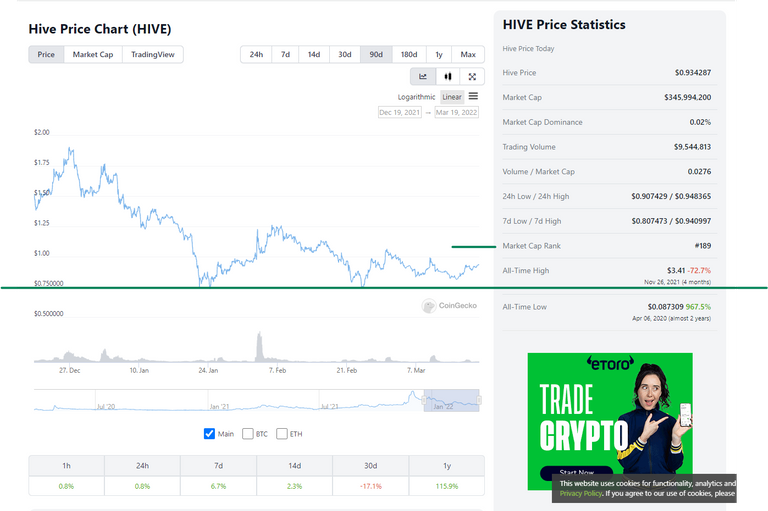 Source: Coin Gecko
This is the 90 day chart from Coingecko. As you can see Ive drawn a long green bar at the support levels we have observed in hive trading in the past 90 days and also a short green bar at my short term price target.
Hive Support Levels:
$0.75 Strong Support
$0.82 Current Short Term Trend Support
$1.00-1.25 Short Term Target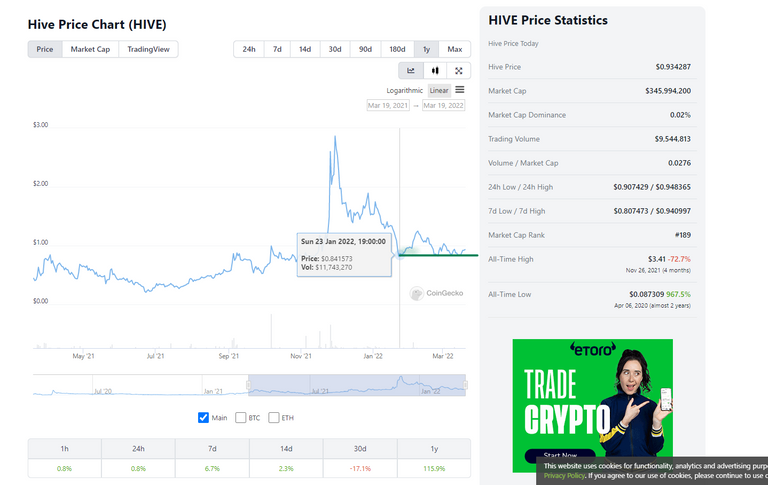 Source: Coin Gecko
I wanted to include a 1 year chart also for perspective. Here we can clearly see the uptrend from July 2021 to the end of 2021 when hive spiked up to $3.00 each.

Since then we had a sell off and held at the $1.50 level showing a 50% retracement of the move which is pretty strong for crypto from what I have seen.
Then after failing to hold the $1.00 level we have entered into a sideways trading pattern very reminiscent of bottoming stocks that I have observed in the past.

Here we also see the long term chart indicates support/bottoming in the $0.84 area on the chart.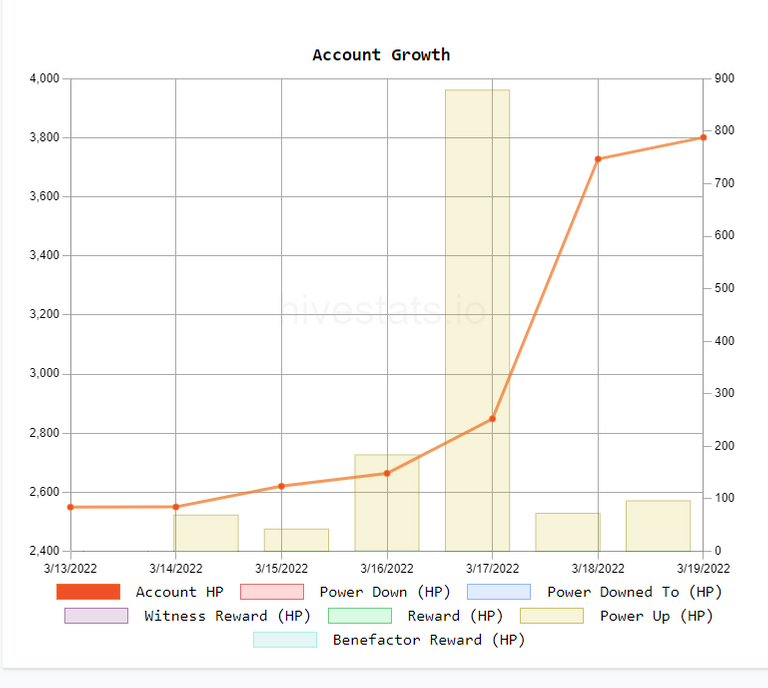 Source: Hive Stats
Back to the task at hand, hive power. Last week I had 2548 hive power. This week I powered up 1655 hive. An approximately 40-50% increase from last weeks pace and 18x the pace required to meet my goal. As you can see I have decided to focus heavily on powering up the hive now because I believe it will be more expensive in a couple months.

SPS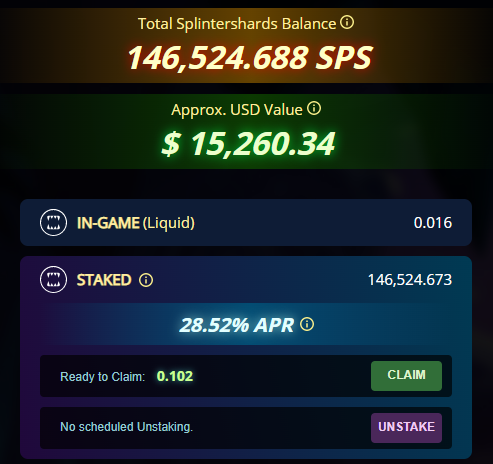 This week I only staked an additional 524 SPS which is 1099 short of my goal pace for the week. I came up short due to the fact that Ive been selling my SPS income and converting it into hive and powering the hive up. This week maybe I will switch back to staking the SPS income.

SPI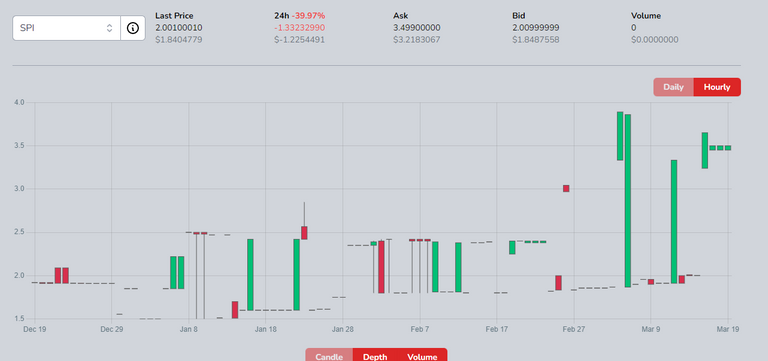 Currently I have 0 SPI, I saw a buyer come in a couple days ago at the 3.50 hive price with enough of a limit order to absorb my entire position. Given I had purchased SPI in the 1.50-2.50 range mostly, I took advantage of this opportunity to sell my entire position and power up the hive, I will be an opportunistic buyer of SPI going forward.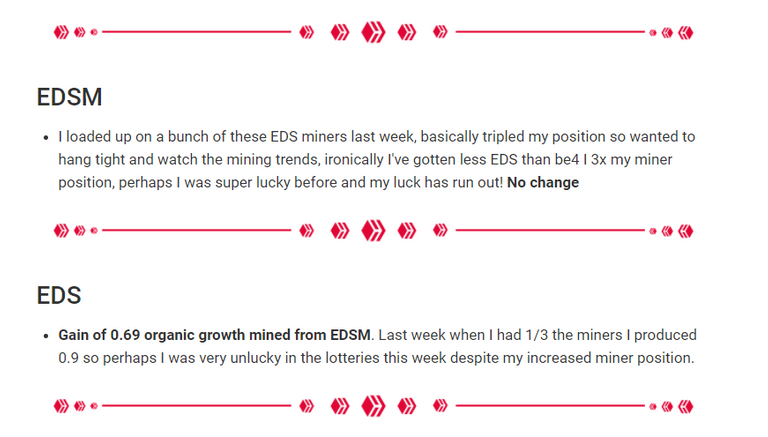 EDSM
-No change in position, 33 staked Miners.

EDS
Through mining and a couple of open market purchases, my EDS position has grown by 9.28 EDS. This is fantastic progress and a little over 3x the weekly pace I am hoping to set. Wonderful indeed!

Make savings a regular habit. Start small, but Start Today! People all want to make good saving decisions once exposed to knowledge of compound interest , but not today, some day in the future usually that never comes. Start today, the earlier you start, the more time you have for your money to compound and the less you have to put in. Best wishes everyone!

See you for the next update on my savings progress next Saturday!

---
---