Fixed Deposit accounts versus HBD savings - the easy choice!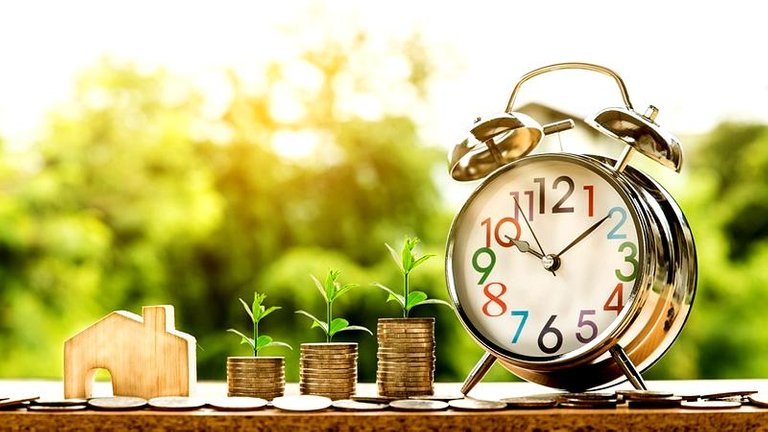 From Pixabay
Since the banks rarely pay anything (but they ought to) for money deposited in savings accounts, the only choice for many bank account holders to receive rewards of any nature is through fixed deposit accounts.
In fixed deposit accounts, interest is paid for a specified amount of money locked away for a given period of time - usually from 6 months up, but mostly a minimum of 1 year. This type of savings investment is popular among many bank users. But then, with the unlimited opportunities for financial investment opens up in Hive, it becomes pertinent to look at what we had with the banks fixed deposit against what HBD savings offers us.
HBD 20% APR miles better than bank fixed deposits
Here are possible reasons why doing fixed deposit for me is a waste of time...
Interest rate: The is the first point of call. People usually want to earn as much passive income as is available. After all, your money should be making more money on autopilot. So what rate does the banks offer for 1 year fixed deposits? Many of my friends I asked, plus my own personal experience shows that it is at most a single digit interest rate. It simply means the interest rate per annum is always equal to or less than 9%. Majority of the banks offer between 4% - 7% per annum. What do you think of that? Lets look at the HBD savings offer.
When you save with HBD, you are paid a whopping 20% per annum. Yes and it is sustainable. So basically, the Hive platform offers at least twice or three times what you have with bank fixed deposit accounts. So based on the interest rate per savings, HBD savings wins the game by a considerable distance.
Flexibility: The next thing is how flexible are bank fixed deposits compared to the HBD savings? Well, from the name fixed deposit, you get the idea that you are not going to touch that money for some time - a long time. Most fixed deposit accounts have a minimum of 1 year. So whether there is emergency or not, whether someone died or not, the money in fixed deposits are untouchable for at least 12 months. How about HBD savings?
When you save in HBD savings, your funds are locked away but is very easily accessible within 3.5 days. The is truly a flexible savings structure. So if you had an emergency or something happened that made it necessary to deep hands into your savings, 3.5 days is a reasonably short time to wait to unlock your funds. So which will you prefer? Locking away your money for 1 whole year or having access to them in times of emergency after just 3.5 days? Easy choice for me.
Stability of asset: If you leave in a country (like mine) where the economy is unstable, then you have to worry about the value of your assets over time. Inflation in most countries is not just high, but keeps getting higher over a short period of time. For example in Nigeria, the local currency naira exchanges for USD at the rate of 754 to 1. The naira keeps on loosing its value against USD on daily basis. So if I keep money in naira over a long period of time like 1 year, it looses value rapidly.
Looking at our HBD, although it is affected by inflation, it does not loose value the way naira does. HBD is stable, so the price fluctuation is not one that will hurt a large volume of it over a long period of time. Living in a third word country where the economy is depreciating everyday, I rather put my money in HBD savings where it will retain more value over a long period of time, than it would in the local currency.
Control: We are all pushing for decentralization. the traditional banking system is 100% centralized. Once your money gets to the bank, the banks controls it. For example, they determine if and when your money is available for withdrawal. For fixed deposit accounts, you relinquish what ever little control you have over your funds for all that period it is fixed. You are not in charge of it. That is why for example, you cannot withdraw or spend it within the agreed period its locked away. That is not so with HBD savings.
You have probably heard the "not your keys, not your money" slogan here on hive. It simply means that you are in full control of your funds here so long as you have your keys. That is also reflected in HB savings. While your funds are "locked away" in savings, you are still in full control of it. You can decide to remove it from savings anytime - and have it back after a very short waiting period of 3.5 days. You are free to remove some or all of the savings. You are free to increase your savings at any point in times.
In essence, you are fully in control of your money in HBD savings. In bank fixed deposits, someone else controls your money.
Charges: Another thing to look at is charges. The bank operate fully based on the numerous charges they make on your transactions - sometimes there are uncountable hidden charges too. So within the time of your fixed deposit savings, you will incur a lot of charges. That may include but is not limited to account maintenance charges, ATM charges, withdrawal charges, SMS charges, etc. Over a period of 1 year, that is a lot of money. The blockchain does not operate that way.
HBD savings have zero charges on your savings. There are no maintenance fees or any other fees that will be paid within the period of savings. Better yet, the blockchain has no hidden charges. All transactions are transparent and stored on the blockchain in immutable form. So again here, HBD savings is better than bank fixed deposits.
Conclusion/Your verdict
From the above evaluation, the choice for me between bank fixed deposit and HBD savings is easy - I go for HBD savings anytime any day.
Its left for you now. What is your conclusion. If you are to choose between bank and HBD, what will you choose and why? Share your opinions with me in the comment section of this publication.
Posted Using LeoFinance Beta
---
---