Una Bruja en la Cocina: "Delicious Three-Ingredient Cookies" [EN] // [ES]
Have you heard the phrase that says sometimes in the simplest things we find happiness! And how true it is, a small detail, a flower, a perfume, even a smile, are things that can make us fall in love, and today, I fell in love with a simple cookie, a cookie that with only three ingredients and in a very short time we can make, and at this very moment I wonder why I had not prepared this delight before? As some of you already know I love making cookies, it's something I enjoy doing with my son and for my son, although I'm not going to lie, I also enjoy their taste. A long time ago, I think it was my first time preparing cookies, I made some similar to these, but they were far from the deliciousness of this recipe, at that time I had no idea what are the proportions and measures in this type of preparations.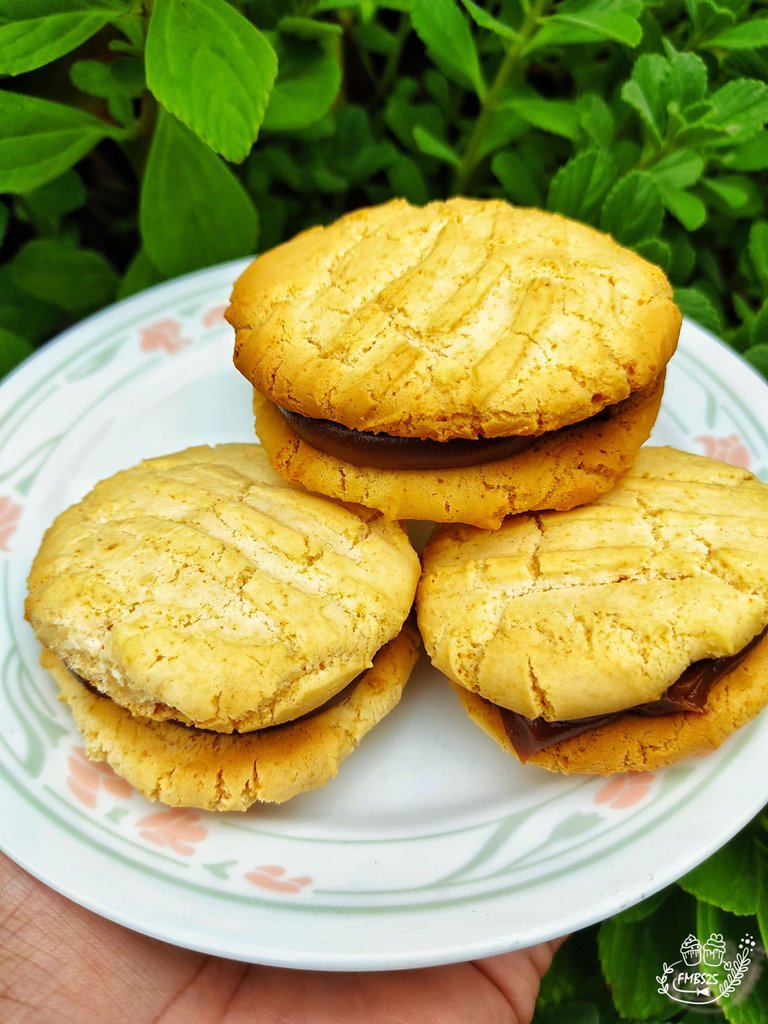 Some time ago I had seen these delicious three ingredient cookies on the internet, the truth is I don't know why it took me so long to prepare them, today I finally decided to prepare them and I realized that they are so, but so easy, that was probably what made me doubt if they were really good, but since today I wanted to try something new and I found a video on Instagram where they gave an extra touch, and I had all the ingredients at home, I set out to prepare them. As I had already seen in some recipes the process of elaboration was really easy, even faster than I had expected, and it didn't take Mathias to join me, who usually slows down the process, but this time was the exception, these delicious cookies are so easy to prepare.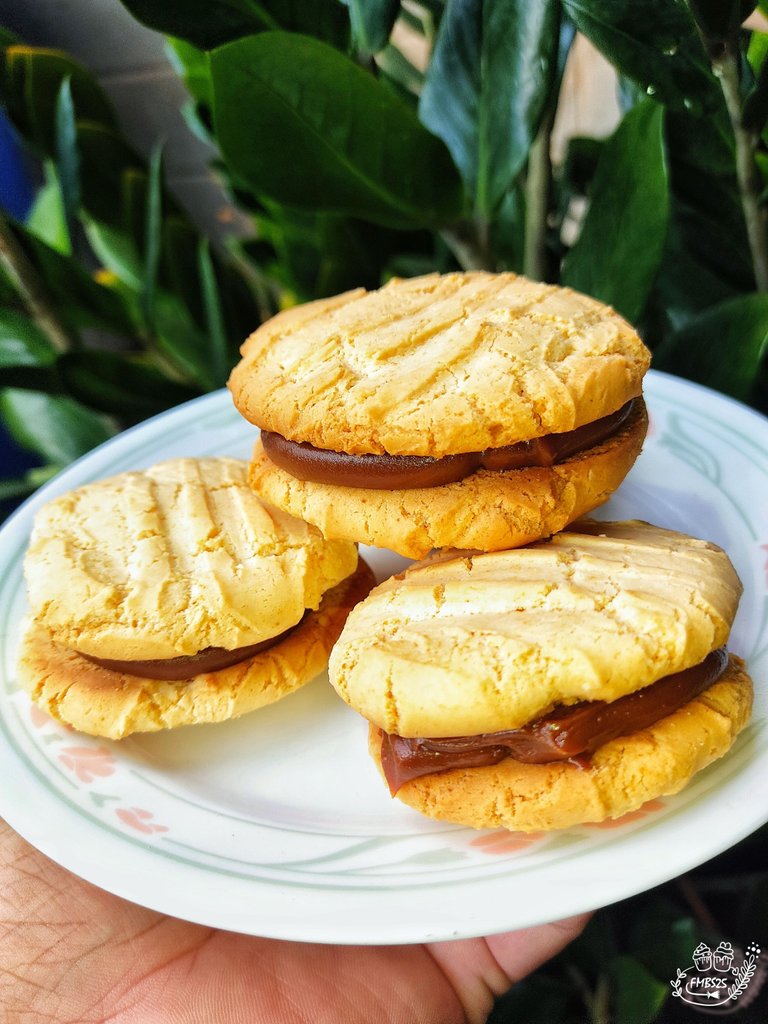 I wanted to make a sort of sandwich with these cookies and dulce de leche or arequipe, the truth is that I could not think of anything else, because of its similarity in flavor to the base cookies of the alfajores this combination comes very well, although if the excess of sweet is not your thing, you can enjoy them just like that, because the truth is that they have the perfect touch of sweetness, not to mention that silky texture that makes them melt in your mouth, this texture, I must say, was the one that made me fall in love, but, come with me and I'll show you how Mathias and I prepared them today.

Ingredients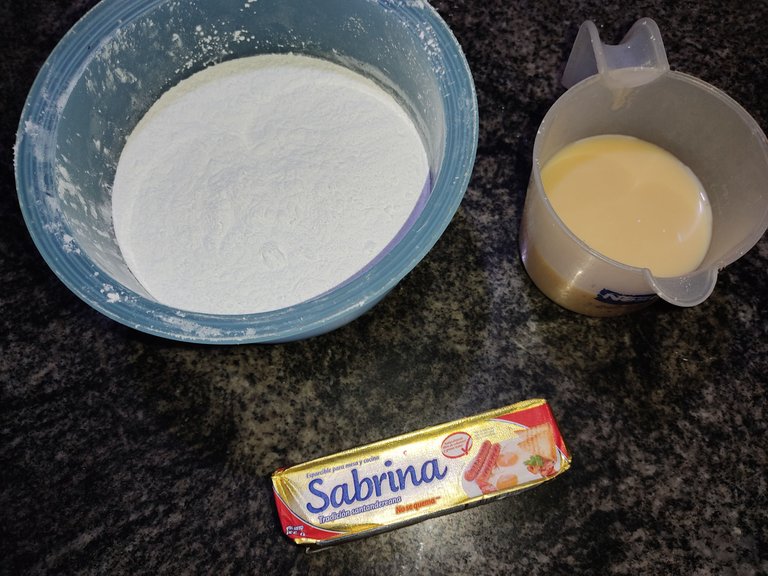 | | |
| --- | --- |
| 250 gr | Condensed milk |
| 125 gr | Butter |
| OPTIONAL | |
| 1 tsp | Vanilla |
| | Arequipe or Dulce de leche |
Preparation
| | |
| --- | --- |
| Preparation time | 5 minutes |
| Cooking Time | 10 minutes |

We will begin by melting the butter, and let it reach room temperature to use, in a bowl add the cornstarch, and add the melted butter, integrate a little and continue adding the condensed milk, mix with the help of a paddle as far as we are allowed.

Transfer the mixture to a counter and continue kneading with your hands until you get a dough that does not stick to your fingers, then cut the dough into small portions, and make small balls, which are then placed on a tray with baking paper or buttered, and with the help of a fork we make a little pressure to flatten just a little. We take them to a preheated oven at 180 °C for about 10 minutes, I must say that I left them for 15 minutes because I wanted them more browned, but if they are only browned underneath they are ready.

On their own they are a complete delight, as to accompany a good cup of coffee or tea, however, I went further and added a good amount of dulce de leche, turning these cookies into a kind of alfajor, but I must say that I loved this version even more than the original, with this also satiated a craving for months hahaha. Mathias love them, and I have discovered a new addiction hahaha.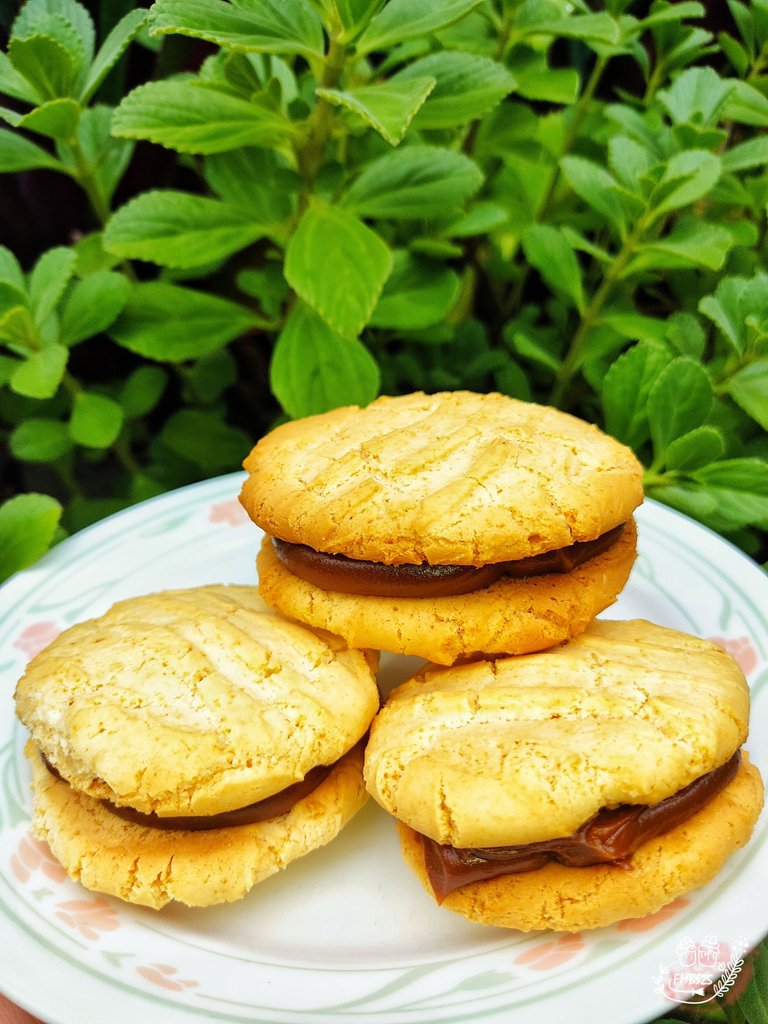 Images of my property, taken with the camera of my Xiaomi Redmi Note 9S Edited with Snapseed and PicsArt.
Thank you for taking the time to read this post, if you have any questions, criticisms, or suggestions, I would appreciate it if you would put them in the comment box, and remember, you too can make magic in the kitchen wherever you go!


[ES]

Has escuchado la frase que dice ¡En ocasiones en lo más simple encontramos la felicidad! Y que cierta es, un detalle mínimo, una flor, un perfume, hasta una sonrisa, son cosas que nos pueden llegar a enamorar, y yo hoy, me enamore de una simple galleta, una galleta que con tan solo tres ingredientes y en muy poco tiempo podemos elaborar, y en este justo momento me pregunto, ¿Porque no había preparado antes esta delicia? Como algunos ya lo saben amo preparar galletitas, es algo que disfruto de hacer con mi hijo y para mi hijo, aunque no voy a mentir, también disfruto de su sabor. Hace mucho tiempo, creo que era mi primera vez preparando galletas, realice unas similares a estas, pero distaban mucho de lo deliciosa de esta receta, en ese momento no tenía idea de lo que son las proporciones y medidas en este tipo de preparaciones.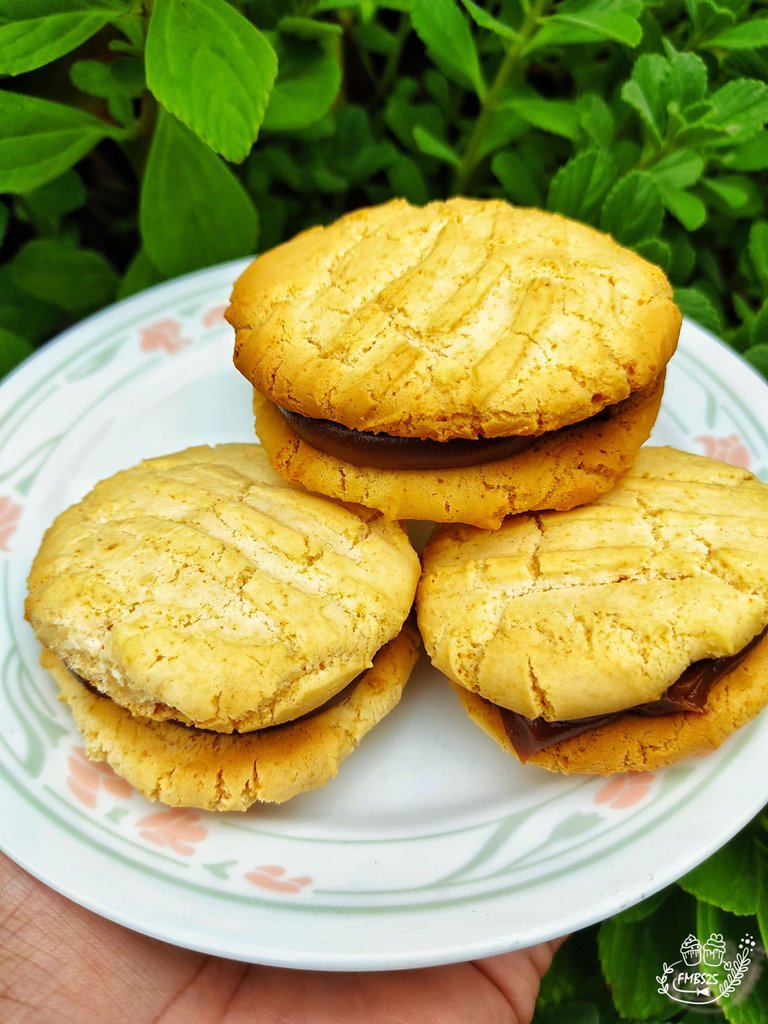 Hace un tiempo había visto estas ricas galletas de tres ingredientes en internet, la verdad no sé porque me tardé tanto en prepararlas, hoy por fin me decidí a prepararlas y me di cuenta de que son tan, pero tan fáciles, que probablemente eso era lo que me hacía dudar de si realmente eran buenas, pero en vista de que hoy quise probar algo nuevo y me encontré un video en Instagram en donde le daban un toque extra, y tenía todos los ingredientes en casa, me dispuse a prepararlas. Como ya lo había visto en algunas recetas el proceso de elaboración fue realmente fácil, más rápido incluso de lo que había previsto, y no tardo en unírseme Mathias, que por lo general me hace más lento el proceso, pero esta vez fue la excepción, así de fáciles de preparar son estas deliciosas galletas.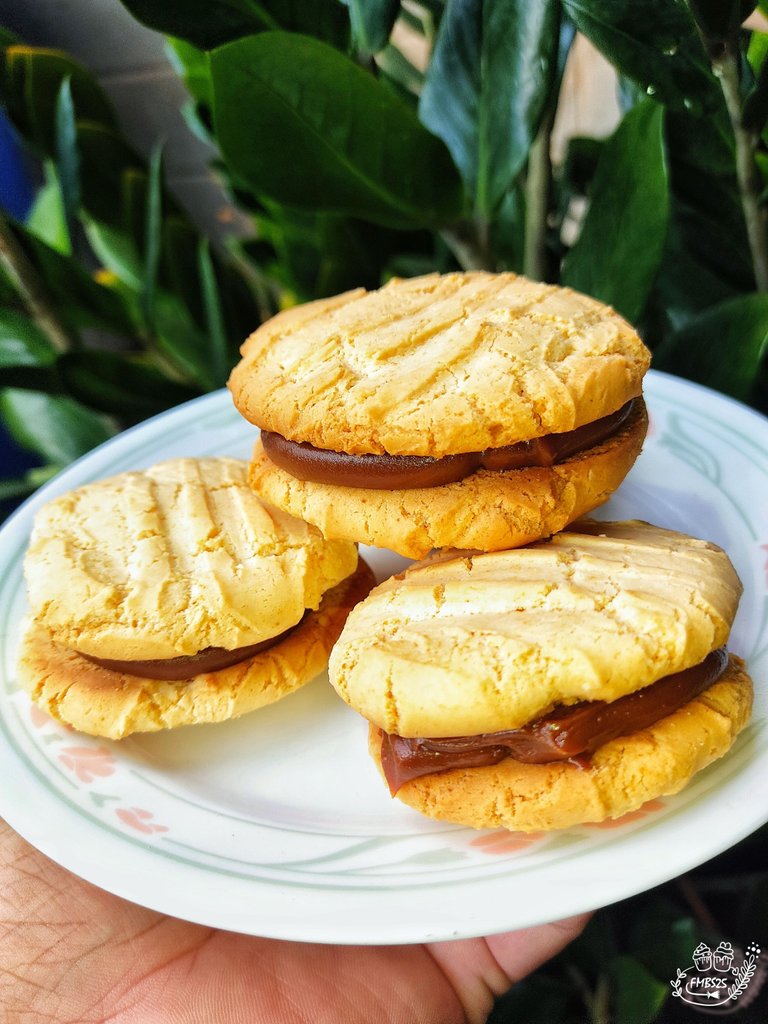 Quise hacer una suerte de sándwich con estas galletas y dulce de leche o arequipe, la verdad es que no se me ocurrió otra cosa, pues por su similitud en sabor a las galletas base de los alfajores esta combinación le viene muy bien, aunque si el exceso de dulce no es lo tuyo, bien puedes disfrutarlas así sin más, pues la verdad es que tienen el toque perfecto de dulce, y ni hablar de esa textura sedosa que hace que se deshagan en la boca, esta textura, debo decir, que fue la que me enamoro, pero, acompáñame y te muestro como las preparamos hoy Mathias y yo.

Ingredientes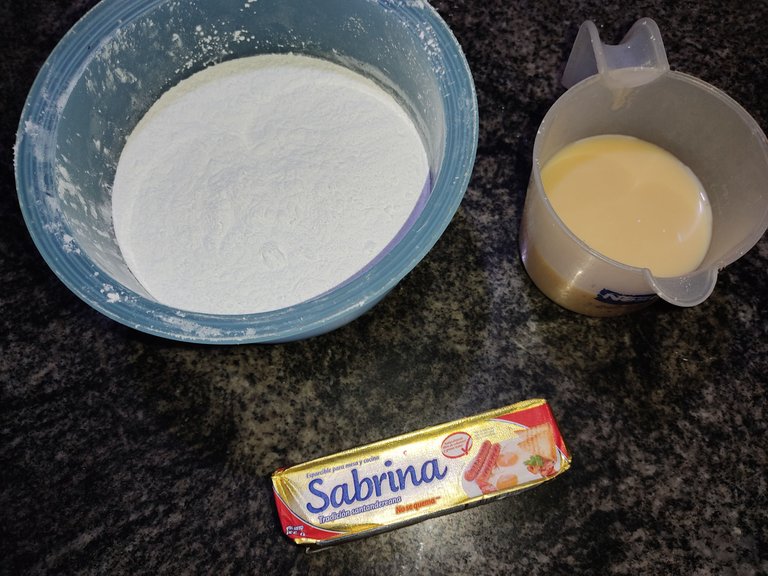 | | |
| --- | --- |
| 250 gr | Leche condensada |
| 125 gr | Mantequilla |
| OPCIONAL | |
| 1 Cdta | Vainilla |
| | Arequipe o Dulce de leche |
Preparación
| | |
| --- | --- |
| Tiempo de preparación | 5 Minutos |
| Tiempo de Cocción | 10 Minutos |

Comenzaremos derritiendo la mantequilla, y dejamos que tome la temperatura ambiente para utilizar, en un tazón agregamos la fécula de maíz, y adicionamos la mantequilla derretida, integramos un poco y continuamos agregando la leche condensada, mezclamos con ayuda de una paleta hasta donde nos sea permitido.

Pasamos la mezcla a una mesada y continuamos amasando con las manos hasta obtener una masa que no se pegue de los dedos, seguidamente cortamos la masa en pequeñas porciones, y hacemos bolitas, que luego disponemos en una bandeja con papel para horno o enmantecada, y con ayuda de un tenedor hacemos un poco de presión para aplastar solo un poco. Llevamos a un horno pre calentado a 180 °C por unos 10 minutos, yo debo decir que las deje por 15 minutos porque las quería más doradas, pero con que solo se doren por debajo ya están listas.

Por si solas son una completa delicia, como para acompañar una buena taza de café o de té, sin embargo, yo me fui mas allá y le agregue una buena cantidad de dulce de leche, convirtiendo estas galletas en una especie de alfajor, pero debo decir que ame esta versión incluso más que la original, con esto además saciaba un antojo de hace meses jajaja. Mathias las amo, y yo he descubierto una nueva adicción jajaja.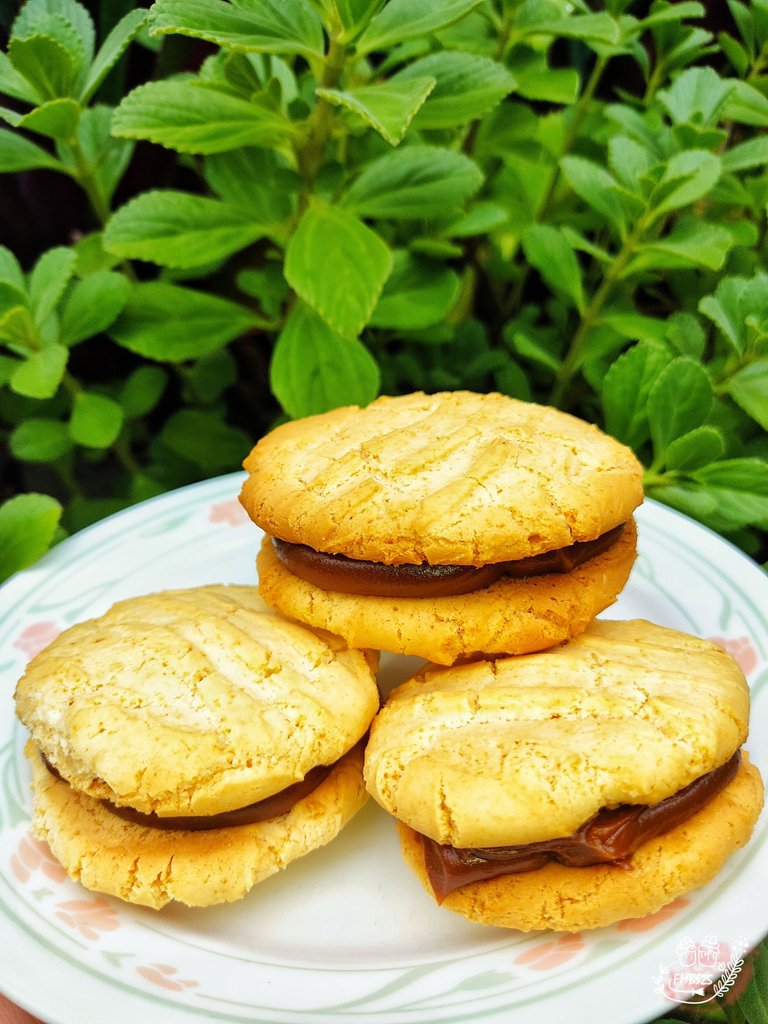 Imágenes de mi propiedad, tomadas con la cámara de mi Xiaomi Redmi Note 9S Editadas con Snapseed y PicsArt.
Gracias por tomarse el tiempo de leer esta publicación, si tiene alguna pregunta, crítica o sugerencia, la agradecería que la pusiera en la caja de comentarios, y recuerda, ¡Tú también puedes hacer magia en la cocina ya dondequiera que vayas!



Created by @robinsonlgil


Created by @derangedvisions
---
---