Teppanyaki's table 🍱🍣🍤🍧🍢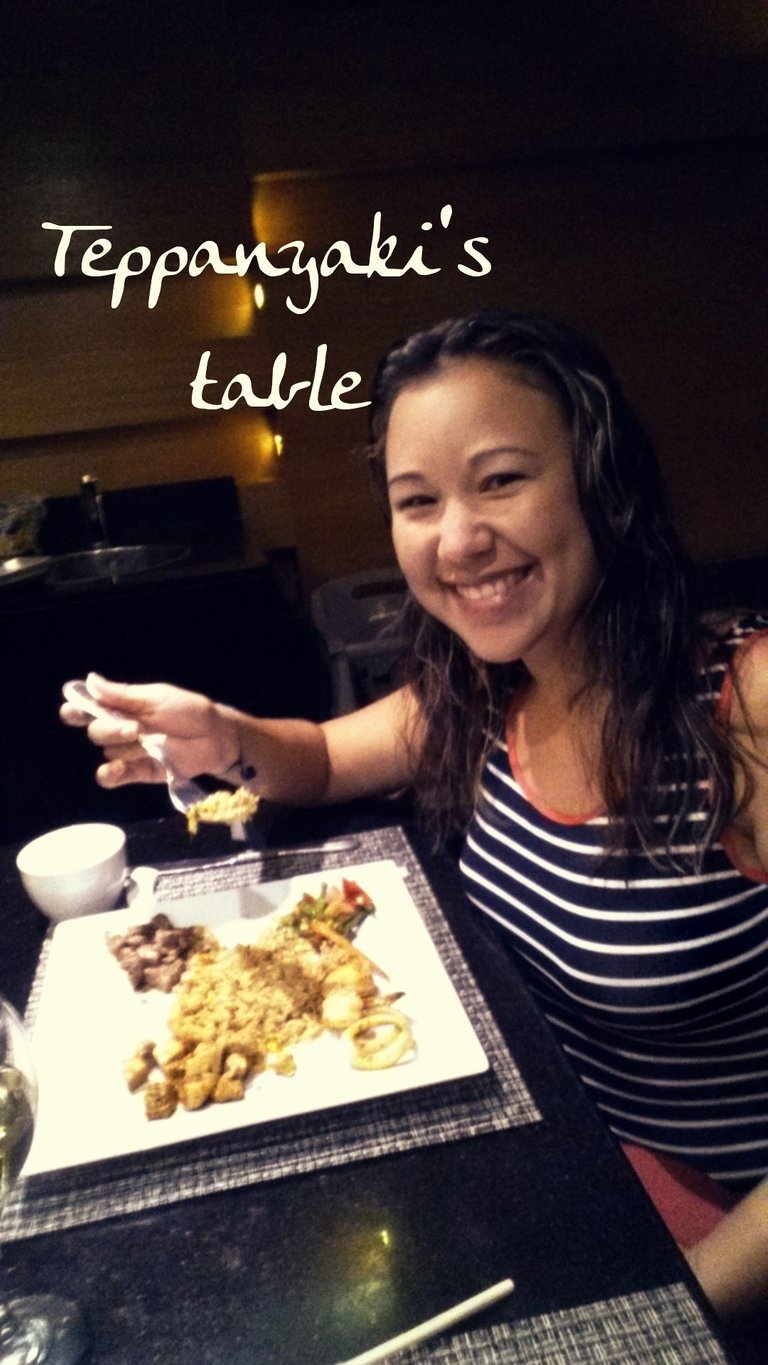 🍣🍤🍱Dear foodie community!🍱🍣🍢
Today I want to share with you, my first experience at a teppanyaki table, typical of Asian culture!
The teppanyaki tables are Asian food prepared live and direct, where you interact with the chef and you can learn tricks of this ancient cuisine.
It is a very entertaining and intimate event since the table is made up of 10 strategically distributed seats so that each diner can appreciate what the chef is doing.
At the same time, the food is prepared with exact measurements so that it can be served on the 10 plates set out for the diners.
In the show, the chef talks, plays, performs acrobatics, gives some tips, interacts with people and all this while cooking the spectacular dish.
I had seen this type of food on TV, until I managed to go to a restaurant that did it.
Here I tell you the step by step 👇👇👇👇👇
🍣🍱🍤Querida comunidad foodie!🍣🍤🍱
Hoy quiero compartir con ustedes, mi primera experiencia en una mesa teppanyaki, típica de la cultura asiática.



¡Acompáñame!
Las mesas teppanyakis son comida asiática preparada en vivo y directo, dónde interactuas con el chef y puedes aprender trucos propios de esta milenaria cocina.



Es un evento muy entretenido e íntimo ya que la mesa está conformada por 10 puestos distribuidos de manera estratégica para que cada comensal pueda apreciar lo que hace el chef.



A su vez, la comida preparada son medidas exactas para que alcance en los 10 platos dispuestos para los comensales.



En el espectáculo, el chef habla, juega, realiza acrobacias, da algunos tips, interactúa con las personas y todo esto, mientras va cocinando el espectacular plato.



Este tipo de comida lo había visto por tv, hasta que logre ir a un restaurant que lo hacía.



Acá te cuento el paso a paso
TEPPANYAKI'S TABLE// MESA DE TEPPANYAKI
📍Place: Be live hotel resort- Punta Cana- Dominican Republican.
🍱Restaurant: Akeru- Japoneses lounge.
🕗Time: 8:00 p. m.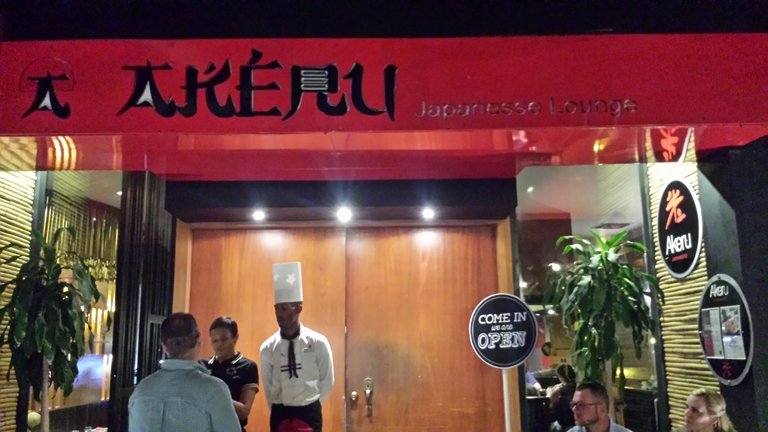 To begin with, this is very important: punctuality. If you book for that time, you must be there at least 10 minutes before, otherwise you lose your reservation because there are always people waiting to get in.
Once in the place, we had a Canadian couple, a young couple from Belgium and a French family (father, mother and daughter).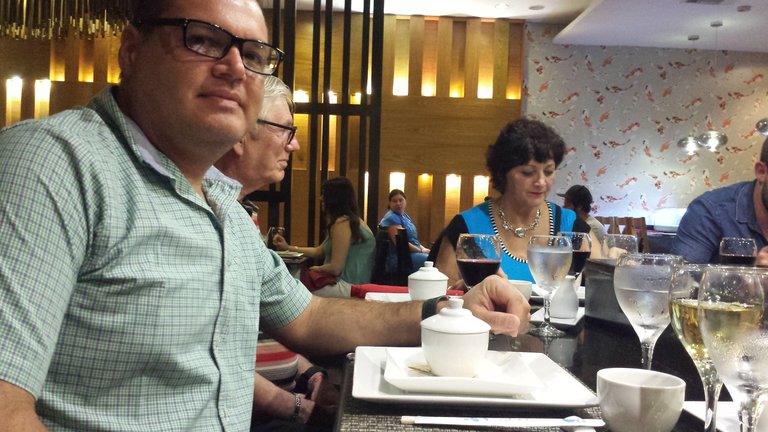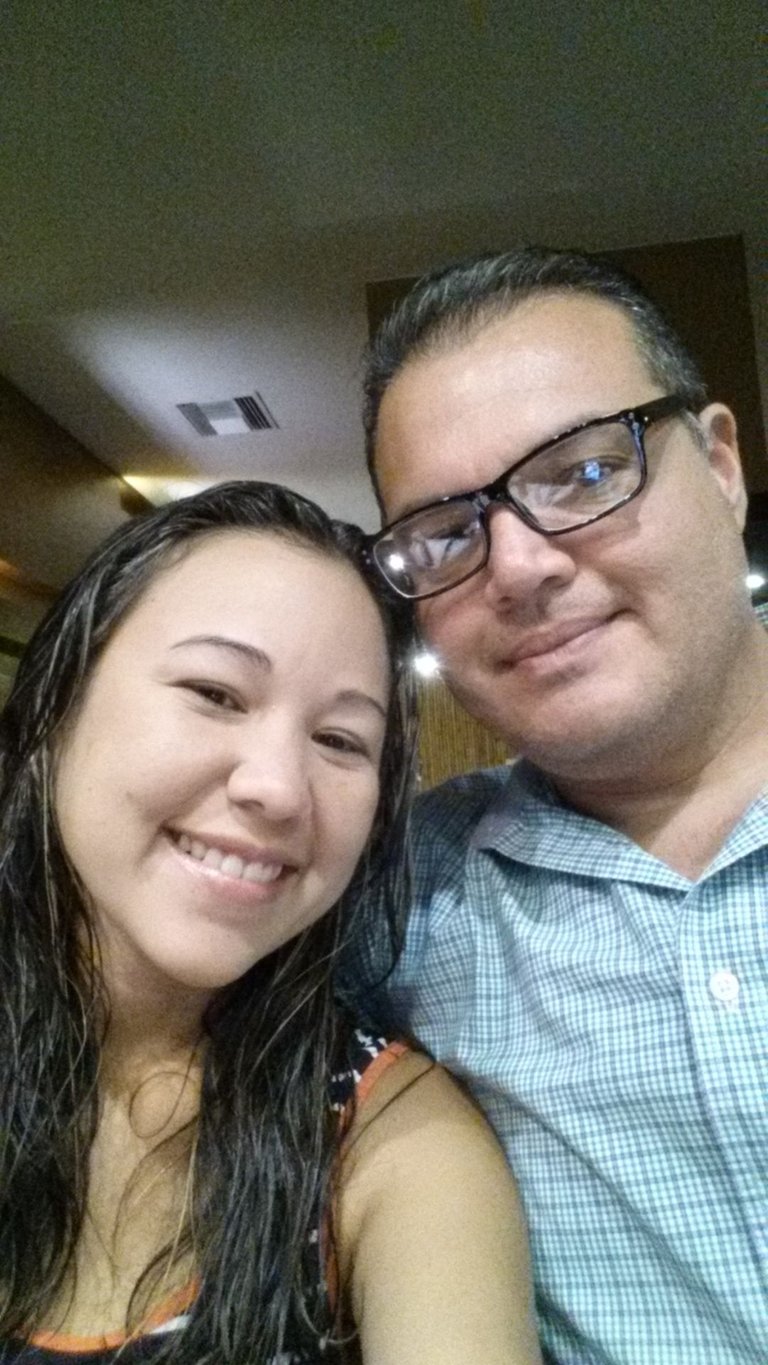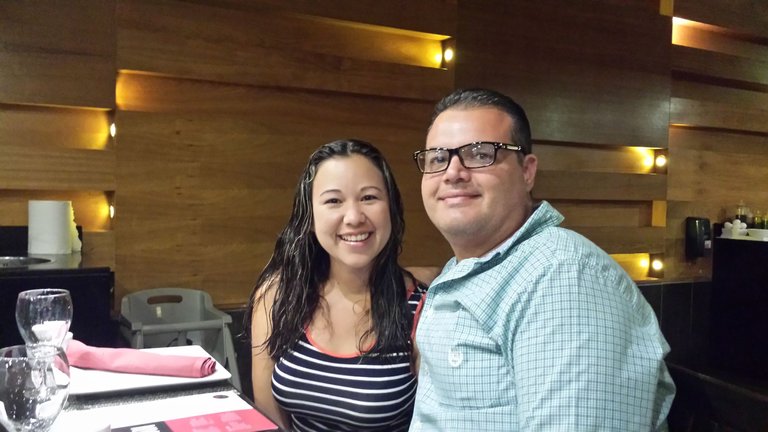 Imagine all those cultures merging there, waiting for a Japanese table! Yes, that's how famous they are.
At 8:00 p.m. our host came out, and welcomed our "Dominican" chef, but well instructed in everything that has to do with the preparation of the dishes.
I start making the rice, simply placing it on the griddle, putting garlic,vegetables and salt and sautéing until ready 👇👇👇👇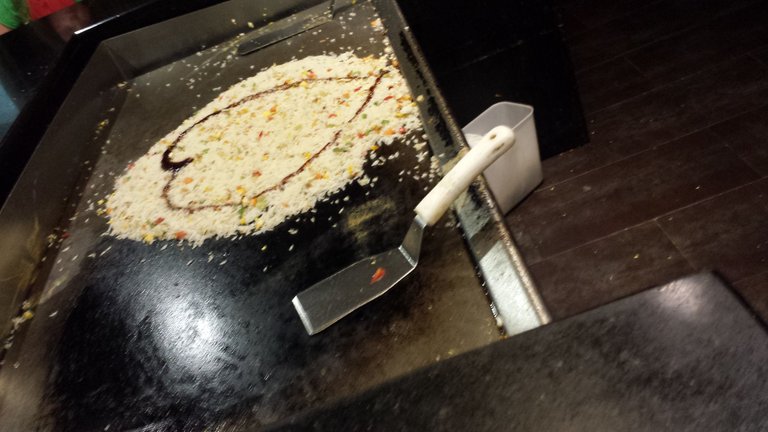 Then started sautéing the seafood. By now, the flavors and smells permeated the place. This time I seasoned it with spices from Japan and the ever-present soy sauce I loved it!
Then meat and chicken under the same procedure. Here the fire is the protagonist, because it places wines and oils for browning.
Finally, some vegetables in the juice left by the previous cooking, simply an explosion of flavor.
Once all this is done, you order the dishes and you tell them what you want to try.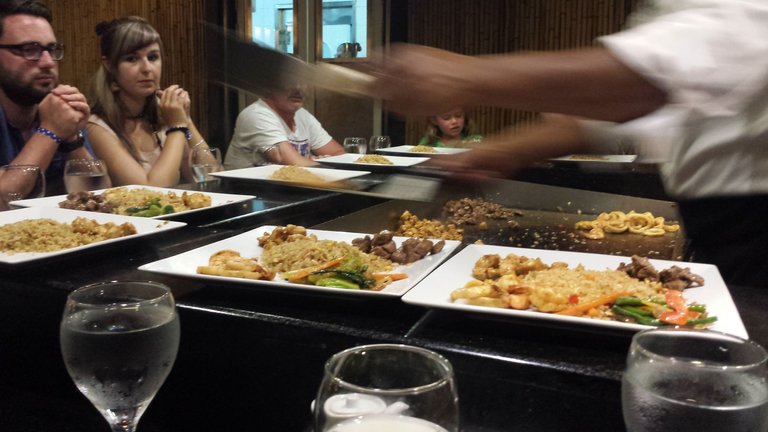 In my case, I told him "PUT IT ALL ON! I must admit that I love food and in this unique experience, I could not allow to lose detail👇👇👇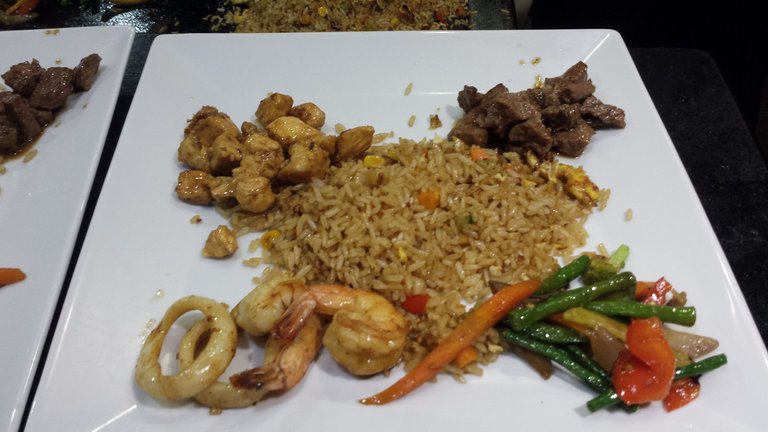 This process lasts about 15 minutes, and then the griddle is turned off and the chef leaves.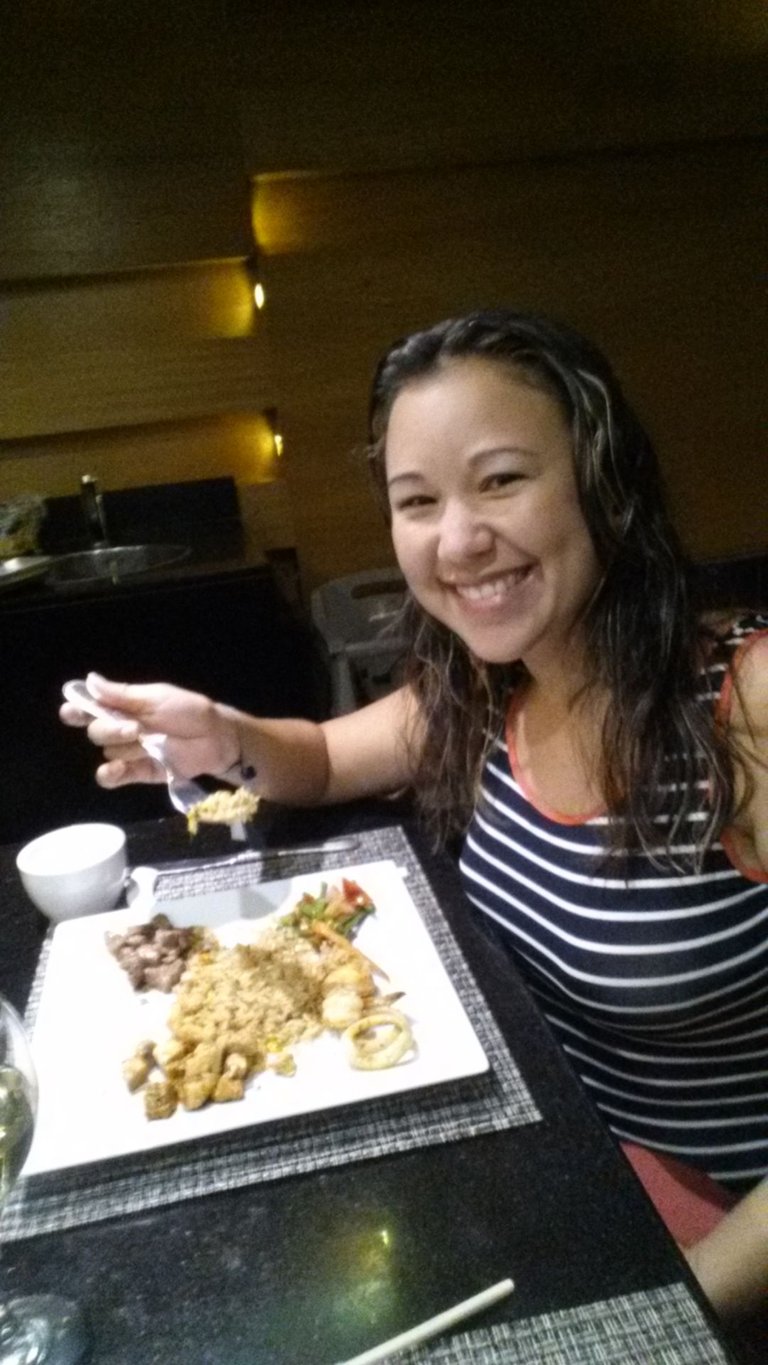 Para empezar, este dato es muy importante: la puntualidad. Si reservas para esa hora, debes estar al menos10 minutos antes, de lo contrario pierdes la reservación porque siempre hay esperando personas por entrar.



Un vez en el lugar, nos tocó de compañeros: una pareja de canadienses, una pareja joven de Bélgica y una familia (papá,mamá e hija) de franceses.



Imaginen todas esas culturas fusionando allí, esperando una mesa ¡Japonesa! Si, así de famosas son.



A las 8:00 p. m. Salió nuestro anfitrión, y dió la bienvenida a nuestro chef "dominicano", pero bien instruido en todo lo que tiene que ver con la preparación de los platos.



Inició haciendo el arroz, simplemente colocando en la plancha, colocando ajo,vejetales y sal y salteando hasta estar listo.



Luego comenzó a saltear los frutos de mar. Ya a esta altura, los sabores y olores impregnaban el lugar. Está vez sazono con especias propias del Japón y su infaltable salsa de soya ¡La amé!
Seguidamente carne y pollo bajo el mismo procedimiento. Aquí el fuego es el protagonista, debido a que coloca vinos y aceites para dorar.
Por último, unos vegetales que dentro de ese jugo dejado por la cocción anterior, simplemente es una explosión de sabor.
Una vez realizado todo esto, va pidiendo los platos y usted va diciendo que quiere probar.
En mi caso le dije " COLOQUE TODO! JA,JA,JA. Es que debo admitir que la comida me encanta y en esta experiencia única ,no podía permitir perder detalle.
Este proceso dura unos 15 minutos, y luego se apaga la plancha y el chef se retira.



The end
Once this dish is finished, of course comes the dessert.
You might imagine a piece of cake, an ice cream or a local sweet... Well, no! In our case we were offered:
Yes, fried ice cream, I said is that possible? Well yes, and although I don't have any pictures of that moment, it looks more or less like this 👇👇👇👇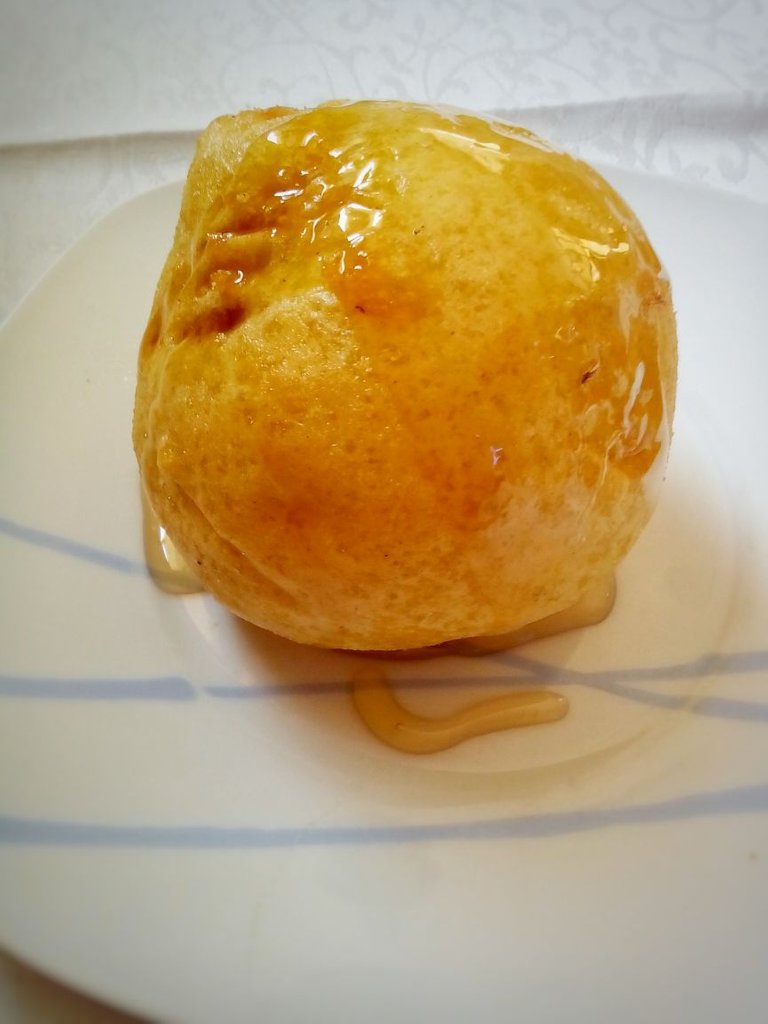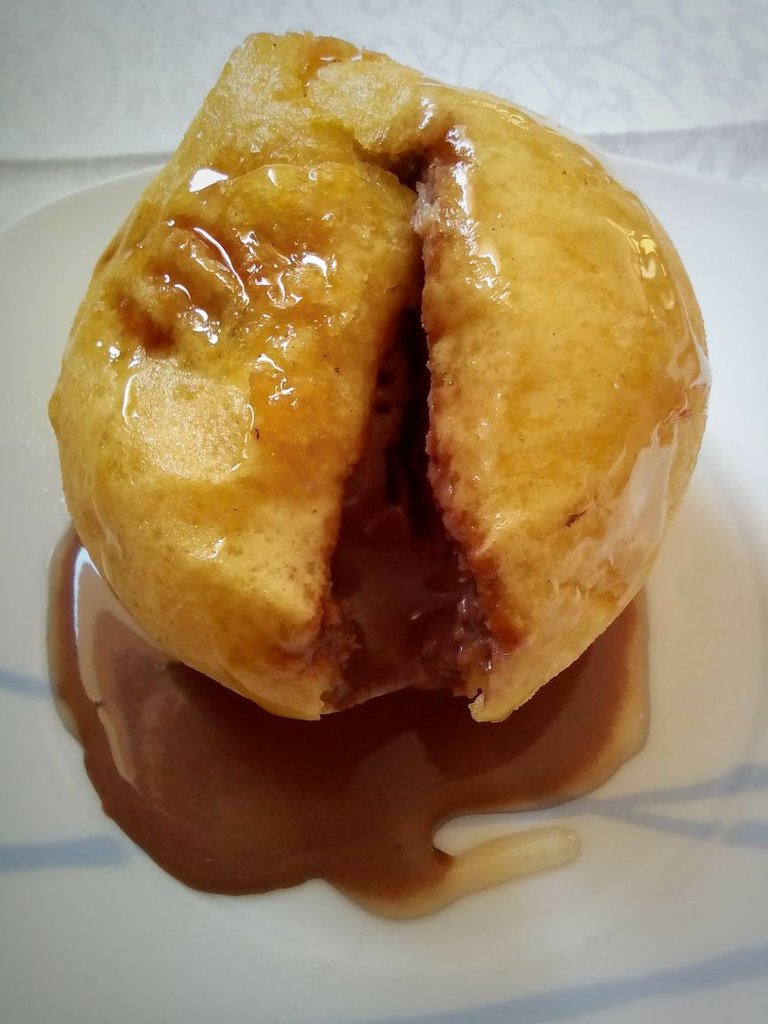 Fried ice cream
It's sweet tasting and cold because it's ice cream. Very tasty to the palate.
And so my dear food lovers, I say goodbye to this wonderful trip and this restaurant, aus undoubtedly broke all my esquemaa as the Teppanyaki table was what I expected and more.
All photos are of my authorship in my cell Samsung S3.

The last referential photo with its respective source.

The translator used is Deepl.
El final
Una vez que se termina esta plato, por supuesto viene el postre.
Se imaginarán un pedazo de torta, un helado o un dulce de la región ¡Pues no! En nuestro caso nos ofrecieron:



Helado frito.
Si, helado frito, yo dije ¿eso es posible? Pues si.
Es de sabor dulce y frío por ser helado. Muy sabroso al paladar.
Y así mis queridos amantes de la comida ,me despido en este viaje tan maravilloso y este restaurant, aus sin duda rompió todos mis esquemaa ya que la mesa Teppanyaki fue lo que esperaba y más.
Todas las fotos son de mi autoría en mi cel Samsung S3.

La última foto referencial con su respectiva fuente.

El traductor usado es Deepl.
No matter what country or nationality you are from, food will always unite us.
No importa de que país o nacionalidad seas, la comida siempre nos unirá
---
---