makeup inspired by the false oronja or red mushroom
makeup inspired by the false oronja or red mushroom
maquillaje inspirado en la falsa oronja o hongos rojo
---
Hola a todos, espero que se encuentren bien. En esta oportunidad quiero compartir con ustedes este maquillaje sencillo que hice inspirándome en un hongo llamado amanita muscaria, también conocido como hongo rojo, falsa oronja, entre otros nombres. Esta seta es distintiva de otros hongos debido a la viveza de sus colores y los puntos blancos que poseen en su sombrero, es muy bonita de ver y llamativa, razón por la cual decidí realizarlo de esta temática, este hongo también es utilizado desde la antigüedad por sus efectos alucinógenos. Realmente me parecen muy bonitos y me dan una sensación muy fantasiosa, hadística y demás. En fin, espero que les guste.
Hello everyone, I hope you are feeling well. This time I want to share with you this simple makeup I did inspired by a mushroom called amanita muscaria, also known as red mushroom, false oronja, among other names. This mushroom is distinctive from other mushrooms due to the vividness of its colors and the white dots they have in their cap, it is very nice to see and striking, which is why I decided to make it in this theme, this mushroom is also used since ancient times for its hallucinogenic effects. I really find them very nice and give me a very fantasy feeling, hadistic and so on. Anyway, I hope you like it.
---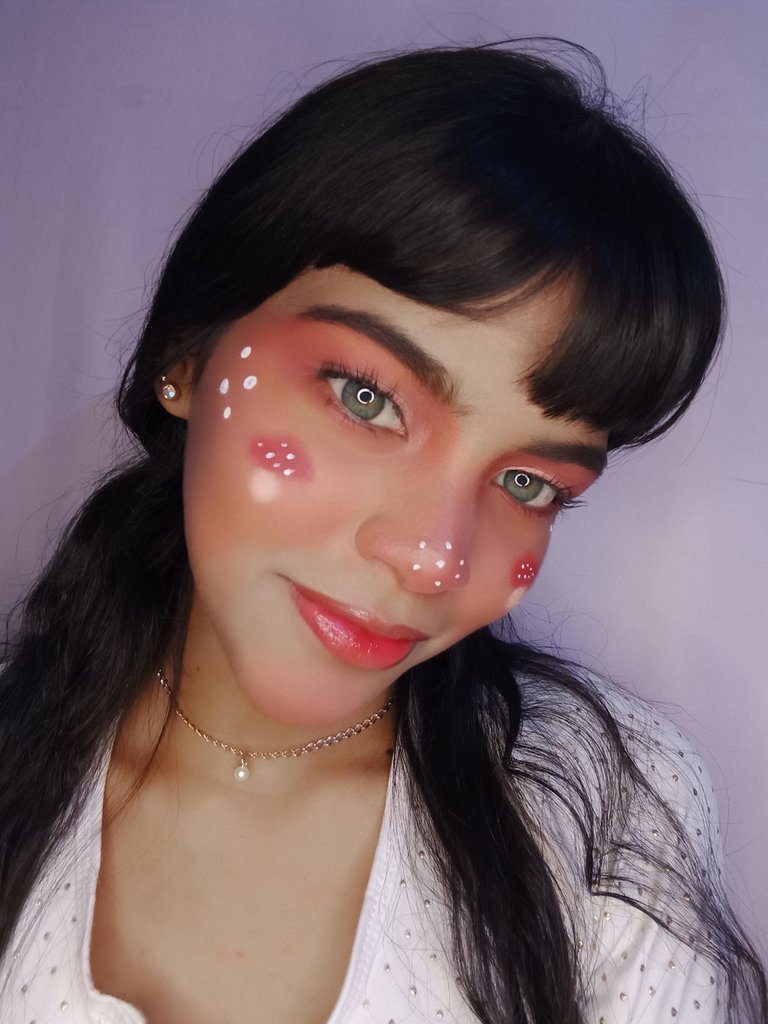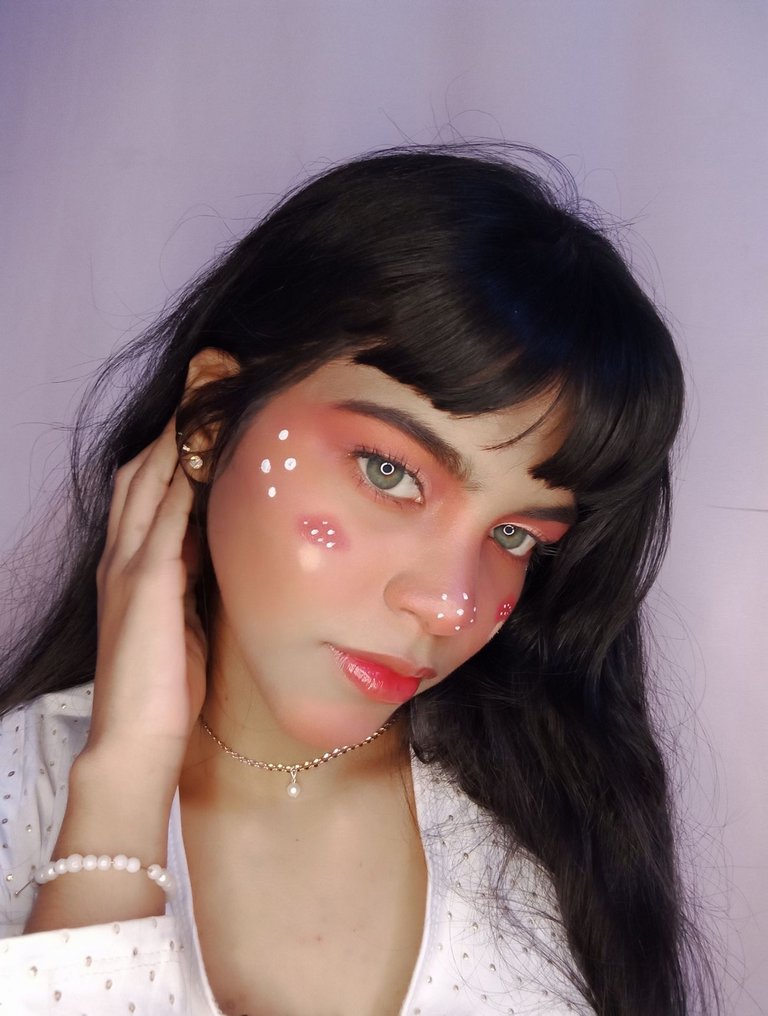 ---
---
Estos son algunos de los materiales que utilice
These are some of the materials I used
| | |
| --- | --- |
| Base | Base |
| Corrector | Concealer |
| Polvos sueltos | Loose powder |
| Sombra de ojos color Rojo | Red eyeshadow |
| Pintura blanca | White paint |
| Rubor | Blush |
| Iluminador | Illuminator |
| Rizador de pestañas | Eyelash curler |
| Rimel | Mascara |
| Gloss | Brightness |
---
A continuación les mostrare un poco del proceso que hice para la elaboración de este maquillaje.
Next I will show you a little bit of the process I did for the elaboration of this makeup.
---

Empece colocando base en algunas zonas de mi cara, un poco de corrector en partes especificas en donde quería corregir el color para que sea más uniforme, luego de esto, selle con polvos sueltos.
I started by applying foundation on some areas of my face, a little bit of concealer on specific areas where I wanted to correct the color to make it more uniform, then I sealed with loose powder.
---

Comencé con la aplicación de las sombra usando un tono de color rojo, este lo apliqué por todo el ojo extendiendo hacia mis cejas, un poco por la nariz y también por debajo de mis ojos. Luego de esto, pasé a hacer un cut crease semi-abierto para después sellarlo con una sombra satinada de un color melón muy claro y suave, casi blanco todo esto para darle un poco más de luz.
I started with the application of the shadow using a shade of red, I applied it all over the eye extending towards my eyebrows, a little bit on the nose and also under my eyes. After this, I did a semi-open cut crease and then sealed it with a satin shadow of a very light and soft melon color, almost white, all this to give it a little more light.
---

Luego de que termine con la aplicación de la sombras, apliqué rubor y decidí hacer unos hongos rojos en mis mejillas, usando primeramente base para que los colores que iba a aplicar se pigmenten mejor, para hacer los hongos use una sombra de color rojo y un tono nude claro, después de esto, empece a hacer pequeños puntos con pintura blanca por encima de la sombra roja que había aplicado, y algunos otros por los lados de mi cara y mi nariz.
After I finished applying the shadows, I applied blush and decided to make some red mushrooms on my cheeks, first using foundation so the colors I was going to apply would pigment better, to make the mushrooms I used a red shadow and a light nude tone, after that, I started to make little dots with white paint over the red shadow I had applied, and some others on the sides of my face and my nose.
Y para finalizar me rice las pestañas y me puse rimel, agregué un poco de iluminador, en mis labios use una mezcla de pintura roja con tinta y gloss.
And to finish I curled my lashes and put mascara on, added a little highlighter, on my lips I used a mixture of red paint with ink and gloss.
---
Resultado final / Final score
---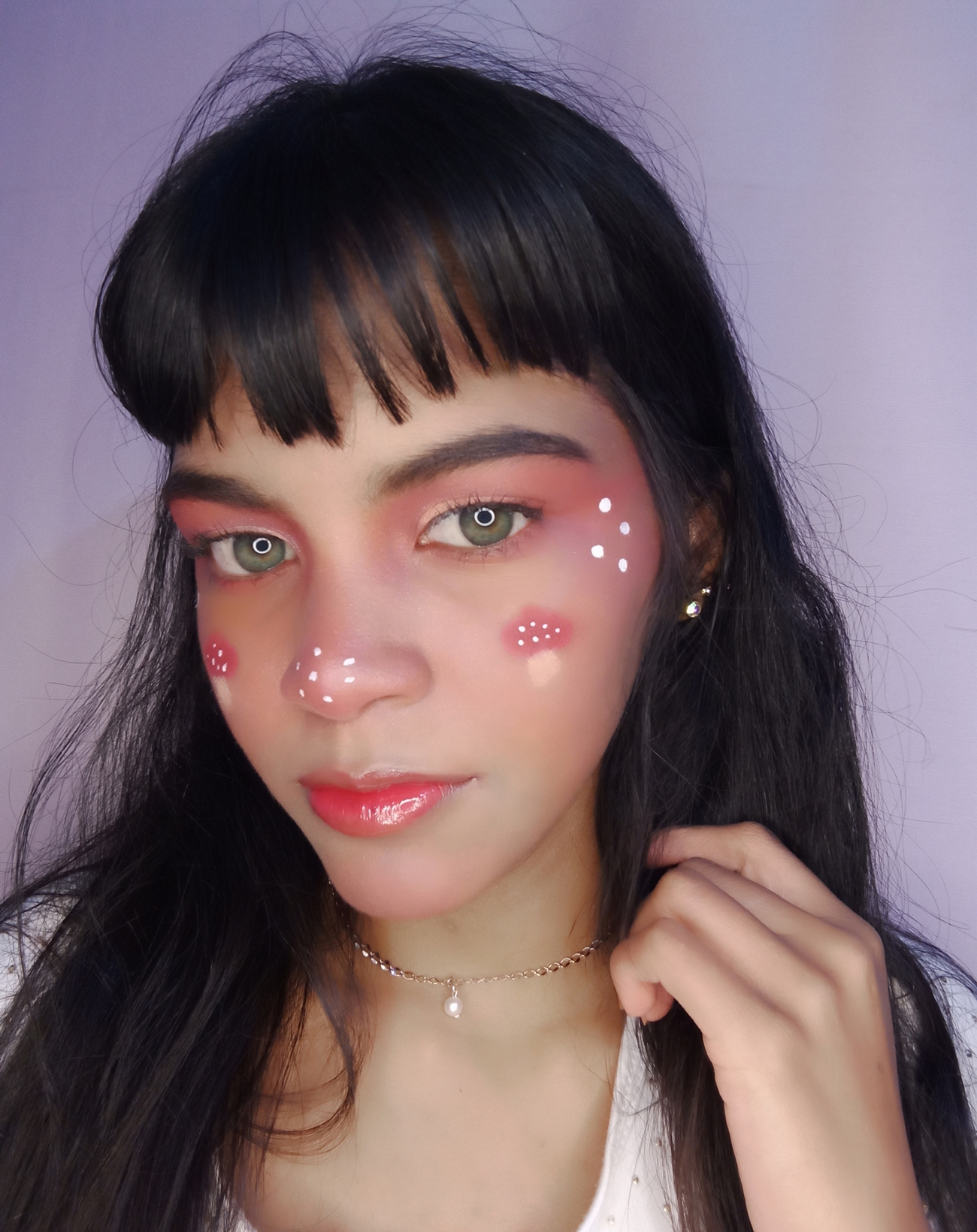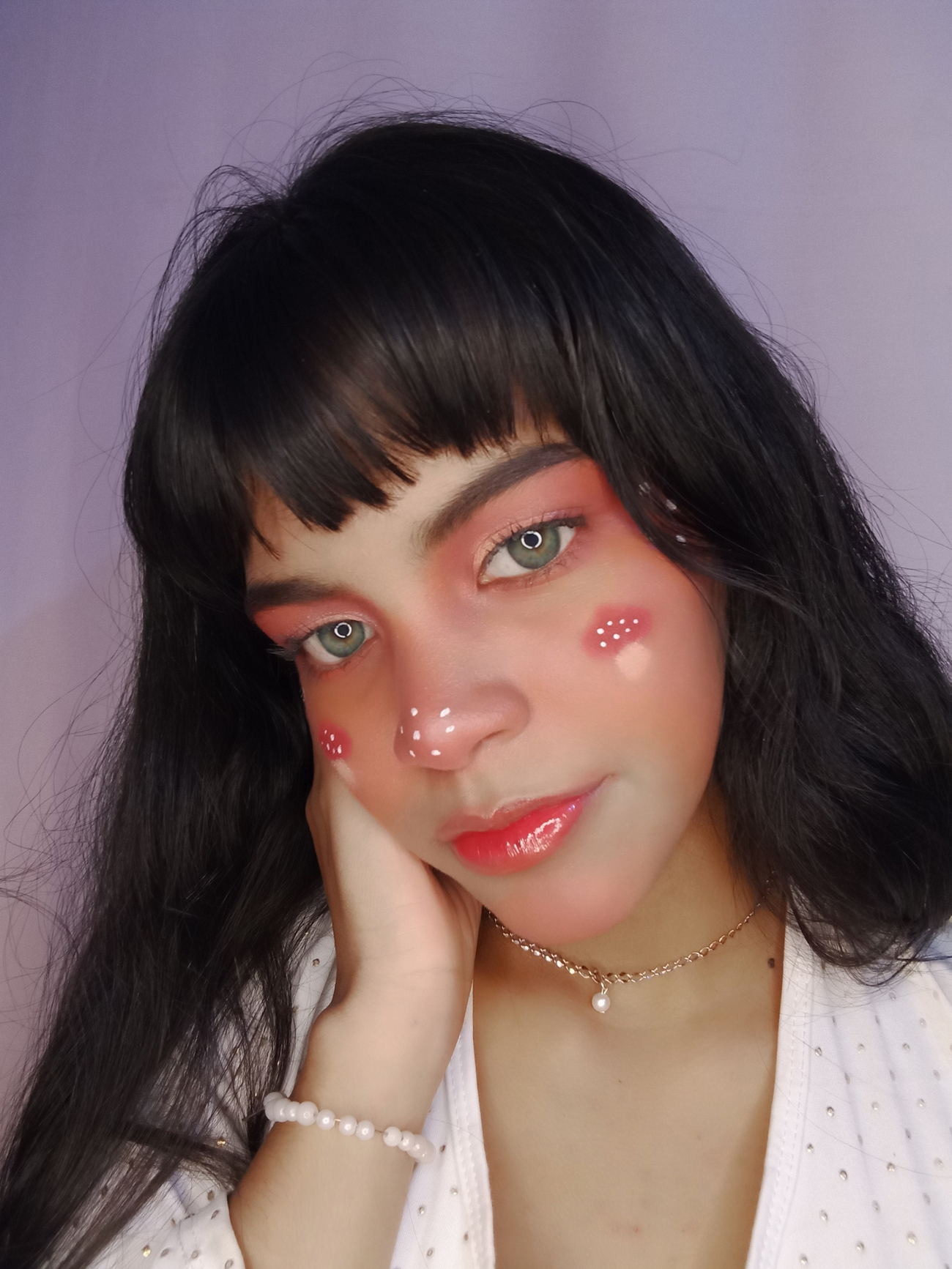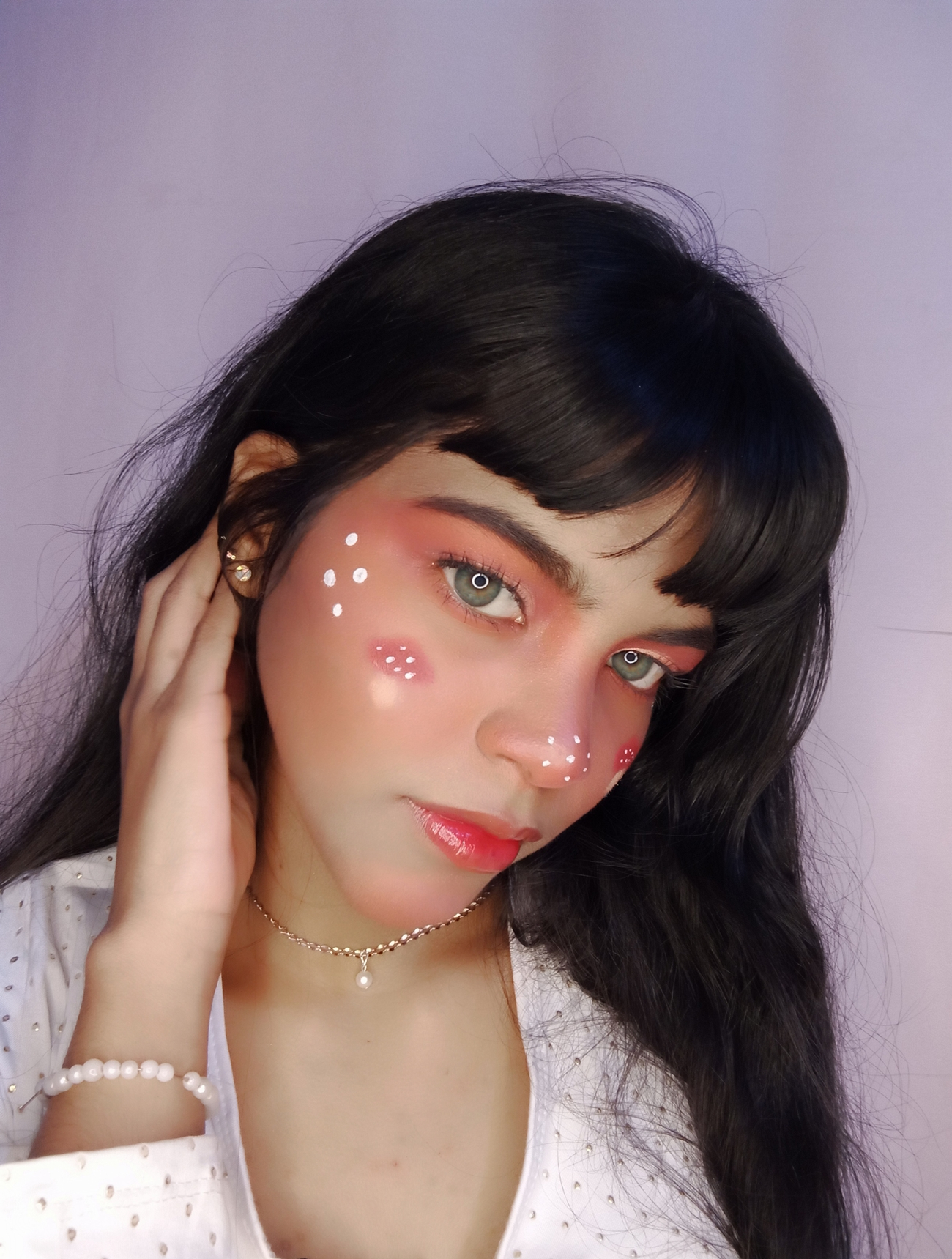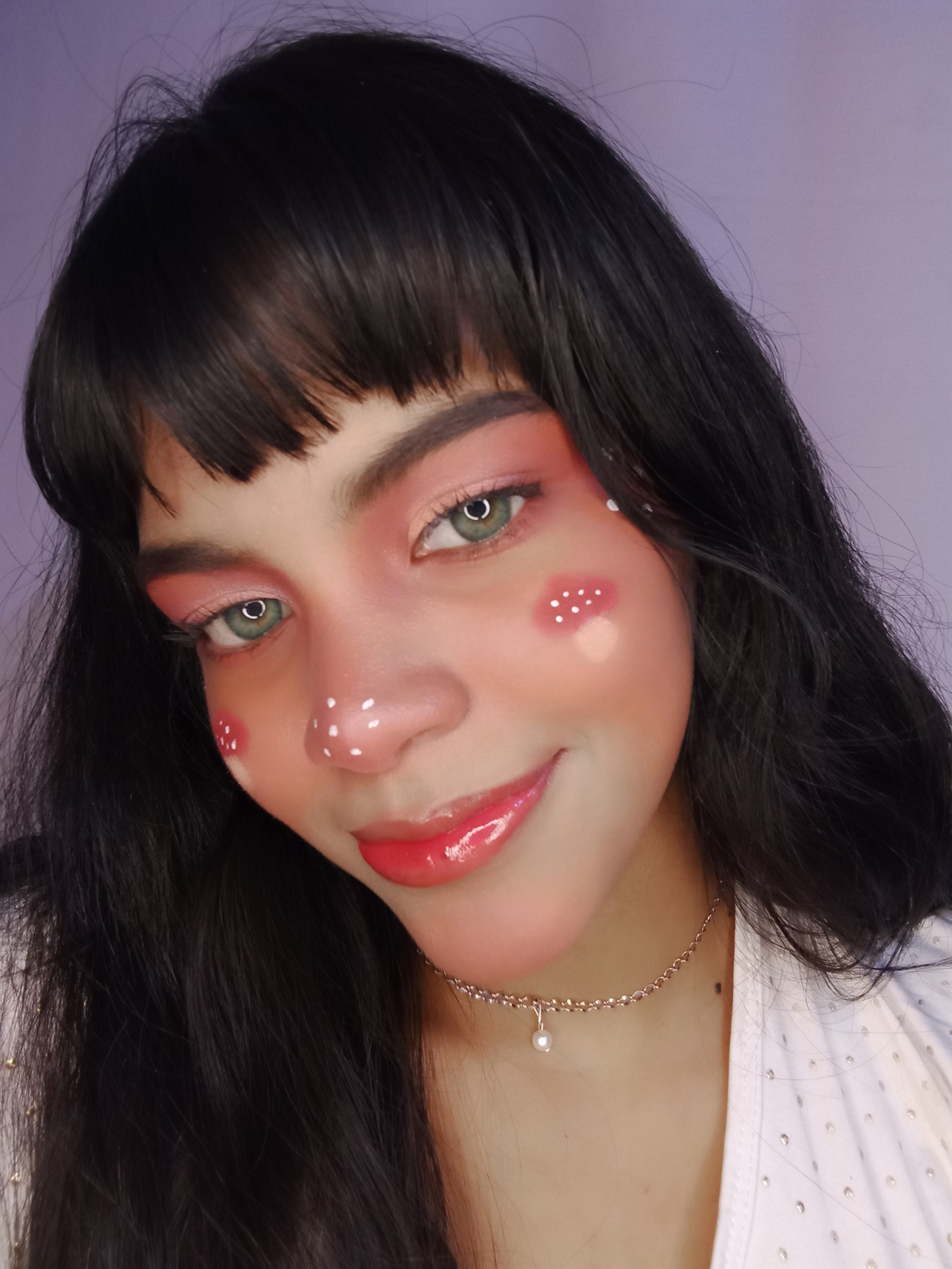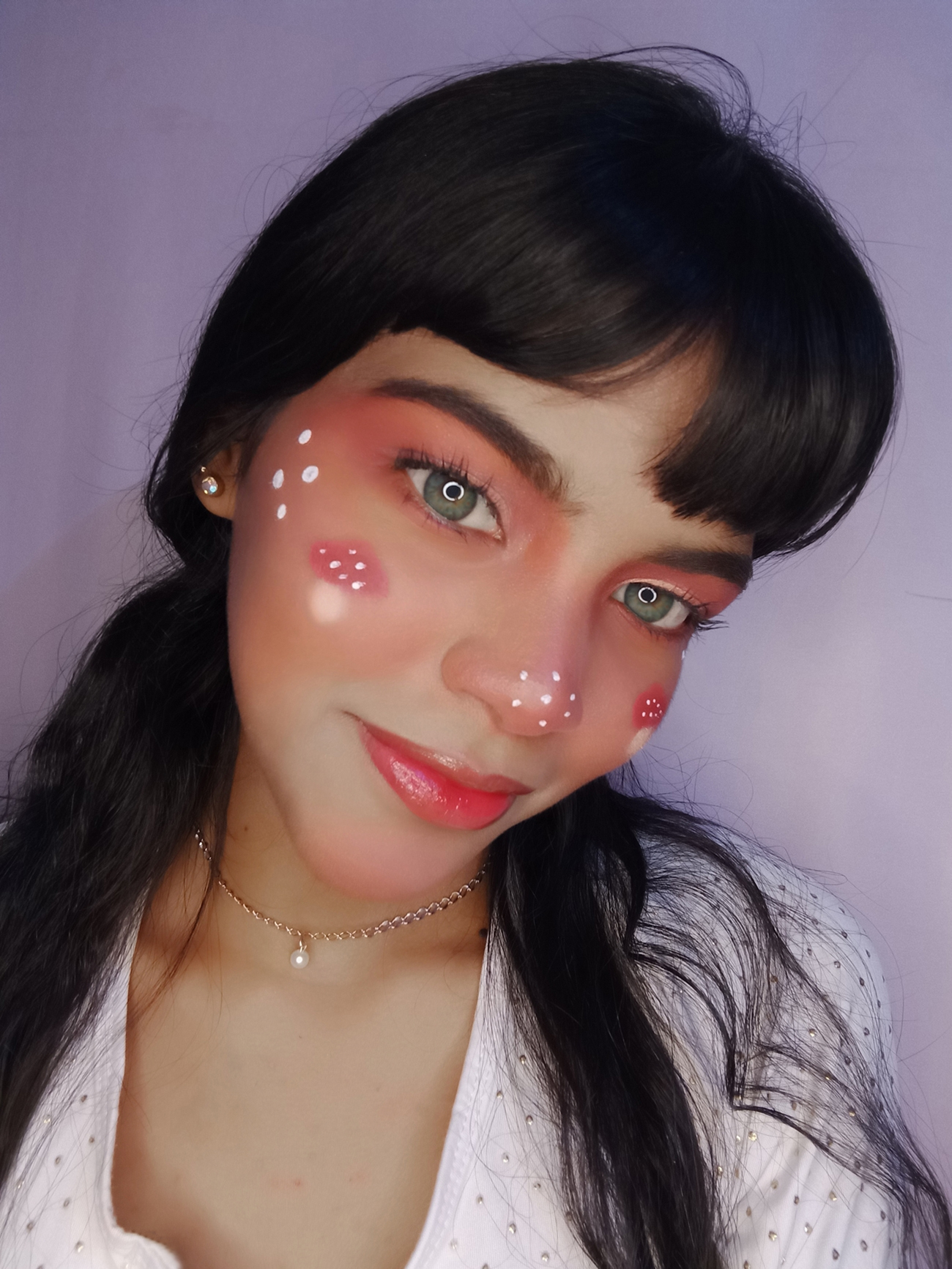 ---
Espero que les haya gustado
I hope you liked it


---
---