Okuta,An Interesting Mountain Themed Cafe In A Mountain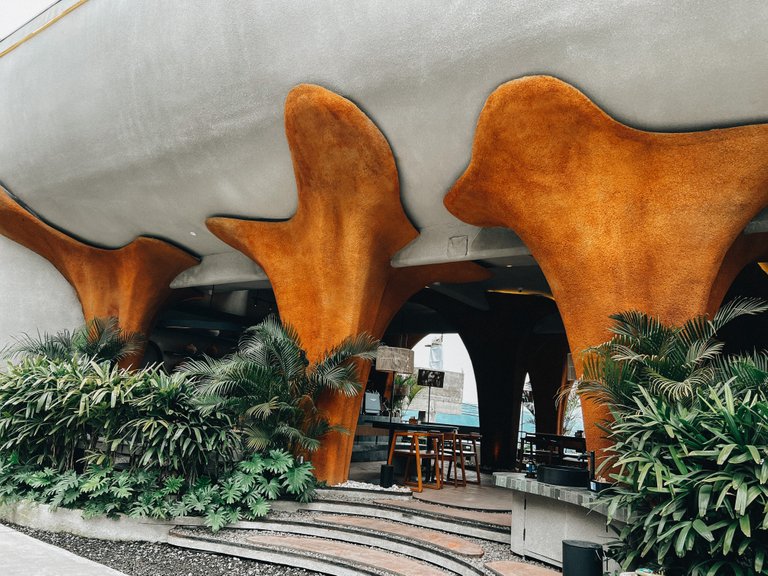 Hello my dear friends…
During my honeymoon, i was looking for a cafe in the area of Kintamani. If you visited Bali in the past one year, you will know that recently, there have been a crazy amount of coffee shop or cafe development in there. I am more than thrilled to know it. Its a very good thing because Kintamani is beautiful, they served an amazing view, those amazing view will be more enjoyable if we enjoy them from a beautiful place. That is why, the recent coffee shop and cafe development in Kintamani makes me very happy. Whenever i went there, there's always a new cofee shop or cafe opened that was not there before. It was to the point that i dont know where to choose because all of the places are looking beautiful. Mind you that the road to Kintamani is a mountain road, so its quite hard to look around and turn back. Its best if we already did our research before we visited the place so we know which place we want to visit. If we want to decided it on road, we might either stop too early, or we late to stop. Because, the further it is, then there will be no coffee shop or cafe can be founded as its still in quite a rural area. Heck, i cant even found a single restaurant in there, just mountain and some villager's houses.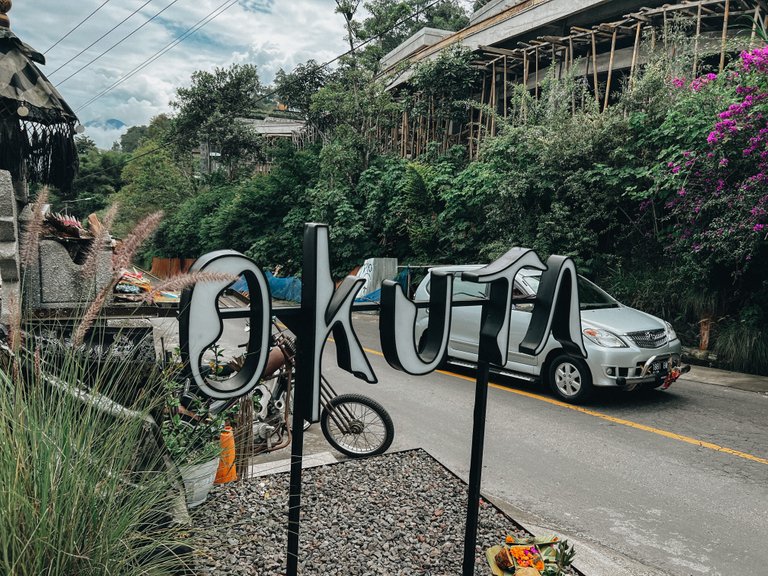 Okuta
There is too many coffee shop and cafe, they're all pretty and its just so hard to choose only want. All i want is to visit them all, but its an impossible thing to do with the limited time i have. In the end, me and my husband choose to go to Okuta after looking at 4 to 5 Instagram accounts and google reviews of the cafe in the area. All of the places i saw in the instagram ate beautiful and the type of place that makes me want to go there but there is something about Okuta that catches my eyes the most out of them all. One of them are this font in their name sign. I am not knowledgeable in the design world but this is very interesting. Its very pretty and kind of creepy. I think that the font and design that they choose is used because they want to make something related to mountain. When i look at the sign, it reminds me of mountain. Can you see what i see too? I googled the meaning of Okuta, its a japanese word means rock or stones. I think that the name they choose for this place is very well suited because the cafe is located in the mountain.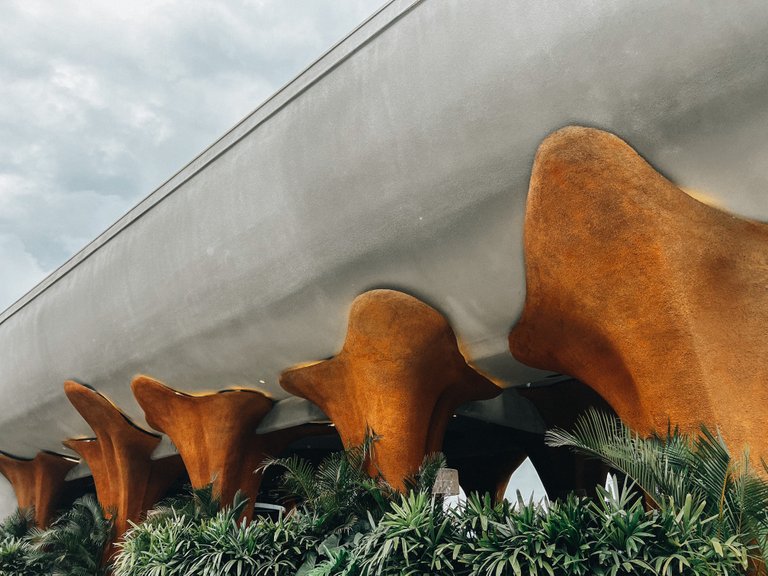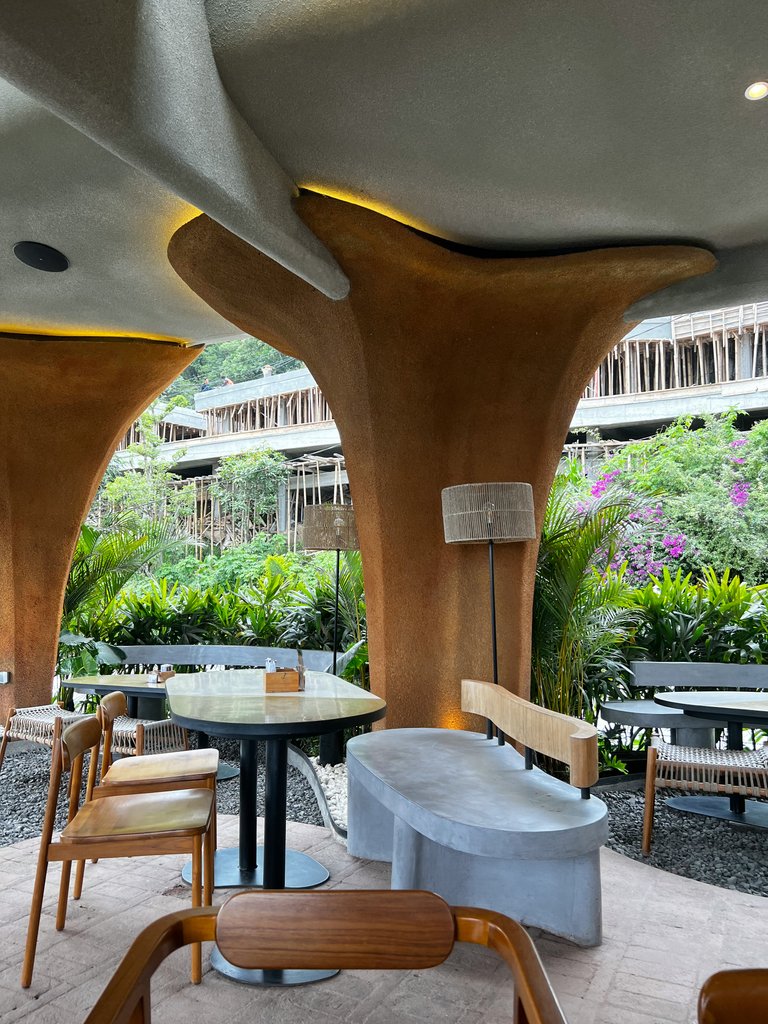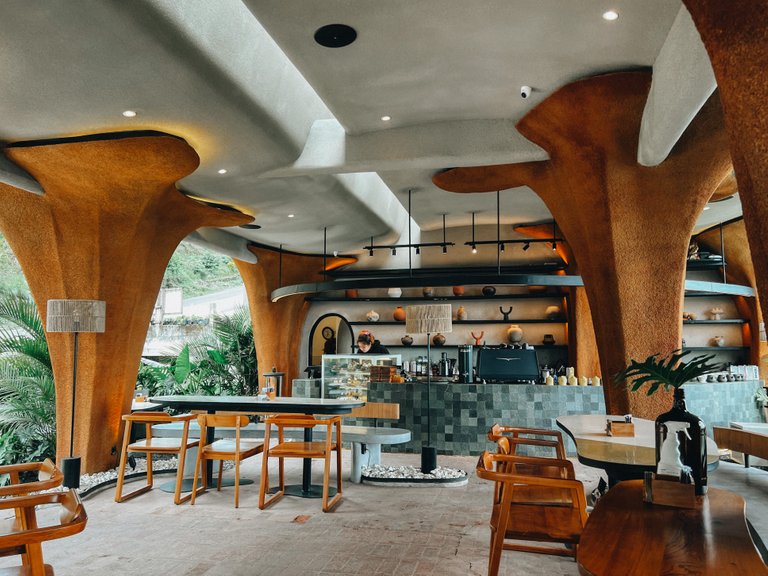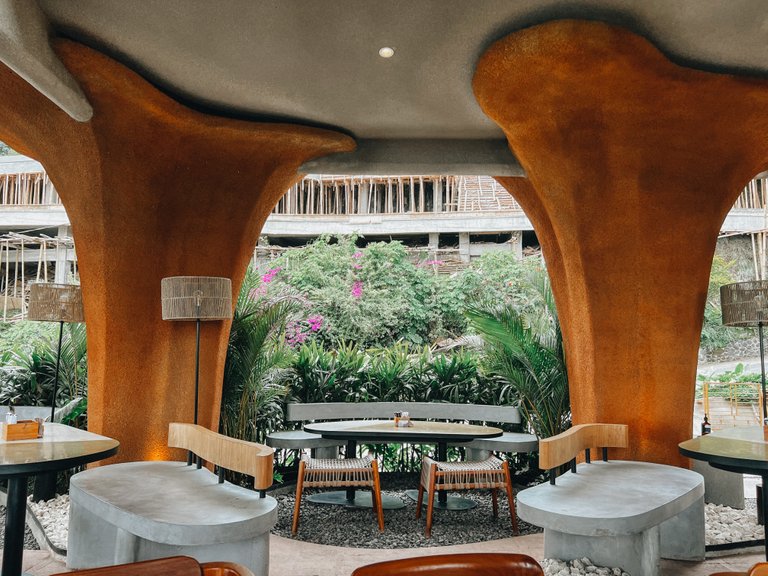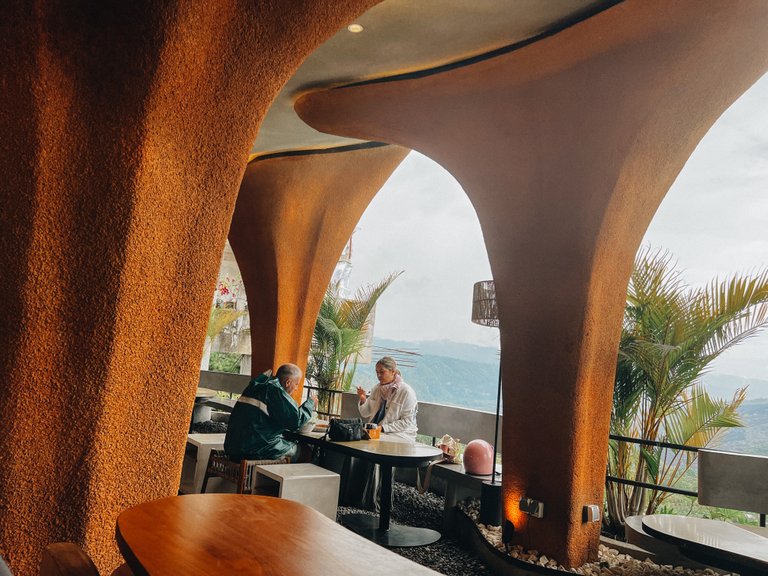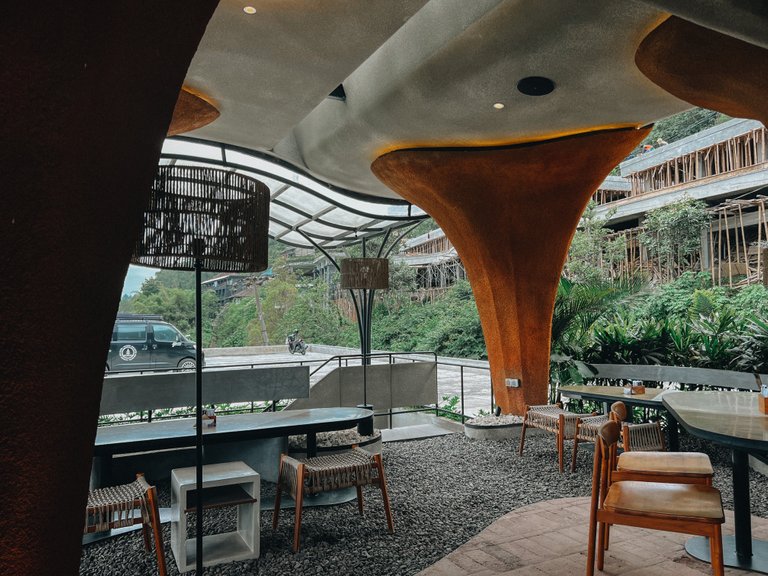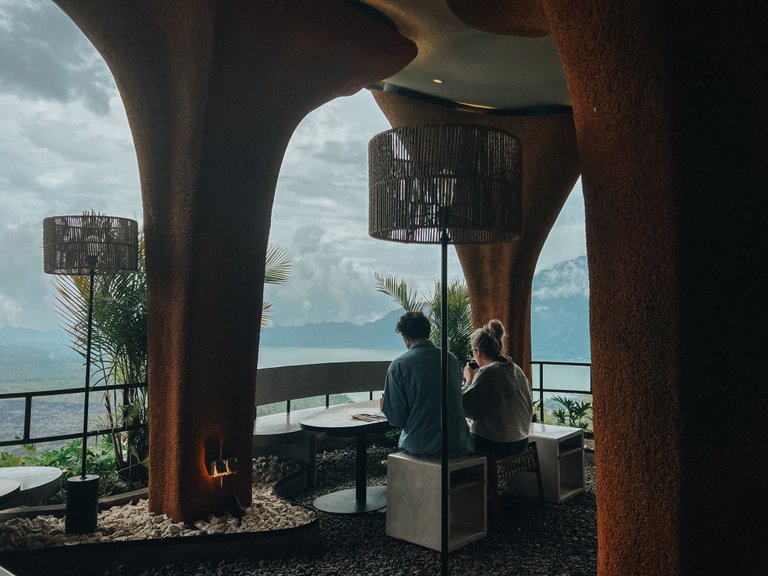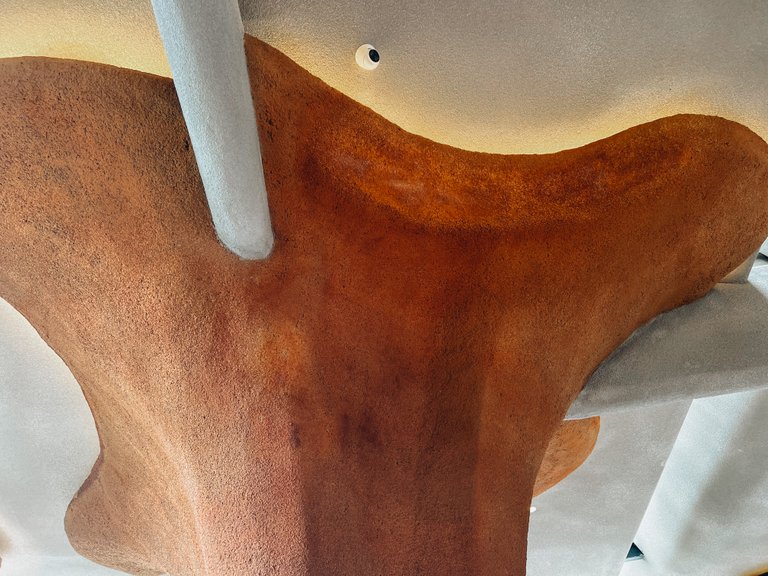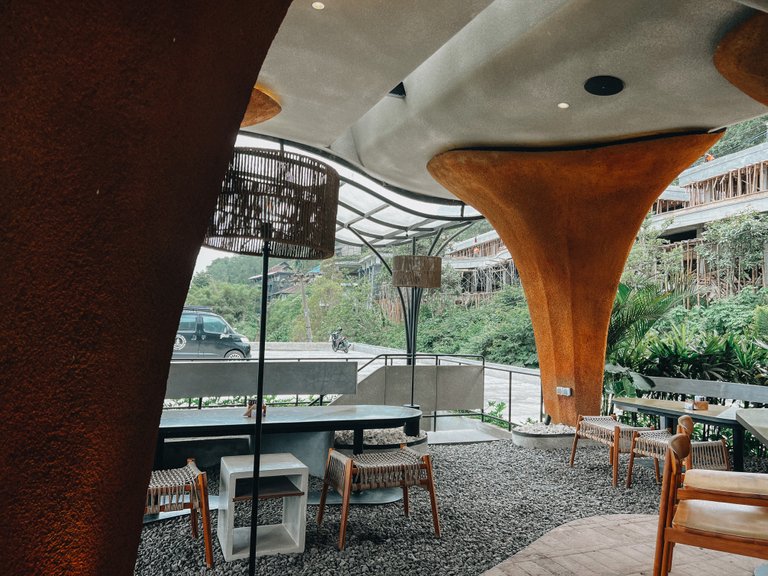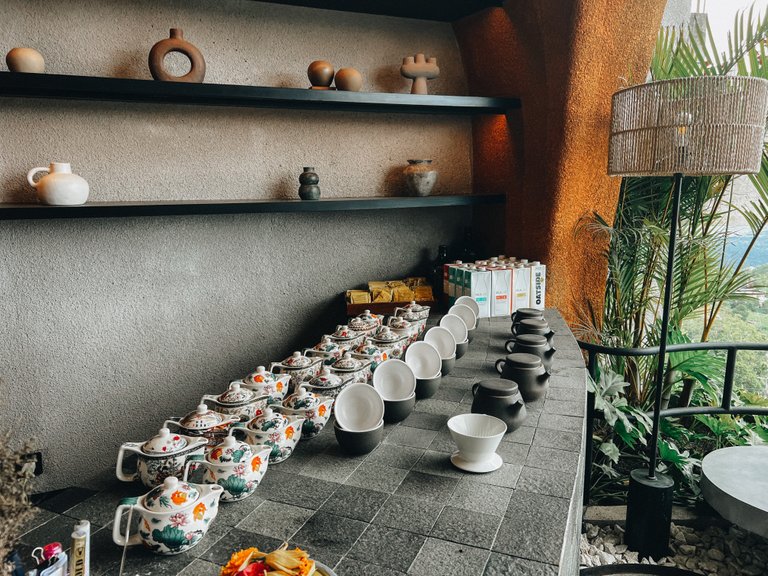 As we can see, the dont have a big space. Even their sitting area must be around 10 table. From what I observed, its something normal in Kintamani cafe or coffee shop. They sacrifices their tables and potential customers for the aesthetic reason and i am so proud if that. Well, the prices that they have in this place is pretty expensive but its all paid well with the view and exclusivity it offers. Looking at the roof, it makes me wonder if they actually plan to make a second floor. There're many l cafe and coffee shop here in Kintamani that do that trick. Most of them will build another floor in below the surface area. Its kind of fun whenever i found them because it gave of a adventurous type of feeling, which is the feeling of finding a hidden cave. Most of them are truly hidden from the mainroad too.
Now, lets talk about one striking thing we can see clearly in Okuta. Its all the "trunk" holding out the whole place. It doesnt look any special if we look at them from outside, but when we come inside and sit, it gave of such a different feeling. If the word "glamping" become popular in the past few years, maybe the word i can use to express the feeling when we're inside of Okuta are "glamrest" aka glamour forest. The floor is all stones so it feels like we're in real nature. The pillar resembles tree trunk, but in my opinion the pillar looks or reminded me of chicken thighs a lot. That might happen because somehow i always looks at the pictures when i was hungry. What makes me weird abour the overall design of the space are the roof. The roof is also one thing that didn't suited the name sign. I think that it will look better if they copied the branches of tree or the leaves. But well, the name itself is Okuta which means rock. So, the design is actually matches the name perfectly. It just makes me wonder about the reason behind the choices of the architect and owner.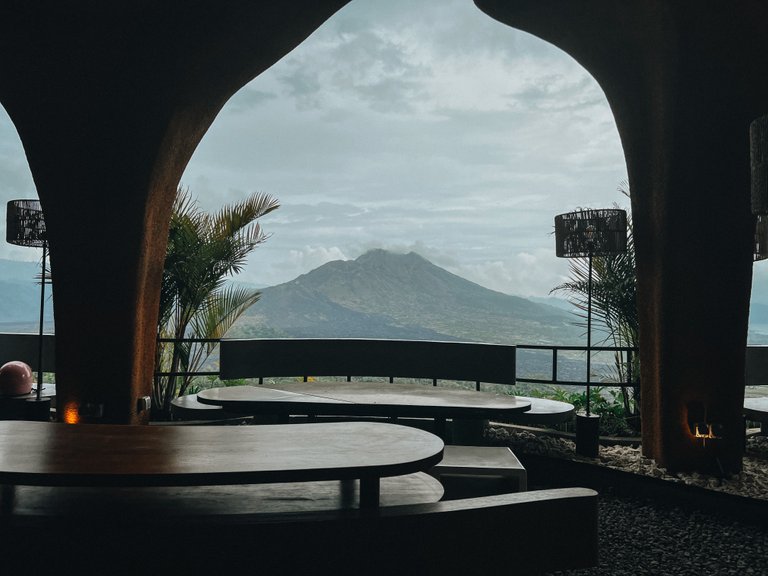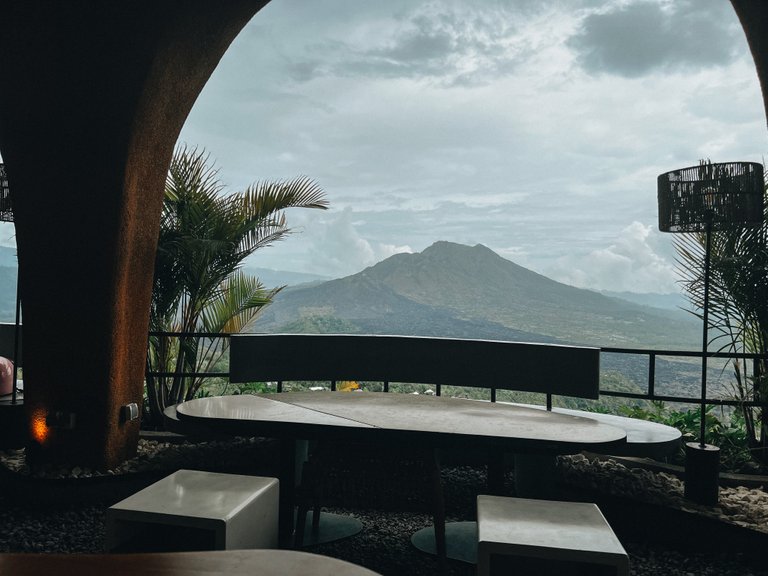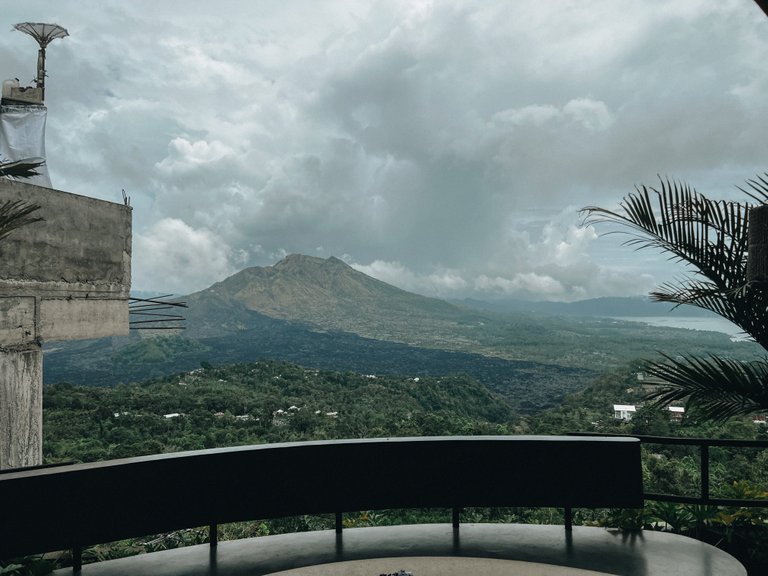 Of course, one of the main attraction of this place are the Mt. Batur view we can see very clearly. Its absolutely breathtaking and make all the efforts, coldness, and sometimes flies when its rainy season.
---
---