Marmalade milestones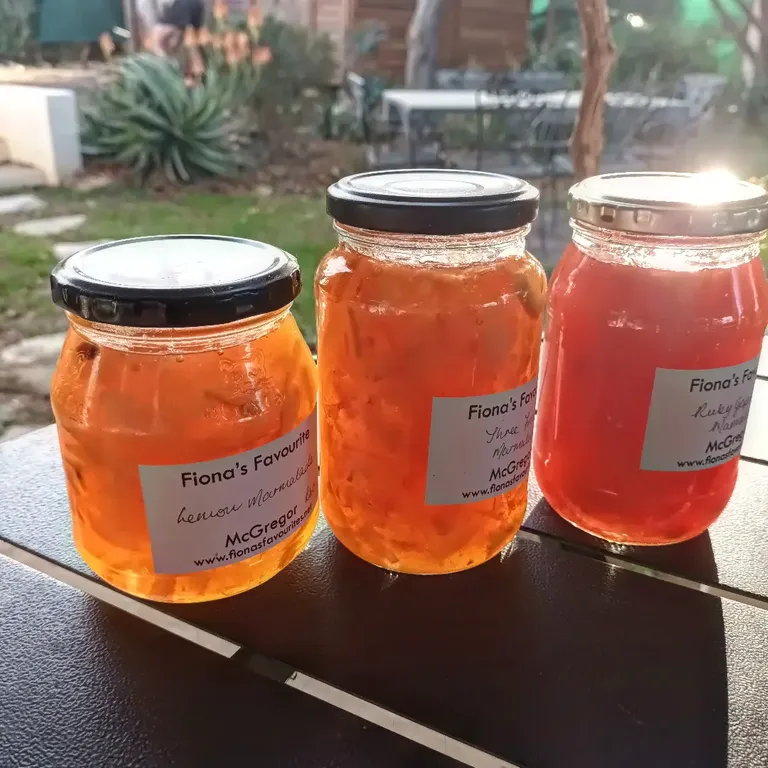 Yesterday, I hit a milestone at the market.
400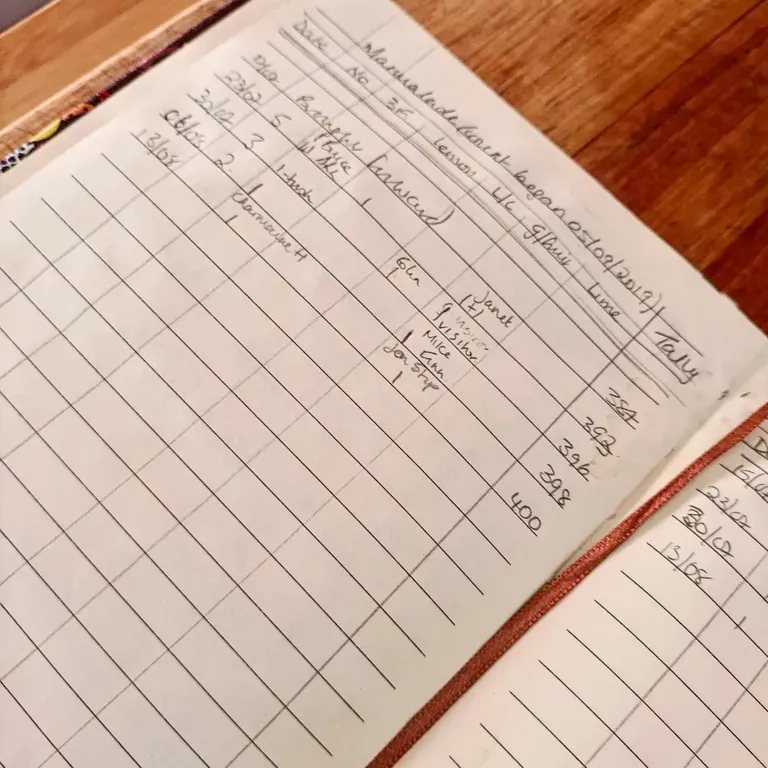 That's the number jars of marmalade sold since I started counting in September 2019. That's not quite three years, and for 3 months of that, during the hard Covid lockdown, we had no markets. I also don't know how many I sold before that. We tried to work out, the other day, when I first took jars of pickles and preserves to the market. Probably about seven years ago. Initially, I planned to just sell soup. It all started with soup might well be the title of a memoir...
Anyhow, noting that number in my high tech records, started me down another number track:
Some other numbers: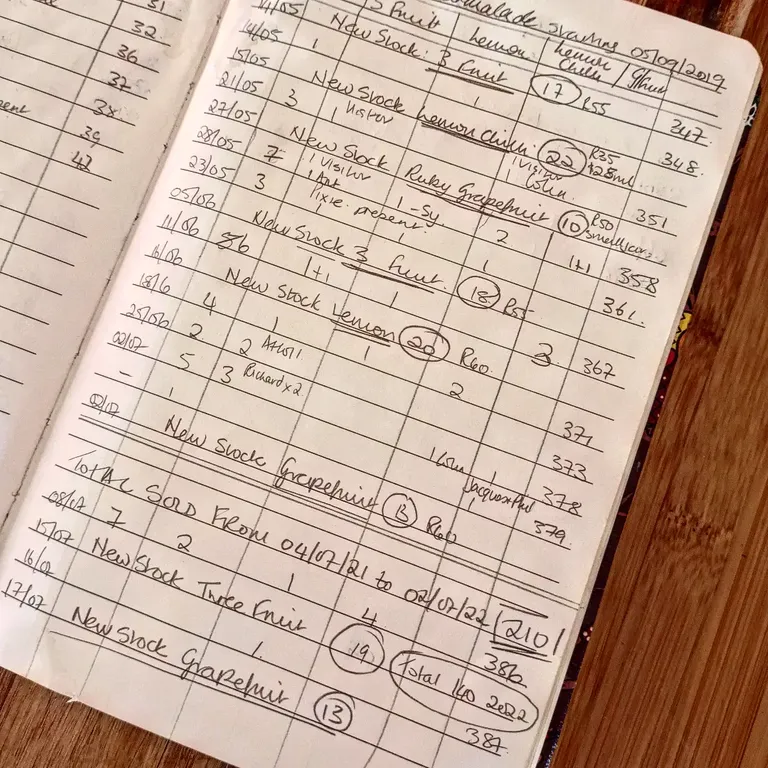 I started just recording the number of sales and then added columns for the different fruits and blends. Then started noting when I made new stock, and the number of jars that each batch yields.
In the last 12 months
From August 2021, to date (August 2022) I have sold 205 jars of marmalade, and by far, until recently, the most popular has been the three fruit (orange, lemon and grapefruit).
This citrus season
Our citrus season begins in April. I missed the limes this year - I wasn't paying attention, but the lemons arrived in tons and we've had a local glut, partly because of a fantastic crop, but also because of trade issues with Europe. The village gardens' trees have been laden and local farmers have been giving the fruit away. I literally made hay while the sun shone and from April this year, have made 133 jars of marmalade. This year, I've added two new "flavours". First, I made a "proper" batch of last year's experimental lemonchilli. It's a novelty product so I make it in small jars and suspect that batch of 20-odd will last a year. If it doesn't lemons are not that hard to come by out of season.
Then, a friend delivered a ton bag of ruby grapefruit, and so began another variation. So successful was that first batch that before they headed off on an overseas trip (with a jar of said marmalade safely stowed as a gift for the marmalade mad family in Holland), that they gave me what was left on the tree. I made a second batch. That also flew off the proverbial shelves and prompted me to go and buy another consignment of fruit to make and stockpile in the hopes that I won't run out before next grapefruit season.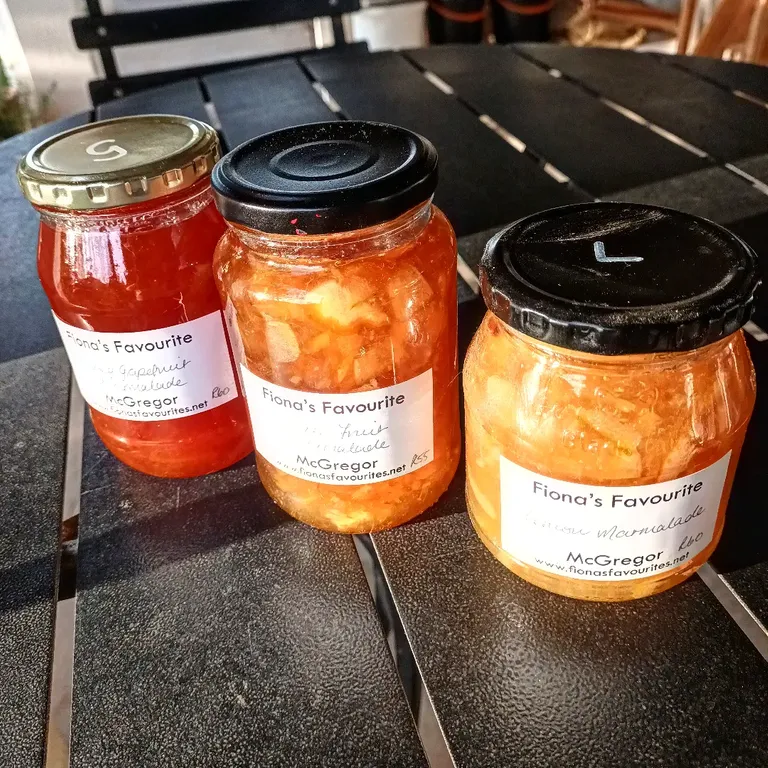 Many of the jars, but not all, and fewer, as sales increase are in repurposed jars. Regular customers, as I mention, here, return theirs. That I don't get them all back, tells me how much marmalade leaves the village with visitors who come to the market. Divide 205 by 52 and I confirm that I sell between two and three jars at each market.
As I reflect on these numbers, I'm wondering if my stockpile - which is now not 133, is sufficient to carry me through to the next citrus season and whether I should make yet another two batches (three fruit and ruby grapefruit) before citrus either disappears off the shelf or gets so expensive I have to increase the price.
For the last two years I've found myself making marmalade in December to keep up with demand....
A conundrum to contemplate...
Until next time, be well
Fiona
The Sandbag House
McGregor, South Africa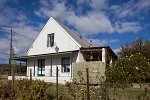 Photo: Selma
Post script
If this post might seem familiar, it's because I'm doing two things:
re-vamping old recipes. As I do this, I am adding them in a file format that you can download and print. If you download recipes, buy me a coffee. Or better yet, a glass of wine....?
and "re-capturing" nearly two years' worth of posts.
I blog to the Hive blockchain using a number of decentralised appplications.
From Wordpress, I use the Exxp Wordpress plugin. If this rocks your socks, click here or on on the image below to sign up.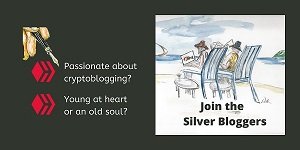 Original artwork: @artywink
lastly, graphics are created using partly my own photographs, images available freely available on @hive.blog and Canva.
---
---