Rising Star #24 + CARD GIVEAWAY
Start playing the Rising Star crypto idle game now!
---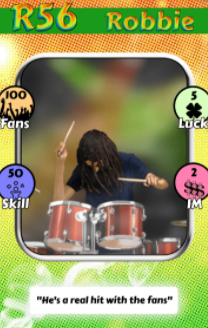 A few words
Well, I am level 45. This really is the final stretch. I am running out rare person cards to give away, so I'll have to get some new ones soon. There are surely enough to last the remainder of the month, so worry not, I will keep on giving.
Also... Why does this remind me of @yabapmatt so much? I know it has Matt written on the card, but the rest of the picture just seems to go along with him so well if it happened to play guitar. What would I know about him, though!
Last, but not least, I've just noticed the game is called Rising Star, not Rising Stars. Am I dumb dumb or what!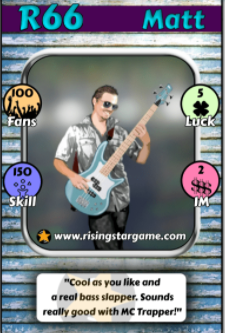 Reporting for duty
In Rising Stars, my current goal is leveling up all the way to 50 so I can start the millionaire quest once a day which earns me 10k starbits. I already have the million starbits I need.
Strategy: I am focusing on music lessons non-stop all the way to level 50, because that's what earns me the most XP.
Earnings: I am not earning any STARBITS as I focus on getting to level 50 through nothing but music lessons. I am earning through posts meanwhile.
Starbits to goal: 1,000,000 / 1,000,000.
Level goal: 50. Currently level 45, 160 / 2250 xp
Fans: 16851
Luck: 3062
Skill: 30906
IM: 269
Giveaway goal: Make giveaways for Robbie. 1/2
---
Leave a comment if you want to join this giveaway, for the card in this post's image!
---
---