Axie battle system eventually getting replaced

Ears are coming!... Wait, what?
Leaks from card images for the v2 system have been shared. One card stands out: it's for an EARS part.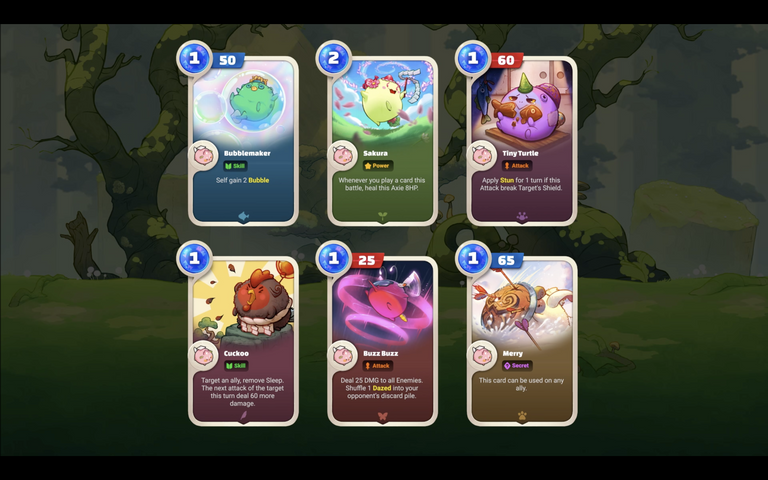 Speculating on this specific ear part: a passive ability aka Power. Maybe it's a special card you don't have to draw. Like something that's always available because you don't have to draw it. You could activate it as long as you have 2 energy, then it applies its effect until the battle is over. Or maybe you have to draw it first. But once you use it, it'll last for the entire battle.
Of course, the huge elephant in the room is... Ear parts don't get cards. They won't ever have cards in v1, but in v2, they do! Apparently, the game plays a lot like Slay The Spire in v2, so if you want to get ahead of the competition when it comes to preparation, downloading Slay The Spire from Steam (which isn't free-to-play btw) might help you get used to upcoming combat mechanics. (https://store.steampowered.com/app/646570/Slay_the_Spire/)
Because this is a huge update, even though it's constantly tested, we shouldn't see it for a few more months. These things take really long to develop and implement, specially when it comes to a financially successful blockchain game like Axie Infinity - it needs to be really well presented, at the very least, or prices are dropping like no tomorrow for no good reason. But development time is mostly a guessing game when we're not given a deadline, so your guess is as good as mine.
Since ears will become active ingame though, we're in for a meta revolution. Some axies should moon while others drop dead. We don't know enough to estimate what could be a good investment in the long run for v2. Very few details have been leaked. But if we take these cards' art as a reference, the game is going to be even more appealing than it already is. Awesome!
---
---
---