fighting, planning and more cleaning; mid-april garden journal (Eng/Spa)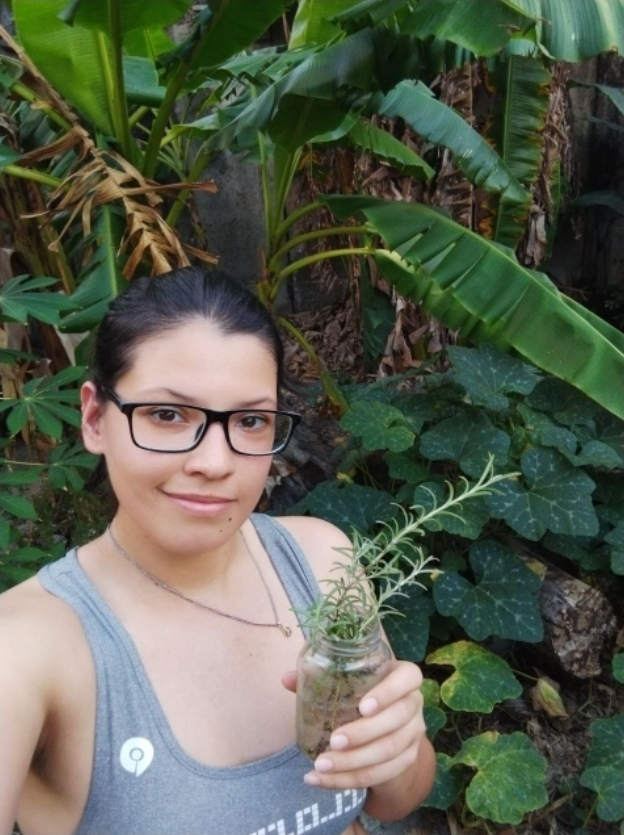 English
Welcome back fellow Hive gardeners! It is a pleasure to share once again my gardening experiences with you. Here we are still in the dry season, with lots of sun and heat, doing mostly cleaning tasks because since I can't water every day there is not much I can plant that thrives in this inclement weather.
One of the cleanups I had to do was to remove an old and dry log that I had next to a wall of my house, and most of the other dry logs that were scattered around the garden. The problem was that some ants (termite-like) started to make a nest there, and were spreading into the house, making paths between the walls. When I inspected carefully I noticed that there was more than one place with this problem, and although I know that they are living beings that deserve to be here as much as I do, I was very concerned that it would become a major problem, since by opening their paths between the walls, they could weaken the structure and already in my house I have many problems of leaks and others that require a large investment to repair and of course I can not let it continue to deteriorate. Therefore I had to do an emergency cleaning.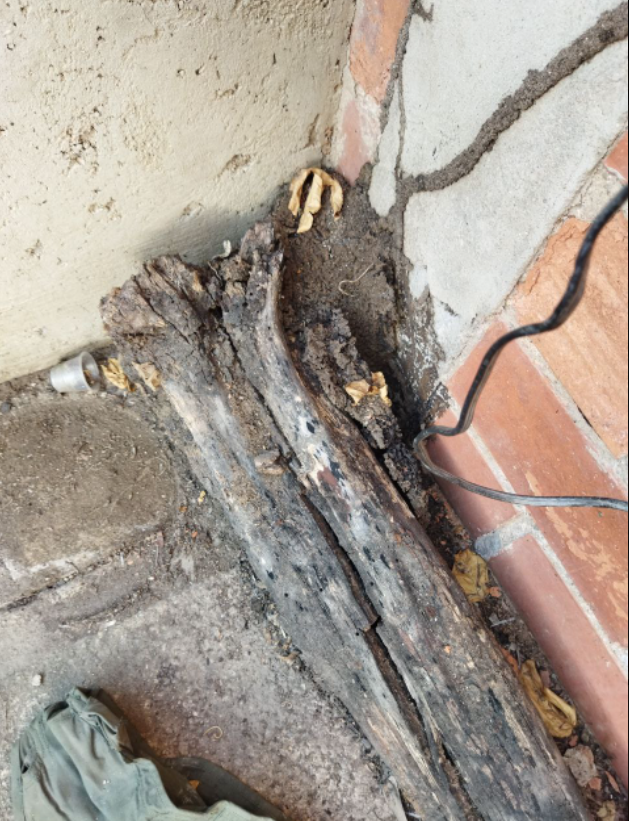 I started by throwing away the trunk that had the biggest problem, I am also aware that it could serve as fertilizer but I repeat, there are too many nests and I do not want them to affect the houses that are on the sides and blame it on me :(. Little by little I sprayed gasoline and took out the biggest part of the nest and then removed all the paths they had made and also applied gasoline inside, between the blocks of the wall. finally I swept and removed all the remains that were left.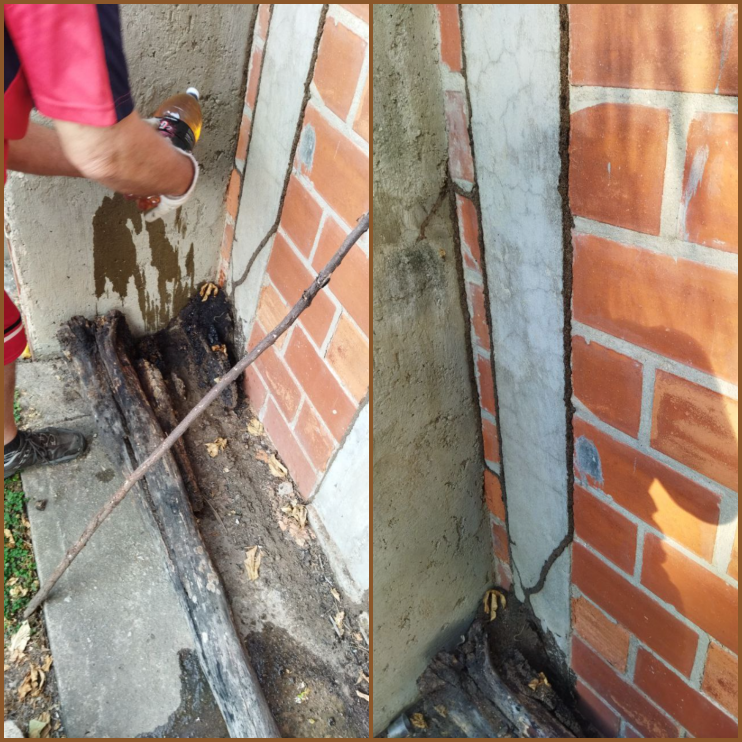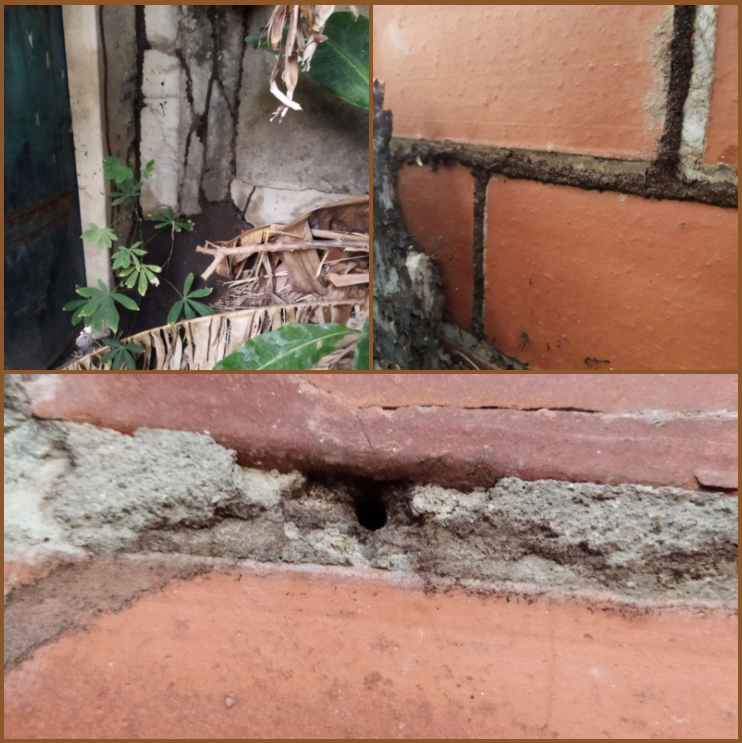 Another nest at the bottom of the garden and how the ants made an almost round hole in the wall.
Continuing with the cleaning, I pulled up the Roselle plants because they were about to complete their life cycle, which is 1 year, and I took the opportunity to prune that area because the plants that are there reproduce a lot and with the lack of water they get a little ugly, others I reorganized them and well, it only remains to wait for them to adapt to their new place.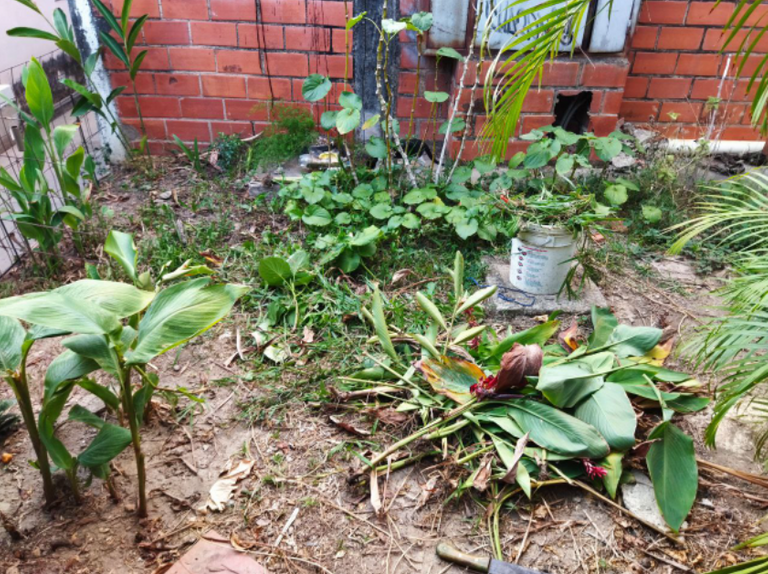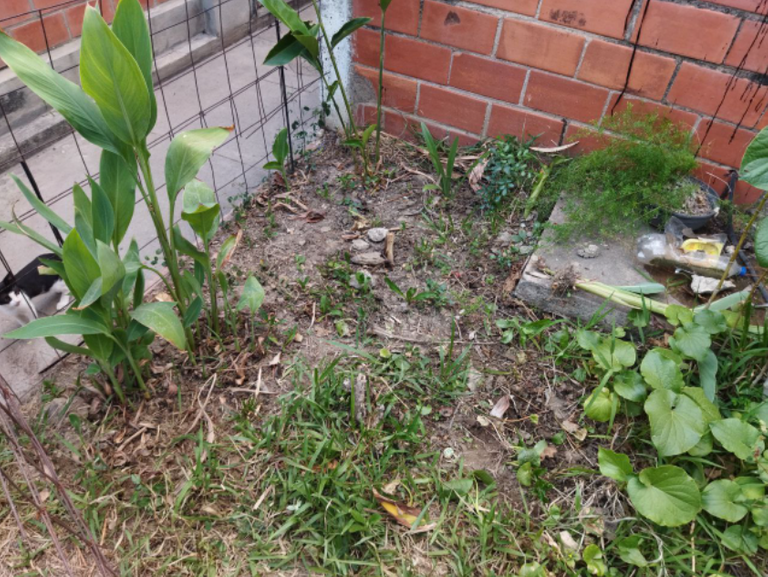 In other gardening news, there is a very happy one! I have a bromeliad that some time ago I thought it was dead when I saw that it had a small plague that made its leaves turn ugly at the tips and dry up, I also noticed that its growth had stopped so I left it as we would say here "to the good of God" for several months, I only watered it from time to time after it stopped raining. Well, coincidentally there were a few days recently that I don't know why I paid more attention to it, one day I picked it up and took a good look at it, suddenly I received a surprise! My bromeliad grew a pup!! that made me super happy because I swear I had already thought about taking it out of its pot and check if the roots were still ok. That gave me a new hope that even though the plant will most likely die, at least I won't lose it. I understand that when these plants are about to complete their life cycle (which should be after flowering) they give offspring and then the mother plant dries up. This one didn't flower but I'm hoping that at some point it will!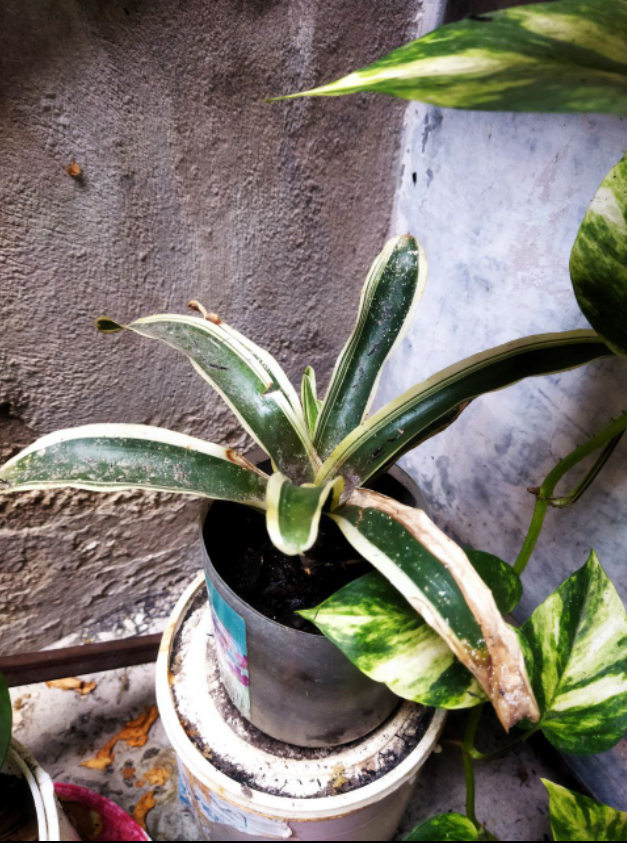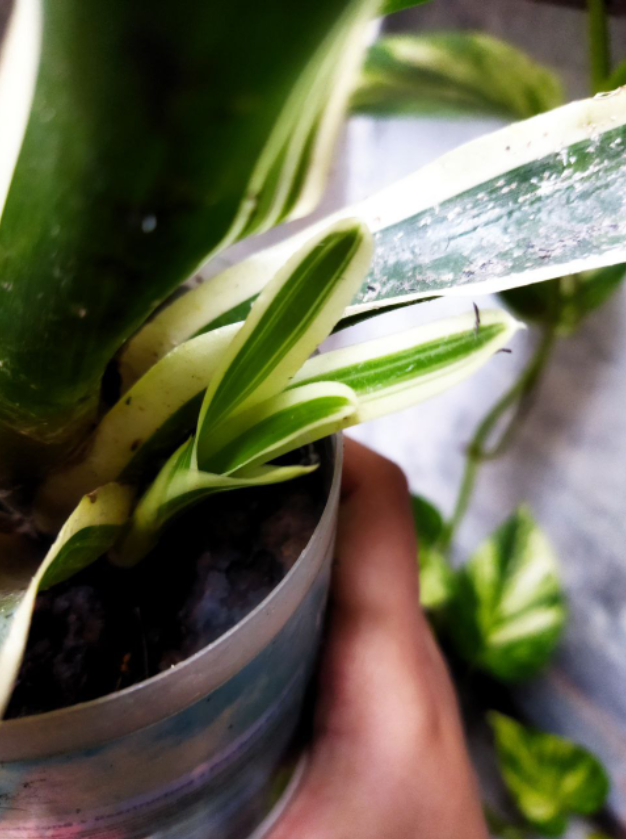 And since I brought you to my backyard to show you my bromeliad, I'll take this opportunity to show you my new project: Hanging plants on the wall. to show you my new project: hanging plants on the wall! It's something I've wanted to do for a long time and finally, with my dad's help, I've started it! I don't know what plants I will hang next but at least I have the first ones, don't they look great?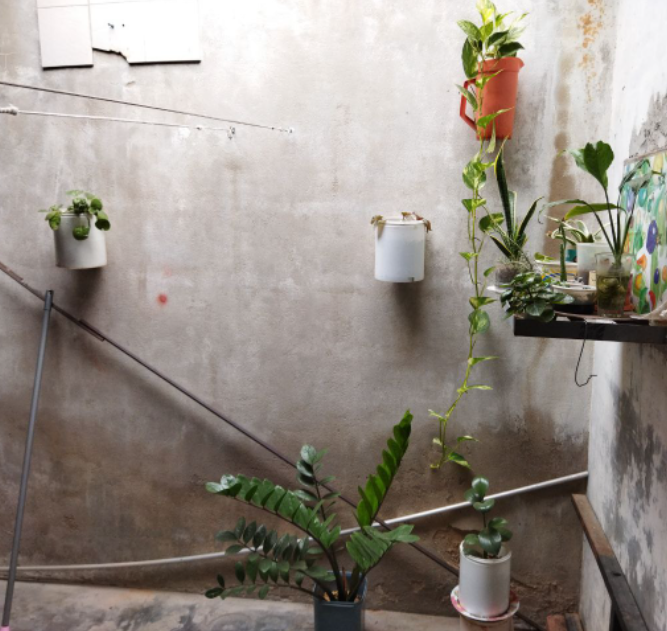 The next project I will work on will be a small garden of aromatic plants, for now I have only got the rosemary cuttings that I left rooting a little bit and I have already planted them in some pots! This is an experiment because I haven't planted rosemary before and I hope it turns out well! I think I mentioned in another post that I plan to plant basil, thyme and maybe lavender there too. I have to do more research because I don't know the requirements of each plant because for example I was already told that rosemary and lavender require less water than basil for example, and that some would be better off in pots, but little by little you learn!!!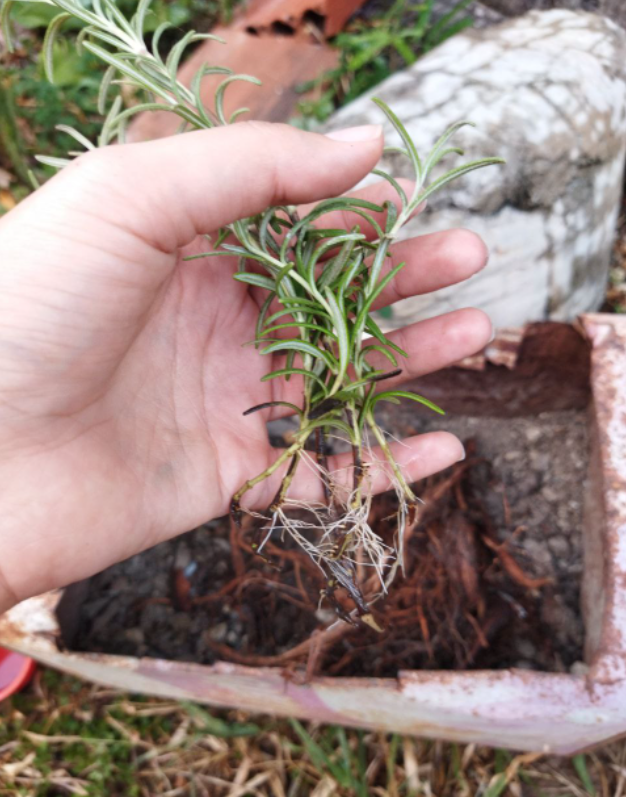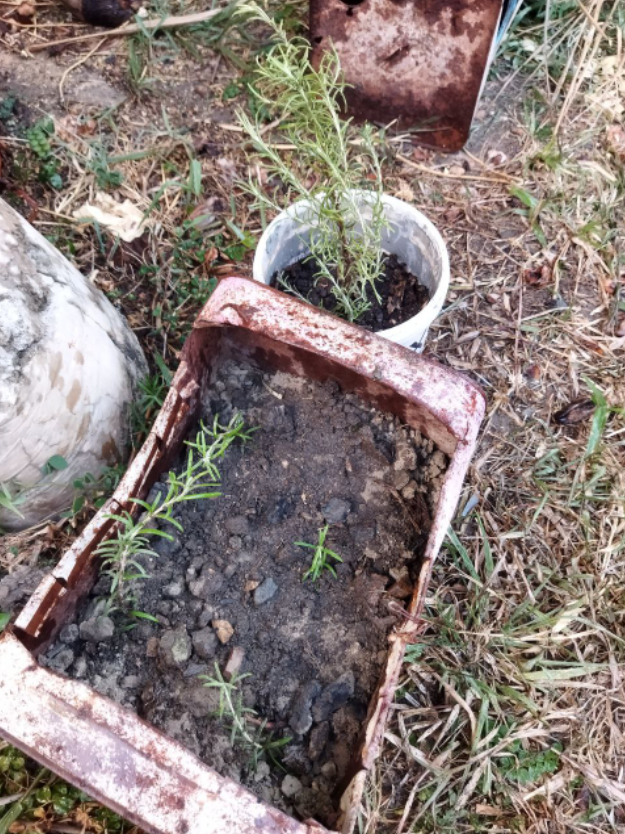 Finally, the last task I did this week was to loosen the soil a little in a part where I had a little grass planted, which already had several clearings and I suspected that it was due to several reasons. The main one was that the soil had become very compacted, also that it is the type of plants that are "shedding" and also the drought. So I removed the soil in the clearings, removed the stones and planted again. With a little care it will look like in previous years!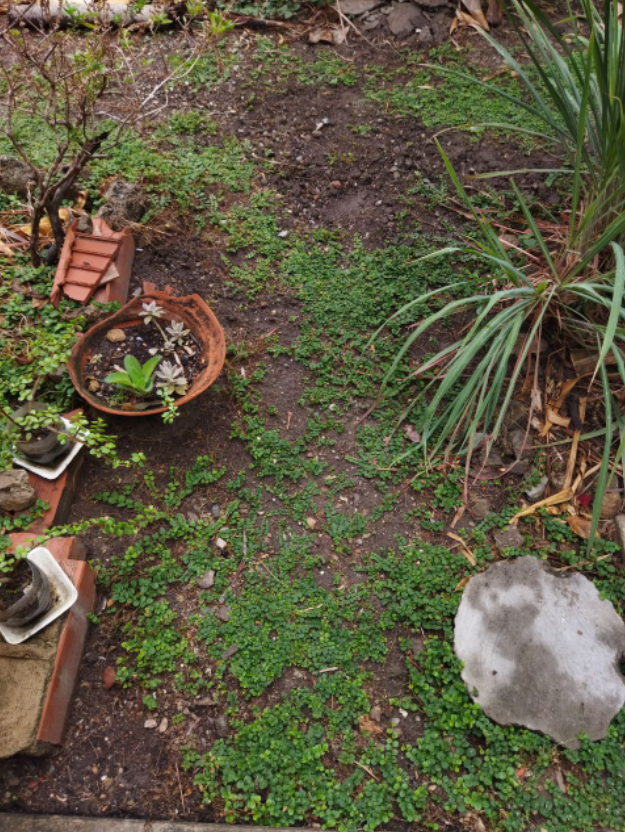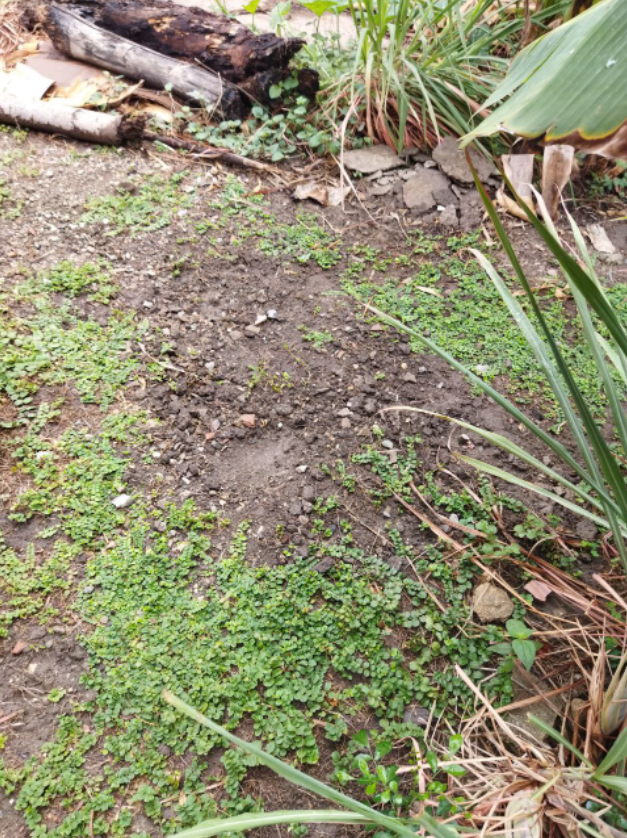 Peleando, planeando y aun limpiando; Diario del Jardin mediados de abril.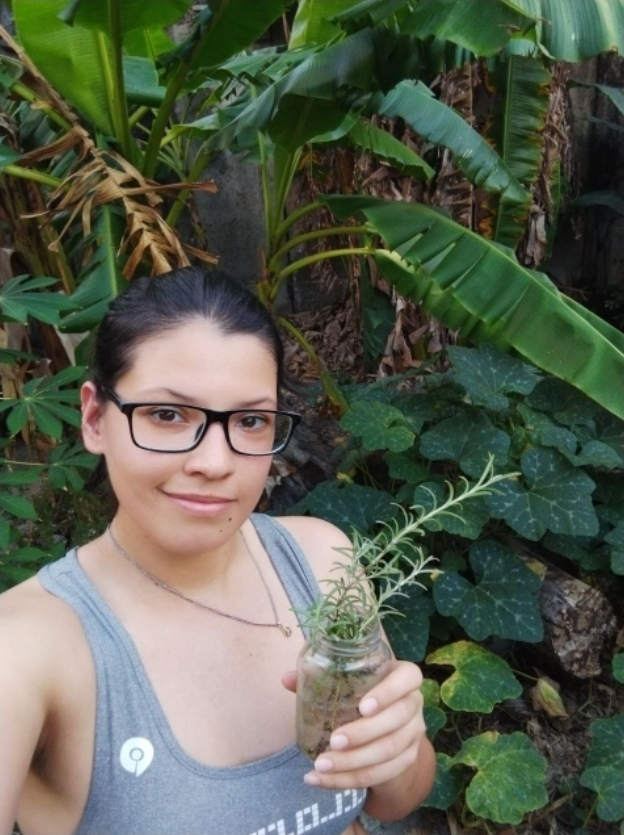 Español
¡Bienvenidos de nuevo amigos jardineros de Hive! Es grato compartir una vez más mis vivencias huerteras con ustedes. Por acá seguimos en época de sequía, con mucho sol y calor, realizando mayormente tareas de limpieza porque ya que no puedo regar todos los días no hay mucho que pueda sembrar que prospere con este inclemente clima.
Entre las limpiezas que me ha tocado realizar fue la de retirar un tronco viejo y seco que tenía junto a una pared de mi casa, y la mayoría de los otros troncos secos que estaban esparcidos por el jardín. El problema fue que unas hormigas (con apariencia de termita) empezaron a hacer un nido allí, y se fueron extendiendo para la casa, haciendo caminos entre las paredes. Al inspeccionar con cuidado me fije que había más de un sitio con este problema, y si bien se que son seres vivos que merecen estar aquí tanto como yo, me preocupó enormemente que se volviera un problema mayor, ya que al abrir sus caminos entre las paredes, podrían debilitar la estructura y ya de por si en mi casa tengo muchos problemas de filtraciones y demás que requieren una gran inversión para reparar y por supuesto no puedo dejar que se siga deteriorando. Por ende tuve que hacer una limpieza de emergencia.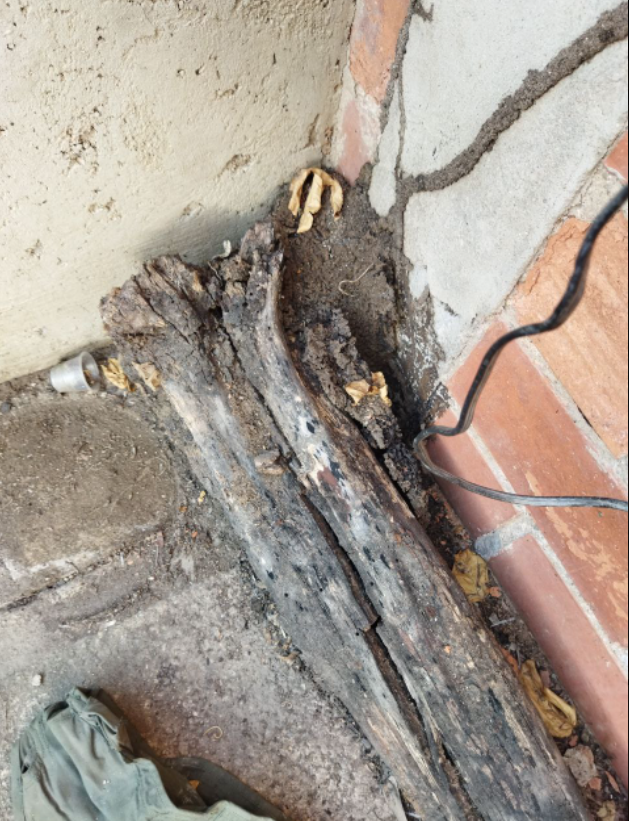 Empecé por botar el tronco que tenía el mayor problema, también estoy consciente que podría servir de abono pero repito, son demasiados nidos y no quiero que afecten las casas que están a los lados y me echen la culpa a mi :(. De a poco le fui rociando gasolina y sacando la parte más grande del nido para luego quitar todos los caminos que habían hecho y también aplicar gasolina adentro, entre los bloques de la pared. por último barrí y retiré todos los restos que quedaban.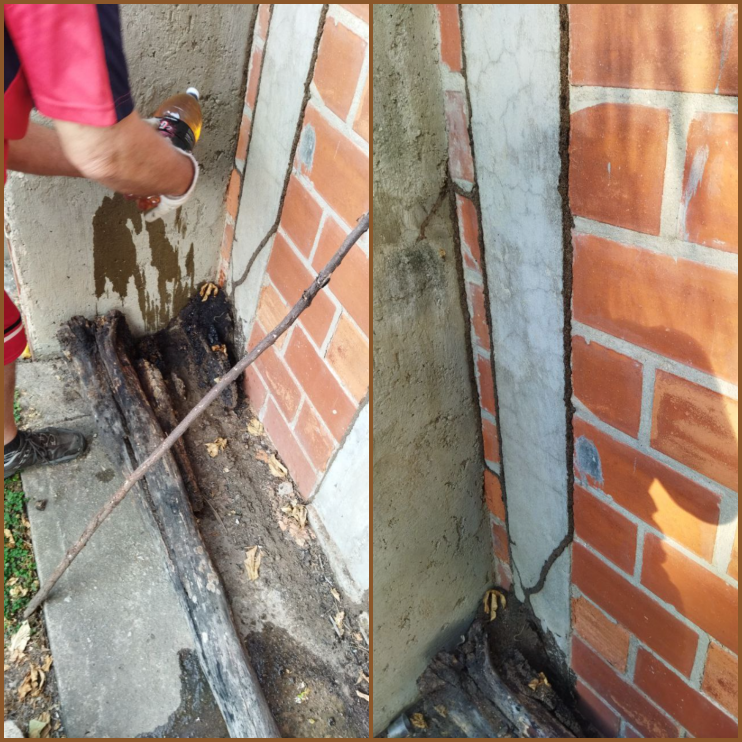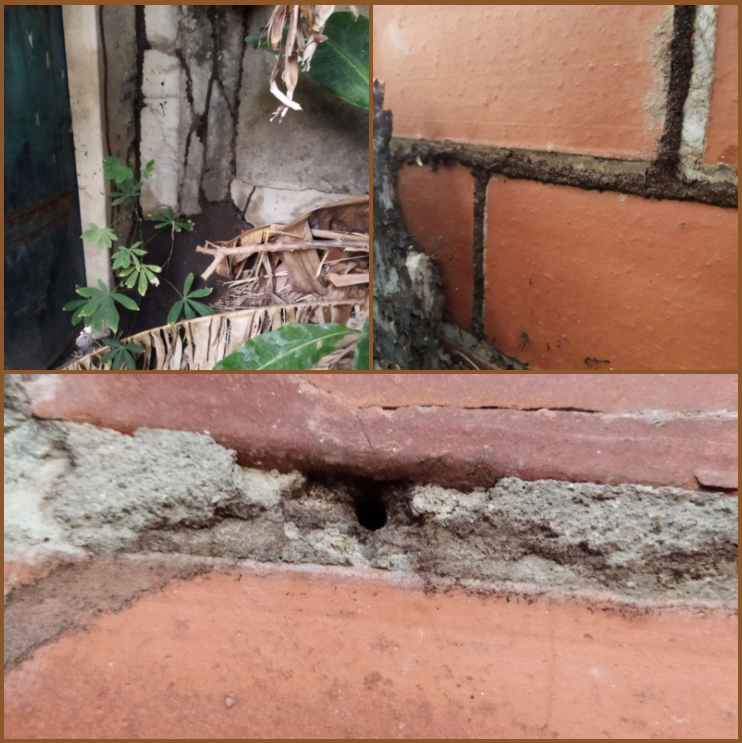 Otro nido al fondo del jardín y como hicieron las hormigas un hueco casi redondo en la pared
Continuando con la limpieza, arranque las plantas de flor de Jamaica porque ya estaban por cumplir su ciclo de vida que es de 1 año, y aproveche de podar esa zona ya que las plantas que hay se reproducen bastante y con la falta de agua se ponen un poco feas, otras las reorganice y bueno, solo queda esperar que se adapten a su nuevo lugar.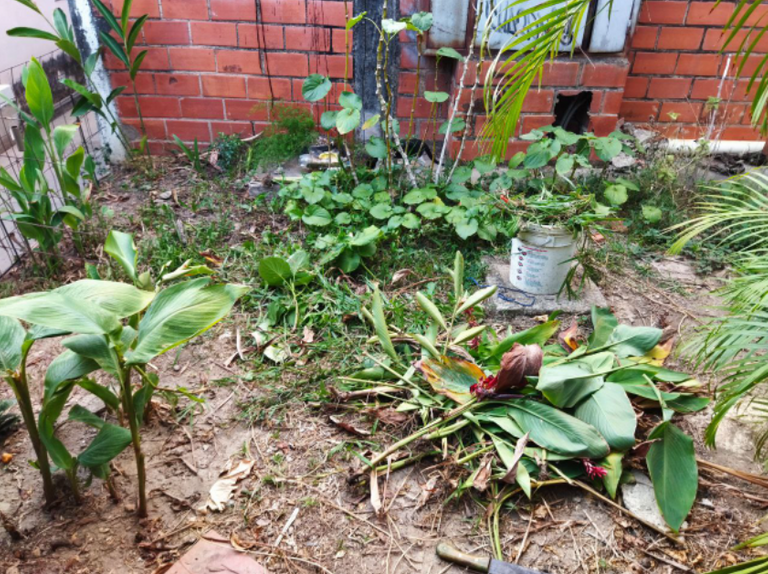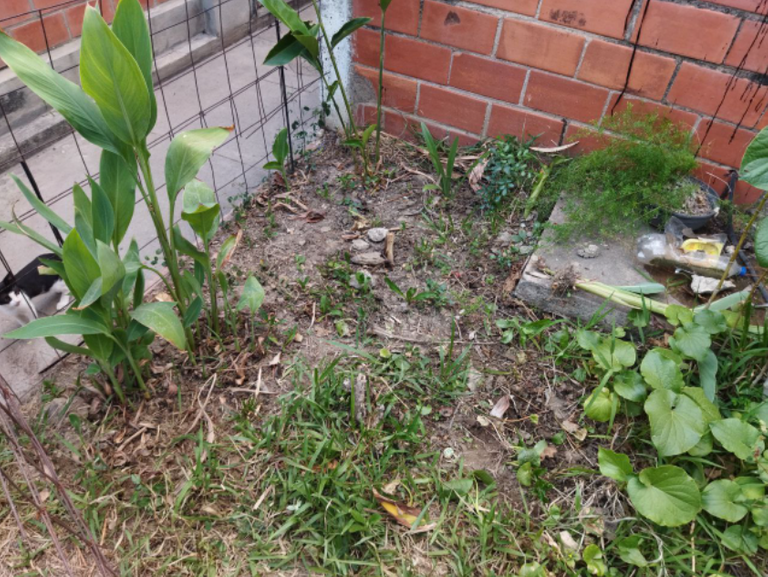 En otras noticias jardineras, hay una muy alegre! Tengo una bromelia que hace tiempo di por muerta al ver que le cayó una pequeña plaga que hizo que sus hojas se pusieran feas en las puntas y se secaran, también note que se había detenido su crecimiento así que la deje como diríamos por aquí "a la buena de dios" por varios meses, solo le ponía agua de cuando en cuando después de que dejó de llover. Bueno, casualmente hubo unos días que no se porque le puse mas atención, un día la levante y la observe bien, de pronto recibí una sorpresa! Mi bromelia tenía un hijito!! eso me puso super contenta porque les juro que ya había pensado sacarla de su maceta y revisar si las raíces aun estaban bien. Eso me dio una nueva esperanza de que la planta si bien lo más seguro es que muera, al menos no la perderé. Estas plantas tengo entendido que cuando están por completar su ciclo de vida (que debería ser después de la floración) dan hijos y luego la planta madre se seca. Esta no me floreo pero tengo la esperanza de que en algún momento lo haga!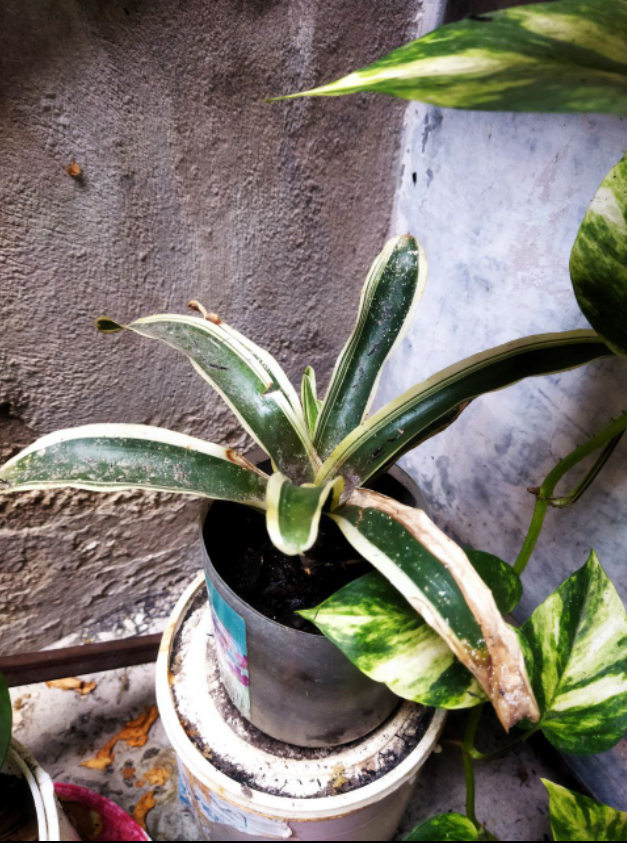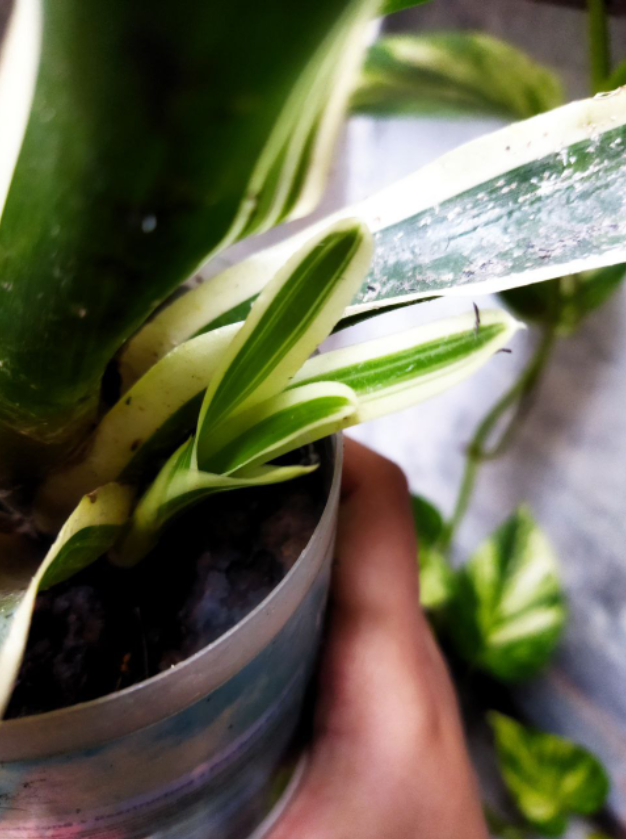 Y ya que los traje al patio de mi casa para mostrarles mi bromelia, aprovechó de enseñarles mi nuevo proyecto: ¡Colgar plantas en la pared! Es algo que había querido hace muchísimo tiempo y por fin, con la ayuda de mi papá, lo empecé! No se que plantas cuelgue luego pero al menos ya tengo las primeras, no se ven geniales?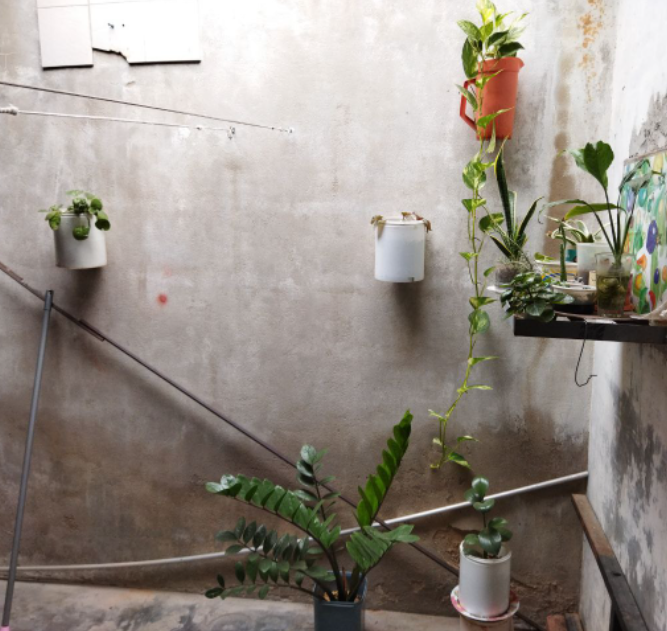 El próximo proyecto en que trabajaré será un pequeño jardín de plantas aromáticas, por ahora he conseguido solo los esquejes de romero que deje enraizando un poco y ya los sembré en unas macetas! Este es un experimento porque no había sembrado romero antes y espero me salga bien! Creo que en otro post ya había mencionado que planeo sembrar allí también albahaca, tomillo y quizás lavanda. Tengo que investigar mejor porque no se los requerimientos de cada planta porque por ejemplo ya me dijeron que el romero y la lavanda son de menos agua que la albahaca por ejemplo, y que algunos estarían mejor en macetas, pero poco a poco se va aprendiendo!!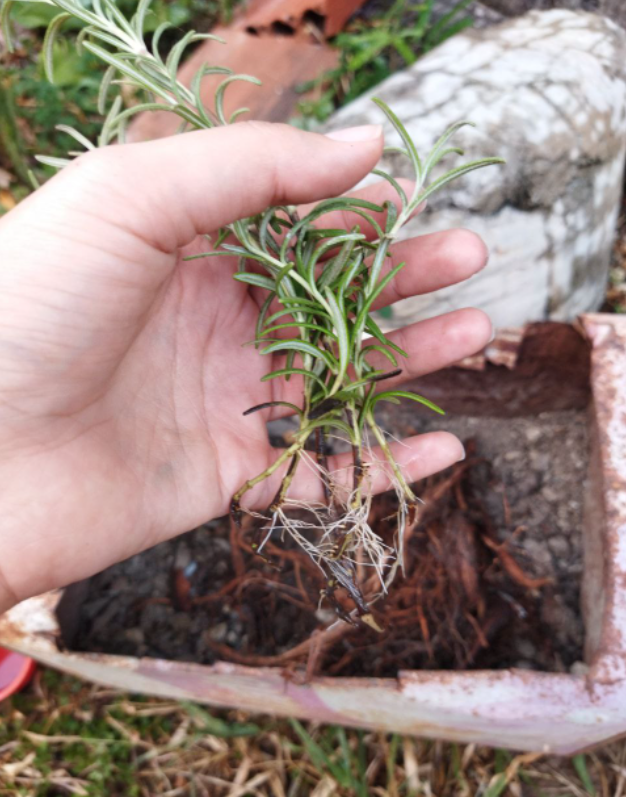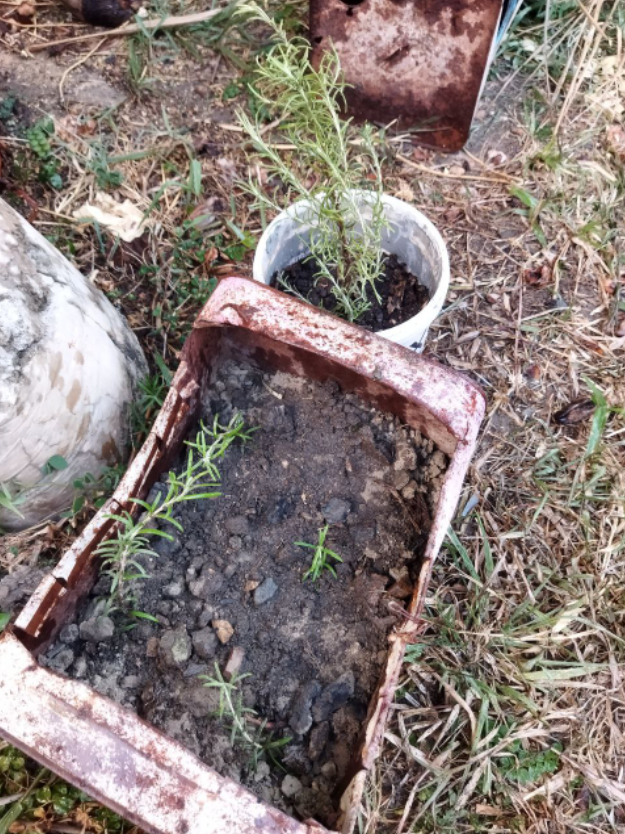 Para finalizar, la última tarea que hice esta semana fue la de aflojar un poco la tierra en una parte donde tenía una gramita sembrada, que ya tenía varios claros y sospechaba que debía a varias razones. La principal que se había compactado mucho la tierra, también que es del tipo de plantas que se van "mudando" y también la sequía. Así que removí la tierra en los claros, quité las piedras que había y sembré de nuevo. Con un poco de cuidado se volverá a ver como en años anteriores!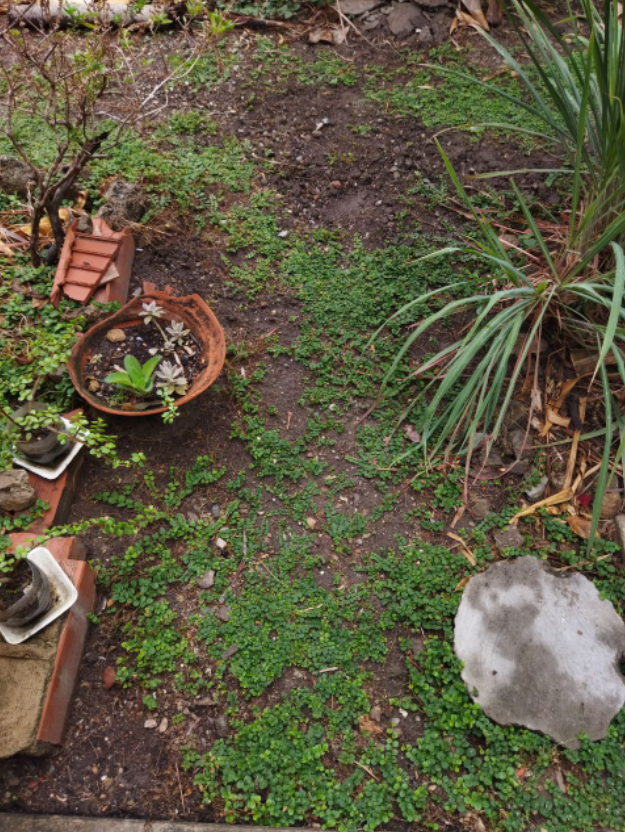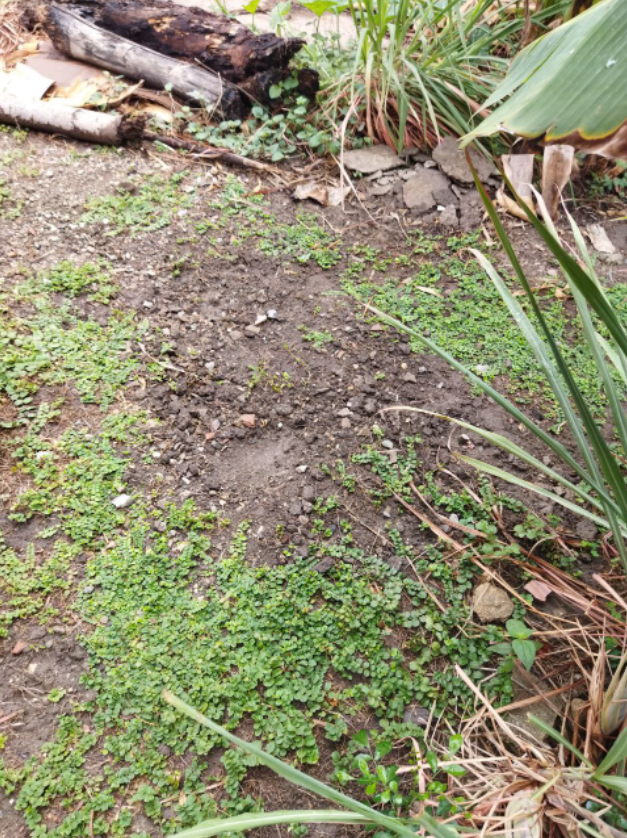 Gracias por leerme. | Thanks for reading.
Todas las fotos son de mi autoría. | All photos are my own.

---
---