My recovery plan...
Hello everyone...
There is a popular saying: "He who does not risk, does not win". and although it sounds very common to hear it from the silly YouTubers who sell wealth courses in 3 days. Lately, I have seen that it has a lot of logic since I have developed a recovery plan that although it is risky is the best option to see results in a short time.
As I made it known in a publication several months ago, that I had the goal of investing again and again $15 to be able to turn it into $1000, and although I was very close to achieving it, the truth is that due to greed and FOMO that played against me ridiculous psychology of going with the flow, I lost it all again with the LUNA token, now I am waiting for it to rise to a certain price ($0.03) to at least recover some of what I lost.
But while I wait for that to happen (although I think it never will) I had to develop a plan that would help me to rebuild my lost capital and continue with my main goal, which is to make a living from trading. Since if every day I invest $1000 I can recover 3% or 7% of that investment, which is very attractive and very profitable.
But now I have again the problem of not having the capital I need, and as I do not have at my disposal a rich guy who has enough money haha, I have to resort to one of the riskiest markets of cryptomonads trading, futures trading, but as the saying goes, he who does not risk does not win.
Of course, I could not jump into a pool of 10 meters deep without knowing how to swim, first I had to train myself enough to be able to defend myself when I am in danger, and although I may be only a rookie in this trading, I know that with good learning I will achieve my goal in a short time.
The first thing I had to do to operate in the future was to develop a good and consistent risk plan because I do not want to lose everything I have ($50), the first thing I learned is that to have a better chance to execute operations it was best to calculate my risk as a percentage since in amounts I would lose very quickly all my capital.
Second, I do not invest everything I have, but a part of it (i.e. a percentage) to have a better chance to trade in case my trade ends up being a loser.
So as the minimum that is allowed in Binance futures is $6 that will be my risk percentage and although it is a very high one since it is 12% of my capital, as I grow it I will achieve a lower percentage.
The third thing is to know how to use the indicators or have a good algorithmic strategy to achieve better results. that is why after so much research and Backtesting I determined that the best indicators for me are:
ATR SL

X_Super Trend

Absolute Strenght Histogram

X5 Leverage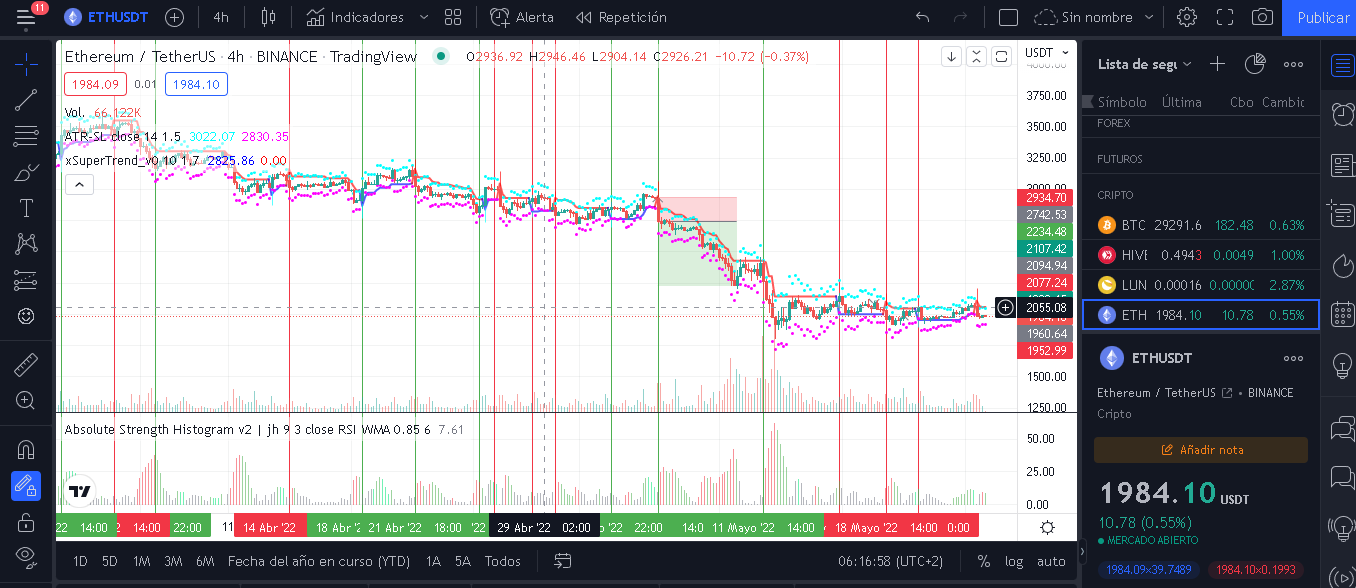 They are extremely vital to detecting trends and above all avoiding market sideways. I did backtesting since the beginning of April in a 4h time frame with a take profit and an SL of 1.5 and I got as a result 16 trades, 8 winners and 8 losers, which is a win rate of 50% and although it is not so surprising, it will be if I do more extensive backtesting. Of course, this strategy works for me, but it may not work for you, so you better do some research to find your ideal strategy.
In conclusion, the futures market is very risky, but at the same time very profitable when you have good guidelines, I want to remember that this is not financial advice, I simply share my plan to recover from the hard blow that LUNA left me and also motivate me to do it and overcome my fears.
Thank you very much for reading, later I will do an update to measure my progress and my experience.
Posted Using LeoFinance Beta
---
---