With or Without?
Hello Hivers!
It's Galenkp's The weekend challenge and since yesterday I've been thinking of what topic to choose. Let me go through again each topic and let's see what
Topic one: Without items
Topic one: Without items Name three things you currently have that you cannot live without. Explain what they are, why you can't live without them and what negative impact their loss would bring. Computers and phones are excluded from this question.
I can't think of something that I can live without. Whenever I think of something my other self will disagree with whatever that I think of. So, Think I'll scratch off option 1. But wait, I just remember one thing that I can't live without and it's coffee.
I cannot imagine my day passing by without coffee. It boosts my energy, it wakes me up, and it's one thing that can always make up my day.
Topic two: Without arms or legs.
Topic two: Without arms or legs You have a medical condition and must permanently lose use of either both arms or both legs, but can choose. Which would you choose and why? Explain how the loss would impact you and what you would do to ensure you lived your best version of life after the loss. (I don't mean they are gone completely, just that you have lost the ability to use them, so prosthetic limbs are not an option.)
Between the two? Think I can live without the use of my legs. Anyway, I can use a wheelchair or crutches to go anywhere I want. But it will be hard for me to lose my hands. Most of the things that a human does use his hands. To eat, work, to play we always use our hands especially on taking care of ourselves so I think for this option 2. I choose to keep my hands as I cannot live without them.
Topic three: Without seeing
Name something you have seen with your own eyes that you could live without having seen. Explain what it is, how or why you saw it and why you'd prefer to erase it from your mind and memory. How has it effected you.
I think for this option 3, if there is something that I can live without seeing. It is the time when I saw my Dad inside the car lifeless where the car accident happened.
It was all over the news radio, and telly but being the family we didn't believe it and went to the freeway where the accident happened. When we arrived at the scene, there is a forklift that is trying to remove the top of my Dad's car just for them to get the lifeless body of my Dad. The car back then was crushed like a tin can by two ten-wheeler trucks that sandwiched the car of my Dad.
It was a memory that no matter how much I try to erase, it just can't.
Why do I want to erase it? I know everyone is going to that place one day. But that scene gave me so much heartbreak and was traumatized by it too. I never thought I would see my Dad in such a situation. With the dynamic quantity of ways that a person can die why does it have to be in a car accident.
Topic four: Without photos
Share three photos you cannot live without and explain them: Where they were taken, what they mean to you, and why they are so treasured. The photos must be your own, not stock images.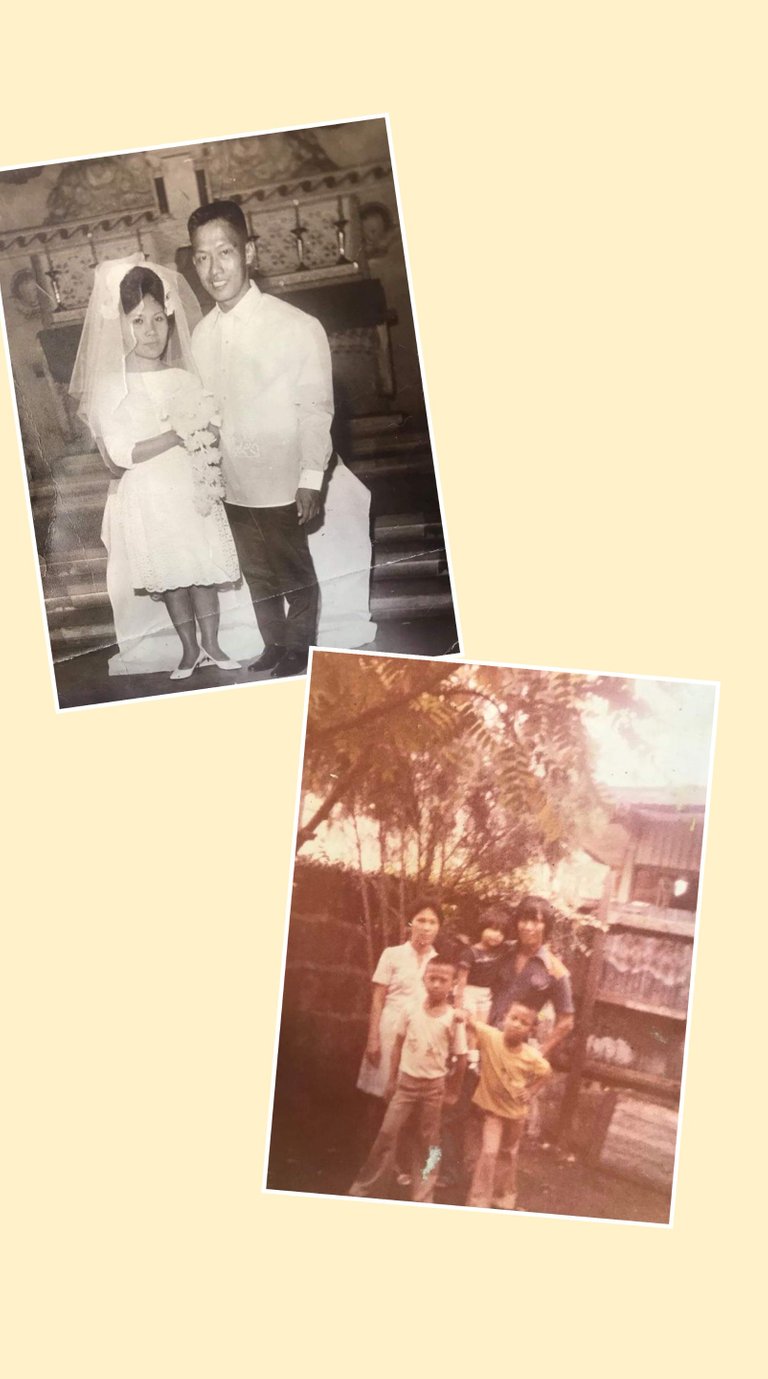 These are the photos of my parents and our family picture when I was still a small kid. We still have another family picture that was taken when I turned eighteen but I couldn't find it.
The second photo was taken when I was still 4 years old, one of the photos that I treasured most aside from the wedding picture of my parents. Why? Because these are the people why I exist in this world. And these people are one of the reasons of who I am today.
Topic five: Without Hive
Imagine that Hive ceased to exist. Which Hive accounts (people not communities) would you miss and why?
I don't think I'll miss anyone since most of the people I know here are also on other platforms that I visit.
---
This is my entry for this weekend's engagement challenge.

And if you've come this far... I hope that I was able to entertain you and made you smile... and for that Thank you.

And if you're interested to know where else I hang out you can click the links below.
Read 🌱 Noise 🌱 Twitter 🌱 Appics
©@Eylz619
All text and images by the author, unless otherwise credited
March___, 2022

"Fall in love with taking care of yourself. Fall in love with the path of deep healing. Fall in love with becoming the best version of yourself but with patience, with compassion, and respect to your own journey." —S. McNutt
---
---