🎬Turning Red: a movie that bothered many people in my country🤷‍♀ // 🎬Red: una película que en mi país incomodó a muchos! 🤷‍♀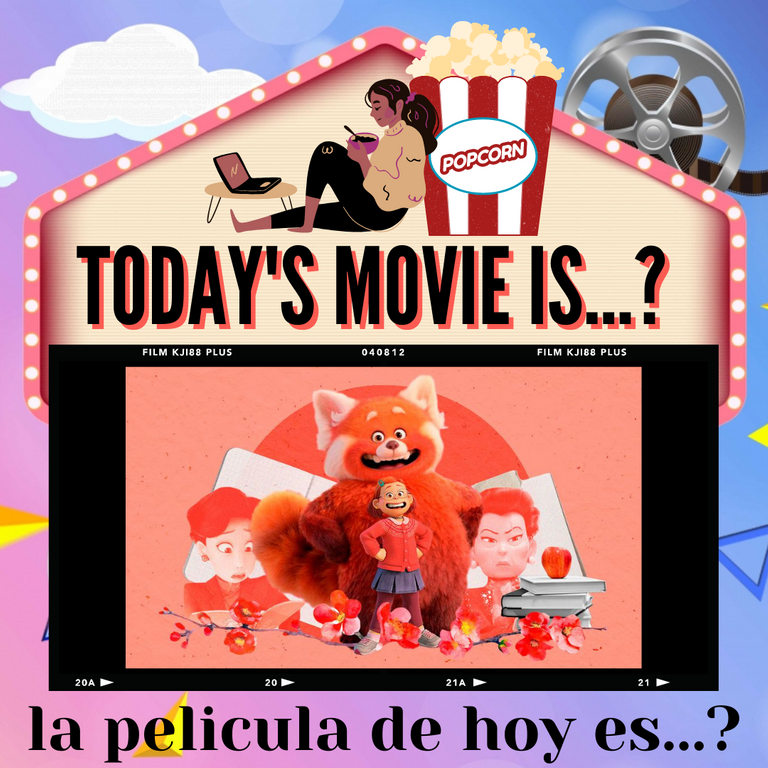 Hello again my dear moviegoing friends! Today I am going to tell you a little about my opinion about this movie that everyone is talking about!!
I love cartoon movies, even more so if they come from PIXAR. I think that in recent years they have left us open-mouthed with the films they have released.
Now they bring us to the great Disney platform:
Turning Red 🐼❤️
Hola nuevamente mis queridos amigos cinéfilos! hoy voy a contarles un poco mi opinión sobre esta película de la cual está hablando todo el mundo!!
Amo las películas de dibujitos, más si vienen de la mano de PIXAR. Creo que ellos en los últimos años nos han dejado con la boca abierta con las películas que fueron sacando.
Ahora nos traen a la gran plataforma de Disney:
Turning Red 🐼❤️
The reality that I wasn't very interested in seeing it, until I saw that there was a lot of talk about it on Twitter, so I didn't hesitate for a second to go see it to understand what they were talking about.
The movie was going to be released in theaters in China in March this year, but COVID cases increased, and apparently they had to back down with its release. Until Disney decided to upload it on its platform and make it available to its users.
La realidad que no me llamaba mucho la atención verla, hasta que vi que en Twitter se estaba hablando mucho de ella, entonces no dudé un segundo en ir a verla para entender de qué hablaban.
La peli iba a ser lanzada en los cines de China en marzo de este año, pero aumentaron los casos por COVID, y aparentemente tuvieron que dar marcha atrás con su estreno. Hasta que Disney decidió subirla en su plataforma y hacerla disponible para sus usuarios.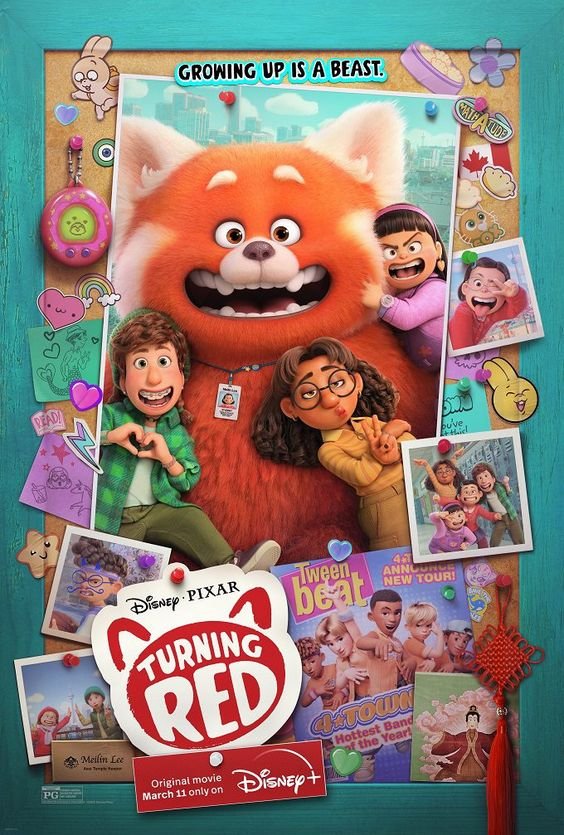 Source - fuente
Synopsis:
The movie is about Mei Lee, a little 13-year-old girl who finds herself between the fine line of being the perfect and obedient daughter that her mother always dreamed of or a girl trying to cope with her new emotions through adolescence. .
Among them, lies, anger, love for her friends.
Mei goes through a big problem that she doesn't know how to deal with until she finds out the truth. Everything is chaos until she manages to control it, she goes through a lot of unexpected but super engaging emotions and situations. All this referring to how women feel during puberty, in a symbolic way.
Sinopsis:
La peli trata de Mei Lee, una pequeña niña de 13 años que se encuentra entre la delgada línea de ser la hija perfecta y obediente que su madre siempre soñó o una niña tratando de afrontar sus nuevas emociones a través de la adolescencia.
Entre ellas, la mentira, la ira, el amor por sus amigas.
Mei pasa por una gran problema que no sabe como afrontar hasta que descubre la verdad. Todo es caos hasta que logra controlarlo, pasa por un montón de emociones y situaciones inesperadas pero super atrapantes. Todo ello haciendo referencia a cómo nos sentimos las mujeres durante la pubertad, de una manera simbólica.
production:
Domee Shi and Lindsey Collins. It is the first Pixar film directed and produced entirely by women.
Su dirección y produccion:
Domee Shi y Lindsey Collins. Es la primer película de Pixar dirigida y producida completamente por mujeres.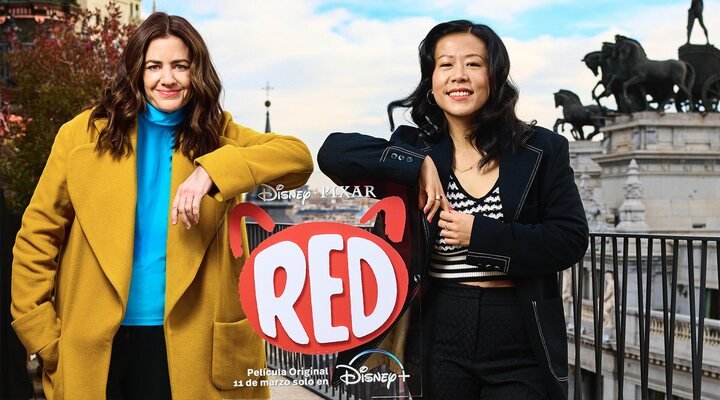 Soundtrack:
Billie Eilish and Finneas
Banda sonora:
Billie Eilish y Finneas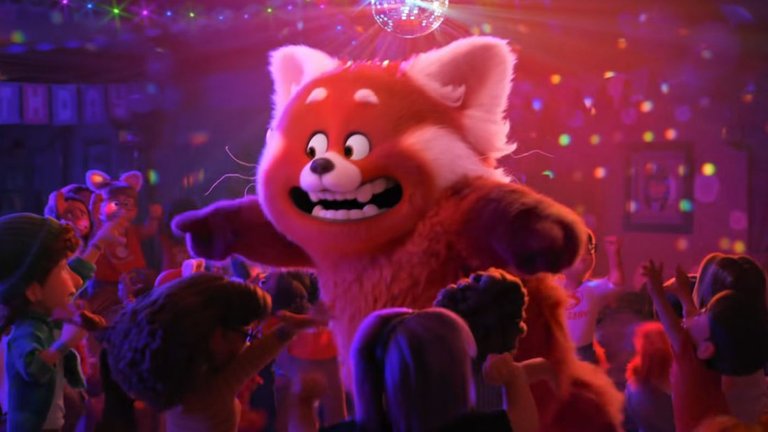 Opinion:
I think it's BEAUTIFUL. They touch on super important topics for a girl in full adolescence. I wish I could have seen something like that at Mei's age to understand some things that were going to happen to me hahahaha
It talks about the mother-daughter relationship, which I think is very good because even at 29 years old, I still have a hard time relating to my mother. There are many generational issues that have to be cut and the movie, by showing it, makes you feel less alone.
Not only that, but it has a spectacular script and graphics. It is really a film to enjoy with the little ones in the family and even with the older ones, because it leaves you thinking.
It's worth every second and what's more, it's super clear, concise and lasts less than an hour and a half. So they have no excuses to watch it. I highly recommend it.
Opinión:
Creo que es HERMOSÏSIMA. Tocan temas super importantes para una niña en plena adolescencia. Ojalá yo a la edad de Mei hubiese podido ver algo así para entender algunas cosas que iban a pasarme jajajajaj
Habla sobre la relación madre e hija, que creo que es muy bueno porque hasta a mí con 29 años todavía me cuenta el relacionarme con mi madre. Hay muchas cuestiones generacionales que hay que cortar y la peli al mostrarlo, te hace sentir menos sola.
No solamente eso, si no que tiene un guión y unos gráficos espectaculares. Es realmente una película para disfrutar con los más peques de la familia y hasta con los más adultos, porque te deja pensando.
Vale la pena cada segundo y es más, es super clara, concisa y dura menos de hora y media. Así que no tienen excusas para verla. Se la super recomiendo.
Like I said before, I love Pixar movies. The last ones were crazy and I think this one is even more so, so much so that here in my country a lot was questioned. Because they say that it "excludes" boys in its plot and does not meet the expectations of a 13-year-old girl by covering adult topics 🙄
Being that hormonal changes begin to reach us from the age of 9 onwards, when we are still girls.
The point is that this movie is giving people a lot to talk about. It put an issue on the table and it's great that this is being discussed.
Como dije antes, amo las películas de Pixar. Las últimas fueron una locura y creo que esta aún más, tanto, que acá en mi país se llego a cuestionar un montón. Porque dicen que "excluye" a los varones en su trama y no cumple con las expectativas de una niña de 13 años al abarcar temas para adultos 🙄
Siendo que los cambios hormonales nos empiezan a llegar desde los 9 años en adelante, cuando aún somos niñas.
La cuestión es que esta peli está dando que hablar y mucho. Puso un tema sobre la mesa y está buenísimo que se esté debatiendo esto.
I would like to know if you saw it and with which character you felt identified.
I related to Abby because she is super fun, outgoing and she has the best facial expressions. And if there is something that defines me, it is my faces hahahaha
Me gustaría saber si la vieron y con qué personaje se sintieron identificados.
Yo me sentí identificada con Abby porque es super divertida, extrovertida y tiene las mejores expresiones faciales. Y si hay algo que a mí me define son mis caras ajajajaja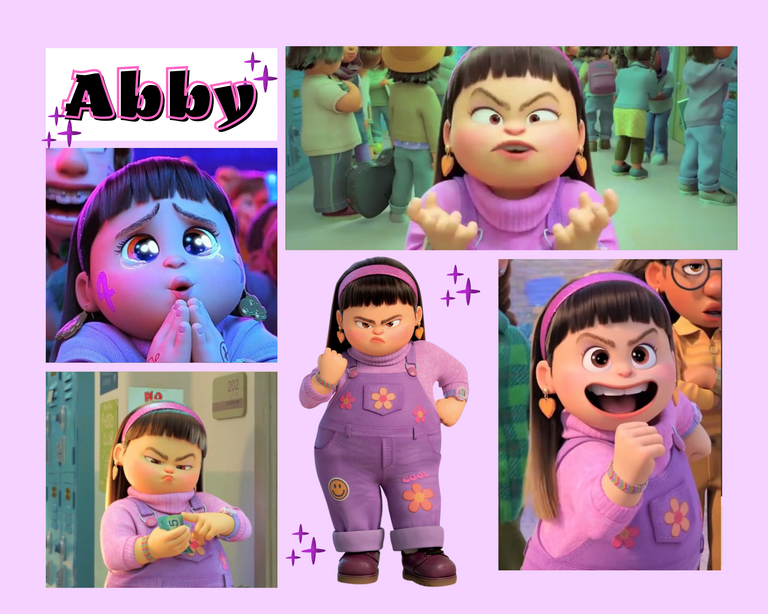 I hope you liked this post that I made with so much love!!🌸
See you next
Espero les haya gustado este post que hice con tanto amor!!🌸
Nos vemos la próxima.💜

The first and last image were made by me in Canva, all the others I took from Google and pinterest, I clarified their source in each one!📷

La primer y última imagen fueron hechas por mi en Canva, todas las demás las saqué de Google y pinterest, aclaré su fuente en cada una!📷


---
---