[ENG/ESP] The first trip of 2022: San Rafael - Mendoza and the great source of wine😵🍷 // El primer viaje del 2022: San Rafael - Mendoza y su gran fuente de vino. 😵🍷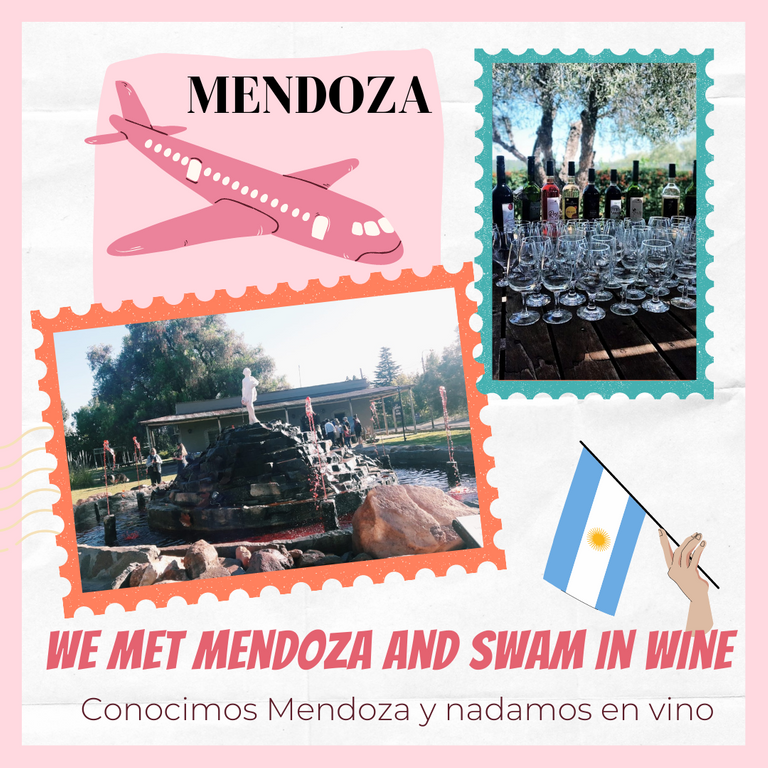 )
Hello my dear Hive friends! I was finally able to make my first getaway so far in 2022!!!
For a long time, more or less since 2019, I couldn't go on vacation.
The last trip I was able to make was to Florianópolis -Brazil, I was able to go despite not having a job because I had some savings saved. It was a very nice trip, super family, after that I set myself the goal of getting a job, and I started as a dietitian in 2020. From that moment until now I could not pay even a week of vacation until a few days ago. .
I was already thinking that my birthday was coming up and that I wanted to do something different. I took advantage of the fact that here in Buenos Aires my birthday was going to be during the long carnival weekend and I asked my bosses for permission to see if they would let me take a few days off.
Obviously they said yes and I didn't hesitate for a second to make a getaway with my girlfriend and friends.
And so it was that we visited the Province of Mendoza!!
Hola mis queridos amigos de Hive! por fin pude concretar mi primer escapada de lo que va este 2022!!!
Desde hace mucho tiempo, más o menos desde el 2019 que no me podía ir de vacaciones.
El último viaje que pude hacer fue a Florianópolis -Brasil, pude ir a pesar de no tener trabajo porque tenia algunos ahorros guardados. Fue un viaje muy lindo, super familiar, después de eso me propuse como meta conseguir trabajo, y empecé en una dietética en 2020. Desde ese momento hasta ahora no pude permitirme ni siquiera una semana de vacaciones hasta hace unos días.
Ya venia pensando que se acercaba mi cumpleaños y que quería hacer algo diferente. Aproveché que acá en Buenos Aires mi cumpleaños iba a ocurrir en el fin de semana largo de carnaval y pedí permiso a mis jefes para ver si me dejaban tomarme unos días.
Obviamente me dijeron que si y no dudé un segundo hacer una escapada junto a mi novia y amigas.
Y así fue que visitamos la Provincia de Mendoza!!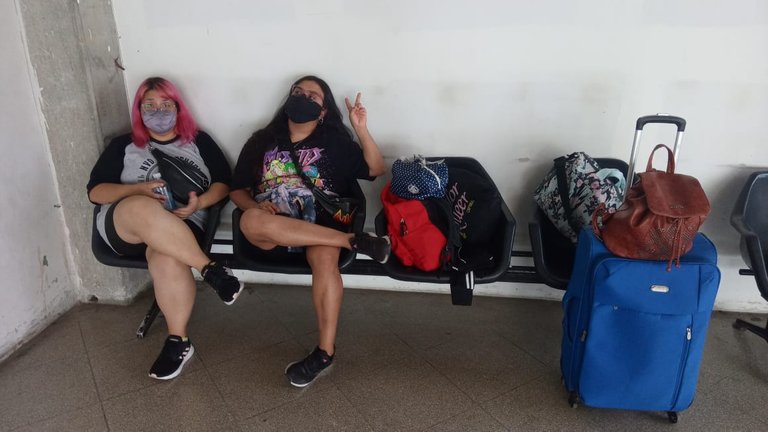 San Rafael - Mendoza 🍇🍷
We were on the bus for approximately 18 hours, but between laughter, mates and talks, time flew by. When we wanted to realize we were about to go down.
We only stop at Carmen de Areco, approximately 140 km from our starting point; to be able to eat something and go to the bathroom. Luckily we were able to get a stall that sold food and we took the opportunity to have dinner and a drink.
Estuvimos en viaje aproximadamente en Bus 18 Hs, pero entre risas, mates y charlas se paso volando el tiempo. Cuando nos quisimos dar cuenta ya estábamos por bajar.
Solo paramos en Carmen de Areco, a 140 km aproximadamente de nuestro punto de salida; para poder comer algo e ir al baño. Por suerte pudimos conseguir un puesto que vendía comida y aprovechamos para cenar y tomar algo.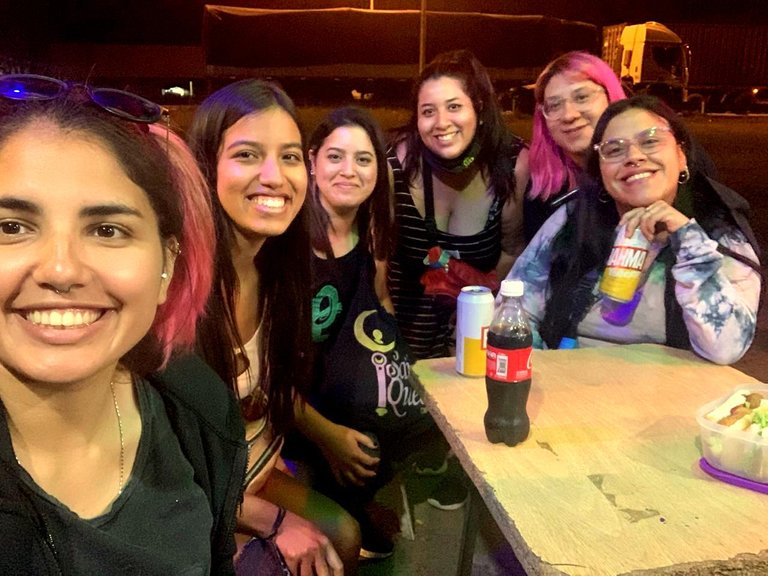 We paid for a package with excursions and the first day before arriving at the hotel we had breakfast in one of the most important wineries in the city.
Breakfast included coffee with milk, tea or cooked mate accompanied by country bread, with jam and butter.
Super delicious.
Pagamos un paquete con excursiones y el primer día antes de llegar al hotel teníamos un desayuno en una de las bodegas más importantes de la ciudad.
El desayuno incluía café con leche, te o mate cocido acompañado de pan de campo, con mermelada y manteca.
Super delicioso.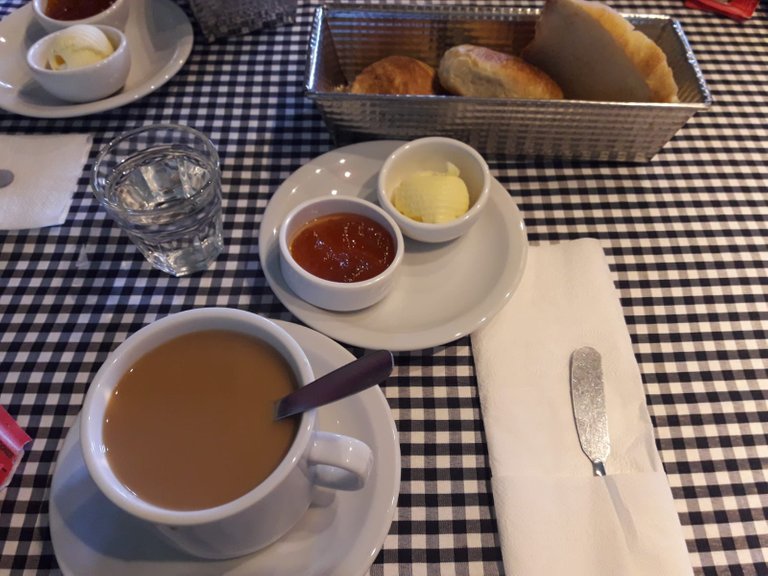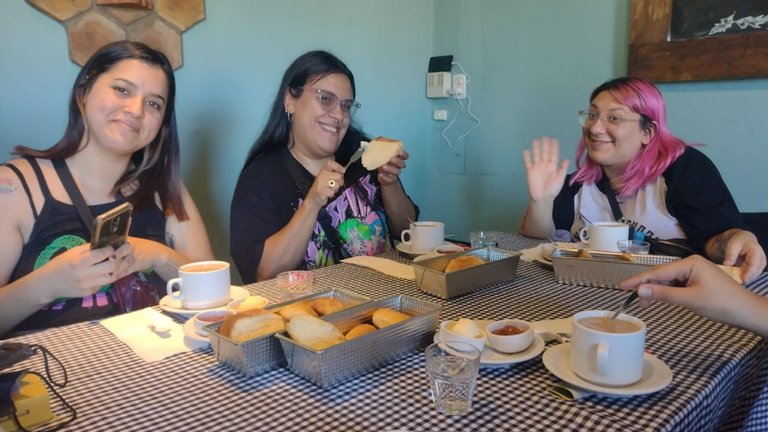 As soon as you enter the cellar you are surprised by a super huge wine barrel, and a few meters away a wine fountain! Sisi, you read correctly, a fountain of wine!
We all wanted to jump headfirst into the fountain but we couldn't as it was artificial. 💔
Apenas entras a la bodega te sorprende un barril de vino super enorme, y a uno metros una fuente de vino! Sisi, leyeron bien, una fuente de vino!
Quisimos tirarnos todos de cabeza a la fuente pero no pudimos ya que era artificial. 💔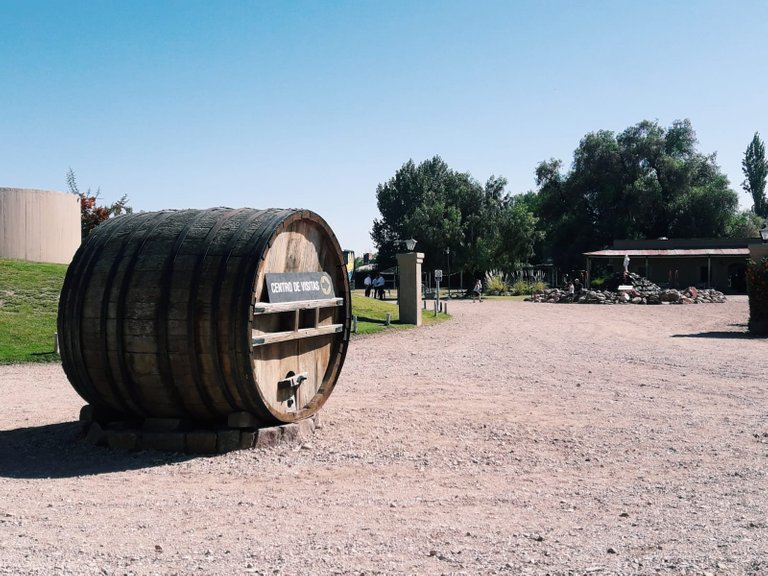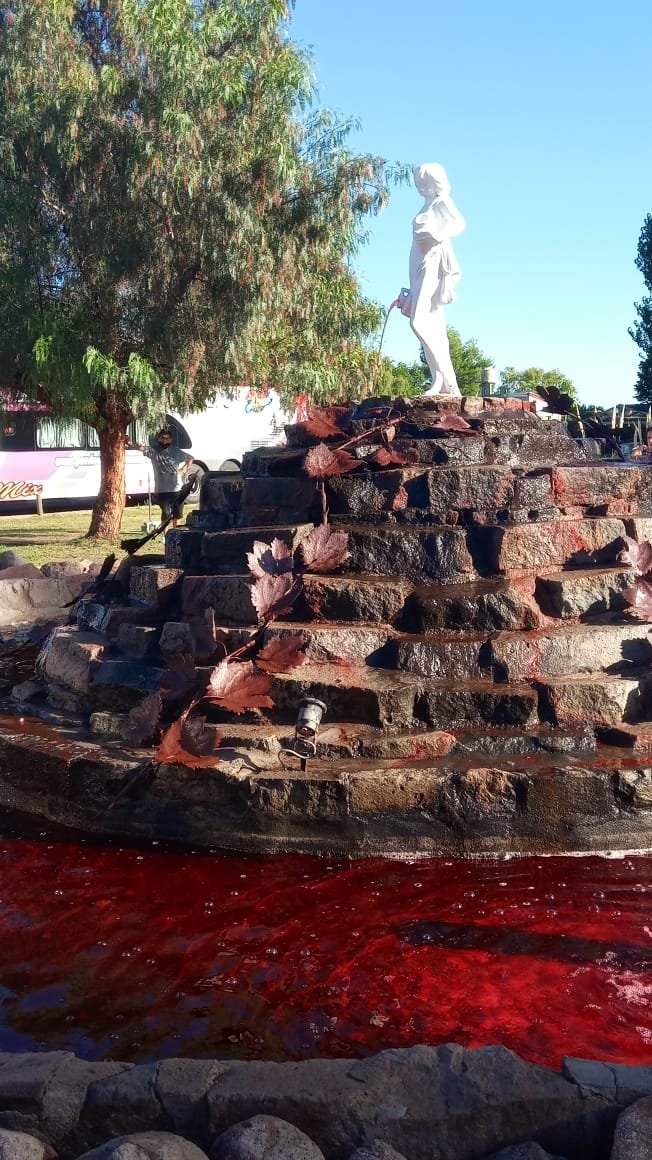 As we were told, the fountain is a tribute to love and wine inspired by Greek mythology.
That the truth is I didn't pay much attention because the only thing I thought about was touching that water, smelling it or taking a sip hahaha
The same thing always happens, even when I go to art shows, I get lost in the painting and it makes me want to touch it and get inside it. The same thing happened to me with the fountain, I couldn't listen much to its history because I got lost in its size, its architecture, its details, its color. Really beautiful.
Según nos comentaron, la fuente es un homenaje al amor y al vino inspirada en la mitología griega.
Que la verdad no presté mucha atención porque lo único que pensaba era en tocar esa agua, olerla o tomar un sorbo ajajjaja
Siempre e pasa lo mismo hasta cuando voy a muestras de arte, me pierdo en la pintura y me dan ganas de tocarla y meterme dentro de ella. lo mismo me paso con la fuente, no pude escuchar mucho su historia porque me perdí en el tamaño, su arquitectura, sus detalles, su color. Realmente hermosa.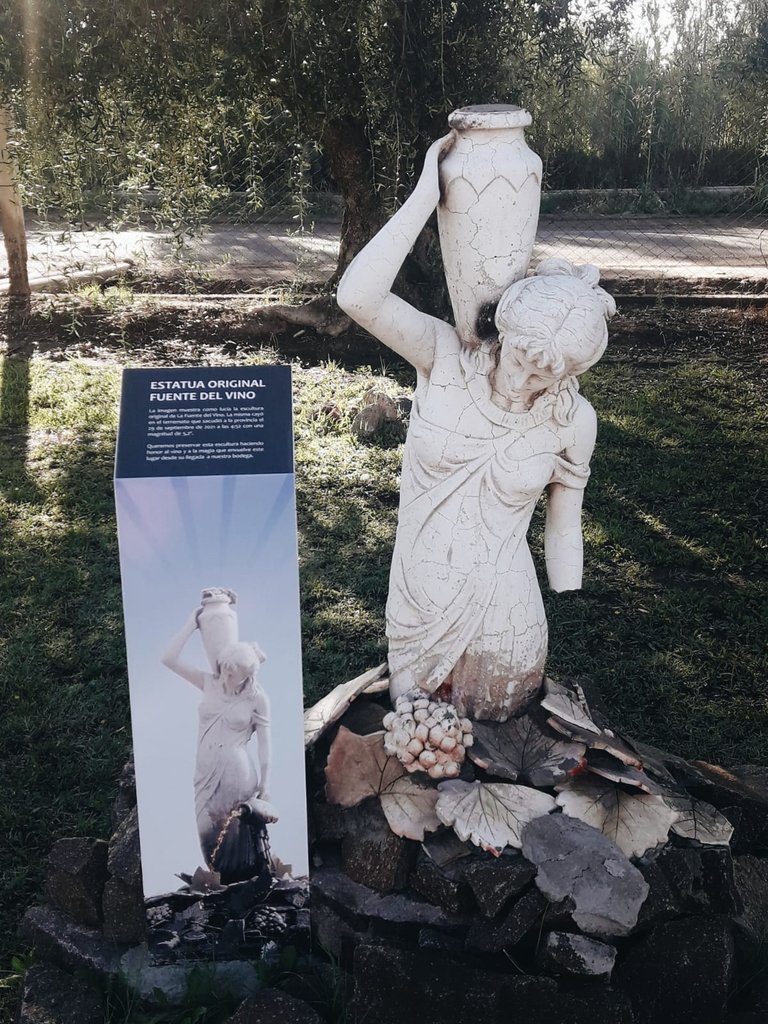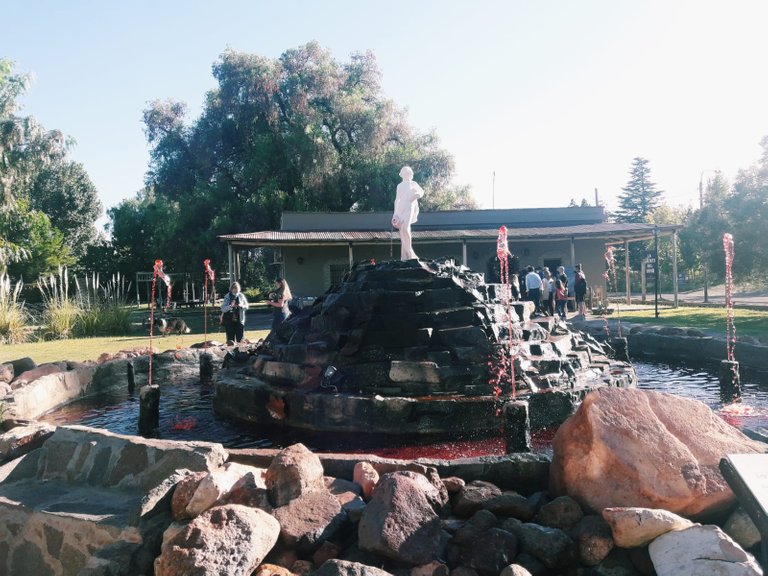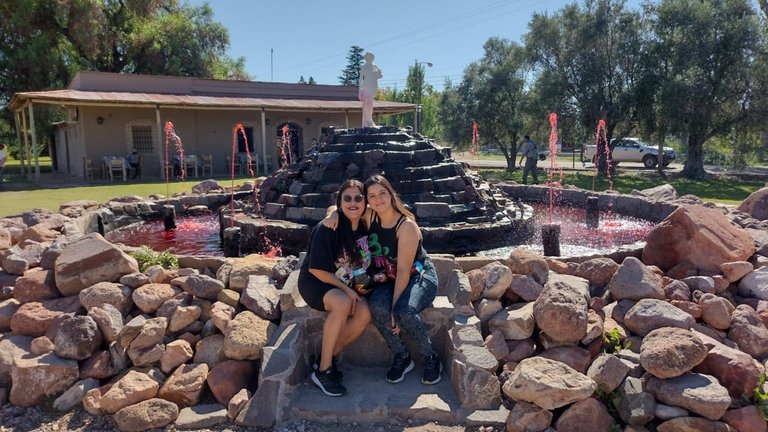 After enjoying the super fountain, we took a tour of the whole place, they explained to us how they make wine in that cellar, and the whole history of the family.
The warehouse had many rooms with long corridors that took you to different parts of the place. We were able to see its enormous machines, its immense and long vineyards.
They had a bunch of family heirlooms, old posters, demijohn bottles, paintings, sculptures, all vintage items in mint condition.
Después de disfrutar de la super fuente, hicimos un recorrido por todo el lugar, nos explicaron como hacen el vino en esa bodega, y toda la historia de la familia.
La bodega contaba con muchas habitaciones con largos pasillos que te llevaba a distintas partes del lugar. Pudimos ver sus enormes máquinas, sus inmensos y largos viñedos.
Tenían un montón de reliquias familiares, carteles viejos, botellas de damajuana, pinturas, esculturas, todos objetos antiguos en perfecto estado.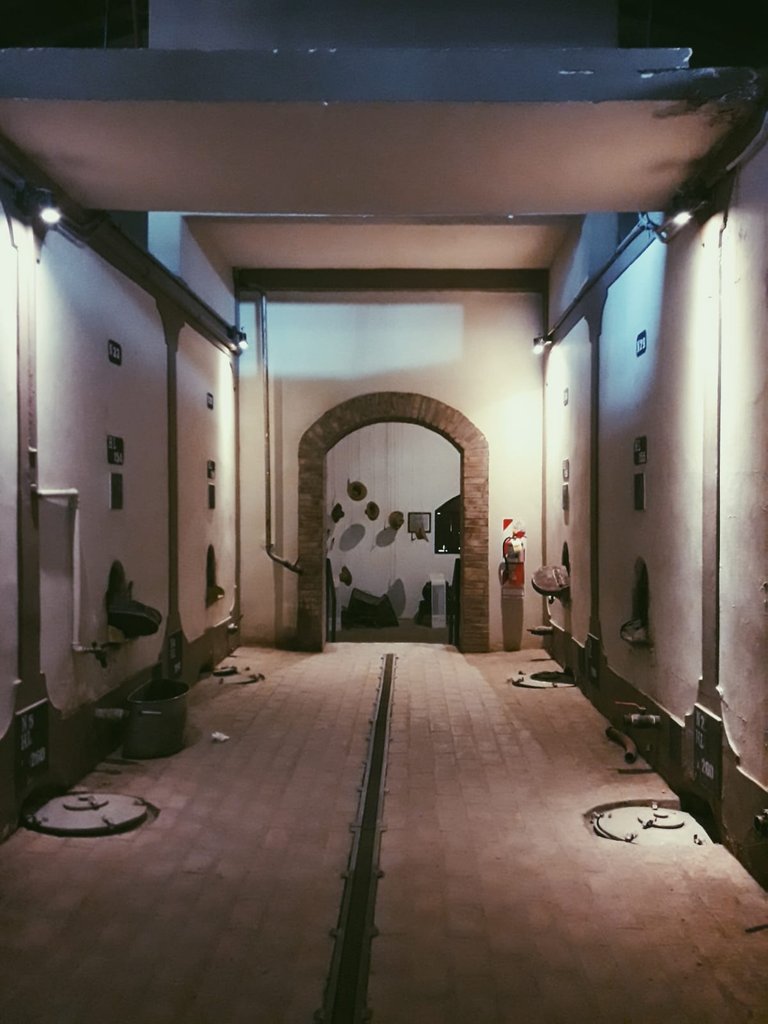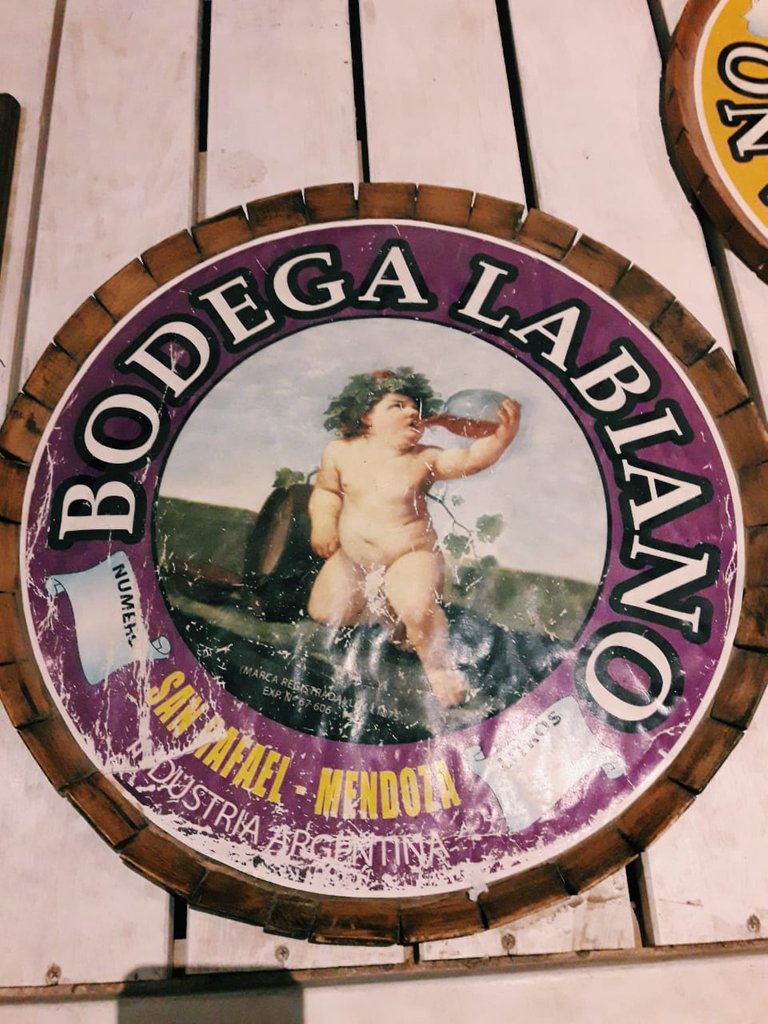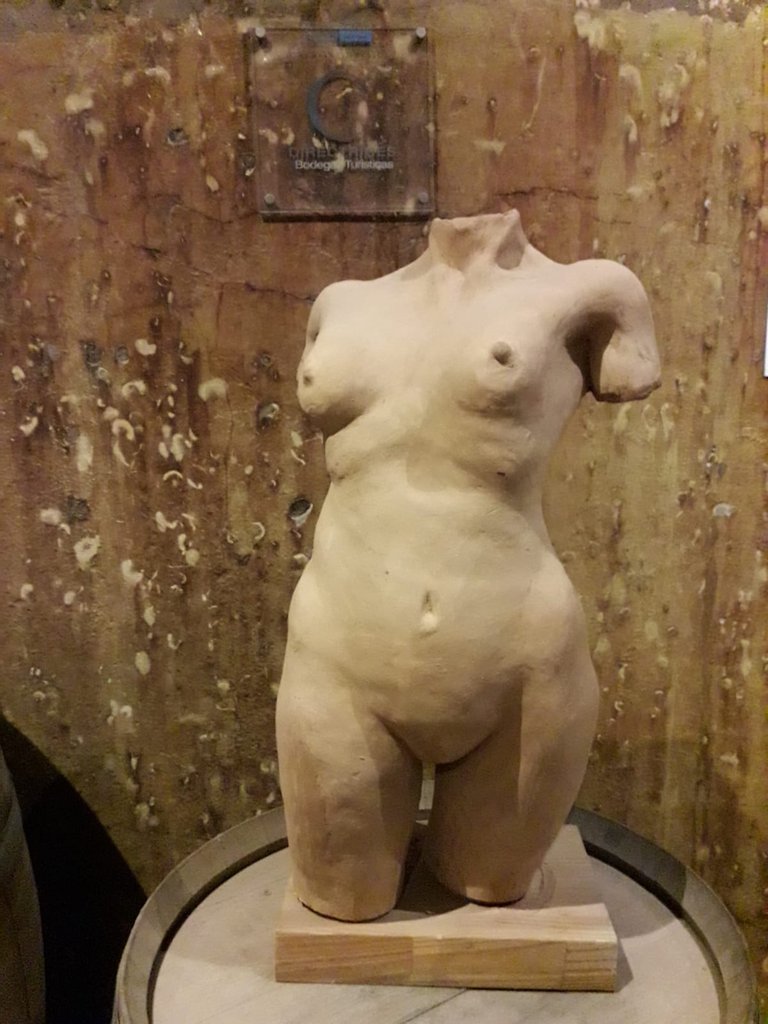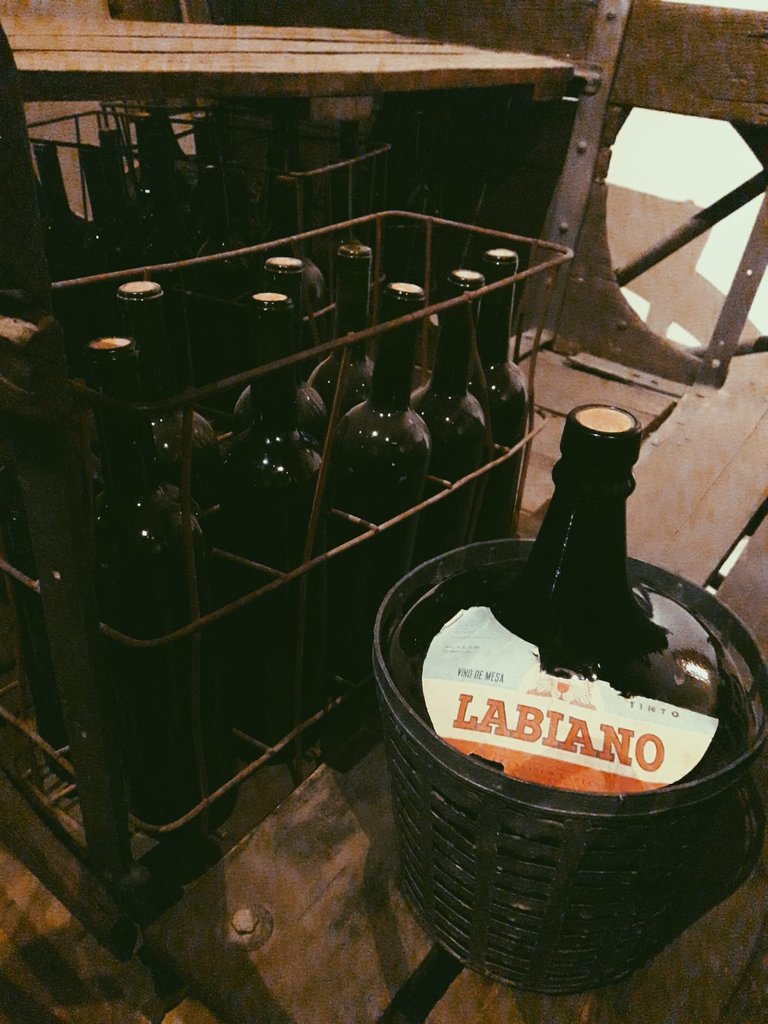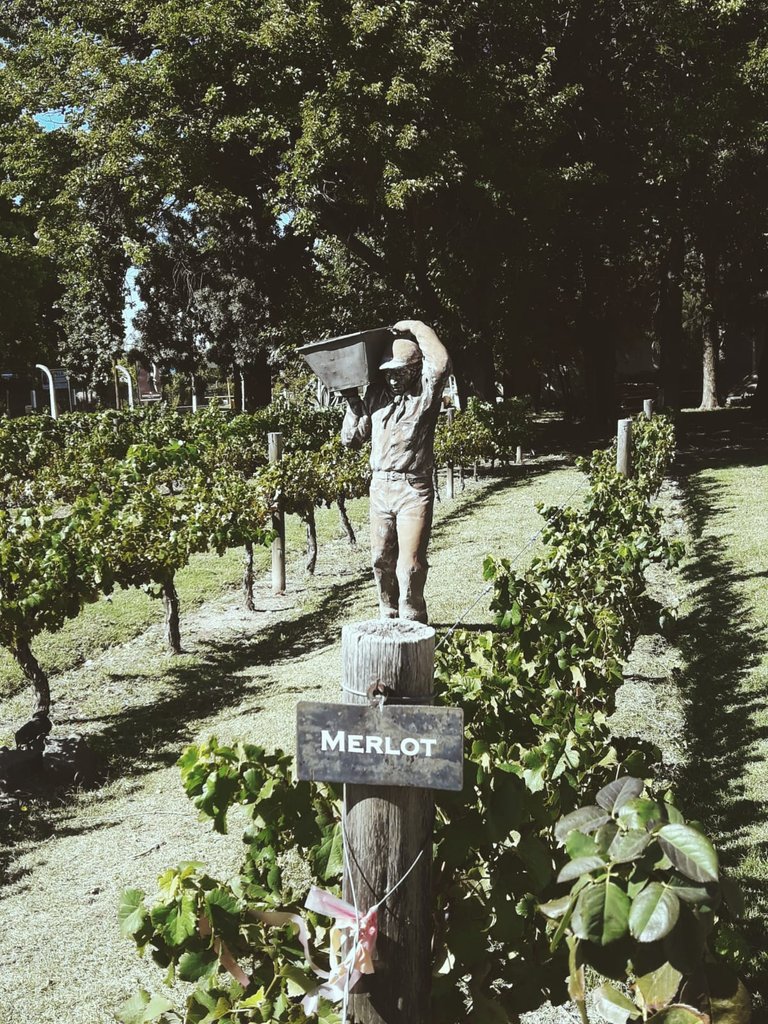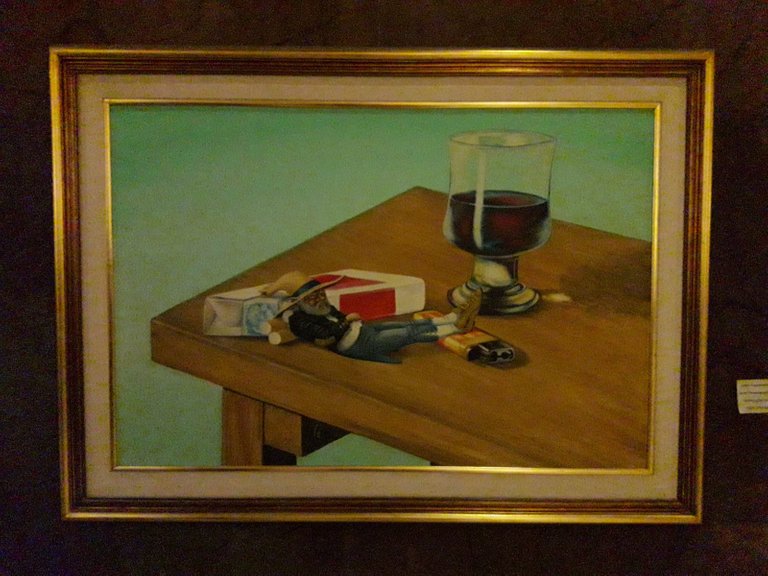 After a long walk and several photos, the moment we all wanted finally arrived: the wine tasting.
Luego de una larga caminata y varias fotos por fin llegó el momento que todos queríamos: la degustación de vinos.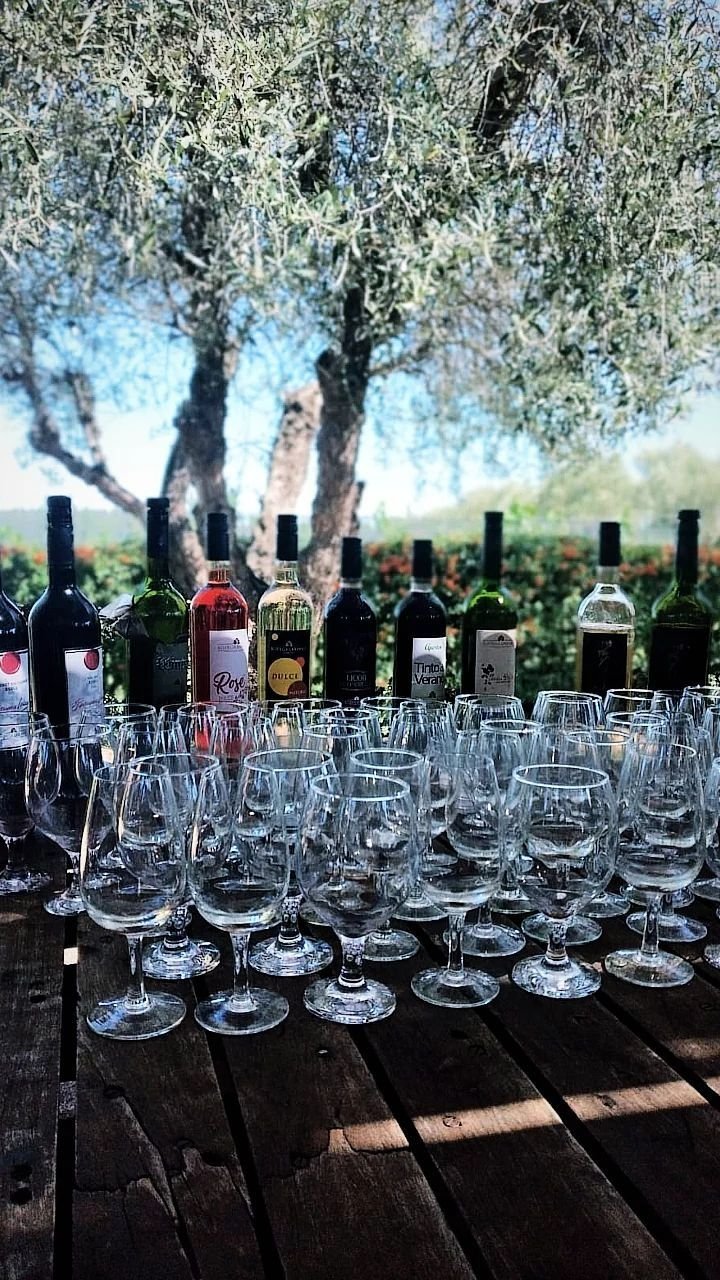 We could try anything we wanted. We just had to grab a glass and reach out, and that's where the magic happened.
There were 6 of us and there were only 6 wines that interested us, so we each chose a different one. We stood in a circle and the glass turned from hand to hand to the right so that we all tasted everything.
Podíamos degustar todos los que queríamos. Solo teníamos que agarrar una copa y extender la mano, y allí sucedía la magia.
Nosotras éramos 6 y habían justo 6 vinos que nos interesaban así que cada una eligió uno distinto. Nos pusimos en ronda y la copa giró de mano en mano hacia la derecha para que todas probemos todos.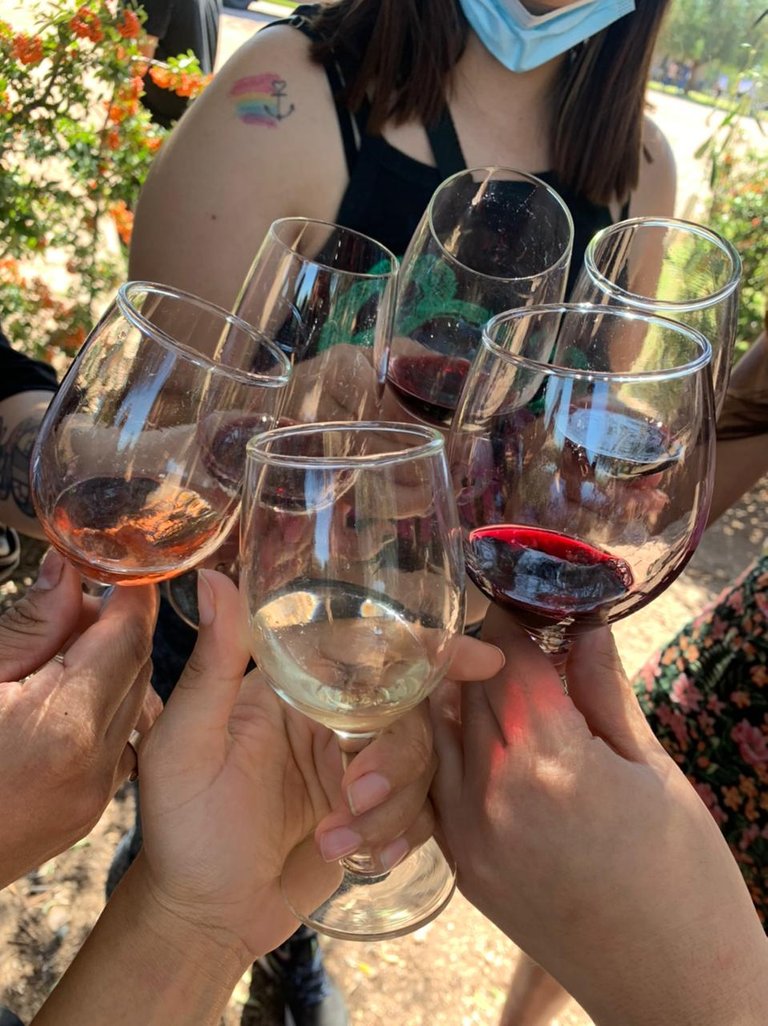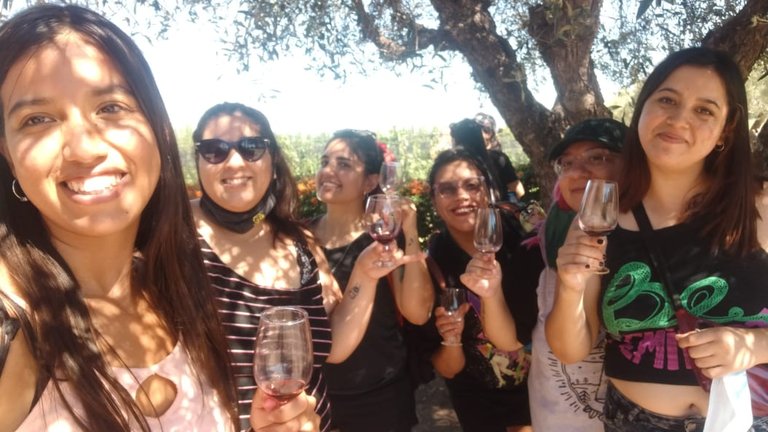 After the tasting we went through the market and I think my girlfriend got a bit excited and grabbed over 6 bottles to bring home.
Después de la degustación, pasamos por el mercado y me parece que mi novia se emocionó un poco y agarró más de 6 botellas para traer a casa.😆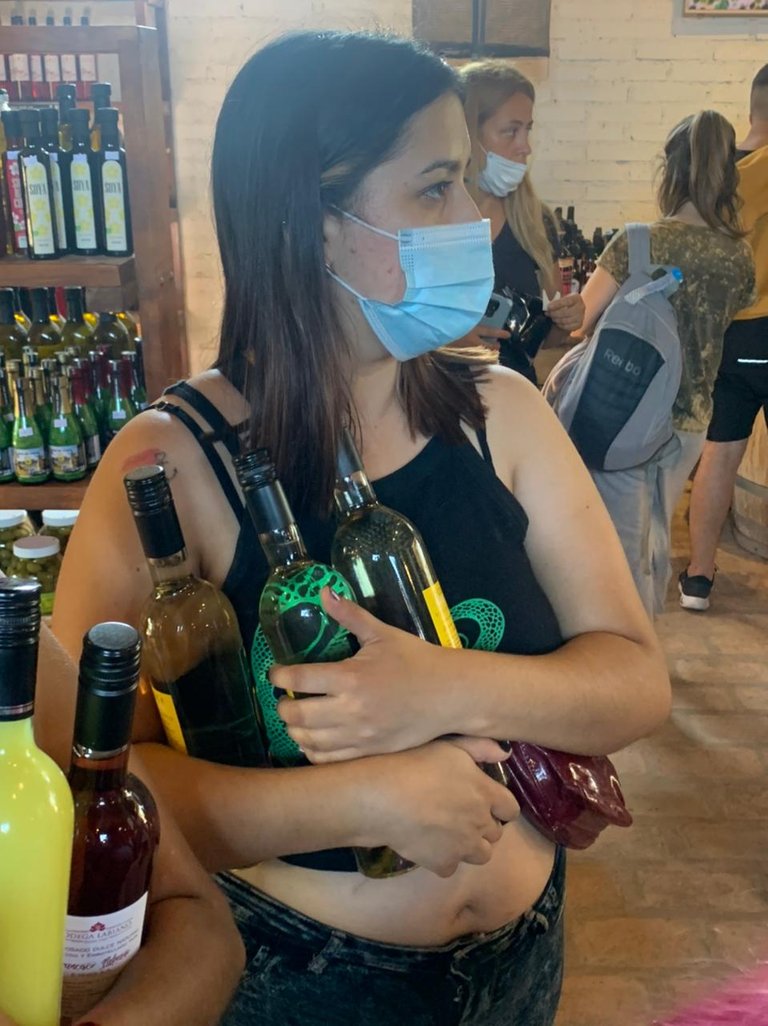 It was the first activity of that day and it was beautiful, I had a great time, I had never been to a winery.
I'm not really much of a wine drinker, but when I tried those, I was amazed at how rich they were. I had been told that there is a difference in wines depending on where they are produced, but I never imagined how much. I was delighted and bought a pink one that looks like juice. And now that I think about it I think I should have brought more Hahahaha
It was the first adventure of 5 super crazy days!!!
Fue la primer actividad de ese día y fue hermosa, la pasé super lindo, nunca había ido a una bodega.
En realidad yo no soy mucho de tomar vino, pero cuando probé esos, me quedé sorprendida de lo rico que era. Me habían comentado que hay diferencia de vinos depende de donde se produzcan pero nunca imaginé que tanto. Quedé encantada y me compre uno rosado que parece jugo. Y ahora que lo pienso creo que tendría que haberme traído más Jajajaja
Fue la primer aventura de 5 días super locos!!!
I hope you have been able to enjoy this post as much as I did, who was fascinated by this beautiful province.
Espero hayan podido disfrutar tanto este post como yo, que quedé fascinada por esta provincia hermosa.
The images are all of my authorship except the first one that I made in Canva. 📷 

Las imágenes son todas de mi autoría excepto la primera que la realice en Canva. 📷


---
---