Tottenham Hotspurs Sacks Nuno and brings Antonio
It's a pity that we have clubs who feel that the player's outcome or bad performance is a result of the coach. It's no doubt that most coach formations are poor but what if the coach is good at what he does but unfortunately the players are not interested in helping the club grow?
I guess this is what is happening in a club like Tottenham Hotspurs who just after their failed match decided to sack their coach, Nuno Espirito Santo. I wouldn't say Tottenham Hotspur is a small club because so far so good in the Premier League match, they're been good and performance isn't too bad but unfortunately, the major problem is their players, they aren't playing for the badge and, sadly, most footballers nowadays have little or no passion for the game because they are all after their weekly salaries and its appalling.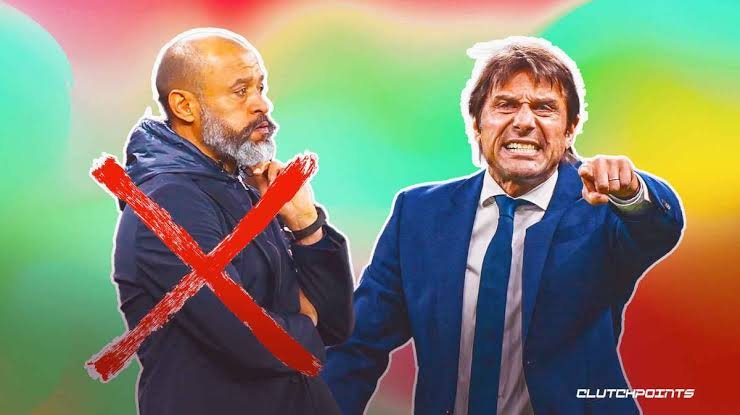 Image Source
Tottenham Hotspur is a small London club with a bunch of over-hyped players that are not taking responsibility in the field of play and when they lose matches, sacking the manager is their next move.
I know every club manager wants the best for his club but sacking a coach all because of the club's loss of a match as a result of the players little or no interest in the game is an overrated attitude from the managers and should be carefully looked upon before they lose good coaches that are supposed to help the team from better and help the players perform better.
Daniel Levy and all Tottenham Hotspurs players are supposed to cover themselves in shame for letting such things happen in their club. For crying out loud, Tottenham Hotspurs are among clubs that should be rated as middle if not a big club because of their performance on the field but unfortunately, most of their players are just after the salaries they get.
Antonio Conte Cavaliere was an Italian professional football manager and former player who is currently the head coach of Premier League club Tottenham Hotspur.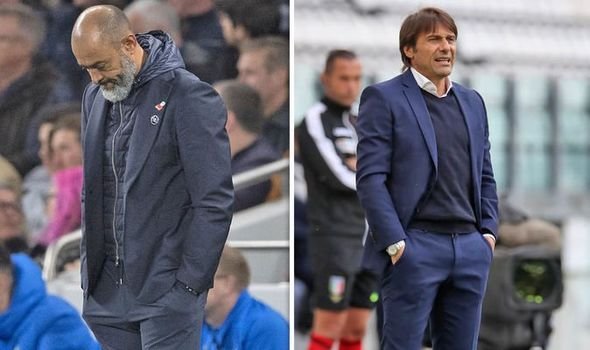 Image Source
The former coach Nuno Espirito Santo was sacked on Monday after the 3-0 home defeat to Manchester United in which his team failed to register a shot on target which I feel and guess isn't the coach fault because the players were supposed to give their best on the field but failed.
Antonio Conte the former Chelsea just signed an 18-month deal at the Tottenham Hotspur Stadium and hoping to extend while Nuno was relieved of his duties on Monday because of Saturday's 3-0 defeat between Manchester United and Tottenham Hotspurs. That game played on Saturday was Nuno's final game in charge.
This game was Spurs' fifth Premier League game loss in seven games which left them ninth in the top flight and 10 points behind league leaders Chelsea.
Although Nuno has only been in the club less than five months he has done well in the club. I mean, no coach loves to see his club defeated and would do anything to make sure they improve, relieving them of their duty because the players performed poorly isn't the best.
Antonio Conte who was once Chelsea's boss guided the Blues to the 2016-17 Premier League title and through the FA Cup the following season.
I think this is the first managerial post he has ever taken after he left Inter Milan after they won last season's Serie A title.
---
---