MOVIE REVIEW ~ KATE
Scrolling through my phone media yesterday, I noticed I had one move I am yet to watch. I can't tell why I did not watch this particular movie when I was watching the movie but I was kinda free yesterday and decided to take a look at the movie. So I did what I usually do whenever I am not sure of a movie or if it is interesting, I started fast-forwarding the movie but after a glimpse of the action in it, and the suspense too. I decided to settle down and watch the movie. It's a Netflix movie and was released on 10 September 2021.
The stars are Mary Elizabeth Winstead, Miku Martineau, and Woody Harrelson, directed by Cedric Nicolas Troyan. I think I am just familiar with Actor Mary Elizabeth Winstead and her acting skills.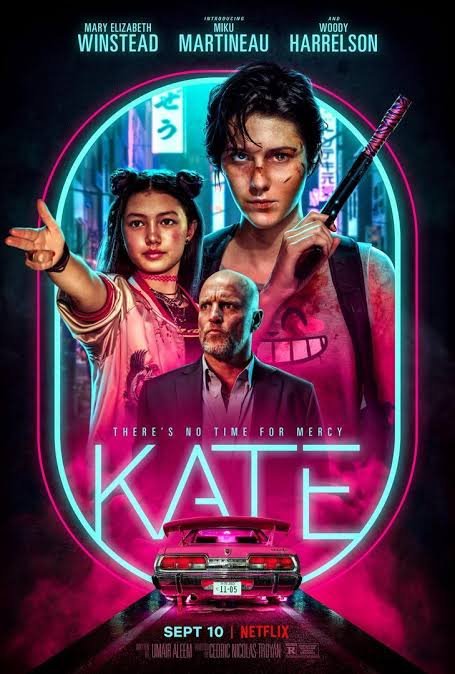 Image Source
The Plot
The movie starts with Kate who is an assassin and except sniper and her boss Varrick in a vehicle on a mission to Osaka to kill one of the powerful Yakuza syndicates. She aimed at the victim who came for a meeting but resisted to shot the culprit because a child who happened to be his daughter unexpectedly accompany him to the meeting but eventually shoots the target at Varrick's order.
Kate successfully shoots their target but unfortunately, this led to the breach of her personal rules which was to not kill in the presence of children which usually leaves her in emotional turmoil and as a result of this, she tells Varrick that she will do just one final mission and then retire so she can start a new life. Varrick was aware of her rules in the game but he couldn't lose the target because of her personal rules or emotional trauma so he accepted to let her go after one final mission.
---
---
During her final mission, she came in contact with a stranger named Stephen who she met at the hotel bar with whom she drank and spent the night. She leaves for her last mission but couldn't shoot the target because of the effect of the drugs put in her drink which she wasn't aware of.
In her bid to flee the scene she gets into an accident and finds herself in the hospital where she finds out that she has been poisoned with deadly drugs that have no cure and she only has 24 hours to live, she decided to use her last hours to get revenge and find out the truth.
She tracks down Stephen and finds out that he was sent to kill her by Sato who happens to be a member of the Yakuza syndicate and also suspected that their leader Kijima was behind her mishap.
In her quest to gather information and get revenge on Kijima who happens to be the leader of the syndicate group, she finds Ani who happens to be Kijima's niece, and decided to lure him using her.
Holding Ani has hostage, she realizes that Ani is the girl who was with her father when she (Kate) shot him during the Osaka mission. She decides to protect her instead of giving her out to her uncle who was also her enemy.
When she finally comes face to face with Kijima, she realizes the person who she was in search of wasn't Kijima. The truth was revealed leaving Kate in awe and filled with anger to take revenge and correct all her wrongs.
---
---
Thank you all for always finding time to read through my content, my happiness has no bounds when I see your comment, reblogs, and upvote on my articles. I pray that God bless you all for real.

---
---