Angrily Ever After Movie Review

A black woman who has the morning anchor position of WBX DC a few weeks before her wedding saw her soon-to-be husband through the dressing room mirror kissing another lady just outside the shop she was testing and buying her wedding gown.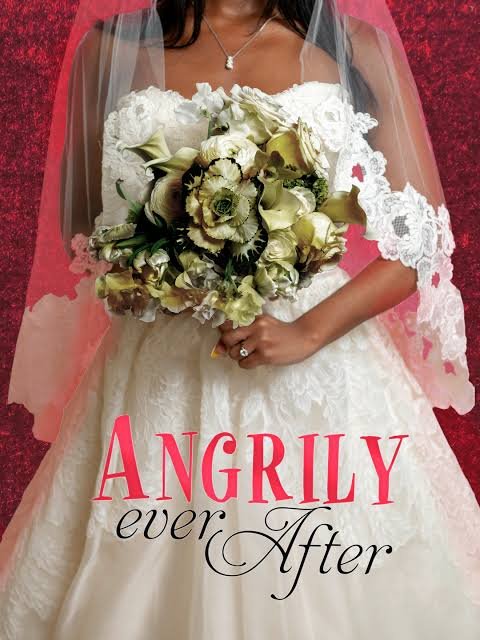 Image Source
Her anger got the best of her as Tia Logan dashed out of the room with the wedding gown she was trying on even before her best friend could stop her from creating a scene and lashed at her soon-to-be husband and his mistress calling off the wedding.
What she never knew was that everything she did was been captured by an unknown photographer who immediately sent it to her company. This single act of hers was against her company policies and which caused her to be suspended from the company and all her money invested in the wedding was nonrefundable. She was also given the name hashtag #Angryblackwoman
She cried out her eyes because everything she had worked for in 24 crumbled to the ground and her house was also taken. She thought that was the end of her life and career until a long-time college friend brought to her notice a job opportunity as a radio speaker in a gossip company although she didn't want the job but was encouraged by her best friend to go for the job.
She goes into the new company, and began to make names and countless followers in her Twitter handle, fell for her new boss who is also her college friend but was afraid to admit it, her ex-fiance comes to plead with her and after a while, she decided to accept his plea and go back to the relationship. Her friend tried to warn her but she loved her ex-fiance and want to give their relationship a chance. The wedding was fixed again, against everyone's wish but on the day of the wedding, she walked out on him stating that she deserves better.
She gets a new house, goes back to writing her book, and boom, the book was accepted and published. She got recognized by thousands of broken women who have gone through so much in life and began public speaking with women with different problems, challenges, and pains.
She finally accepts she loves her ex-boss and her dream was accomplished to the amazement of all.
---
---
Angrily Ever After is a comedy-drama released on September 21, 2019, and its run time is 83 minutes. Directed by Terri J.Vaughn and the top cast are Jasmine Burke as Tia Logan, Ta' Rhonda Jones as Jillian James, Todd Anthony as Malcolm Wright, Tyrone Marshall Brown as Van Joyner, and Terayle Hill as Austin Bean.
My Thought
At a stage where her college friend Van Joyner came to her with a job opportunity, the movie became predictable and I could tell that her best friend Jillian James who always told her she never wants to get attached to any guy was going to fall for Tia's new colleague Austin Bean.
The actors did a good job in their roles and it was an exciting movie. The movie's title Angrily Ever After portrays the story in my opinion and I wouldn't mind rating the movie as 9/10.
---
---
Lesson
It's one thing to have a friend and it's another to have a friend who is ready to stand by you through your challenges, Jillian was indeed a good and trusted friend although a little crazy but she portrayed what a true friend is all about.
Tia Logan thought all hope was lost and was discouraged after her career, her fiance, and her house was all gone just in 24 hours due to the scandal. She was afraid if she would be able to get back her love life at her age and a good career what she didn't know that it was the beginning of her breakthrough. She not only got a man who loves her better than her ex-fiance but she also got a man who was ready to assist her to accomplish her dream.
---
---
Thank you all for always finding time to read through my content, my happiness has no bounds when I see your comment, reblogs, and upvote on my articles. I pray that God bless you all for real.

---
---