Install Medibang Pain Pro software and create your digital illustrations // Instala el programa Medibang Pain Pro y crea tus ilustraciones digitales [ENG-ESP]
ENGLISH
Today I'm going to share with you how easy it is to install the digital illustration program MEDIBANG PAINT PRO, so you can start making your digital artworks today :)
With the program MEDIBANG PAINT PRO, I took my first steps in digital illustration:) in fact I used it to make my first NFT works for two (2) years. That's why it has a special meaning for me. Then I bought a more powerful PC and started using Photoshop.
MEDIBANG PAINT PRO is a very good program, it's free, it doesn't consume a lot of PC resources and it has a range of brushes that allows you to make good illustrations :) Let's start then:
First we do a search. We put the name of the program "Medibang Paint Pro download" in the search engine.
ESPAÑOL
Hoy te voy a compartir lo fácil que es instalar el programa de ilustración digital MEDIBANG PAINT PRO, para que empieces a realizar tus obras digitales hoy mismo :)
Con el programa MEDIBANG PAINT PRO, dí mis primeros pasos en la ilustración digital:) de hecho lo utilicé para realizar mis primeras obras NFT por dos (2) años. Por ello tiene un significado especial para mí. Luego me compré una PC más potente y empecé a utilizar Photoshop.
MEDIBANG PAINT PRO es un programa muy bueno, es gratuito, no consume gran cantidad de recursos de PC y tiene una gama de pinceles que te permite hacer buenas ilustraciones :) Empecemos entonces:
Primero realizamos una búsqueda. Colocamos el nombre del programa "Medibang Paint Pro descargar" en el buscador.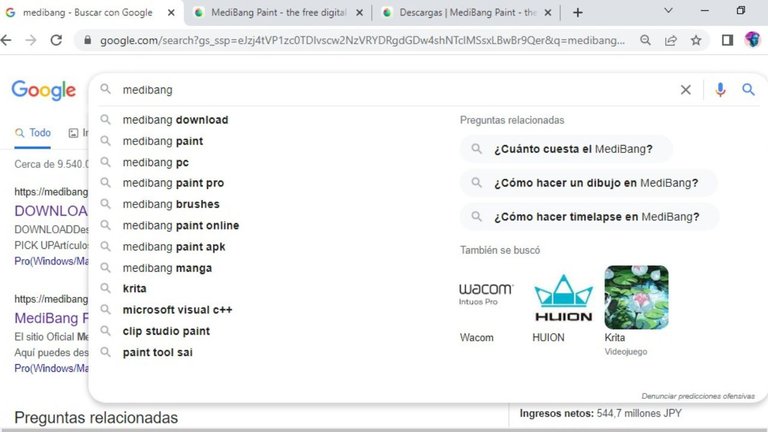 We click on the link that takes us to the download page of the program.
Hacemos clic en el enlace que nos lleva a la página de descarga del programa.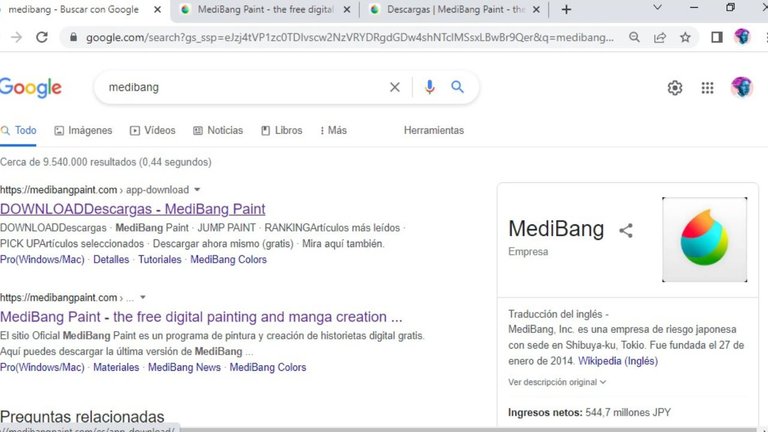 We will see the options that we can download, according to our equipment and operating system.
Veremos las opciones que podemos descargar, de acuerdo a nuestro equipo y sistema operativo.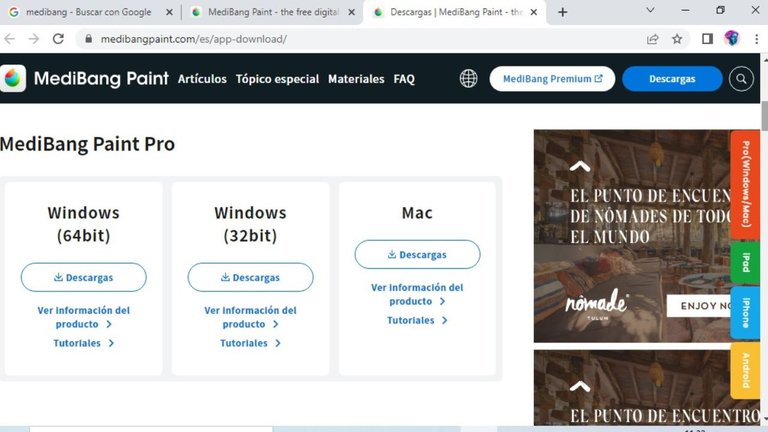 You also have the option of downloading to mobile devices.
Tienes la opción también de descargar en dispositivos móviles.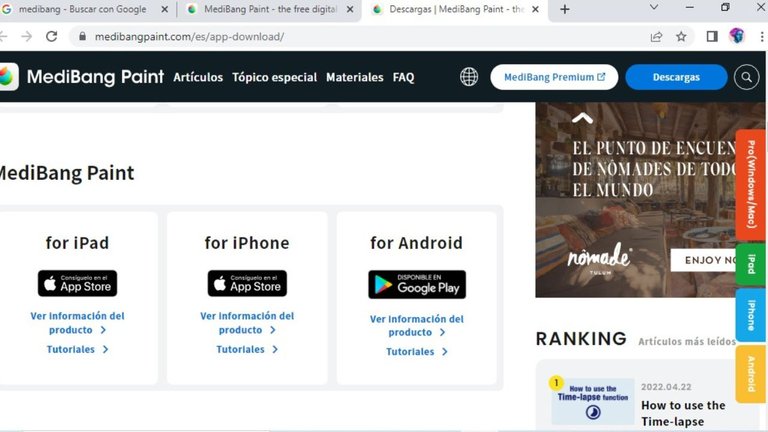 I downloaded the version that is most convenient for me. In my case version for PC and windows (64 bit).
Once downloaded you double click and run the installation program.
Yo descargué la versión que me resulta más conveniente. En mi caso versión para PC y windows (64 bit).
Una vez descargado, haces doble clic y ejecutas el programa de instalación.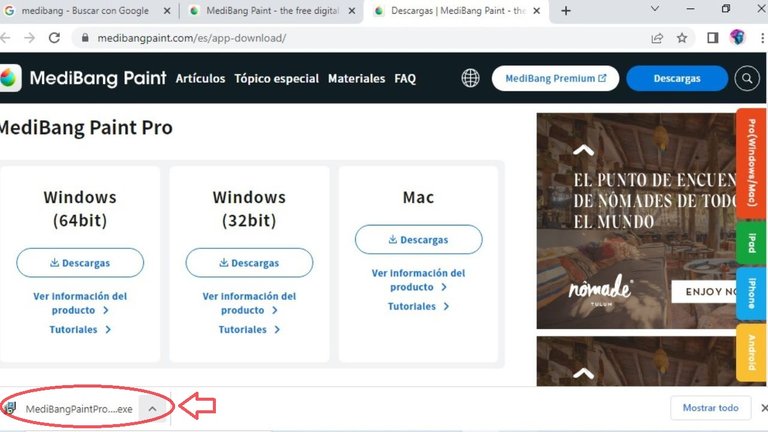 You follow the installation steps. It is very simple :)
Sigues los pasos para la instalación. Es muy sencillo :)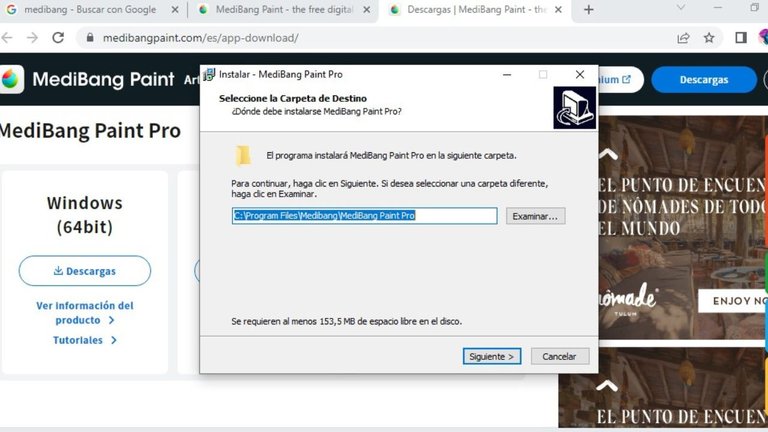 Finally you have your program installed, ready to start creating! :)
Finalmente tienes tu programa instalado, ¡Listo para empezar a crear! :)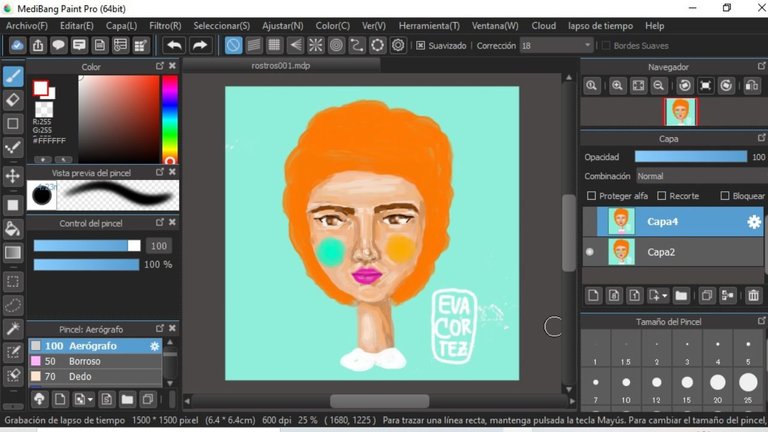 Trabajar con el programa Medibang Paint Pro es muy sencillo; pero si quieres una guía paso a paso, tengo un curso disponible en donde te enseño cómo crear tu primera obra digital con Medibang Paint Pro. En el siguiente enlace tienes toda la información :)
Curso: Crea tu primera ilustración digital con MEDIBANG PAINT PRO
Gracias por visitar mi blog. Ten un feliz día :)

---
---