Un día de música y amistad | Music & Friendship
El pasado martes tuve otra de mis clases de teclado y luego de eso me reuní con una buena amiga que conocí en la blockchain, les comento que mi profesor se mantiene preguntando en cada clase sobre lo que ya hemos visto y nos anima (¿o tal vez nos asusta?) diciendo que en tres meses debemos tener preparada una pieza para la presentación final de la escuela de música. Nos sigue brindado información, la cual me sirve para reforzar conocimientos e ir asimilando más sobre la teoría musical.
Last Tuesday I had another one of my keyboard classes and after that, I met with a good friend I met on the blockchain, I tell you that my teacher keeps asking us questions in every class about what we have already seen and encourages us (or maybe scares us?) saying that in three months we must have a piece ready for the final presentation of the music school. He continues to give us information that helps me to reinforce my knowledge and to assimilate more about music theory.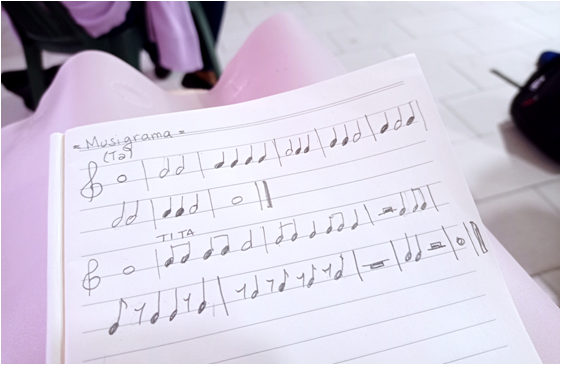 Un poco de solfeo - Musigrama / A little bit of solfège.
Hemos cubierto temas como el Cifrado Americano y ya hemos empezado a solfear gracias a lo que el llama Musigrama. El profesor nos dice que lo usa en las clases de los más pequeños obteniendo buenos resultados, nos contó que es una buena forma para empezar en el mundo del solfeo. Fue bastante divertido solfear en grupo pues hasta con las equivocaciones nos reímos, el grupo ha crecido y ahora somos seis alumnos todos bien atentos a cada explicación, la verdad me encanta todo lo que la música me hace sentir.
We have covered topics such as The Musical Alphabet and we have already begun to solfear thanks to what he calls Musigram. The teacher tells us that he uses it in the classes of the youngest children obtaining good results, he told us that it is a good way to start in the world of solfeggio. It was quite fun to solfeggio in the group because even with the mistakes we laughed, the group has grown and now we are six students all very attentive to each explanation, the truth is that I love everything that music makes me feel.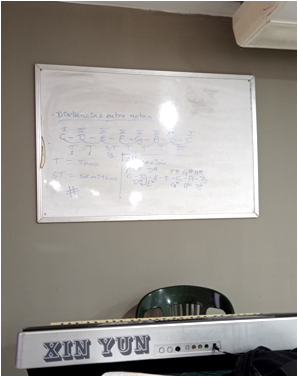 Teoría musical durante mi clase de teclado/Music theory during my keyboard class.
Para mí la música ha sido una completa bendición en mi vida no solo porque me permite llegar a experimentar sentimientos sublimes cuando canto sino también por todas las personas maravillosas con las que me ha hecho coincidir en la vida. Cuando empecé a crear contenido para la blockchain, si bien entre para crear contenido musical, no llegué a pensar en toda la gente a la que podría conocer gracias a la música.
Music has been a complete blessing in my life not only because it allows me to experience sublime feelings when I sing, but also because of all the wonderful people I have met in my life. When I started creating content for the blockchain, while I went in to create music content, I never thought about all the people I could meet through music.
Tantas semanas publicando covers, canciones originales, participando en concursos, iniciativas musicales, ser invitada a programas de discord para cantar o hacerlo simplemente por diversión. Todas esas experiencias me fueron conectando con muchas personas que me han ayudado durante mi experiencia en la blockchain y de quienes he aprendido de múltiples formas.
So many weeks posting covers and original songs, participating in music contests and initiatives, being invited to discord shows to sing, or just doing it for fun. All those experiences were connecting me with many people who have helped me during my experience in the blockchain and from whom I have learned in multiple ways.
Una de esas personas a las cuales me ha unido la música es @geadriana, a quién conocí cantando en Discord, recientemente tuvimos la oportunidad de reunirnos nuevamente pues ella estuvo en Lechería por actividades laborales. Ella fue la amiga con la cual compartí un buen momento luego de mi clase de teclado.
One of those people with whom music has united me is @geadriana, who I met singing on Discord, recently we had the opportunity to meet again because she was in Lechería for work activities. She was the friend with whom I shared a good time after my keyboard class.
Esta vez su agenda estuvo aún más apretada así que tuvimos tan solo un breve espacio para compartir y conversar sobre muchas de las cosas que nos apasionan ¡No podía faltar la música! Aunque en esta oportunidad no pudimos cantar, ella estaba recuperandose de un resfriado, de igual forma conversamos sobre algunas de las cosas que deseamos hacer a nivel musical.
This time her schedule was even tighter so we had just a brief space to share and talk about many of the things we are passionate about, music couldn't be missing! Although this time we could not sing, she was recovering from a cold, we still talked about some of the things we want to do musically.
Siempre que nos encontramos la música está presente y también le sumamos algún rico sabor para recordar, esta vez merendamos con un hojaldre de queso crema con pepperoni en una panadería cercana al sitio donde nos encontramos, ninguna de las dos había probado esta combinación antes y quedamos encantadas con esa mezcla de sabores.
Whenever we meet music is always present and we also add some delicious flavor to remember, this time we snacked with a cream cheese puff pastry with pepperoni in a bakery near the place where we met, neither of us had tried this combination before and we were delighted with that mix of flavors.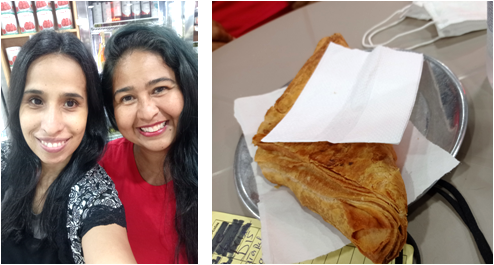 Un día lleno de música, amistad y sabores / A day full of music, friendship and flavors.
También pude disfrutar de la belleza del espacio del lugar donde Gea se estaba hospedando, donde unas flores exóticas parecen hacer música con su belleza.
I was also able to enjoy the beauty of the space where Gea was staying, where exotic flowers seem to make music with their beauty.

La naturaleza del lugar de la Casa China en Lechería/ The nature of the Chinese House site in Lechería (Venezuela).
Una mariposa monarca parecía ser la directora de la orquesta mientras, al igual que yo, disfrutaba de la belleza y calidez del lugar. La música siempre será mi sitio seguro, el que me conecta con bellas emociones y que me ha hecho coincidir con gente estupenda. Cada día agradezco por todas las puertas que me ha abierto y por las personas que he podido conocer gracias a ella.
A monarch butterfly seemed to be the conductor of the orchestra while, like me, I enjoyed the beauty and warmth of the place. Music will always be my safe place, the one that connects me with beautiful emotions and has brought me together with great people. Every day I am grateful for all the doors it has opened for me and for the people I have been able to meet thanks to it.
¡Gracias vida, gracias música!
Thank you life, thank you music!
---
Fotos tomadas con mi Xiaomi Redmi Note 9
---
¡Un gran abrazo! A big hug!
Gracias por pasar por aquí, por detenerte a leer o a escuchar, por comentar, por votar.
¡Gracias por todo tu apoyo!
Thanks for all your support!

---
---
---
---