Pasta casera, una delicia en familia (Esp-Eng)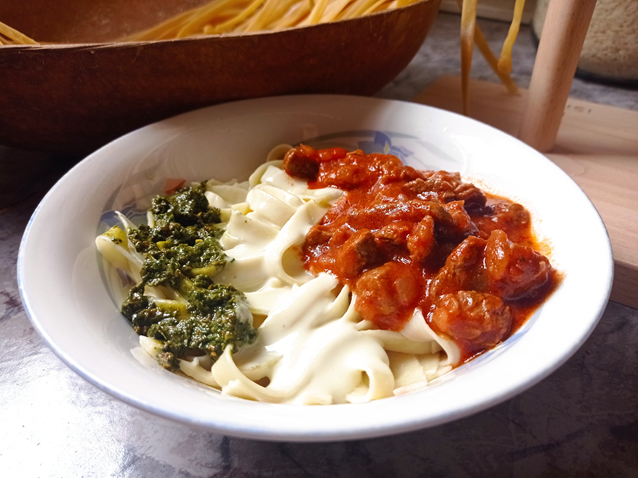 Pienso que la Pasta es uno de los alimentos más queridos y consumidos en el mundo entero, es tan versátil y exquisita. Ya sea acompañada con un sencillo pesto o embebida con una deliciosa salsa hecha con frutos del mar, sin olvidar la típica salsa Boloña, la pasta siempre será uno de los platos favoritos de muchos de nosotros.
I think that pasta is one of the most loved and consumed foods in the world, it is so versatile and exquisite. Whether it is accompanied with a simple pesto or soaked with a delicious sauce made with seafood, not to mention the typical Bolognese sauce, pasta will always be one of the favorite dishes of many of us.
Hace algún tiempo hice pasta casera, recuerdo haber preparado Agnolottis rellenos de ricota con espinaca, quedaron muy ricos en su cuanto a su sabor, sin embargo, el grosor pudo ser menor. Los disfruté, pero me quedé pensativa dilucidando en cómo habrían quedado de tener una máquina de pasta.
Some time ago I made homemade pasta, I remember preparing Agnolottis stuffed with ricotta and spinach, they were very tasty, however, the thickness could have been less. I enjoyed them, but I was left wondering how they would have turned out if I had a pasta machine.
Una prima compró una máquina de pasta y otros utensilios para prepararla recientemente, entonces quedamos en que prepararíamos Pasta al huevo desde cero, vino a mi casa y pasamos una velada muy amena entre risas, plática y sabores.
A cousin bought a pasta machine and other utensils to prepare it recently, then we agreed that we would prepare egg pasta from scratch, she came to my house and we spent a very pleasant evening between laughter, conversation and flavors.
¡Y ahora vamos con la receta!
---
Ingredientes Ingredients
---
100 gramos de harina por cada huevo.
Estimamos 100 gramos de pasta por persona, por tanto usamos 700 gramos de harina todo uso y 7 huevos.
100 grams of flour for each egg.
We estimate 100 grams of pasta per person, so we use 700 grams of all-purpose flour and 7 eggs.
---
¿Cómo prepararlo? How to prepare it?
---
Teniendo nuestros ingredientes a temperatura ambiente se procede a pesar la harina, recuerda que son 100 gramos de harina por cada huevo que vayas a utilizar.
Having our ingredients at room temperature we proceed to weigh the flour, remember that there are 100 grams of flour for each egg you are going to use.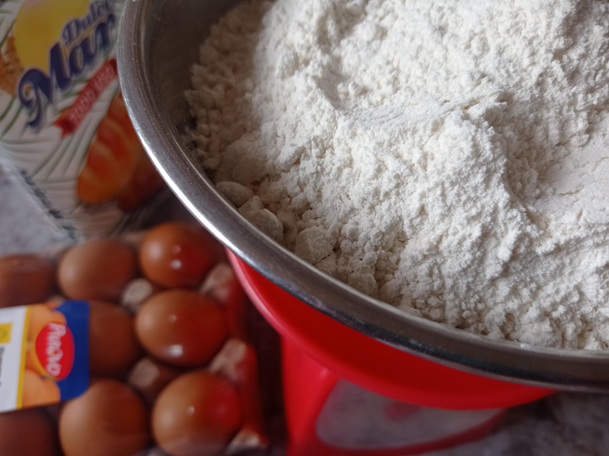 Coloca la harina sobre el mesón de cocina, hacemos un volcán con la harina y colocamos los huevos poco a poco, ayudándonos de un par de tenedores, vamos incorporando la harina, amasamos con la palma de la mano hasta obtener una masa compacta, quizá te veas tentado a añadir más harina, pero no lo hagas, solo ten paciencia al momento de amasar. Obtendrás una hermosa masa.
Place the flour on the kitchen counter, we make a volcano with the flour and place the eggs little by little, helping us with a couple of forks, we incorporate the flour, knead with the palm of the hand until you get a compact dough, you may be tempted to add more flour, but do not do it, just be patient when kneading. You will get a beautiful dough.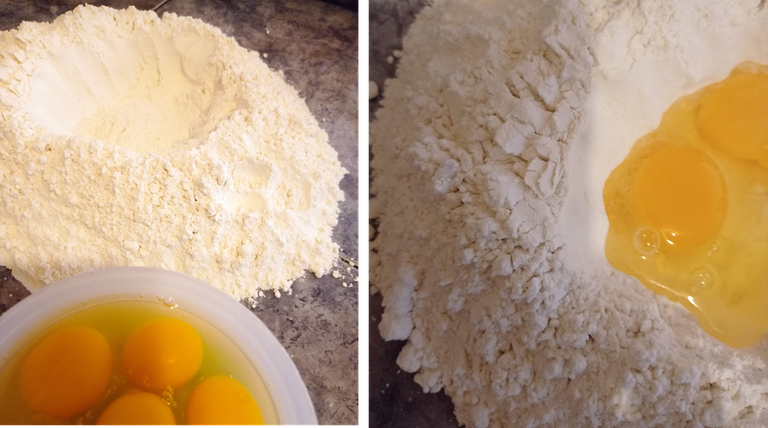 Envuelve en papel film y deja reposar en la nevera por unos veinte minutos.
Wrap in plastic wrap and let it rest in the refrigerator for about twenty minutes.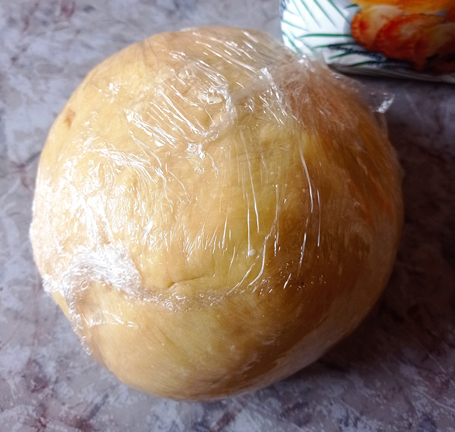 Una vez que haya pasado el tiempo de reposo, toma la masa y divídela en varias porciones. Te recomiendo aplanar primero con un rodillo para hacer el trabajo en la máquina aún más sencillo. Pásala varias veces por la máquina hasta ver que la masa queda bien delgada.
Once the resting time has passed, take the dough and divide it into several portions. I recommend flattening it first with a rolling pin to make the work in the machine even easier. Pass it several times through the machine until the dough is very thin.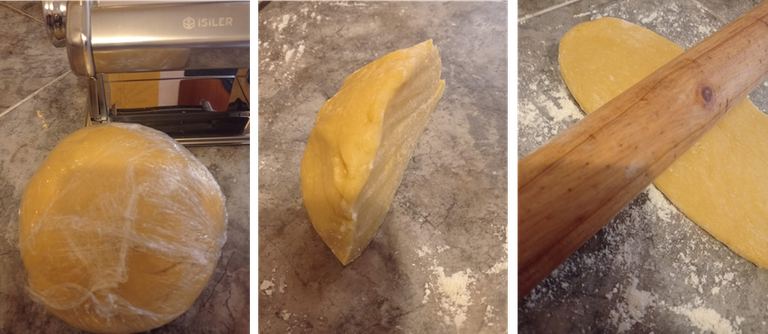 Nos decantamos por hacer tallarín y aquí los ven. Los llevamos a secar.
We decided to make tagliatelle and here you see them. We take them to dry.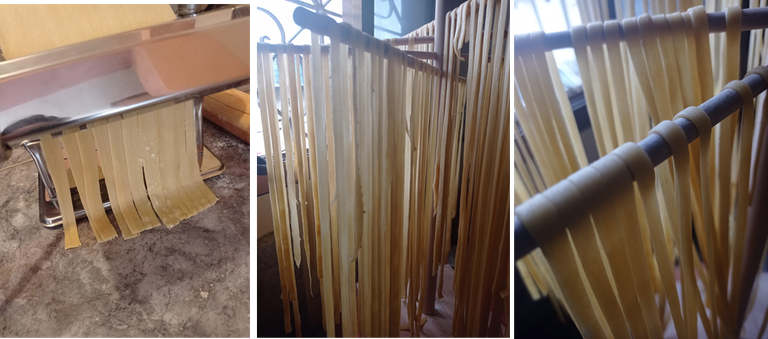 Cubrimos con un poco de harina. Una vez secos llevamos a cocción, la pasta fresca tiende a cocinarse muy rápido, puede tomar incluso el corto tiempo de 2 minutos, sin embargo, siempre prueba el punto en el que está tu pasta antes de sacarla del agua.
We cover with a little flour. Once dry we take them to cook, fresh pasta tends to cook very fast, it can take even the short time of 2 minutes, however, always test the point at which your pasta is before removing it from the water.
Esta deliciosa comida la compartirmos en familia, la salsa con la cual la acompañes queda a tu elección, en nuestro caso hicimos un trío de salsas con los colores de la bandera italiana con un pesto, salsa de queso azul y salsa de carne de res. ¡Toda una delicia!
We share this delicious meal with the family, the sauce with which you accompany it is up to you, in our case we made a trio of sauces with the colors of the Italian flag with a pesto, blue cheese sauce and beef sauce, all a delight!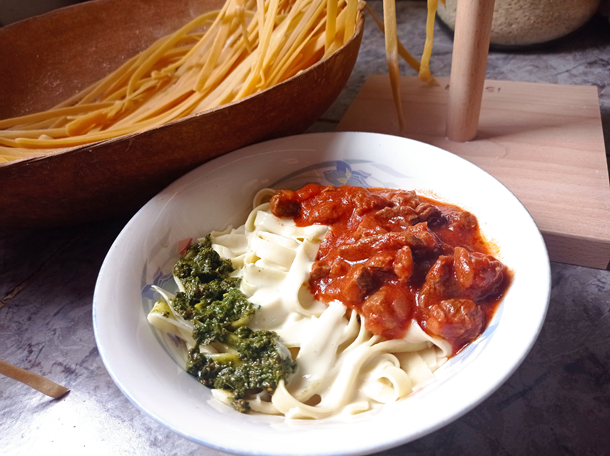 ¡Espero que se animen a hacer esta receta en sus hogares!
I hope you like this recipe!
---
Photos: Xiaomi Redmi Note 9 - Translated with DeepL - Portada hecha en Canva.
---
Gracias por pasar por aquí, por detenerte a leer o a escuchar, por comentar, por votar.
¡Gracias por todo tu apoyo!
Thank you for stopping by, for reading or listening, for commenting, for voting.
---
---