Muse (Dibujo digital) by Eugelys | (ESP-ENG)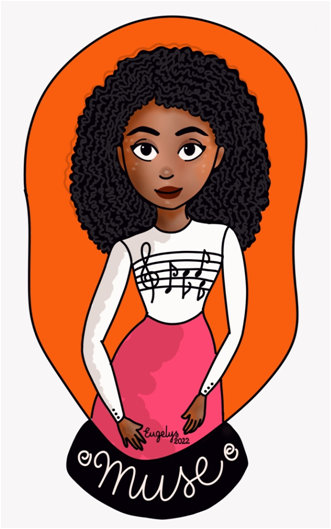 La musa aparece de vez en cuando para susurrar letras, melodías y armonías a mis oídos, otras veces pasa para regalarme algunos dibujos, también viene en forma de sabores cuando cocino y le coloco mi toque. Sin esa inspiración, sin esa musa ¿quiénes seríamos los creadores de contenido?, todo sería tan difícil al momento de crear, el bloqueo creativo se instalaría. Hay musas alocadas, algunas más serías y tal vez algunas sean muy traviesas y no nos den buenas ideas ¿lo han pensado?. Así que siempre toca discernir cual musa tomar, aquella que nos haga ver como profesionales en lo que hacemos, que puedan ser divertidas y alocadas pero no al extremo porque en ese caso podemos perder el rumbo.
The muse appears from time to time to whisper lyrics, melodies, and harmonies to my ears, other times it comes to give me some drawings, it also comes in the form of flavors when I cook and I add my touch. Without that inspiration, without that muse, who would we content creators be, everything would be so difficult to create, and the creative block would be installed. There are crazy muses, some are more serious and maybe some are very naughty and do not give us good ideas, have you ever thought about it? So we always have to discern which muse to take, the one that makes us look like professionals in what we do, that can be fun and crazy but not to the extreme because in that case, we can lose our way.
La diversión es importante y la seriedad también, son caras de la misma moneda y equilibrarlas logra que seamos seriamente divertidos pudiendo disfrutar lo que hacemos, amar el proceso de creación y obtener un resultado óptimo mostrando todo aquello que mejor sabemos hacer.
Fun is important and seriousness is also important, they are sides of the same coin and balancing them makes us be seriously fun being able to enjoy what we do, love the process of creation and obtain an optimal result showing all that we know how to do best.
Esta vez la musa me inspiró a dibujar... una musa, con sus toques musicales que representan mis canciones originales. Que sigan llegando las musas, que sepamos discernir a cuál seguir, que sigamos haciendo aquello que amamos y en lo que somos muy buenos.
This time the muse inspired me to draw... a muse, with her musical touches that represent my original songs. May the muses keep coming, may we know how to discern which one to follow, and may we keep doing what we love and what we are very good at.
Ahora quiero mostrarte algunos de los pasos realizados para crear este dibujo. ¡A dibujar!
Now I want to show you some of the steps taken to create this drawing. Let's draw!
---
¿Cómo lo hice? How did I do?
---
Todo empieza con el boceto que trazo con la herramienta Pincel Pluma (Tinta), se ha vuelto mi favorita para hacer bocetos, line art y es la que frecuentemente uso para los colores de relleno del dibujo. Esta vez quise hacer no solo el rostro sino un poco más del cuerpo.
It all starts with the sketch that I draw with the Pen Brush (Ink) tool, it has become my favorite tool for sketching, line art and is the one I often use for the fill colors of the drawing. This time I wanted to do not only the face but a bit more of the body.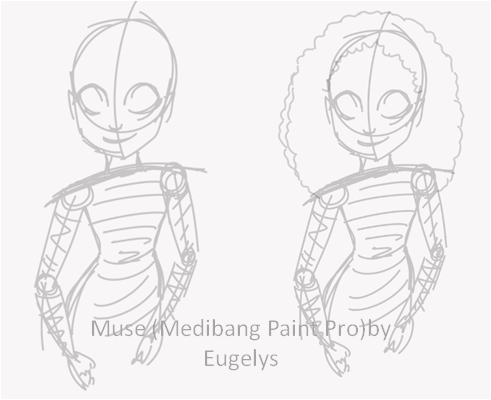 Sigo con el line art con la misma herramienta que les mencioné anteriormente, mi idea principal era hacer como una especie de hada, por eso las orejas puntigudas que ven en el line art pero luego cambié de idea. Añadí los ojos, en este dibujo también dibuje un ojo primero y otro después pero la verdad que no logro que me queden muy homogéneos así que opté. nuevamente por duplicarlos, solo así obtengo un resultado más homogéneo. Opté por dibujar unas cejas bien pobladas para esta chica.
I continue with the line art with the same tool that I mentioned before, my main idea was to make a kind of fairy, that's why the pointed ears that you see in the line art but then I changed my mind. I added the eyes, in this drawing I also drew an eye first and another one after but the truth is that I can't get them to be very homogeneous so I chose again to duplicate them, only this way I get a more homogeneous result. I chose to draw well-thick eyebrows for this girl.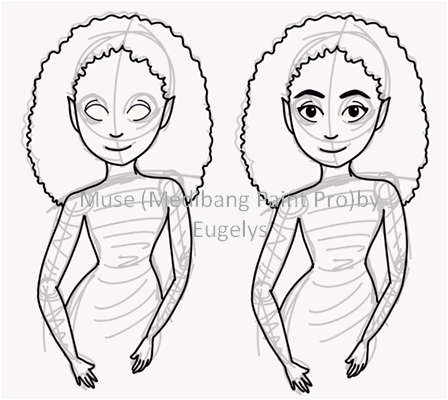 Luego se me ocurrió delimitar un poco el espacio en el cual se encuentra la musa, casi como que estuviera dentro de un contenedor, qahora que miro bien tiene una forma parecida a un cabeza humana. Para la piel estoy usando de base colores muy fuertes, en este caso usé un naranja y luego con un pincel mezclador agregué el tono de piel para hacer una chica morena.
Then it occurred to me to delimit a little bit the space where the muse is, almost as if she was inside a container, which now that I look closely has a shape similar to a human head. For the skin I am using very strong colors as a base, in this case, I used an orange, and then with a blending brush I added the skin tone to make a brown girl.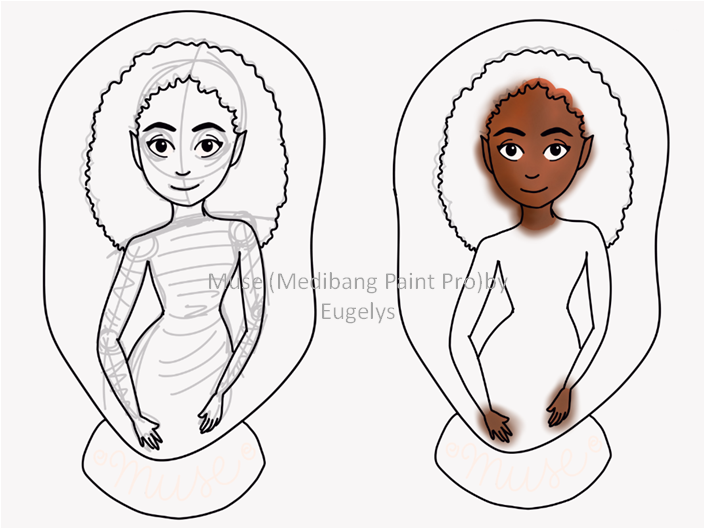 Fui colocando más luces y sombras en varios tonos, para sombras he empezado a usar colores que van a allá de marrones o negros y en este caso use un color naranja en algunas partes de su piel (el mismo usado en el fondo de la piel). Añadí los colores de fondo, también completé el line art de la falda, agregué una clave de Sol y figuras musicales en su outfit. Coloqué sombras en nariz, ojos, di color a los labios. Agregué pequeñas líneas curvas por todo el cabello para darle algo de textura.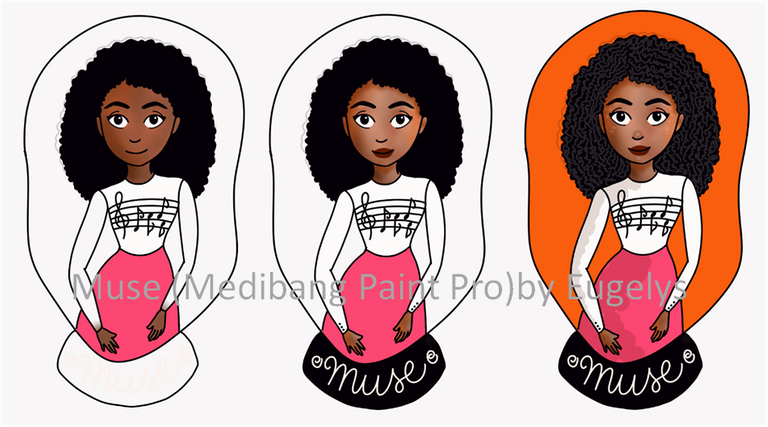 Generalmente coloco una sombra dentro del ojo pero en este caso la usé encima del párpado, añadi pequeños brillos. Al final cambié la dirección del punto de luz de sus ojos y ajusté un poco la posición de las pupilas.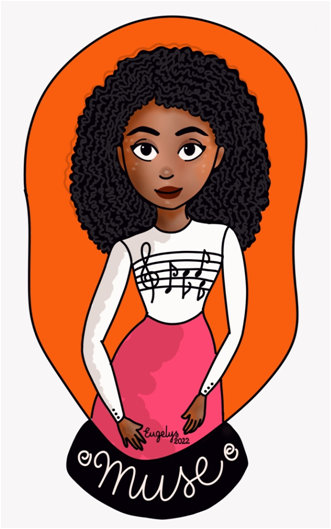 Y así quedó esta musa inspiradora, espero que les agrade esta creación.
¡Te agradezco por pasar por aquí , cuidate mucho, haz lo que amas y sonríe mucho!
Thank you for stopping by, take care of yourself, do what you love and smile a lot!

.
---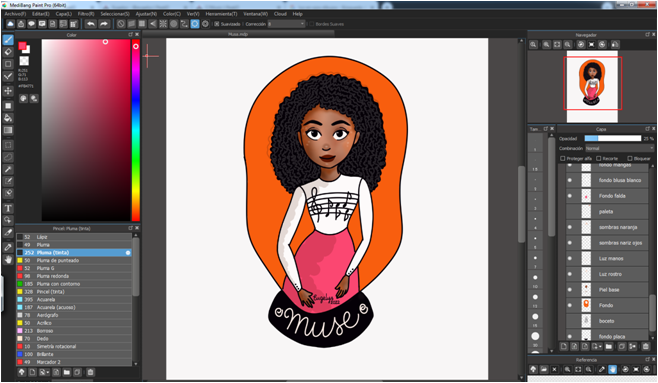 Huion H420 - Medibang Paint Pro.
---
Gracias por pasar por aquí, por detenerte a leer o a escuchar, por comentar, por votar.
¡Gracias por todo tu apoyo!
Thank you for stopping by, for reading or listening, for commenting, for voting.
---
---