Dúo de Ensaladas con aguacate y tomate | Avocado and tomato Salads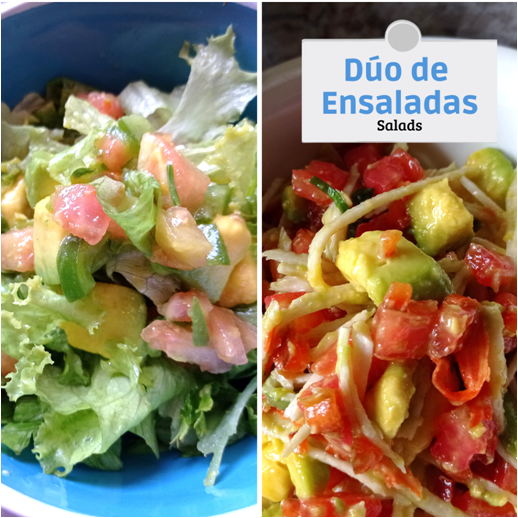 La comida sencilla puede resultar estupenda, como siempre les comento no es necesario pasar horas cocinando para obtener un buen resultado, el tiempo vale oro, disfrutarlo siempre debe ser el norte hacia el cual movernos.
Simple food can be great, as I always say it is not necessary to spend hours and hours cooking to get a good result, time is precious and enjoying it should always be the north towards which we move.
Las ensaladas son una deliciosa forma de alimentarnos y prepararlas no ocupa mucho tiempo, son perfectas para acompañar alguna proteína, también poseen la magia de poder tener la proteína en ellas, generalmente son refrescantes, si obviamos los aderezos con base en la mayonesa tendremos platillos ligeros que pueden aportarnos sensación de llenura.
Salads are a delicious way to feed us and preparing them does not take much time, they are perfect to accompany any protein, they also have the magic of being able to have the protein in them, they are generally refreshing and if we avoid the mayonnaise-based dressings we will have light dishes that can give us a feeling of fullness.
Hoy les presento un dúo de ensaladas, con dos ingredientes en común: el aguacate y el tomate. ¿Cómo resistirse a estas deliciosas frutas? ¡Que no lo parecen!
Today I present a duo of salads, with two ingredients in common: avocado and tomato. How can you resist these delicious fruits, they don't look like it!
Aquí mezclo algunos vegetales, un poco de surimi, pimentón rojo junto a otros ingredientes, más el aguacate y tomate para mostrarles dos ensaladas que me encantan ¡Y no tienen mayonesa!
Here I mix some vegetables, a bit of surimi, red bell pepper and so many other ingredients together with avocado and tomato to show you two salads that I love, and they don't have mayonnaise!
¡Y ahora vamos a la cocina!
And now let's get to the kitchen!
---
Uno One
---
Ensalada mixta con aguacate y tomate Mixed salad with avocado and tomatoes
Ingredientes (Ingredients)
---
12 hojas de lechuga.
2 tomates.
1/2 pimentón verde.
1/4 de aguacate.
Aderezo:
1 cucharada de mostaza.
Cebolla rallada (al gusto).
Cilanto o perejil (al gusto).
2 cucharadas de aceite (de tu preferencia).
Sal.
12 lettuce leaves.
2 tomatoes.
1/2 green bell pepper.
1/4 avocado.
Dressing:
1 tablespoon of mustard.
grated onion (depending on your taste).
Cilantro or parsley (depending on your taste).
2 tablespoons of oil (of your preference).
Salt.
---
¿Cómo prepararlo? How to prepare it?
---
Lo primero que hago es lavar muy bien la lechuga, la divido, reviso las hojas muy bien, la lavo con agua, para posteriormente dejarla remojando en agua con vinagre por unos 15 minutos, la seco muy bien y reservo.
The first thing I do is wash the lettuce very well, divide it, check the leaves very well, wash it with water, and then let it soak in water with vinegar for about 15 minutes, dry it very well and set aside.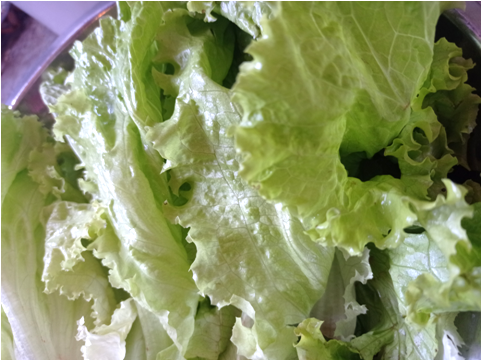 Pico en cubos el tomate y el pimentón, lo agrego a la lechuga previamente colocada en un bol.
I dice the tomato and paprika and add it to the lettuce previously placed in a bowl.

Pico el aguacate en cubos y lo añado a los demás ingredientes.
I dice the avocado and add it to the other ingredients.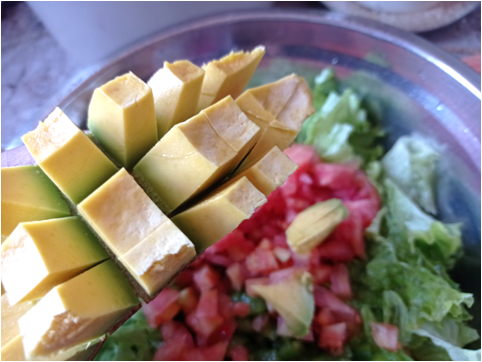 Preparo el aderezo mezclando la mostaza, cebolla rallada, aceite, cilantro o perejil y sal.
I prepare the dressing by mixing the mustard, grated onion, oil, cilantro or parsley and salt.

And now to mix everything.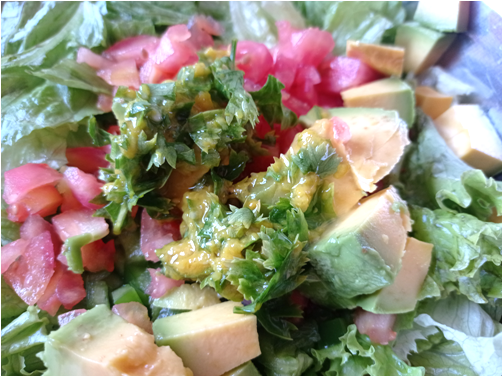 ¡Listo! / Ready!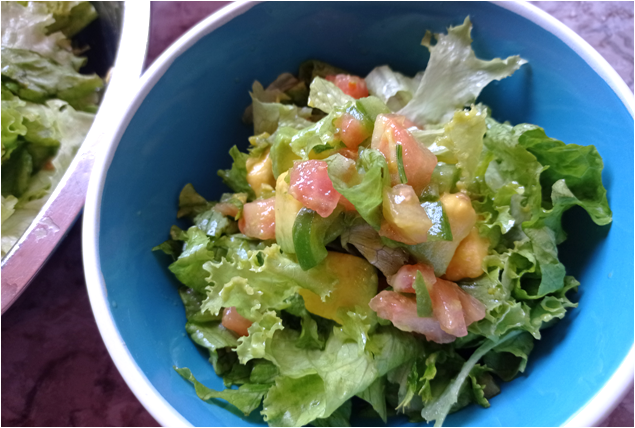 ---
Dos Two
---
Ensalada de surimi, aguacate y tomate Surimi, avocado and tomato salad
Ingredientes (Ingredients)
---
---
2 Unidades de surimi.
2 tomates.
1/4 de aguacate.
1/4 de pimentón rojo.
Cebollín.
Limón.
Sal.
2 units of surimi.
2 tomatoes.
1/4 avocado.
1/4 red bell pepper.
Chives (green onion).
Lemon.
Salt.
---
¿Cómo prepararlo? How to prepare it?
---
Dejar descongelar el surimi, para esta receta usé dos unidades, cuando haya alcanzado la temperatura ambiente, deshebrar.
Let the surimi thaw, for this recipe I used two pieces, when it has reached room temperature, shred it.

Pico en cubos muy pequeños el pimentón rojo, me gusta usar de este tipo porque añade un dulzor especial, también pico en cubos el tomate y el aguacate, lo agrego al surimi.
I dice the red bell pepper into very small cubes, I like to use this type because it adds a special sweetness, I also dice the tomato and avocado and add them to the surimi.

Pico el cebollín en tiras (me hace pensar en las algas) y luego en pedazos más pequeños, lo incorporo y para terminar agrego limón y sal. El limón hará que el aguacate se suavice bastante y se irá formando una especie de cremosidad en él.
I chop the green onions into strips (makes me think of seaweed) and then into smaller pieces, incorporate them and finally add lemon and salt. The lemon will make the avocado softer and a kind of creaminess will form on it.

¡Y así queda!/ And that's what it looks like!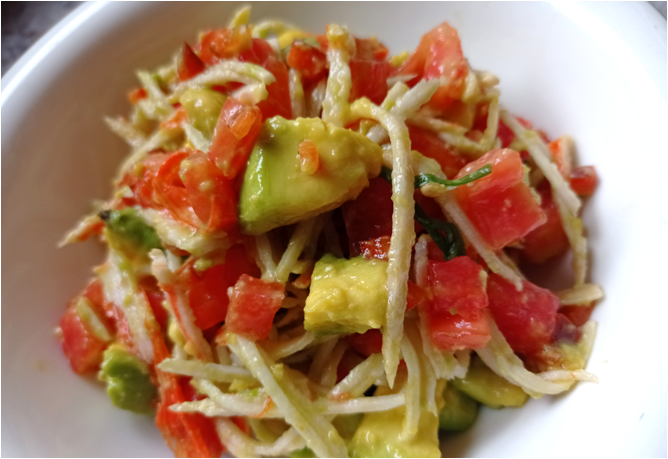 Este dúo de ensaladas coloridas, frescas y deliciosas son ideales cuando tienes poco tiempo para cocinar pero de igual forma quieres comer algo delicioso y bajo en calorías.
This duo of colorful, fresh, delicious salad is ideal when you have little time to cook but still want to eat something delicious and low in calories.
---
¡Espero que te gusten estas recetas!
I hope you like these recipes!
---
Photos: Xiaomi Redmi Note 9 - Translated with DeepL - Portada hecha en Canva.
---
Gracias por pasar por aquí, por detenerte a leer o a escuchar, por comentar, por votar.
¡Gracias por todo tu apoyo!
Thank you for stopping by, for reading or listening, for commenting, for voting.
---
---