Playing with Diesel Pools on Hive-Engine: HIVE<->HBD, and some FinTech opportunities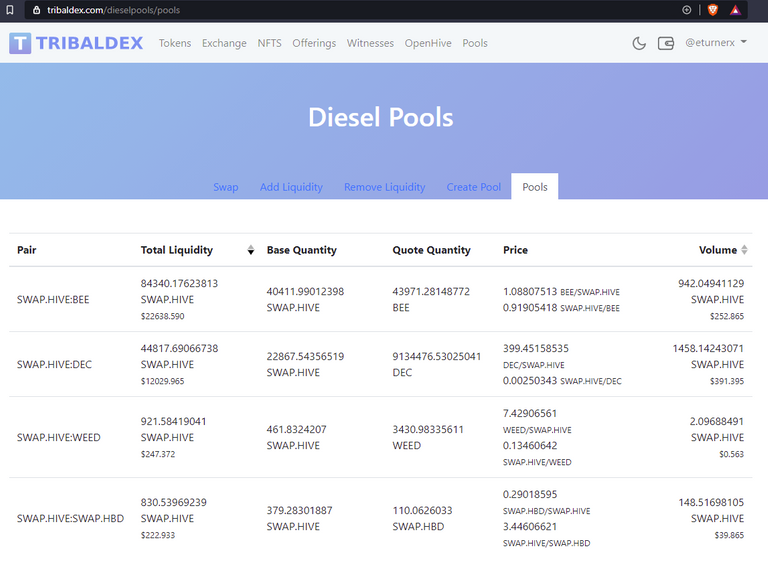 I've been eagerly awaiting the coming of Diesel Pools on Hive-Engine so that we have ways to keep markets liquid without relying on order-books and market makers. As soon as @aggroed announced that diesel pools were live, I went and created my own for exchanging SWAP.HIVE and SWAP.HBD which are the pegged tokens for HIVE and HBD on Hive Engine.
Creating HIVE<->HBD swap
The creation process was easy: pay 1,000 BEE and select a pair. There's no obligation to add liquidity, but one really should. So, I went to add liquidity and discovered that diesel appears to take the initial pricing appears from the Hive Engine exchange, and the spread was terrible. So, I put in some tokens and then performed swaps to move the pricing to what external markets report.
At first, Diesel rejected my swap transactions due to slippage, so I made several smaller transactions until the swap pricing got close to the pricing reported by Coingecko. If I were to do this again, I'd first stuff a few orders into the order book to close the spread before creating the swap pool. Using swaps to adjust the pricing on a live market asks for somebody attentive to acquire your bags.
If all of this swap stuff seems alien to you, what it means is that it becomes easier to for dApps to accept any crypto you want to supply and have it changed into the crypto that they wish to. That means you could use your rewards from one dApp and use it to buy things in another. Your dCity SIM could get your Splinterlands DEC, for example.
Big news for HIVE FinTechs
What are the opportunities for FinTechs? The most obvious is that there will be many exciting arbitrage opportunities the more swap pool there are. With HIVE's no gas fees, it will be easier for arbitragers to keep the markets fair. What this means for customers is the fairest rates for their token swaps. I'll repeat myself for the soundbite. HIVE can have the fairest swap rates because there are no gas fees.
The second fintech opportunity is to do with the deep of pools vs price stability. Liquidity pools often need many tokens locked up sitting there relative to the size of trades that go through the pool. If the pool lacks liquidity, then ordinary trading will swing the prices too much. Slippage controls how much prices move between the time the user sees a price and the trade occurs. But, slippage control happens after the user submits a swap transaction. There's room for HIVE FinTechs to provide firm price quotes so that customers and dApps can act with certainty and not have to worry about slippage at all.
Sure, this is stuff the big guys do already, but their granularities are long and contract sizes too large. On HIVE, price quotes could even be offered on a micro-transaction by micro-transaction basis in realtime and last for only as long as useful.
And that's the buzz.
---
Here's why you should vote for my Hive Engine witness, @eturnerx-honey, on TribalDex.
---
---