Load out for a minimal-ish overnight camp

On a recent overnight camp, I decided to try taking just one small bag. The reason for such exercises is to gain practise with a limited amount of gear to be confident in carrying less. I had my friend with me, and he tends to travel gear-heavy, plus we are an hours walk to the car park along an easy track. If there are any problems, then there is a safe escape plan. One must manage the level of risk versus the weather, terrain, skills and gear. The weather forecast was an overnight low of 10 deg celsius with some scattered showers in the evening. Let's start with a picture of my setup. The goal is to carry everything with a small sling-pack.
The Shelter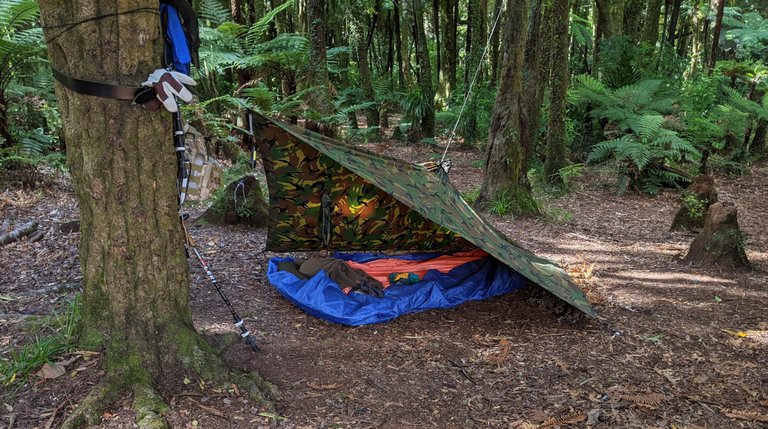 The shelter is a military-style poncho setup in a plow-point (diamond) configuration with a second poncho (blue) for the groundsheet. I use marine shock cord to attach the shelter to a tree because marine-shock is lighter than a regular bungee cord. I have marine-shock loops attached to the poncho eyelets using twigs toggles, and then these loops are pegged to the ground with V stakes. Debris (mostly dried fern) around the inside of the shelter prevents wind from coming up underneath.
Verdict: The setup is fine - I've slept under plow-points before. There was an evening rain shower, and I didn't even get a little bit wet. I did pitch on a slight downslope, so I slid. I should've pitched on less of a slope and built up the floor a bit with some dried ferns.
The Slingpack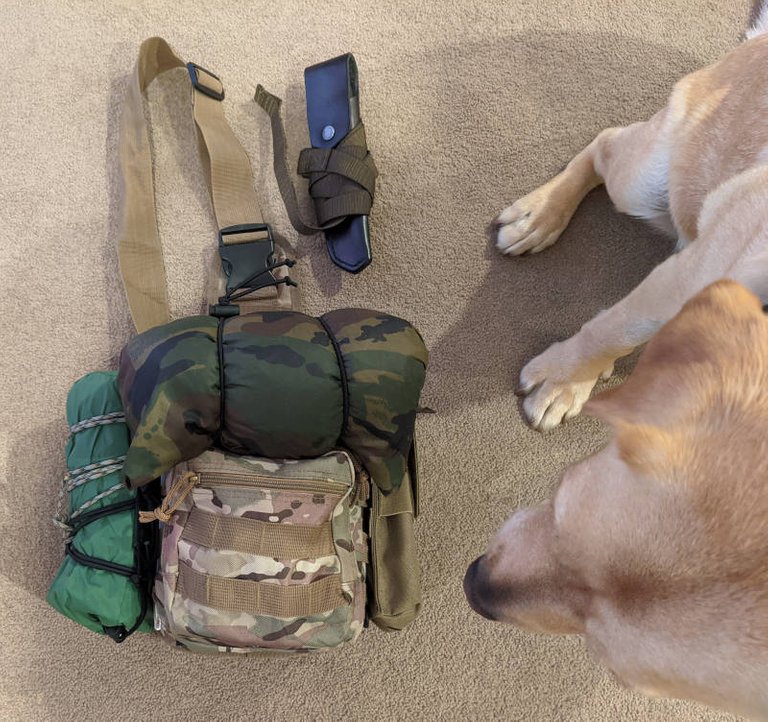 And here is my loadout rolled and ready to go with the dog for scale. Not pictured are my phone, trekking poles and great kilt. I tucked the phone and a metal water bottle into the kilt.
The bag is a cheap sling-pack from a Chinese website which is a lower-quality clone of something made by more famous brands. On the left are an inflatable sleeping mat and six tent stakes held on by shock-cord loops and 550 paracord. The poncho is folded into its pocket, rolled up with the VBL liner inside then bungeed to the top of the sling pack. On the right of the bag is an M4 magazine pouch with my saw and titanium spork inside. I wore the Morakniv Garberg knife around my waist but hidden under the kilt to not alarm the general public.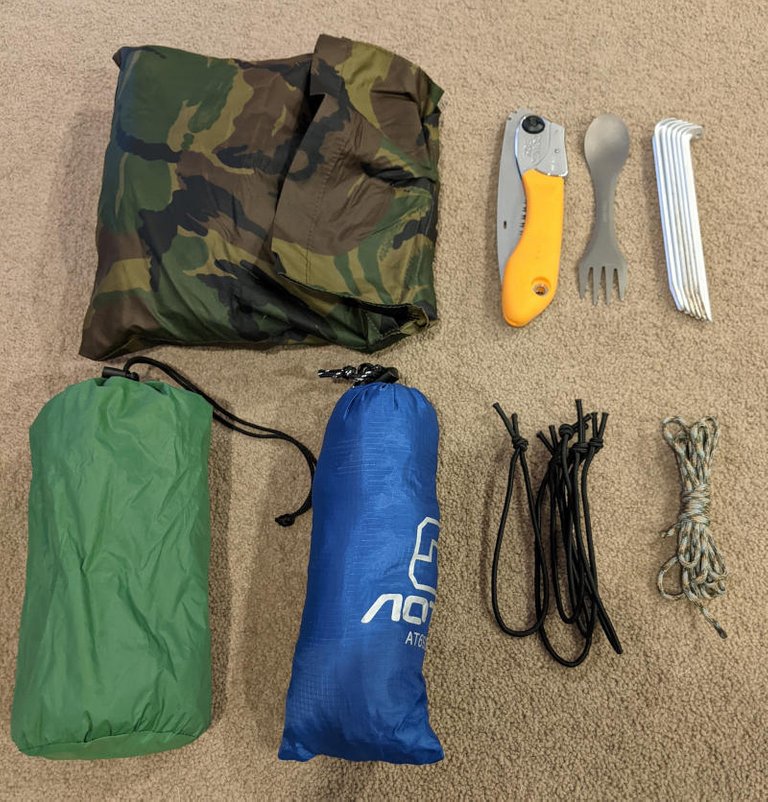 Here's all the externally mounted gear rolled out. The orange VBL liner fits much easier into the stuff sack that came with the second poncho. Six stakes and six bungee loops provide multiple options for building a shelter.
Inside the front pocket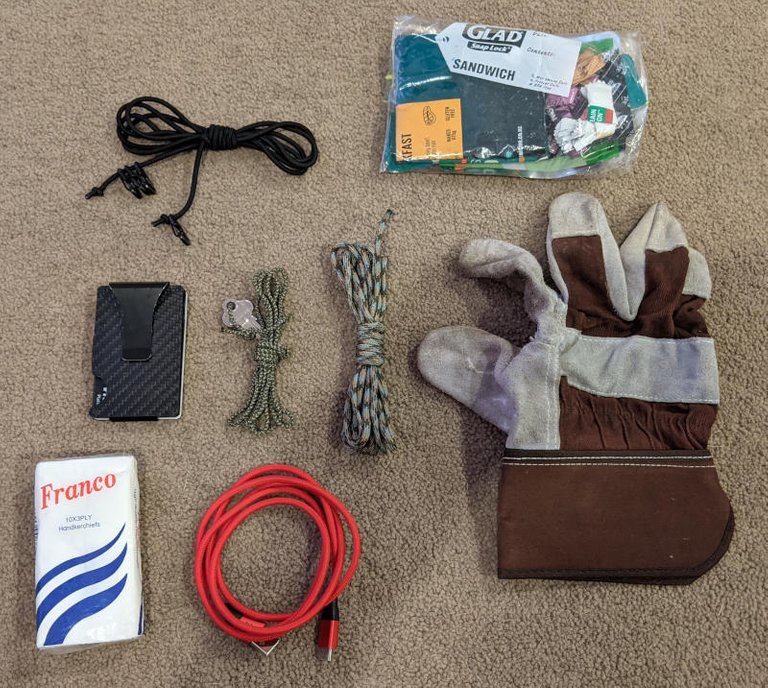 Here is the gear that went inside the front pocket of the sling bag. I tried to optimise mostly for gear that I'd need quickly, but there was also the matter of just fitting things where they would go. From top-left going across my shock-cord bungee with mini clips for attaching the poncho to the tree, Ziploc bag for rubbish, wallet, housekey on some cord, extra 550 paracord, single right-hand gardening glove, tissues, and charger cable. Tying the house-key to some light cord helped prevent loss. The glove was quite bulky, so I only brought one with me.
Inside the main compartment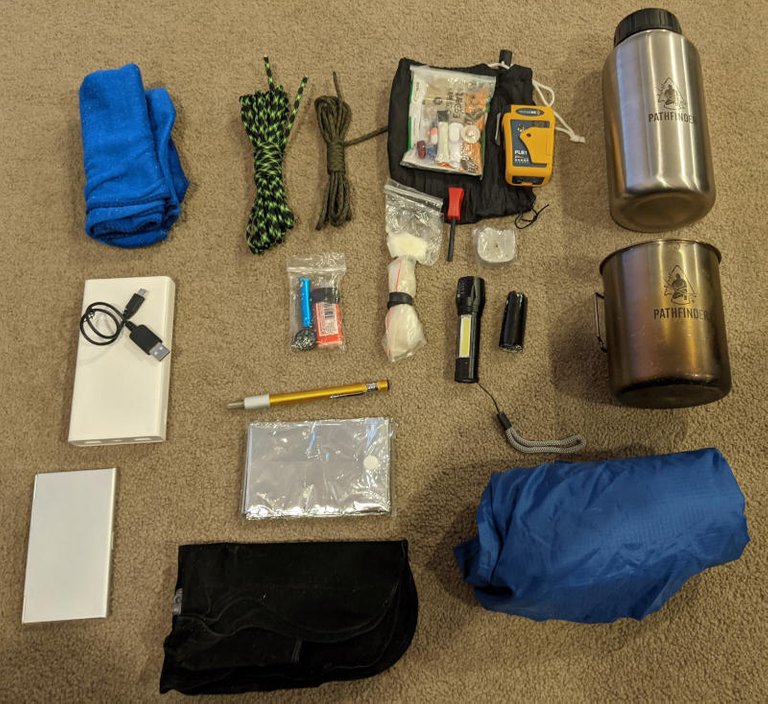 From top-left: cleaning cloth, two hanks of paracord, stripped-down PSK, steel water bottle, white 10K USB battery, whistle compass and lighter, latex glove in a Ziploc compressed with a ranger band, USB rechargeable torch, small roll of duct tape, steel cup, aluminium case for medications, pen-sized knife sharpener, mylar blanket, inflatable pillow and the second blue poncho.
The PSK was stripped of redundant items, but I retained the medical/sewing kit, the rescue beacon, vaseline and cotton wool tinder, Ferro-rod and tea-light candle.
The USB torch was some cheap thing I brought while in Thailand at SteemFest4. The light is pretty bright but only lasts for about 2 hours of continuous use. That's why the USB battery is a must. The torch has a focus ring and a lantern mode - both of which are very useful while camping.
On the way out, the metal water bottle fit into the bag because I'd eaten the food. On the way into camp, I carried a dehydrated meal and some other bulky food items in the main pack instead.
The food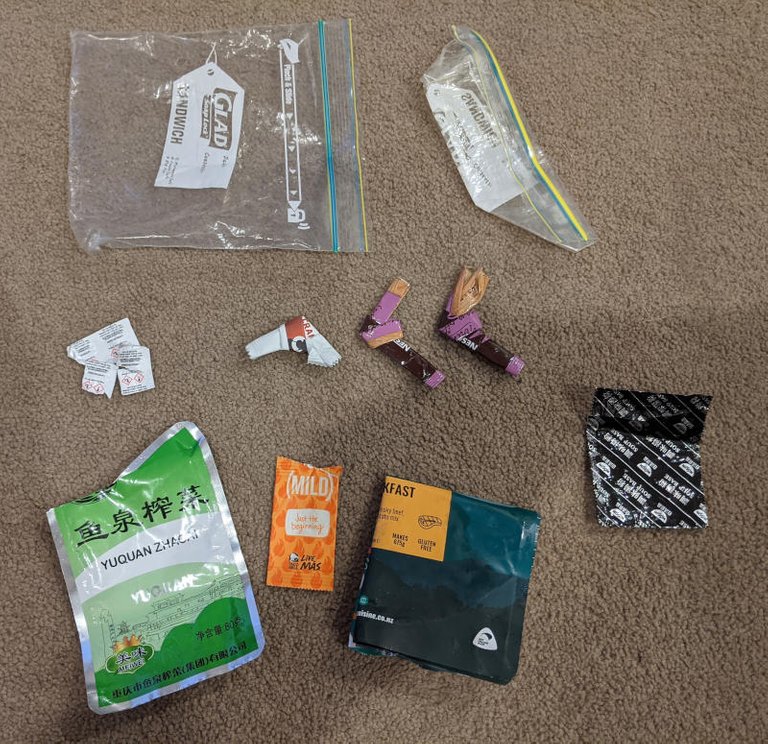 You'll have to forgive the picture of trash! From top-left: a Ziploc bag that held dehydrated cooked rice, a Ziploc bag of sliced cheese and salami, water purification tablets, a one-square-meal bar (333 calories), two coffee sachets, a soup sachet from some noodles, a pack of pickled mustard vegetables, a mild-sauce packet from Taco Bell, and a freeze-dried meal.
I planned to rehydrate the rice in the cup, add all the food ingredients to the freeze-dried meal and let everything rehydrate. I didn't stir too much, so the rice, pickles, cheese and salami stayed on top, and the freeze-dried meal was on the bottom. I ate half for dinner and the rest for breakfast. If I wanted to reheat the meal in the morning, then I could add hot water or boil in the bag using the cup. The plan worked perfectly. I'm well impressed! I prefer the rice, salami, cheese, pickled vege meal to the freeze-dried stuff.
You will notice no stove or gas canister, so I needed to make a fire. I had enough calories that don't require cooking, and I was confident in my ability to make fire. I have a knife and saw for processing wood and multiple tinder sources. If anything, I over-ate.
Best gear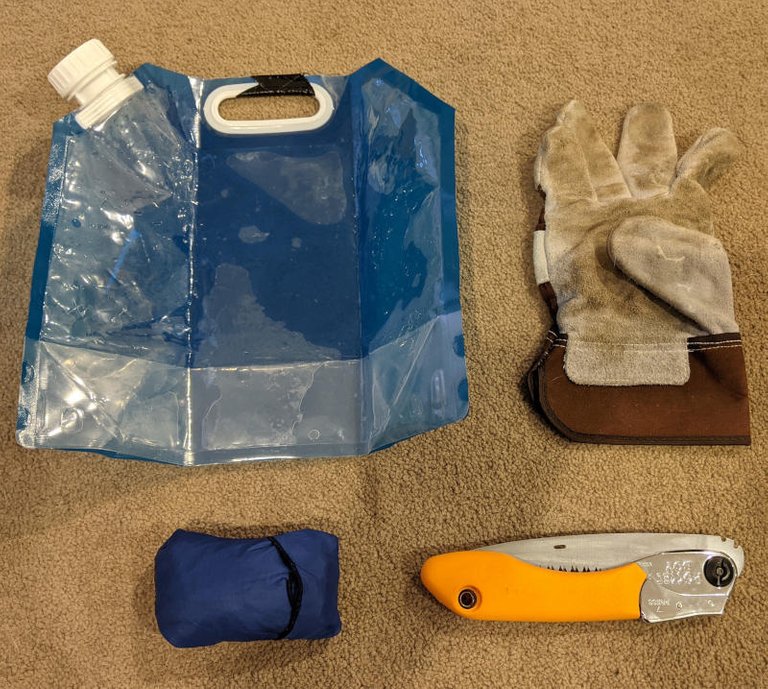 Two items I haven't yet discussed were tucked into the back pocket of the pack. These two items are a collapsible water bottle and a blue reusable shopping bag. The water source was difficult to access, the collapsible bottle meant fewer trips. It also meant that I wasn't inadvertently trying to conserve water and so I remained well hydrated. We considered the bag's water as "dirty", so we either boiled or added water purification tablets. The blue reuseable shopping bag helped transport things between the eating, cooking and sleeping sites. The blue bag also kept things organised and accessible under my shelter while I slept. Neither of these was essential, but they made camping much easier.
The other two standout pieces of gear were the glove and saw. The glove was bulky, and so I only brought one for my dominant hand, but since I needed to process wood and deal with hot cups, a glove was a good idea to protect my hand. Two gloves would've been more convenient, but one was sufficient. The Silky saw made short work of the wood we processed. I took down three small dead trees. My friend used a machete - which also worked but used much more energy.
Too big and too much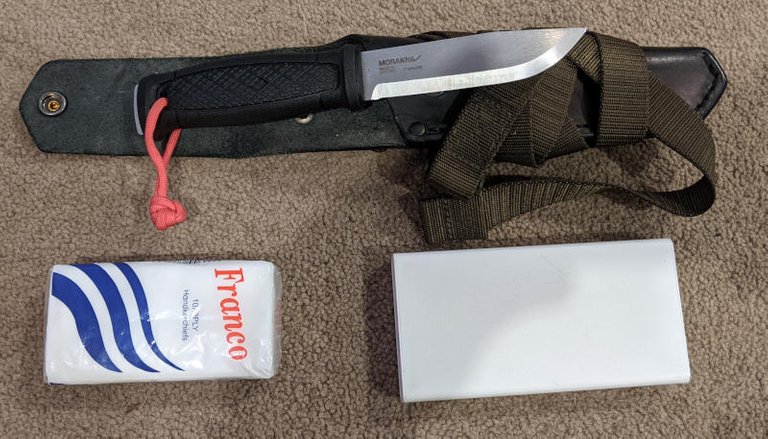 For this particular camp, these three items were over the top for purpose. I could've used a smaller knife since I had the saw for processing and my friend had a machete. The Mora Garberg is quite heavy, but it is very robust. The packet of tissues could've been much fewer than a full pack. I bought 70% of them home with me. And, the battery backup was too much for an overnighter. One a third the size and weight would be more than enough to recharge my phone and torch. I'll look to buy a smaller battery later.
Unused gear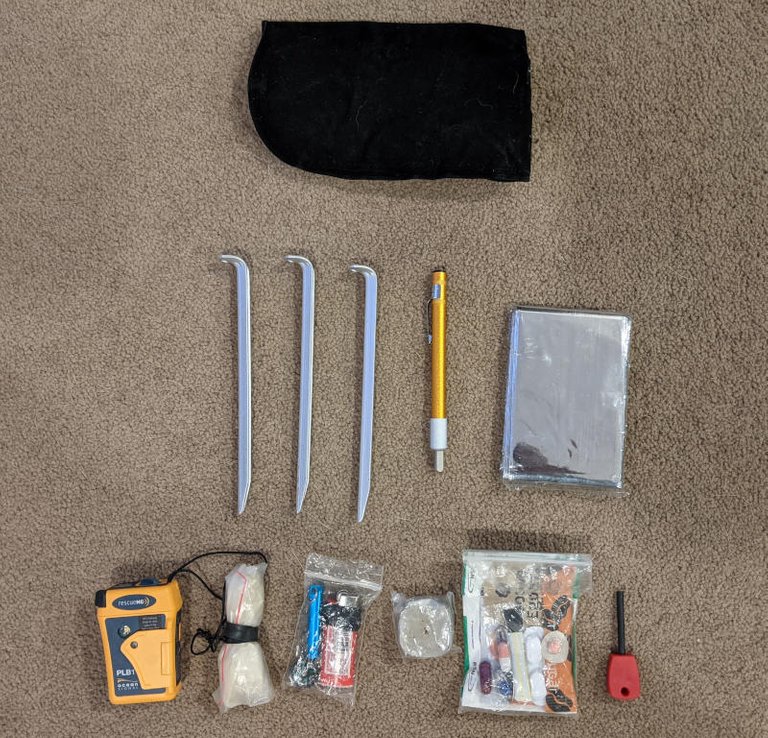 There should be zero unused gear in a minimal camp except for survival equipment. I want to be honest about the gear I did not use. The first unused item is the black inflatable travel pillow. This pillow was in the back pocket of the sling bag, and I forgot it was there. I guess I didn't need it.
I took six tent stakes and only used three. I bought six to provide further flexibility in how I set up the poncho. If we set up in an area without trees, then I would need all six. If I was more direct about where the campsite was going to be, then I could've taken fewer. And yes, you can make tent pegs from trees, but have you ever tried it? Sometimes it can be hard to find suitable wood that isn't also rotten, and where we were, the ground is hard. Much easier to carry a few stakes.
I didn't use the knife sharpener either, but it's something I feel I should carry with me if I have a knife. The remaining items are survival and first aid, so I would not leave these behind anyway. The min-BIC lighter is here because I wanted to try my friend's fancy USB arc lighter. So, yeah, technically, I didn't use my lighter either.
Missing gear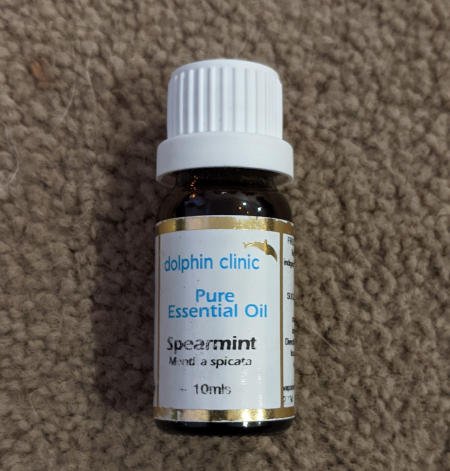 So what gear did I think I should have brought but did not? Well, I didn't feel the lack of anything really, except the bugs started biting my lower legs. I used a local plant to help a bit, but mint oil would've been much better to repel the insects. I prefer mint oil to bug repellent because I can use mint oil for more things. It seems like I did not learn!
VBLs are not bivvy bags.
I placed my inflatable mat inside the VBL liner bag. Then I folded the kilt into a U-shape and slept inside that. The metal bottle (wrapped in clothes) was my hot water bottle, and my sweatshirt was the pillow. This setup didn't work well because the VBL bag wasn't wind-proof. Once the hot water bottle got cold, I became cold too. Although I had taken a knap in this configuration before, that wasn't in breezy conditions. I eventually put both layers of the kilt over me and tied a scarf around my kidneys. Two kilt layers were sufficient to block the breeze, and then I got warm enough to sleep again. If I try another kilt-camp, then I'll use a wind-proof bivvy bag instead. I might have to get something custom-made because most light-weight bivvy bags are also too small.
Fire
There's nothing like a camp-fire! For my cooking, I only needed to boil water. My friend brought along a skillet and fried steak and onions. This time I prepared tinder, kindling and fuel for a nighttime and morning fire before the evening rain came. Once things are ready, then there's no reason to nurse the fire one-stick at a time. This was my first time using vaseline and cotton wool, and I must say it worked very well. One spark from the arc-lighter then handfuls of tinder, and the fire was away.
A mum and her daughters came to photograph the stars and roasted marshmallows on the fire, but otherwise, we had the fire to ourselves. Before bedtime, I banked the coals (buried the coals in ashes), and so in the morning, I could use the hot coals to relight the fire. Yes, my childhood of fire lighting is still with me.
Kilt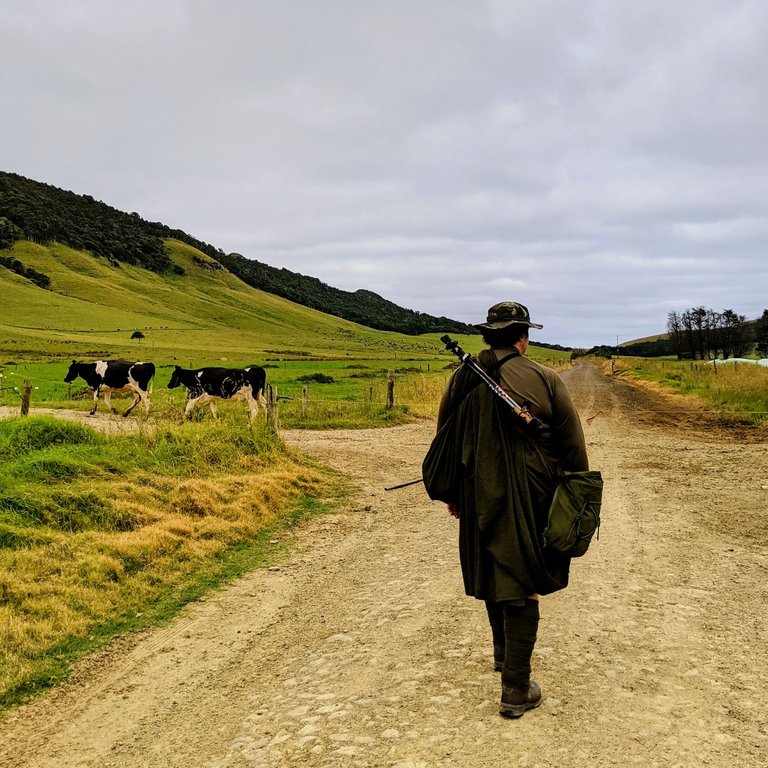 (Kilt picture from another hike)
The kilt is a talking point all on its own. The daytime temperatures were a bit too warm for the kilt, but it was bearable. Pleating up the kilt in the morning was a chore, so I'll add belt loops to make that job more manageable. Yes - that seems to be traditional to add ties and loops to make the kilt better. A few ribbon ties would make the kilt work better as a sleeping bag and keep more layers over me without being too tight. As it was, a lot of loose fabric lay next to me instead of over me.
The 70/30 wool/nylon blend fabric I have is okay for summer, but I think it would be insufficient for autumn. I will probably do a few more camps and then consider upgrading the fabric.
Overall
This camp reminded me of how little I need to remain comfortable. The dehydrated rice meal was a success, the kilt worked enough, and my fire skills are still good. I'm not too upset at the gear I didn't use - except that pillow would've been nice.
Until next time.
---
---