Visiting Restart 5.0 Exhibition
Art is part of our lives and I think it's safe to say we can't live without it. Or I should say I can't. It motivates me to be better, to leave my comfort zone and try new things.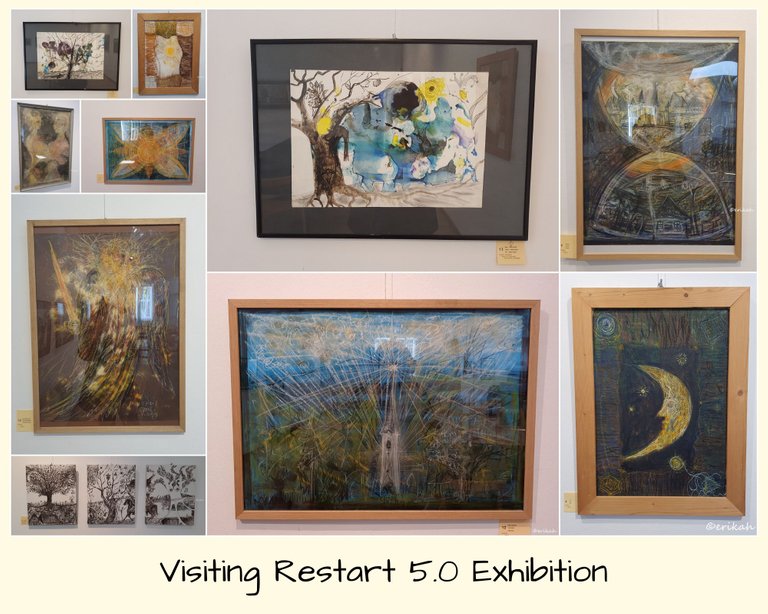 When I'm traveling to another country or another city, I'm always looking to see as much as possible and also make museums with free entrance a priority. Museum entrance fee can burn your pocket pretty fast, so it's nice to looks for free entry, especially if you like what it is displayed.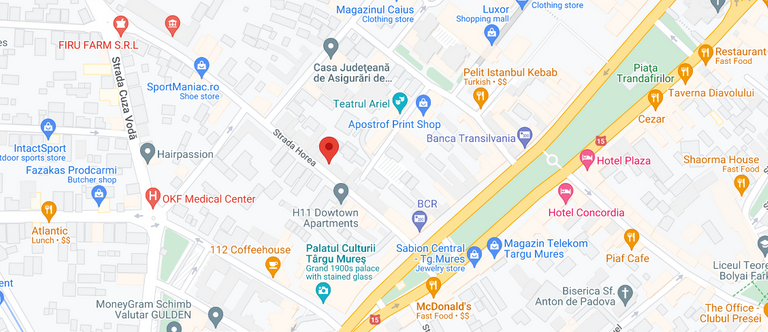 source
How To Get There
Targu Mures has a few museums, most with an affordable entrance fee, but there's one that you can visit for free and that's the Bernády House, situated at the Horea street no. 6. It is 1 minute walk from the city center, so if you're visiting the city, you may as well check out what is the theme of the exhibition that period.
One tiny suggestion if I may. Don't go there on empty stomach if you have no intention to serve lunch, or hungry as there's a restaurant at the basement and the smell coming from there will definitely convince you to eat something, which is not a bad thing as the food is very good.
The museum is open between 9am and 2pm from Monday to Friday. Yeah, I know, it's odd but basically it's an exhibition hall, not a normal museum.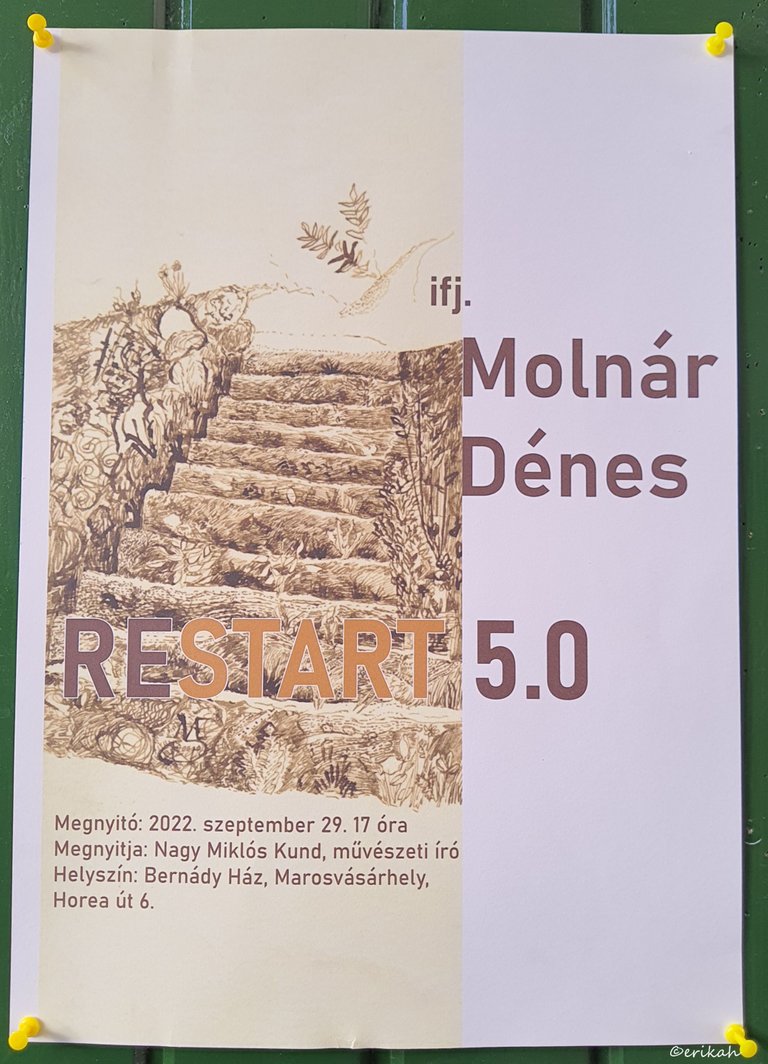 Restart 5.0 Exhibition by Dénes Molnár
Dénes Molnár was a well known Transylvanian graphic designer who lived between 1947 and 2000. This exhibition is also by Dénes Molnár, but the artist is the young Dénes Molnár, his son. I've seen some of the works of the late Dénes Molnár and I wanted to see the works of his son. You may think you'd see similar artworks, as continuation of the legacy of his father, but that's not what's happened.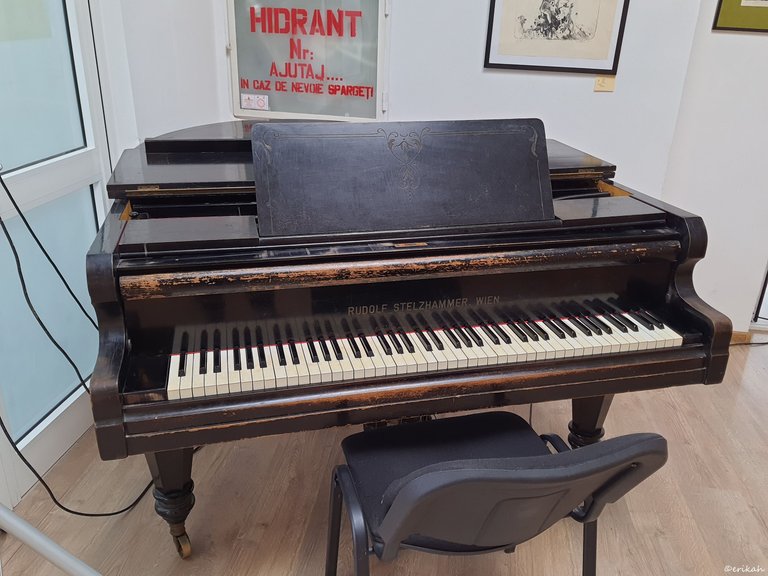 Before I entered the exhibition hall, I was told that there are specialists working on tuning the piano. This beauty is not part of the exhibition, but I think worth mentioning as it looks like a valuable piece.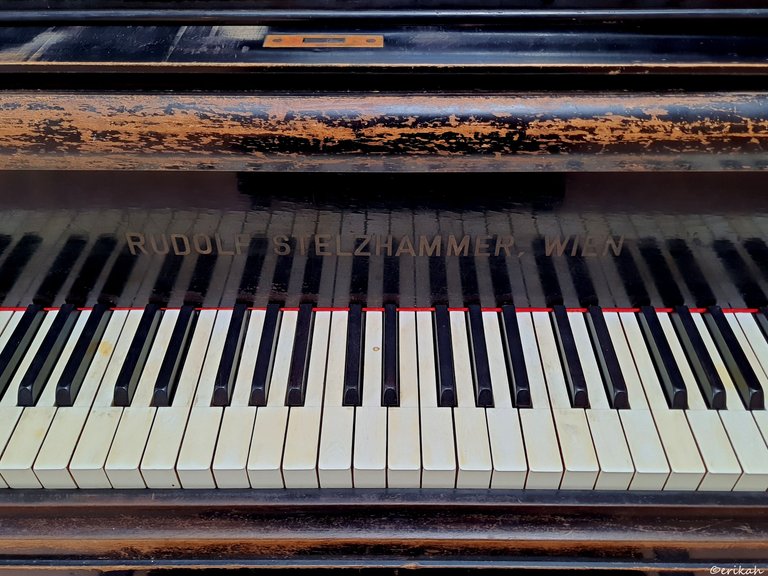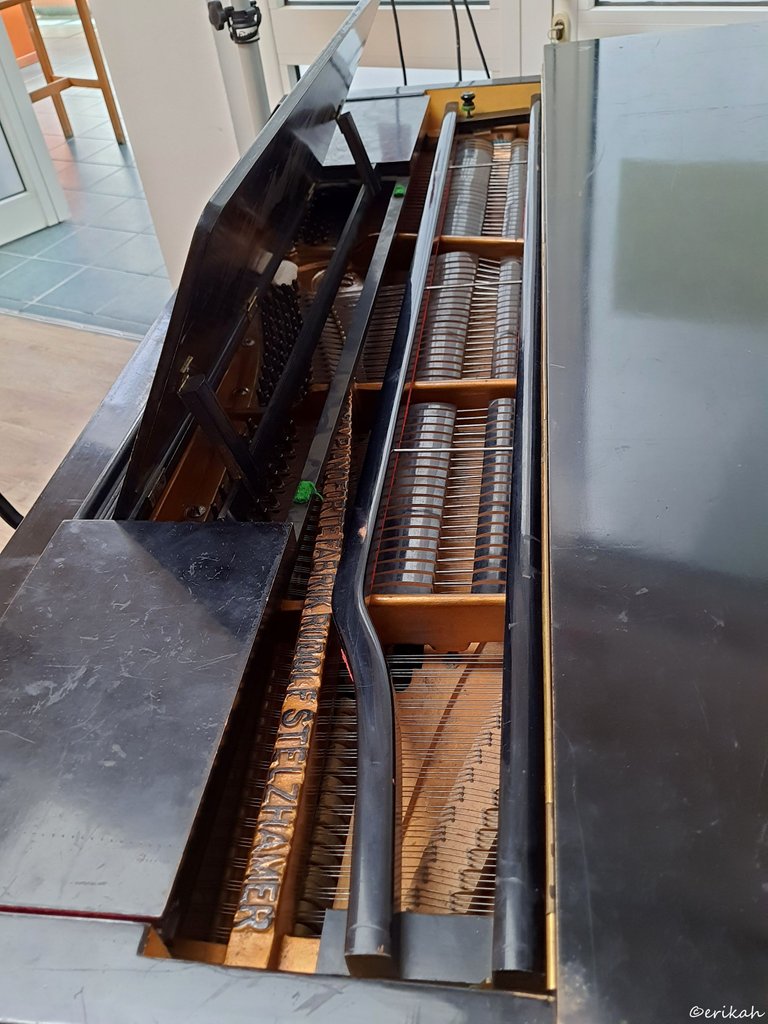 I know nothing about pianos, maybe @mipiano could tell us more about this beauty.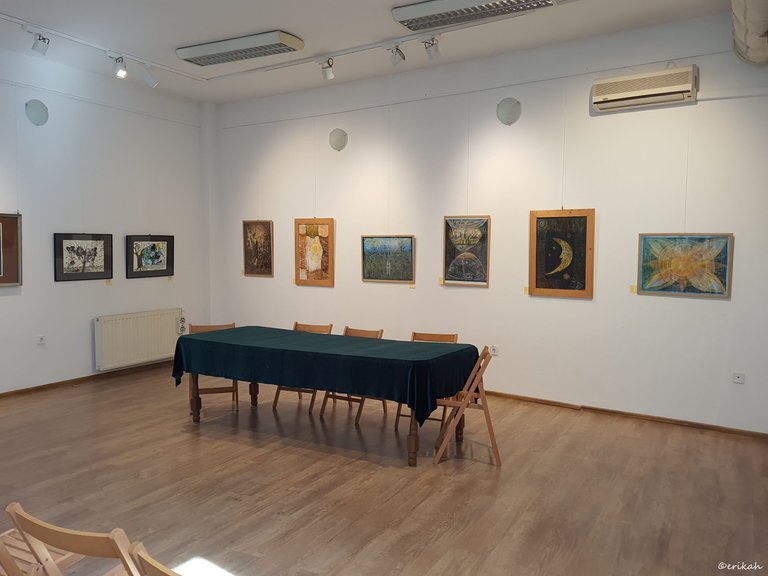 Stepping into the exhibition hall and having a first look at the artworks, I knew right away it's going to be very different from his late father's work.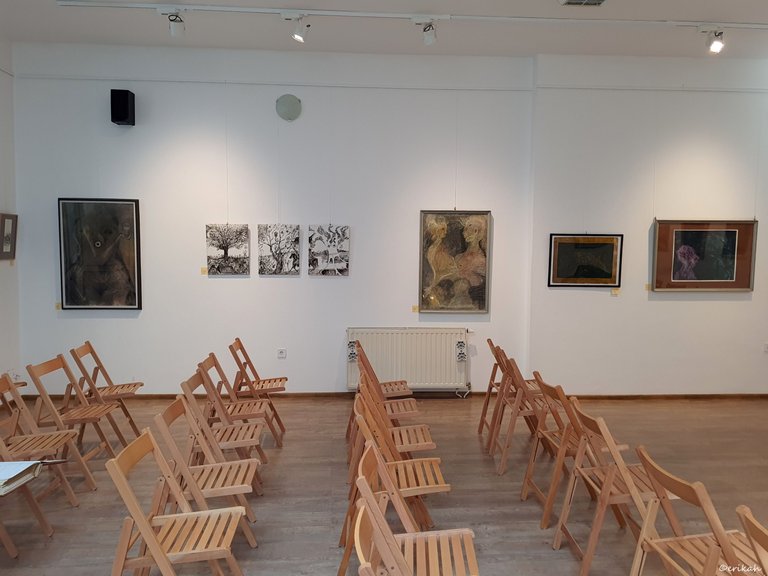 Before I show you what you're able to see here, let me tell you the two words that were in mind after visiting the exhibition. Looks like it is becoming a habit, to pick one or two words that characterizes the artworks. So here I think it's safe to say the keywords are "details" and "same tone colors". The latter may not be accurate as I'm not familiar with the terms used to describe colors or group of colors, but you're going to see what I mean.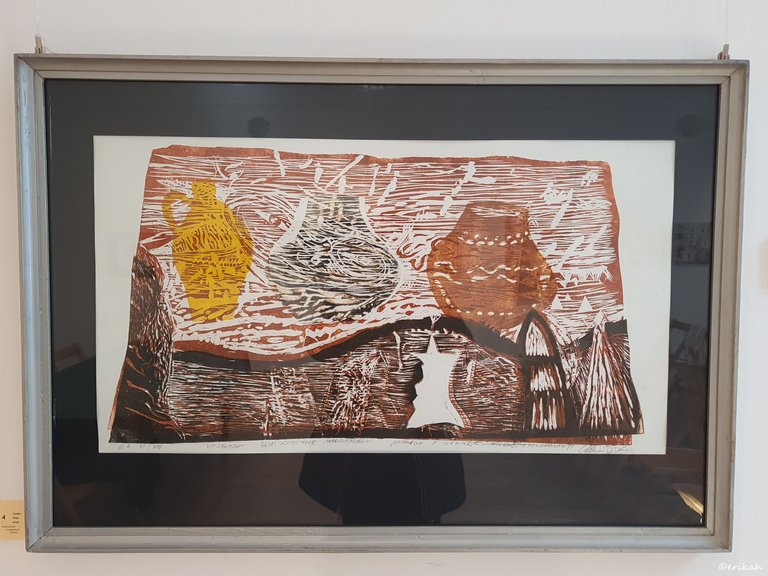 This is a linocut and it's called Homage. I would have never guessed the title to be honest, but good thing there was a label next to each artwork. It wasn't easy to take photos as almost every artwork was under glass.
Another linocut, called "Center".
Linocut, also known as lino print, lino printing or linoleum art, is a printmaking technique, a variant of woodcut in which a sheet of linoleum (sometimes mounted on a wooden block) is used for a relief surface. A design is cut into the linoleum surface with a sharp knife, V-shaped chisel or gouge, with the raised (uncarved) areas representing a reversal (mirror image) of the parts to show printed. The linoleum sheet is inked with a roller (called a brayer), and then impressed onto paper or fabric. The actual printing can be done by hand or with a printing press. source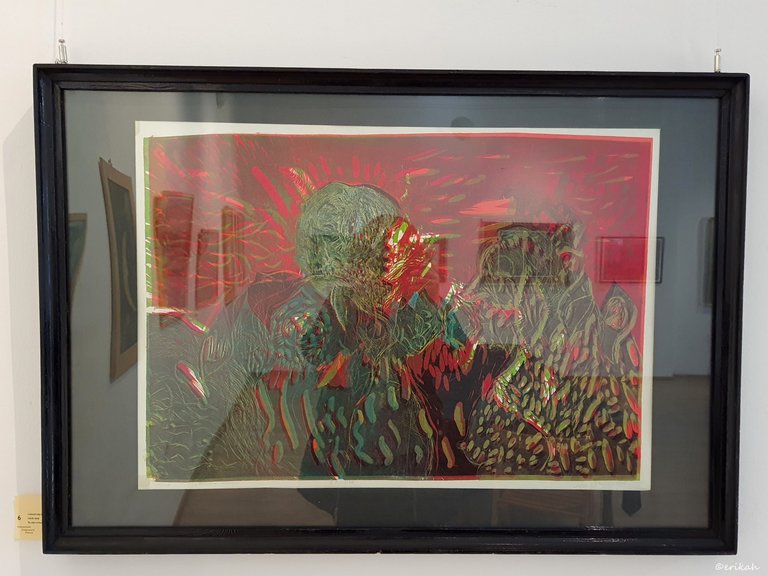 I think this was where i decided that I don't like linocut. I knew what it was before I went to the exhibition and have seen linocut before, but these were not something I liked, no offense.
This artwork is called 'The Colors Of Heaven". I have no idea what color heaven is, but would have never imagined these to be. It's too dark for my taste.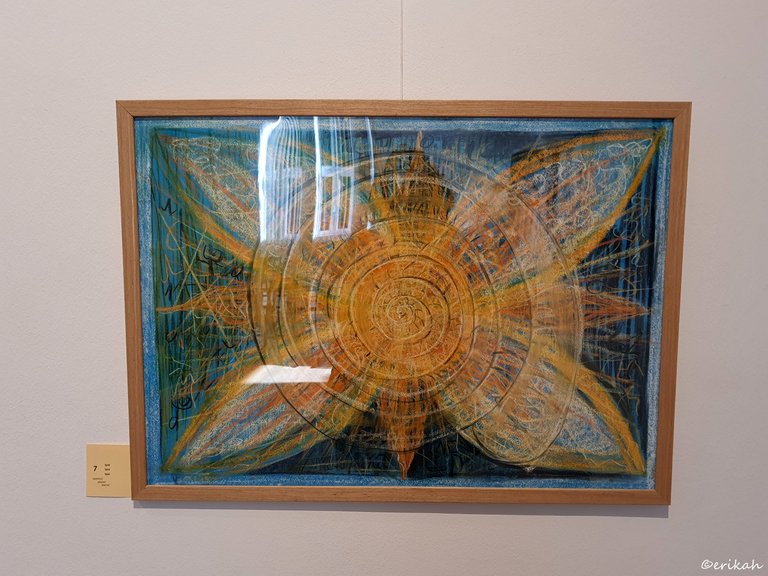 It is called Spiral and it's a pastel.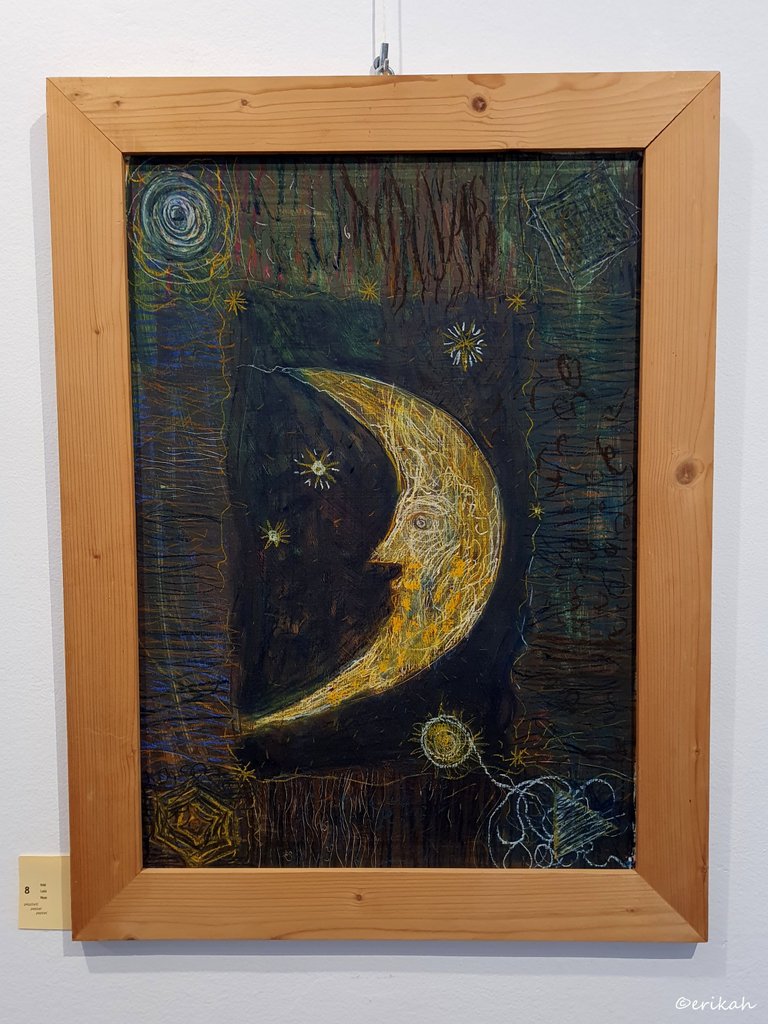 This is a pastel artwork that I like.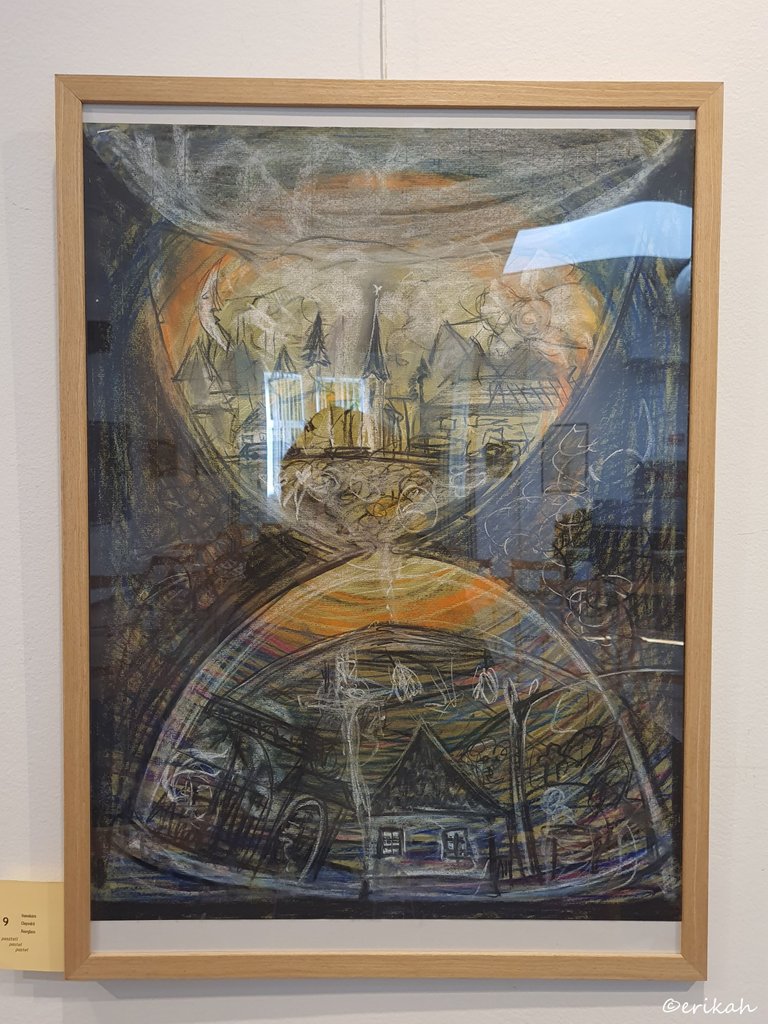 Another one that I like, it's called Hourglass. I love the colors, the details, but I would have expected the upper half t be upside down, don't know why. If I were to buy one, I think this would be the one.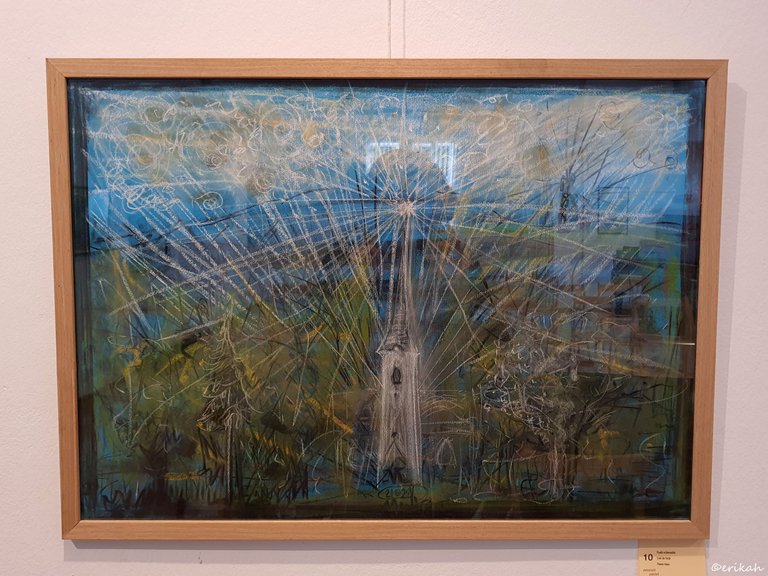 Power lines, the title of the pastel painting and I can see why. The church has power over people and maybe that's what the artist wanted to transmit.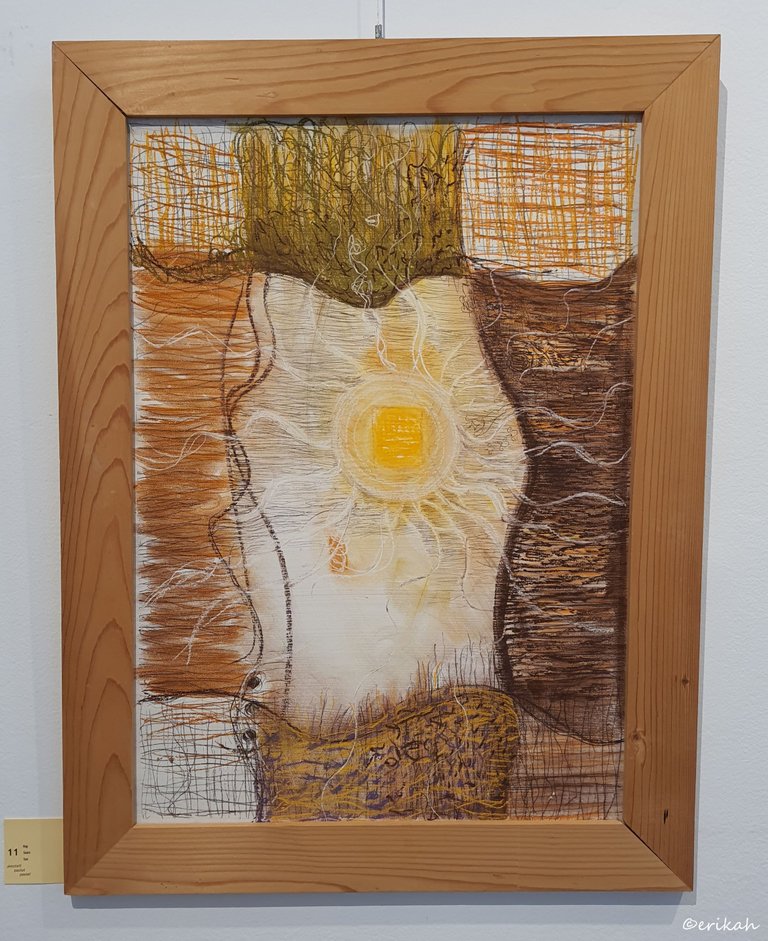 The Sun :)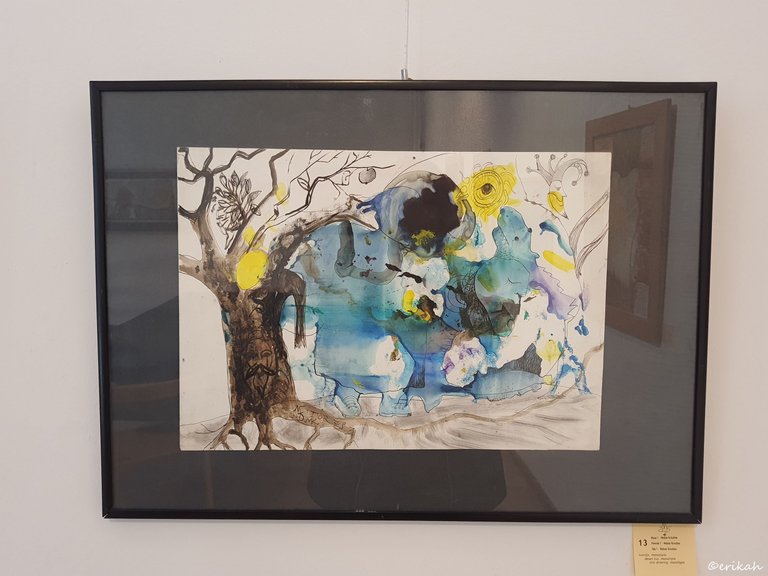 Krisztina Molnár
A different artist, I suppose it's the daughter of the late artist, the sister of Dénes Molnár. This is a tint drawing, monotype.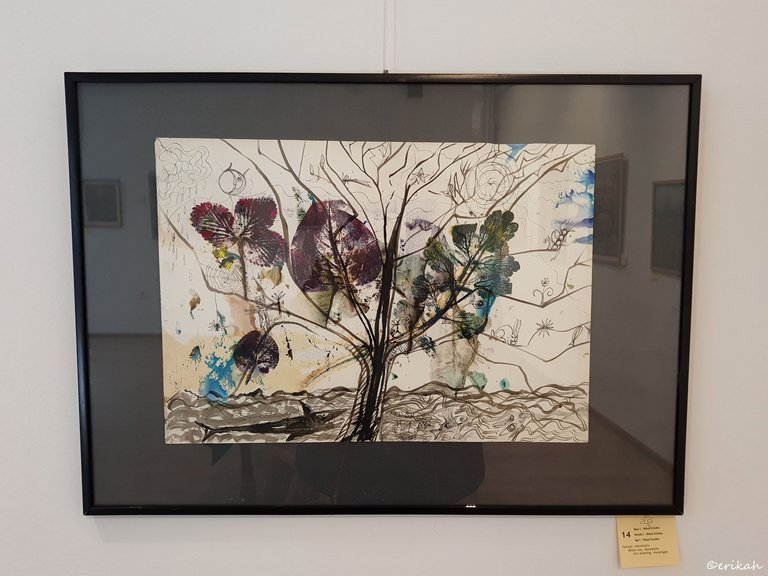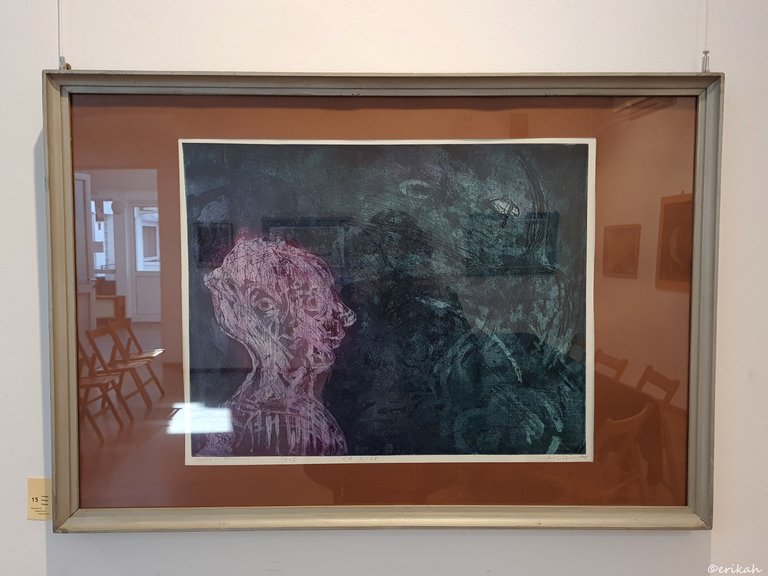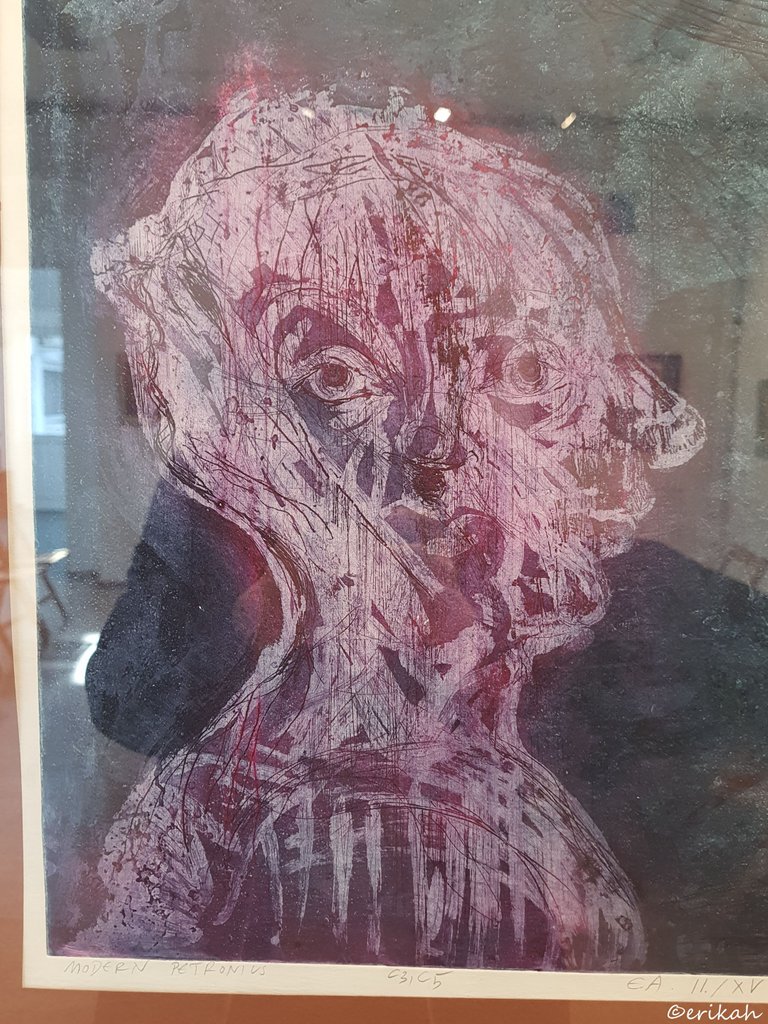 Another strange one that is called Modern Petronius.
Gaius Petronius Arbiter; c. AD 27 – 66; sometimes Titus Petronius Niger) was a Roman courtier during the reign of Nero. He is generally believed to be the author of the Satyricon, a satirical novel believed to have been written during the Neronian era (54–68 AD). He is one of the most important characters in Quo Vadis by Henryk Sienkiewicz. source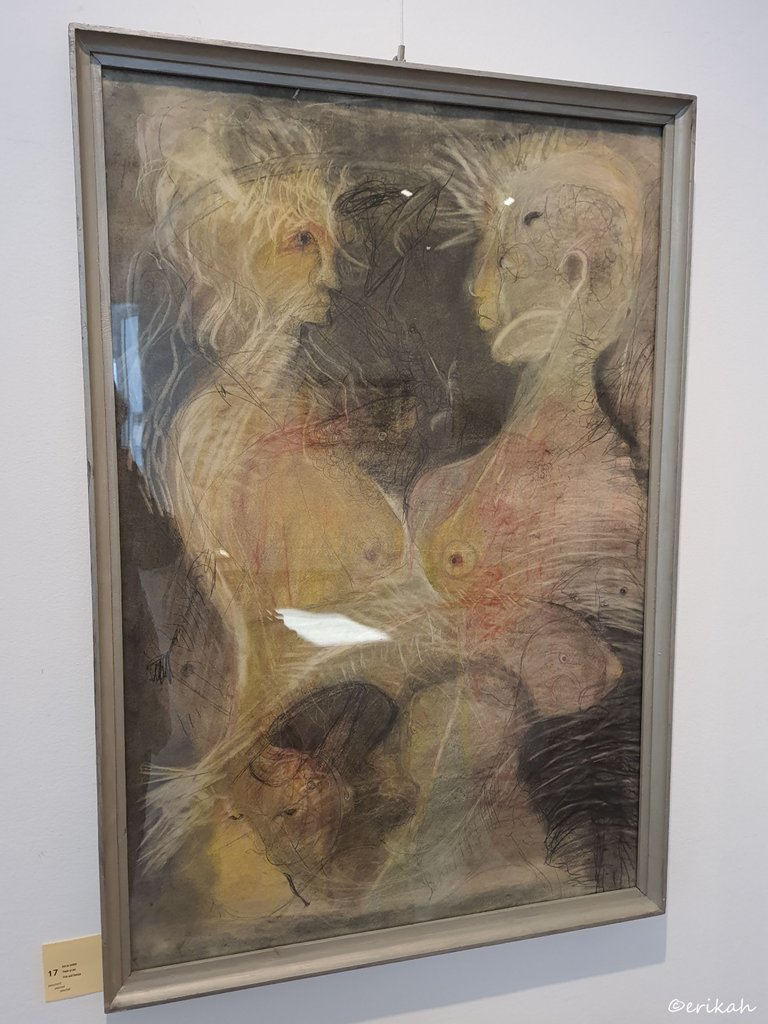 Fish and Human :)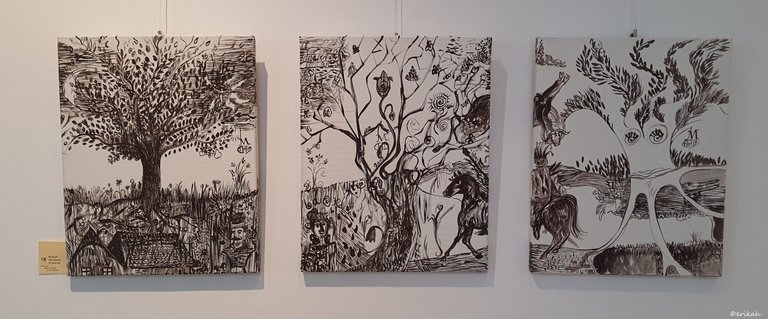 This series is called Past - Present - Future. I stood in front of it, looking at it, trying to figure out which is which. Logic says you start from left, which means that should be the Past, but who knows. In any case, I like it.
All in all I can't say I did not like the exhibition, but it wasn't exactly the one I will remember for years. Maybe it's not my style, or I just don't understand this kind of art.

If you're a newbie, you may want to check out these guides:

---
---