Trying Out My New Pizza Trays And A Challenge For Me
Pizza is not new to me as I've been making it at home for ages, but have never had proper pizza trays. I've been saying to myself that one nice day I'm going to buy some, but that nice day somehow has never came as there always have been other things to spend money on. Till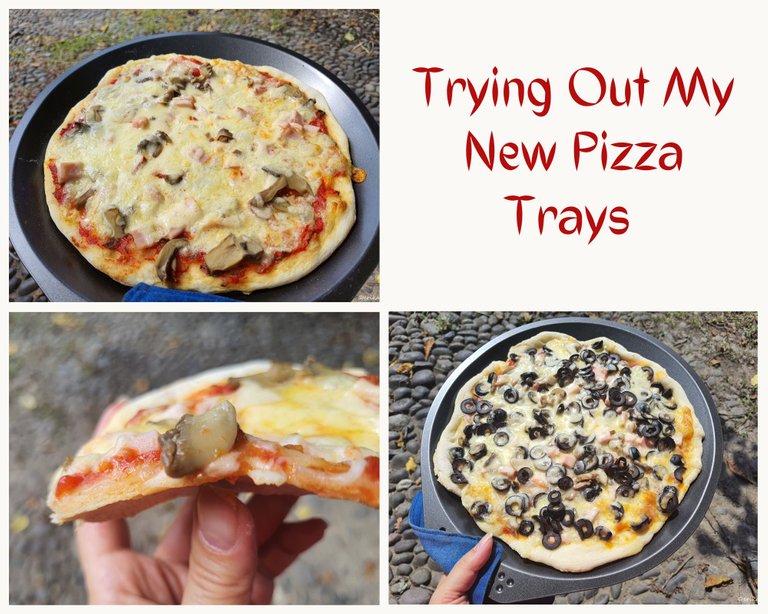 Friday. I got a flier from a supermarket and saw these pizza trays are on sale, so I thought this is my chance.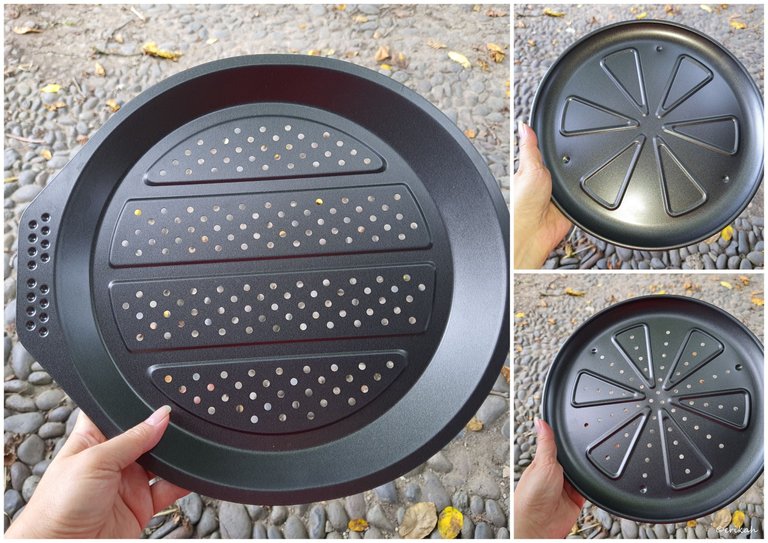 There were two in the offer. One, the bigger one on the left is 36x33x2cm. The other two are both 28cm in diameter. I bought both sets as it doesn't hurt to have more trays and of different sizes. The instruction says "The perforated bottom creates a crispy pizza". I love crispy, so this is going to be perfect!
So today I thought it's the day to try them out. The big question for me was how much dough should I make for these trays. I decided to go with 500g flour and the rest of the ingredients, appropriate for this quantity of flour, which is my usual recipe.
The recipe is not mine, I got it from the internet ages ago and don't know where from. So I'm going to quote it without a source.
Ingredients for the dough:
500g all purpose flour,
25g fresh yeast,
1 tsp sugar,
1 tsp salt,
3 tbsp olive oil
250ml lukewarm water. source
(I've found a similar recipe, so I am using it as source, but that's a bread recipe.)
Ingredients for the topping:
pizza sauce,
diced ham,
sliced black olives,
sliced mushrooms (canned),
grate cheese.
The truth is, you can use almost any combination for the topping. I'm usually using two types, if I'm making more than one pizza, which is usually the case.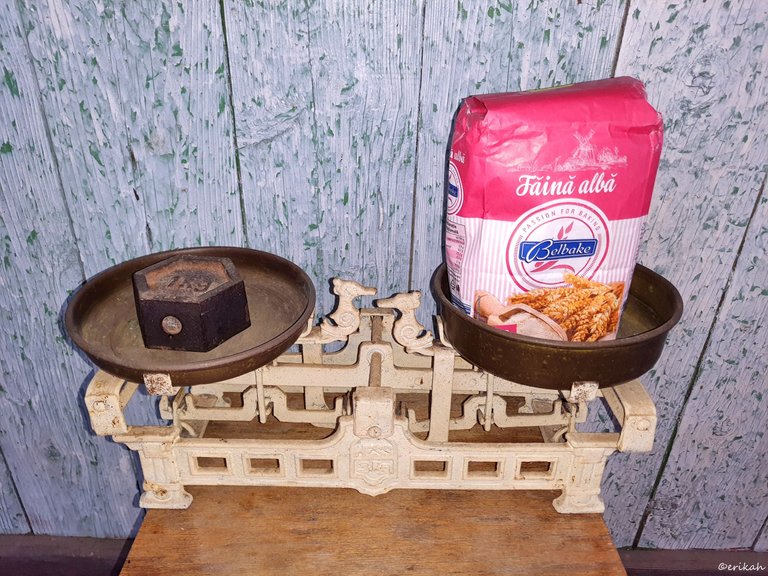 Going Old School
I remembered that we still have my grandmother's old scale and I thought I'd show you how it was done back in those days. I chose the 1kg weight to put in one tray and 1kg of flour in the other. The two should be equal and they are equal indeed, but the scale is old and hasn't been checked for a long time, so you can't trust it.
With all the digital gadgets we have today, it's hard to imagine going back to those times and using these tools. Obviously it was good back then as this was the most performant and they had no other. No worries, this was just for fun as I have a new one :) But let's get back to my pizza challenge.
Method
The method is very simple, it's like any other pizza recipe. Put the 250ml lukewarm water in a cup, add 1 tsp sugar and the yeast and let it rise.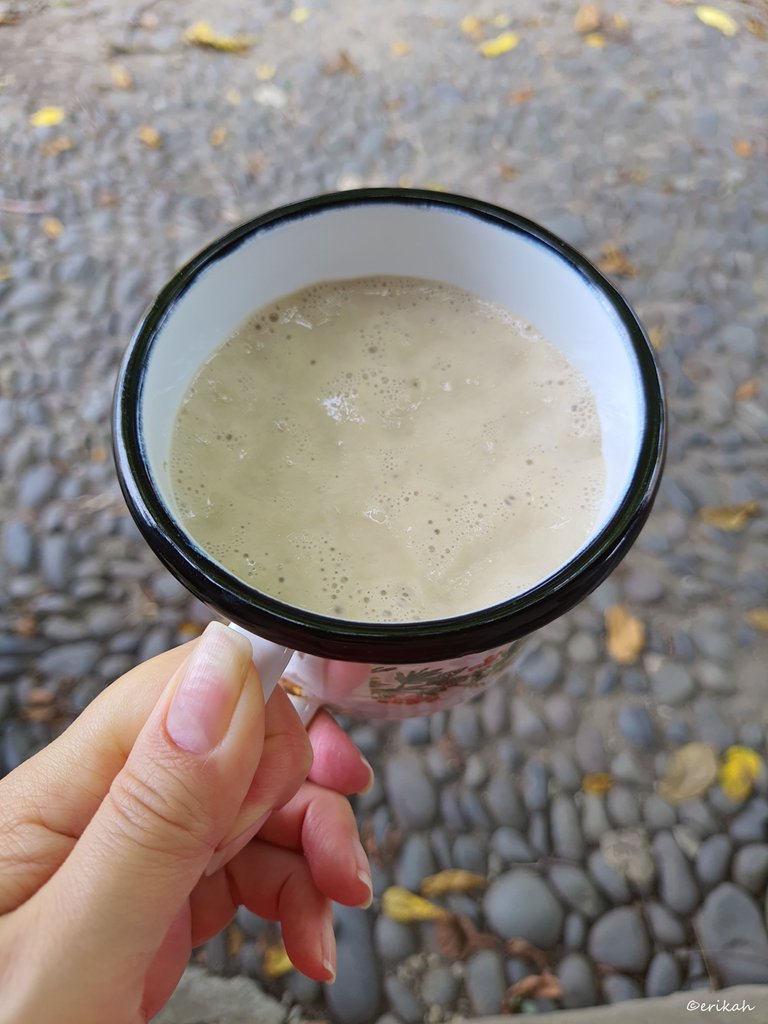 This is my yeast rising like crazy.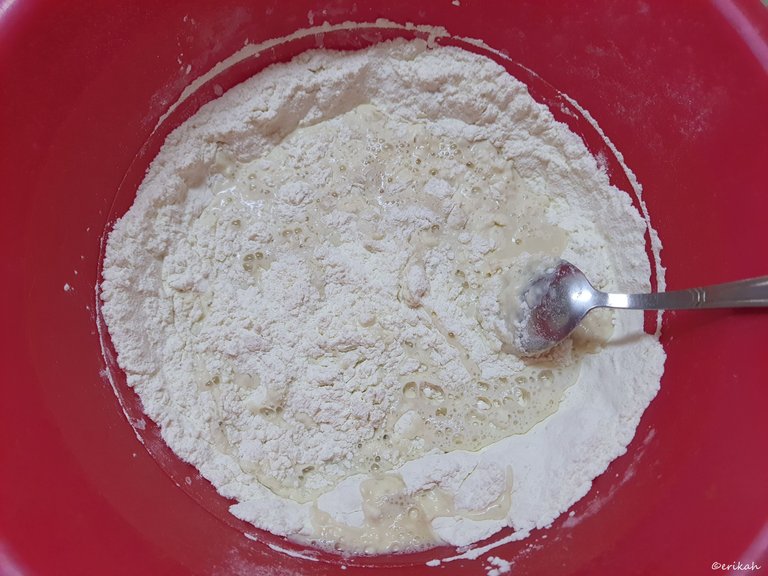 After that, you place the flour into a mixing bowl, add salt, oil, then the yeast. Knead the dough till you get a nice, soft, non-sticky one. Cover and keep it in a warm place for an hour, till it doubles in size.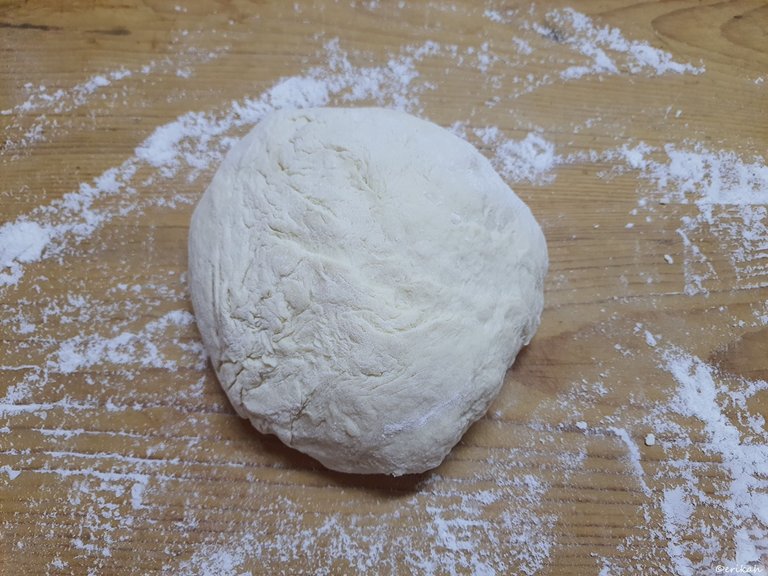 This was my dough, a nice, soft one and this is where the fun began. I had to figure out how much to use for one tray and as the trays were of two different sizes, you can imagine ...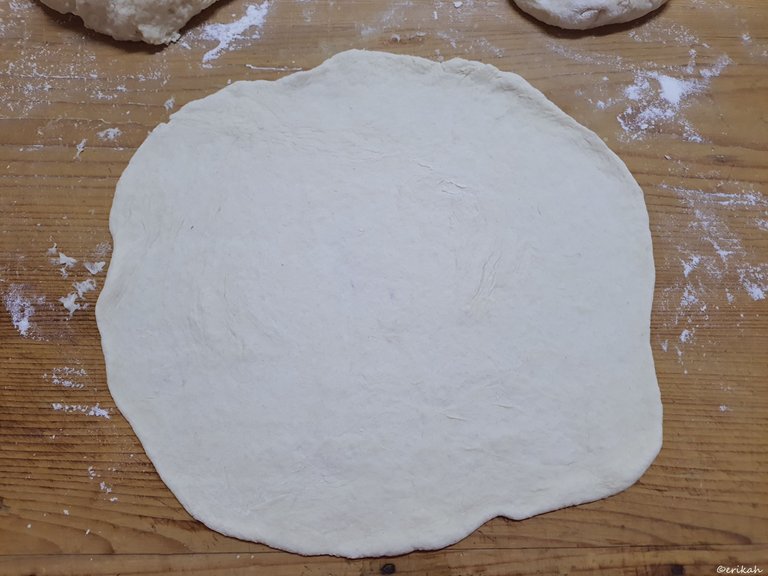 So I thought this would fit in the smaller tray. Don't look for perfection as the dough is not round and will never be 😜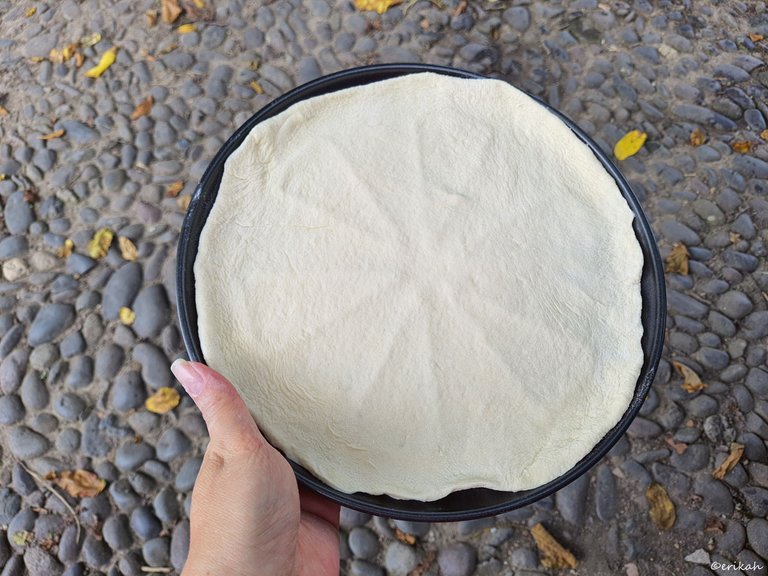 And here it is! It fits into the tray! Hurray!!!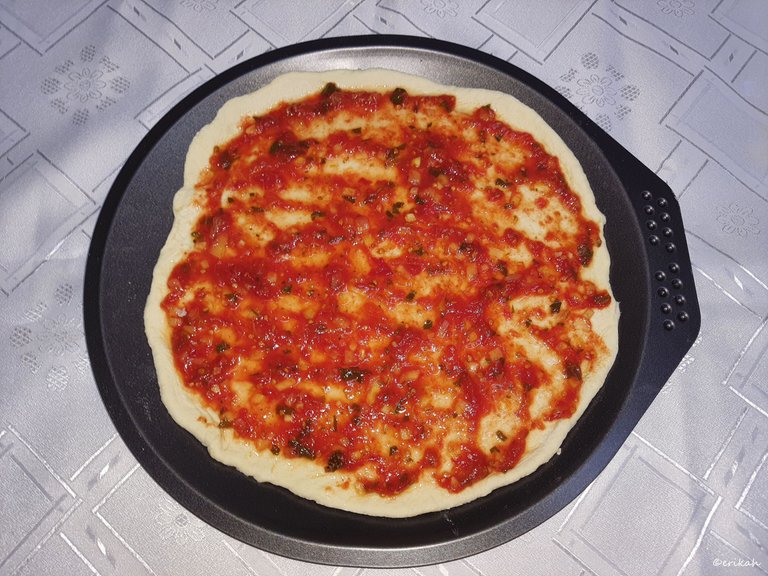 This is the big one, that is also not round, but who cares? So I spread my homemade tomato sauce on the top of the dough. Usually people are sprinkling it with dried oregano, bu my sauce already has oregano and other spices (most of the times), so I'm skipping that step.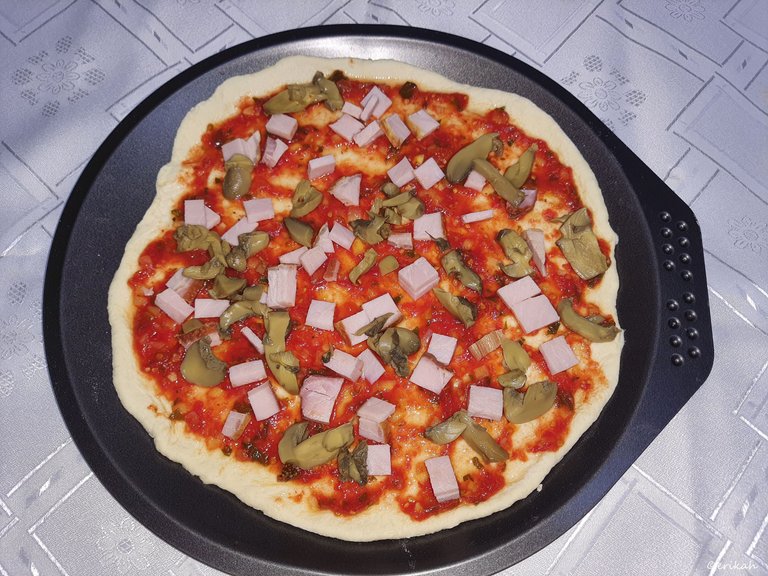 Added diced ham and sliced mushrooms.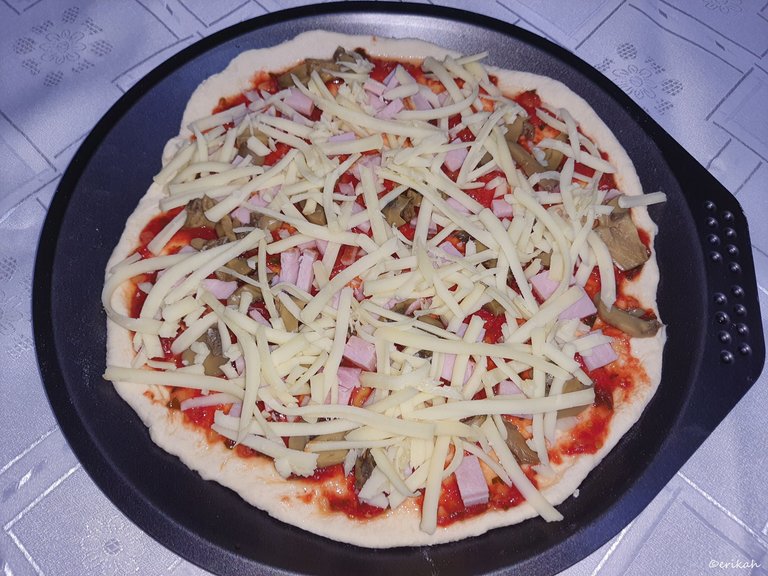 Grated cheese can't be missing from the top.
I baked it in a preheated oven for 15 minutes. Don't ask me about degrees as this was not my oven and doesn't have a thermometer. If you're using an oven with thermometer, go for the usual pizza settings.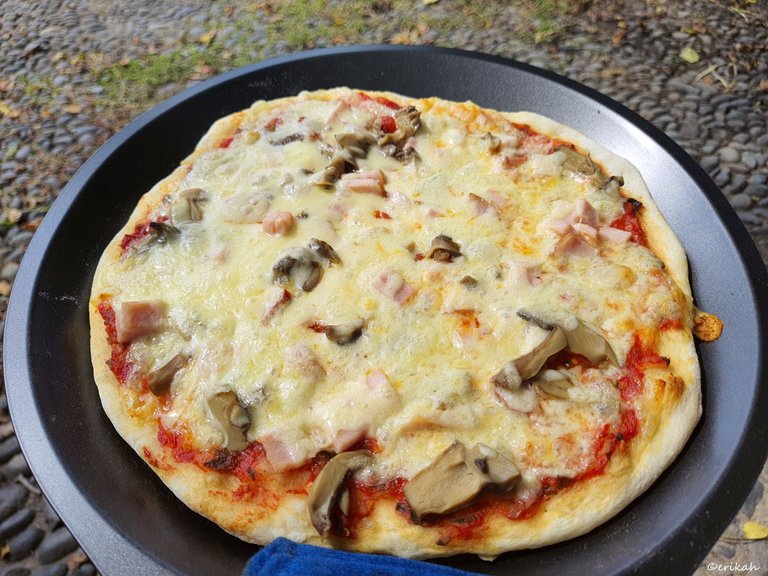 And this is the outcome!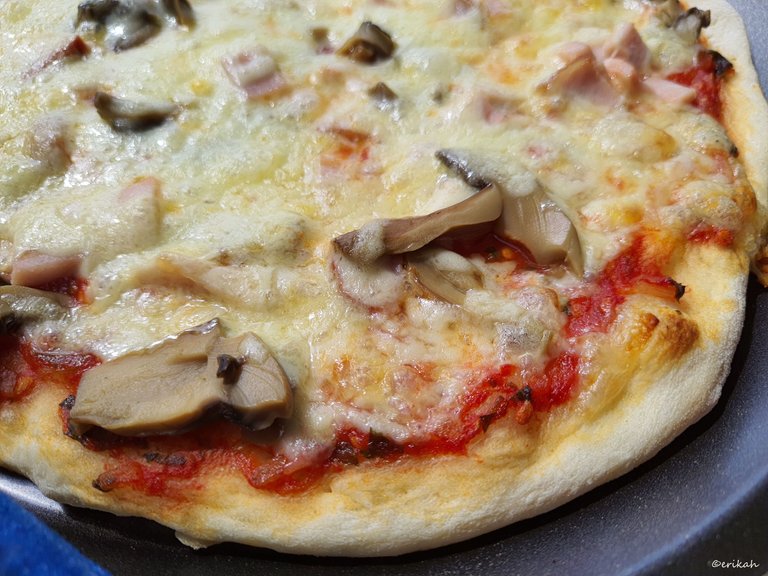 They did not lie as the pizza is really crispy and I'm more than satisfied with the outcome.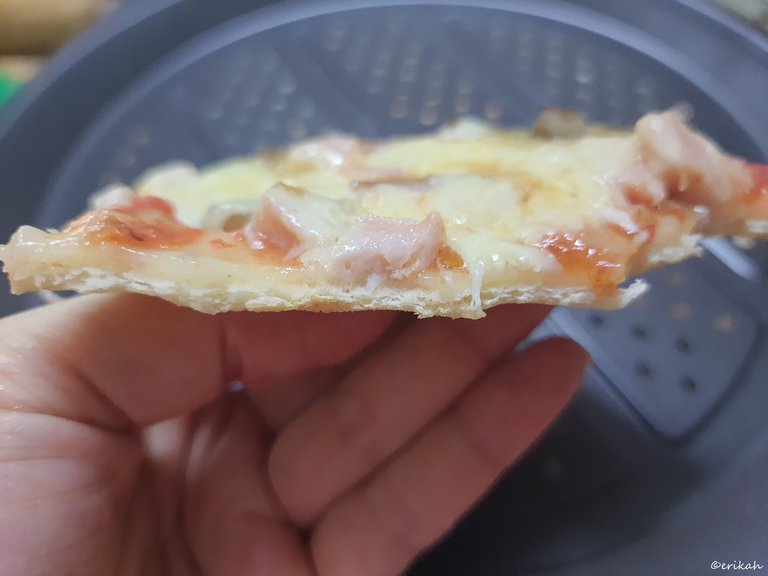 This photo is dedicated to @orestistrips 😂 I wanted to show him how thin the dough is, so I made like 30 photos, one worst than the previous, but I got a few good ones too. Is this thin enough my friend? 😎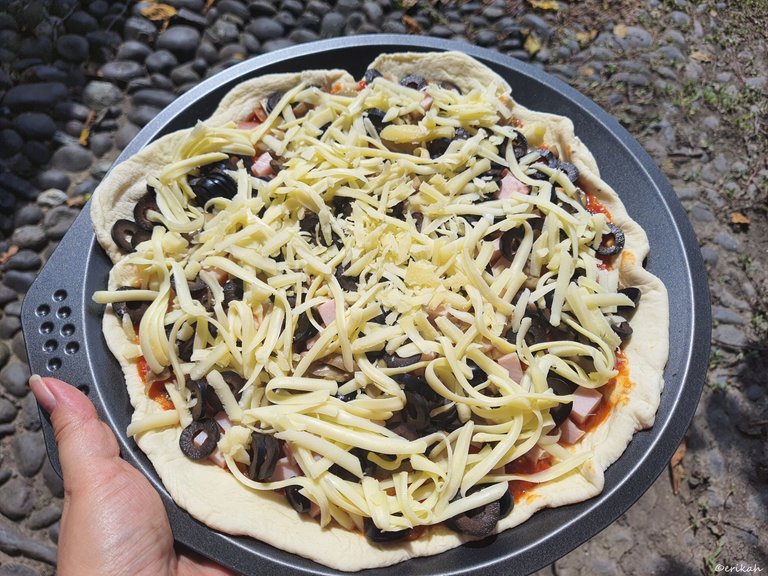 This is the other one, with olives, mushroom and cheese.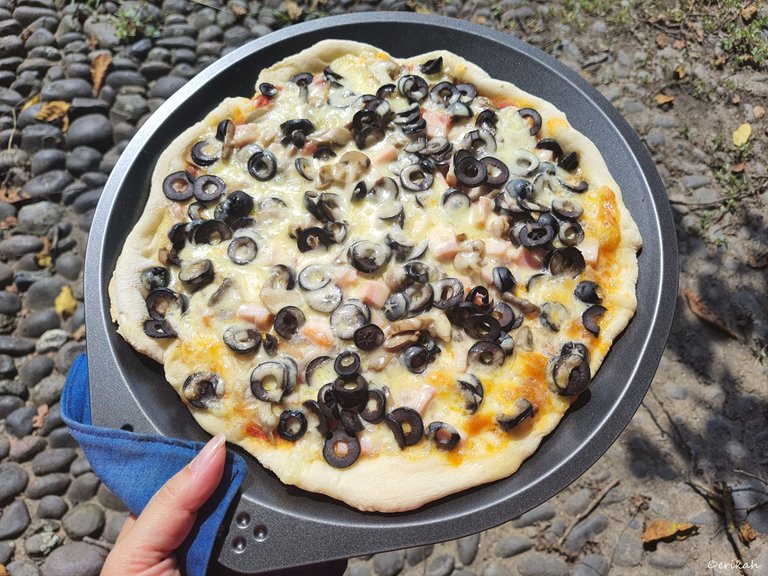 Ready to be served!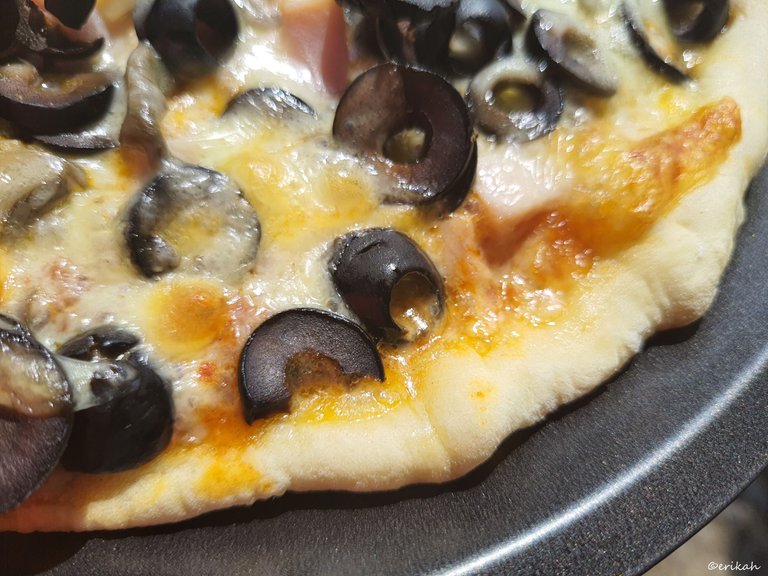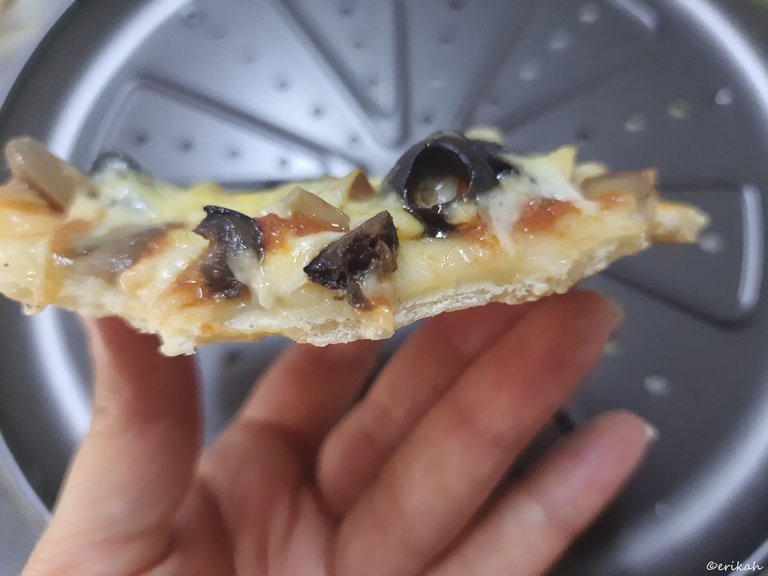 So overall I'm very happy with the trays and the pizza was heavenly good. I think it's safe to say it was the best. You can't compare the one baked in a regular tray and this one. Whoever invented these trays deserves a Pizza Noble Prize!
The quantity of the dough was too much as I wanted only three pizza, so next time I think 303g or 350g flour will do.
Otherwise it was the best investment ever! 🍕

If you're a newbie, you may want to check out these guides:

---
---