Sausage Rizotto
The advantage of cooking your own meal is that you can plan in advance, cook what you like and when you like. I've been planning to combine the common rizotto with sausage for some time and a few days ago i finally managed to do it. The funny thing in this is that this combination is a product of my imagination. With the experience I have, it's easy to know what work and what doesn't.
Today I finally decided to share the recipe with you and was looking for a proper title. My problem is that I always have to translate the recipe titles from Hungarian to English and also have to check it it makes sense, to avoid posting stupid things. This was the reason why I ran a search and was surprised this recipe actually exists, but maybe not with the combination I used. I'm not going to check every recipe as that would mean going down the rabbit hole.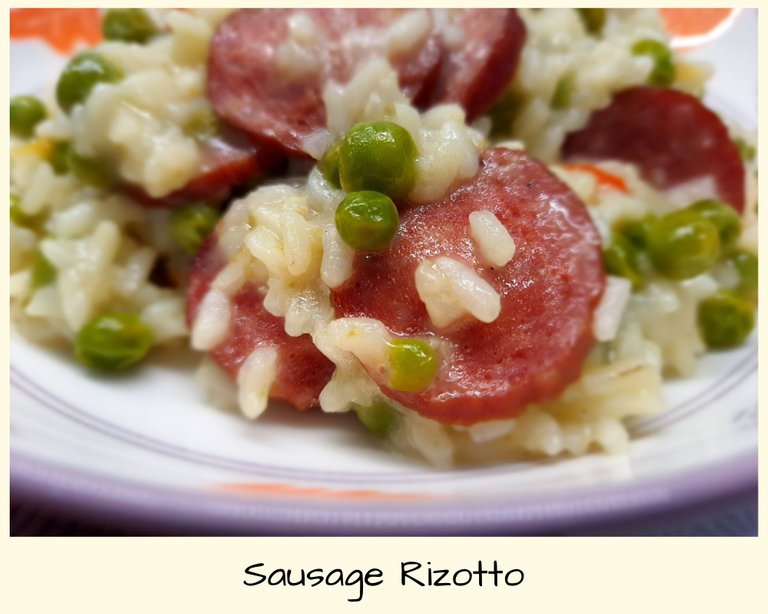 So here's my sausage rizotto, a very simple recipe, that is ready in half an hour, has just a few ingredients and it's not expensive either. It's perfect for lunch as well as dinner.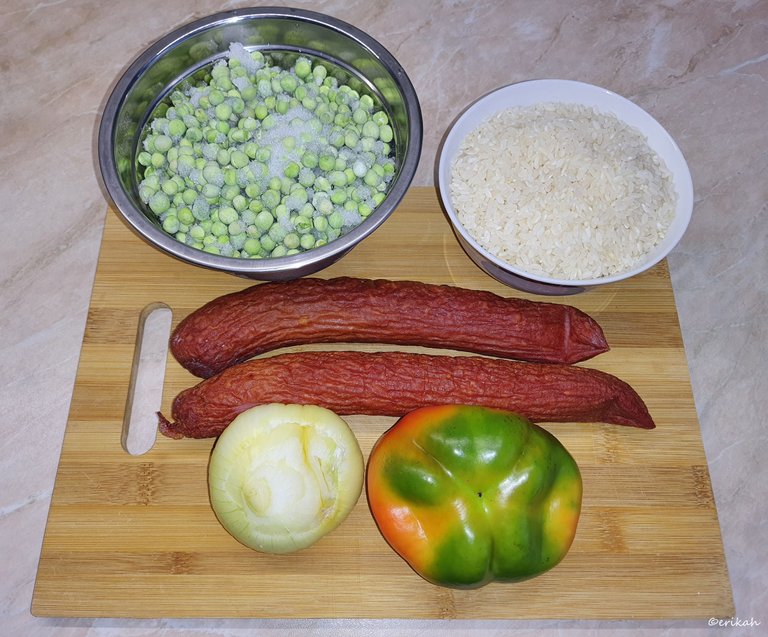 Ingredients for 4 servings:
400g sausage,
400g rice,
400g green peas,
1 big green or red pepper,
1 big onion,
salt,
pepper,
2 tbs olive oil.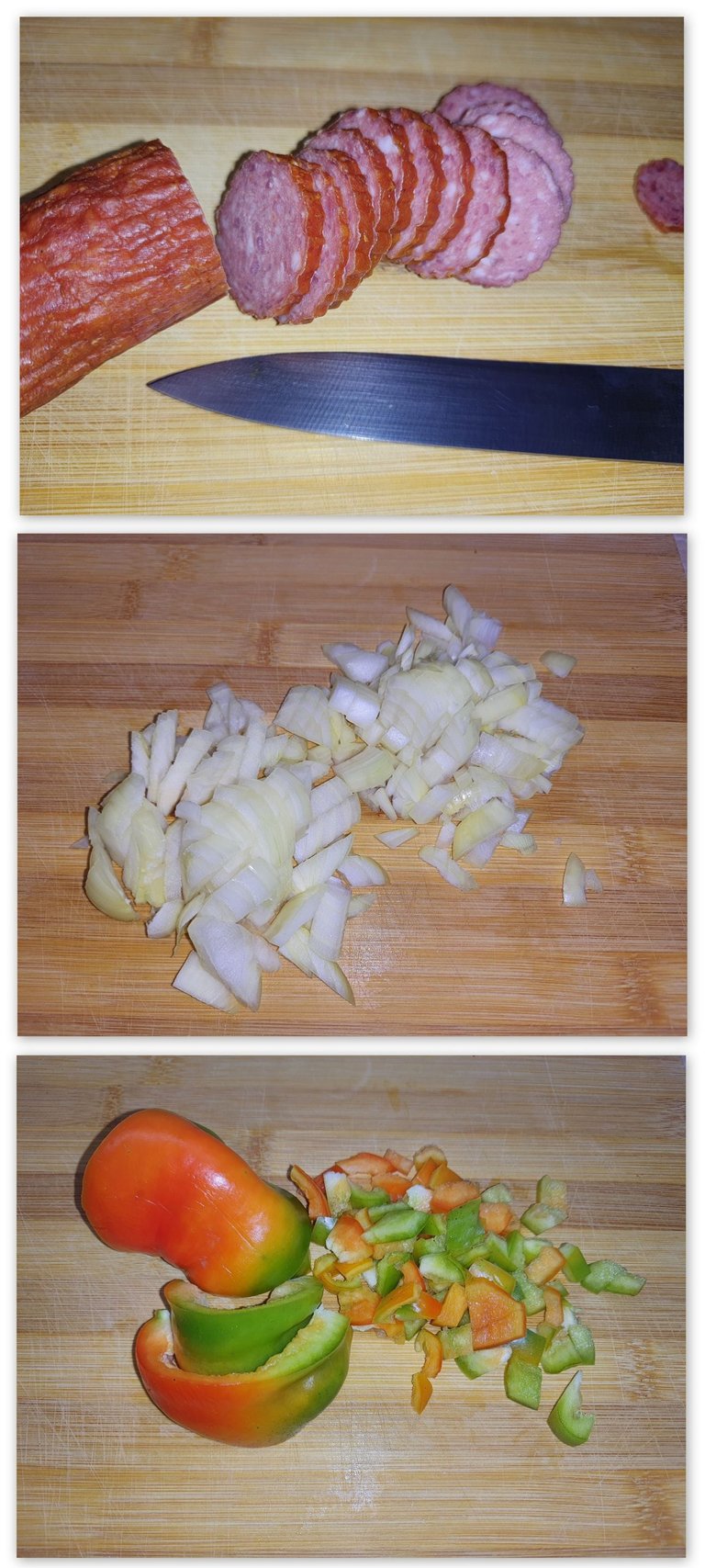 Method:
Slice the sausage, finely chop the onion and pepper. Or you can slice those too, as you like. I prefer them finely chopped though.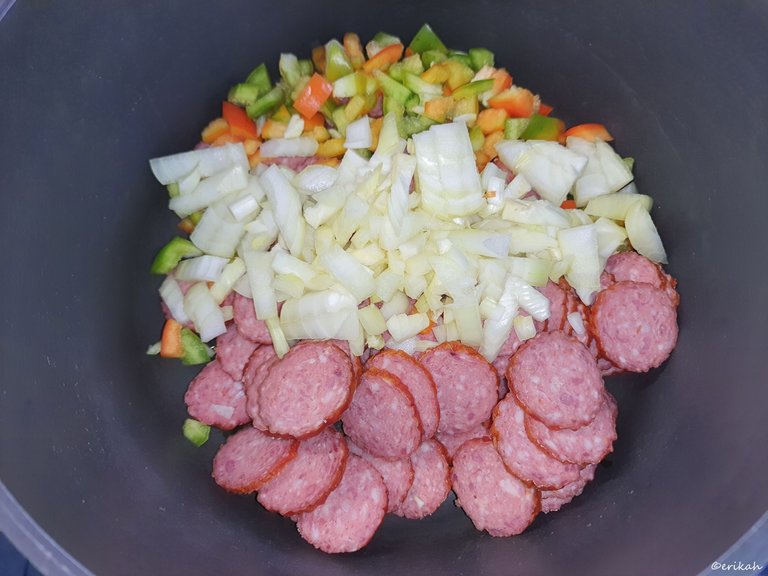 Add 2 tbs olive oil to the pan, add the chopped ingredients, salt, pepper and sauté till the vegetables become tender. There's no need for more oil as both the pepper and the onion are leaving water.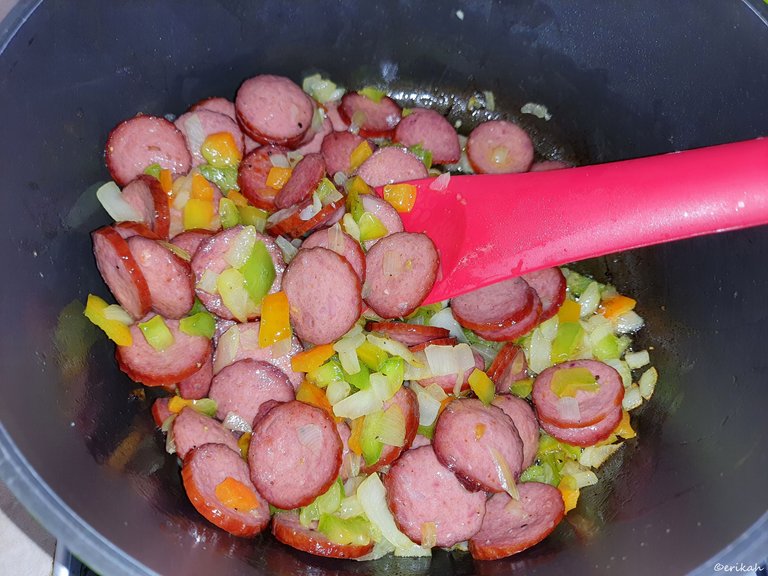 What I love about this recipe is that is this colorful. The pepper adds a nice green color to it at this phase. This pepper is from the garden, was harvested in October and was among the last ones, before those cold, frosty nights settled in. It's a good feeling using a homegrown product though. By the way, the onion is also homegrown.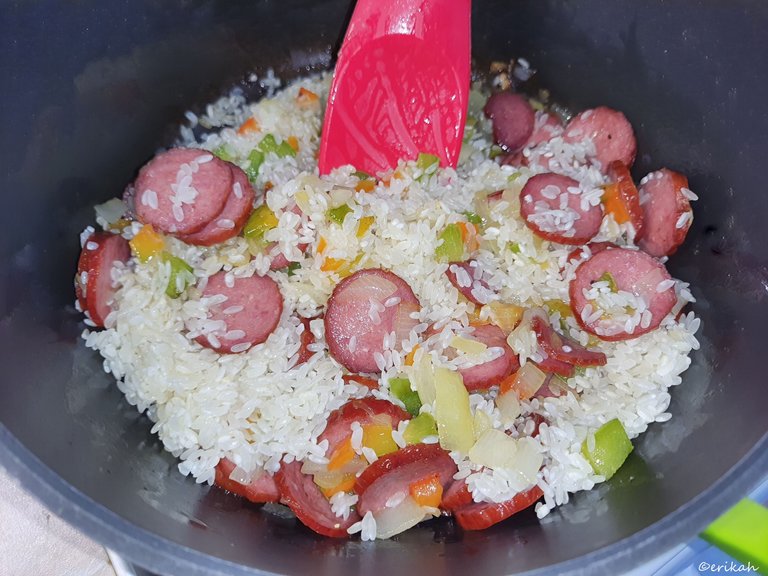 Here comes the trick for a nice, creamy rizotto. I like to cook the rice together with the vegetables or meat, depending on the recipe. So I added the rice and sautéed till the rice took up the moisture.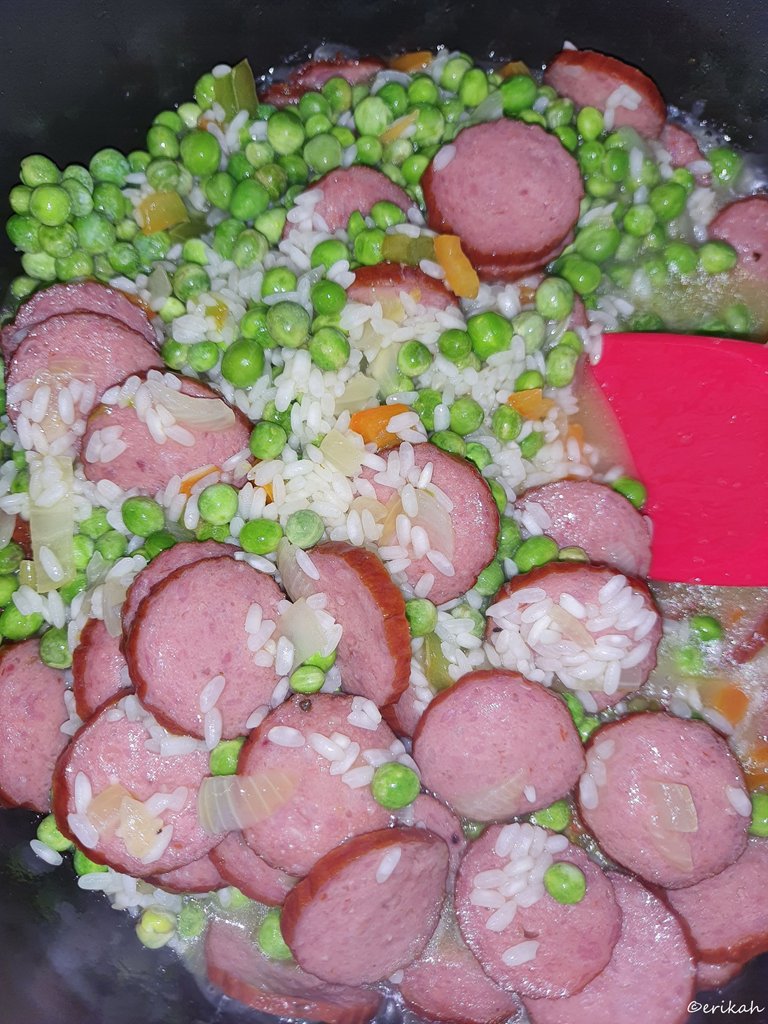 After that I added the frozen peas, water to cover and cooked till the rice was tender. Make sure to steer from time to time and add more water if needed. I don't like to add more water from the start as you don't know how much is needed. Before I used to cook the rice separately, which makes it easier as you add 3 times more water and it's done, but that way it will not be creamy.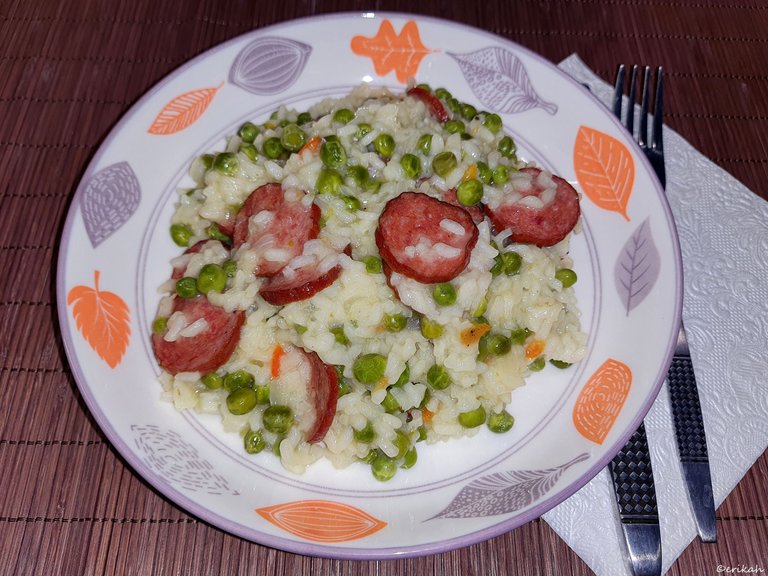 And voilà, your creamy sausage rizotto is served!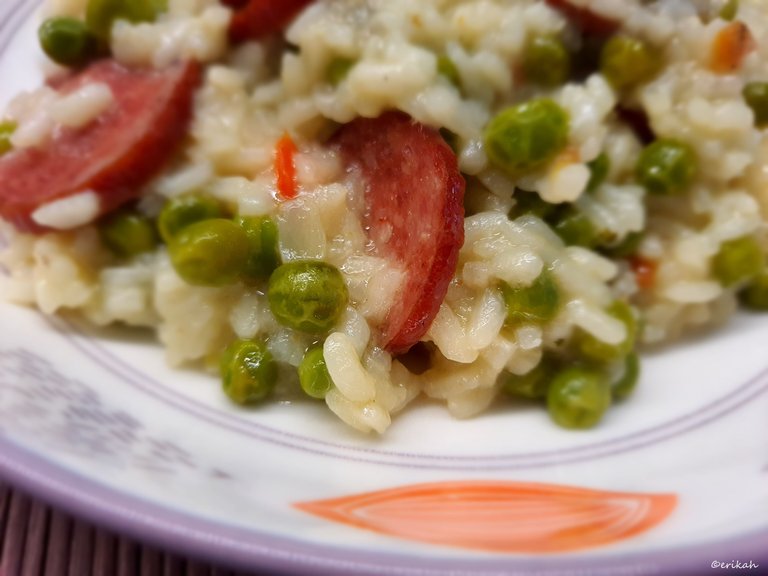 If you're vegan, you can replace the sausage with any kind of vegetable. I don't like to kill my dish with too much spice, but you can add whatever spice or herbs you like.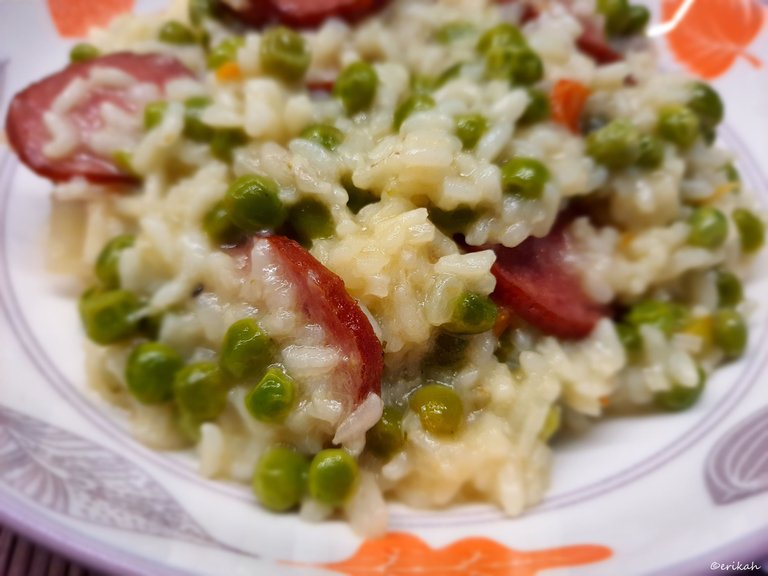 If you're a newbie, you may want to check out these guides:

---
---