Pork Escalope With Mushroom Cream Sauce And Mash Potato

Today while cooking I remembered something that happened years ago. I was asked to write content for a cooking magazine. This would have meant cooking or baking something interesting, serve nicely, take some good quality photos and get paid for it. Most likely it would have been tempting for many, yet I said no. I was labeled a fool, for refusing such an offer, but I knew what I was doing and never regretted it. I'm not the one to go after fame, the downside would have been way more than the advantage, so it wasn't something I was interesting in it.
I had a cooking blog in Hungarian and was earning good money through AdSense, but all things come to an end and Google playing with the page ranking algorithm, it wasn't worth the time anymore. Then came Hive, or the legacy chain. Today I can publish whatever I'm cooking or baking and get paid for it, without being scared all the time, that my account can get shut down for no reason and I don't have any chance to appeal or get an explanation why. Welcome to web3 though! (I still have my AdSense account and earning but it's not mine, that's a centralized structure.)
Why am I here today? Well, the truth is, I'm not looking for recipes on a daily bases, I'm avoiding them if I can, unless I really need a good recipe. Checking every recipe that comes your way leads to more cooking and baking, which leads to overeating and who needs that, right? However, a couple of days ago I saw this recipe on YouTube and the curious devil in me made me check it out. And that was it, there was no escape. I had to cook it and now I want to show it to you.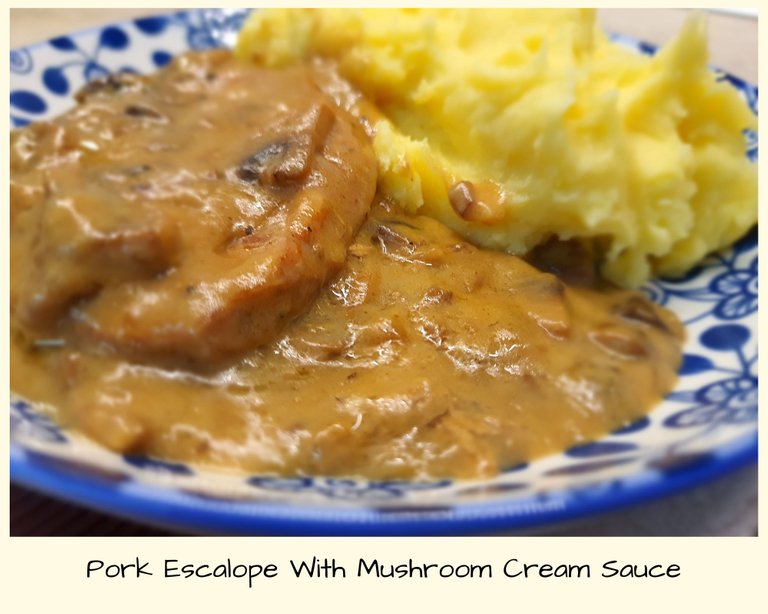 The original recipe is THIS, but I needed to adjust it to my taste. I saw right away this is something I would enjoy, so why not give it a try. The recipe you're going to see below is my version, not the original, so I suggest you go check the original too.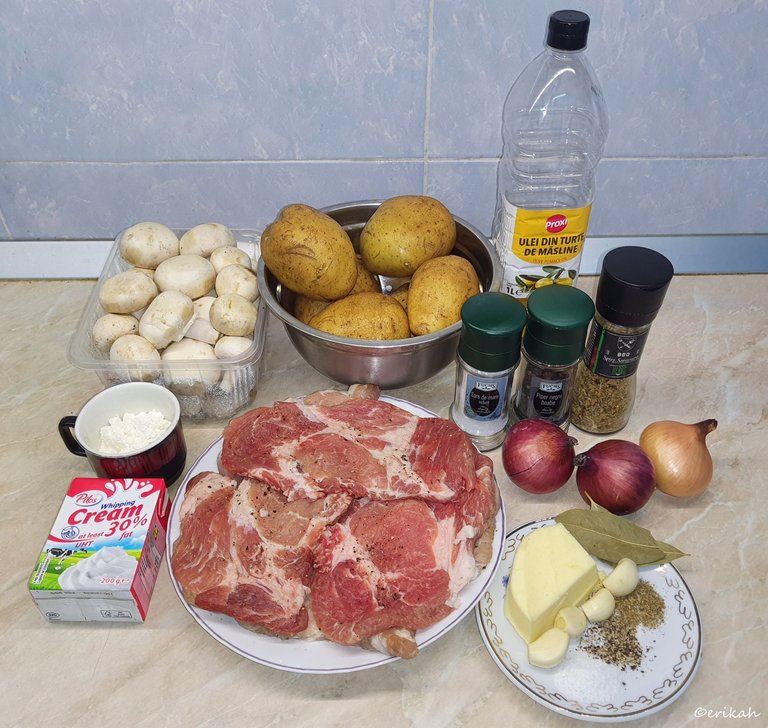 Ingredients:
7 slices of pork (I had 2 types)
salt
black pepper
vegetable oil (I used olive oil)
3 onions
500 g of mushrooms
4 cloves of garlic
20 g of butter
2 glasses of water
4 bay leaves
1 teaspoon of herbs
1 tablespoon of wheat flour
200 ml of heavy cream
100 ml skimmed milk
500 g potatoes. source

Method
Even though it seems like it has a lot of ingredients and may look like a complicated recipe, it's not. Trust me, it's as easy as 2 x 2.
First get the pork ready flatten it out, season with salt and pepper and leave it rest for a couple of hours.
Add some oil to the pan, place the pork slices in it when the oil is hot and cook for about 5 minutes on both sides, till it becomes golden brown.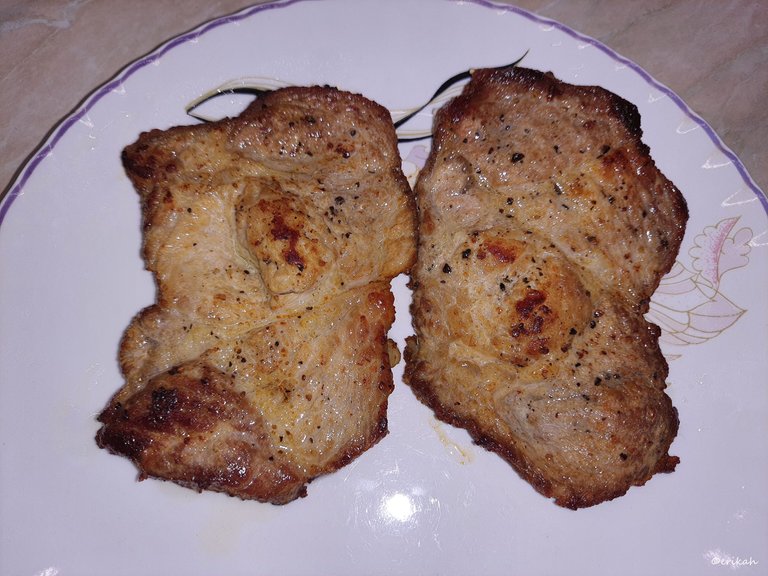 It doesn't have to be perfectly cooked and totally soft as there's a second cooking. Just needs a bit of color and flavor. When it's ready, take out the meat.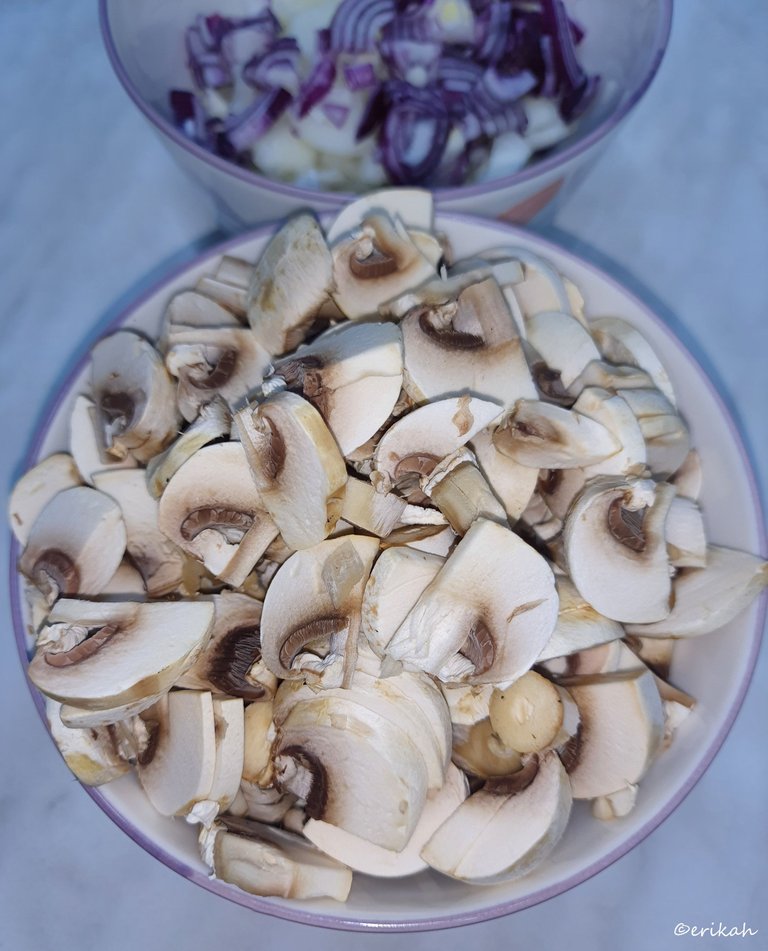 Clean and slice the onion and the mushrooms.

First add the onion and sauté till it's soft, but make sure to not burn it. It's going to be brown because of the meat. Then add the crushed garlic and sauté for another minute.

Add the sliced mushroom, salt and spices and mix well. Don't add water yet as the mushroom is going to leave a lot of water. When it's well sautéed, add some butter if it is needed.

Add water to cover, add the pork, bay leaves, cover with a lid and cook for about 30 minutes. The mushroom does not need a long cooking time and the pork was pre-cooked already, so 30 minutes was enough for me.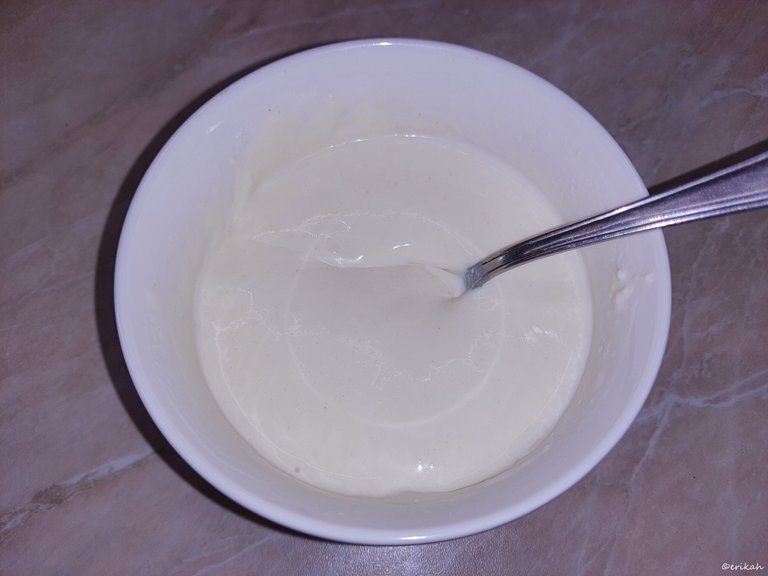 Next mix the flour with the heavy cream, add some milk if you think it's too thick and your mushroom has not enough water left. Add the cream to the mushroom pork mix, stir for a few minutes, season with salt and pepper if it is needed and it's ready to be served.
You can serve it with mash potato. I suppose I don't have to detail the recipe and the method of how to make mash potato :)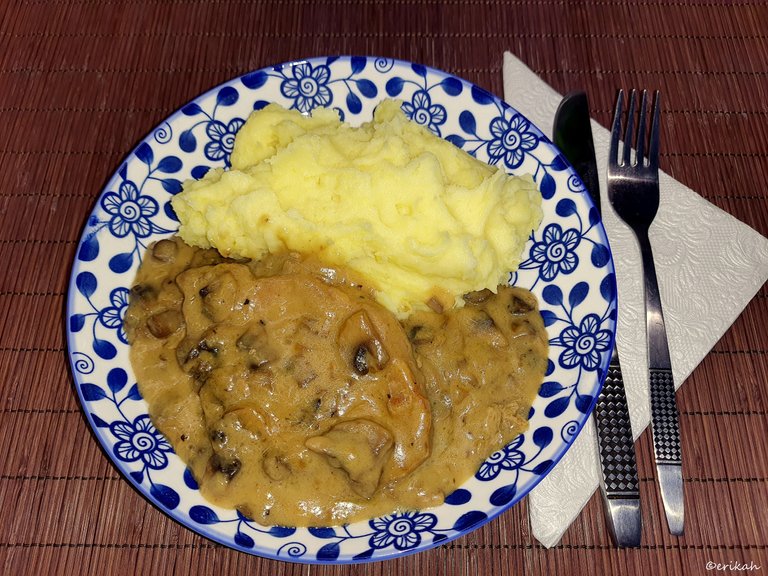 And voilà, lunch is served!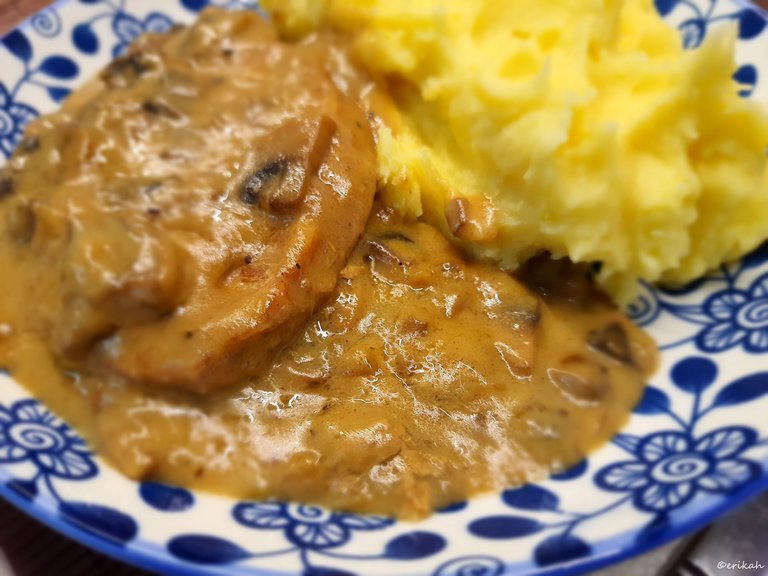 What can I tell you? It's heavenly good, worth the time spent in the kitchen and compared to other meat recipes, this is ready in about 1 hour if you know how to work fast when cooking. It took me more as i had to take photos and arrange everything in a decent way, but worse it anyway.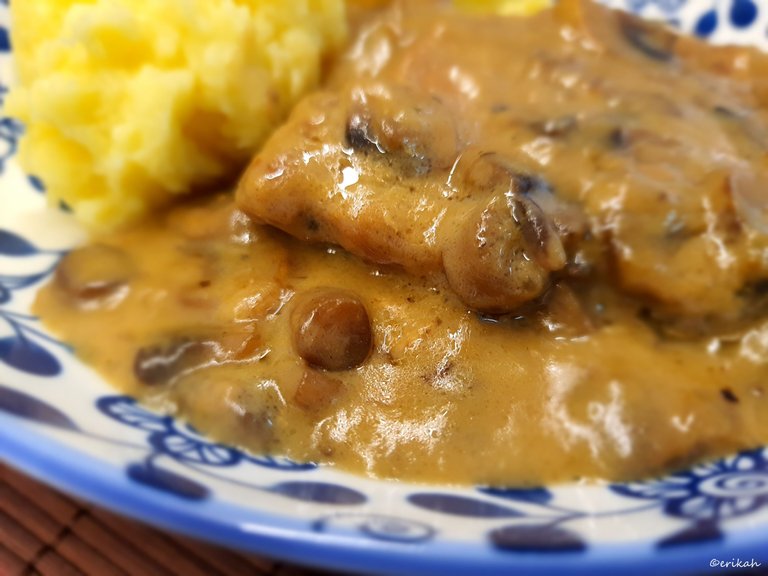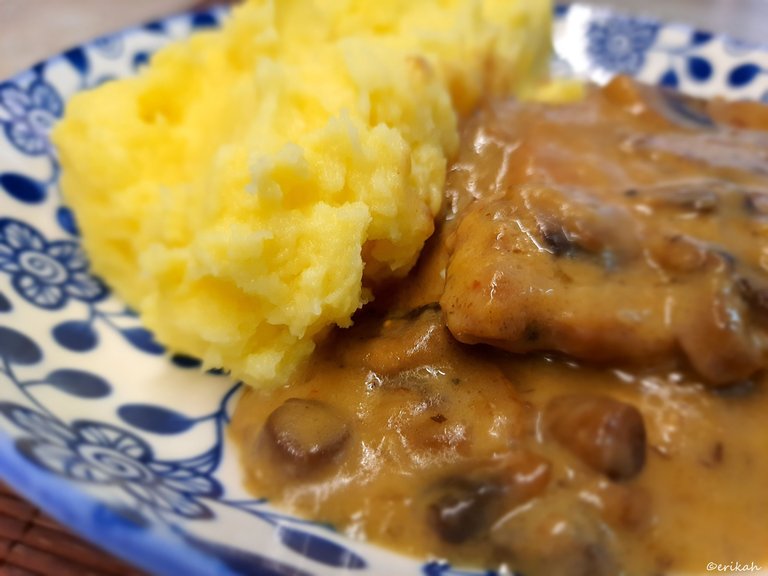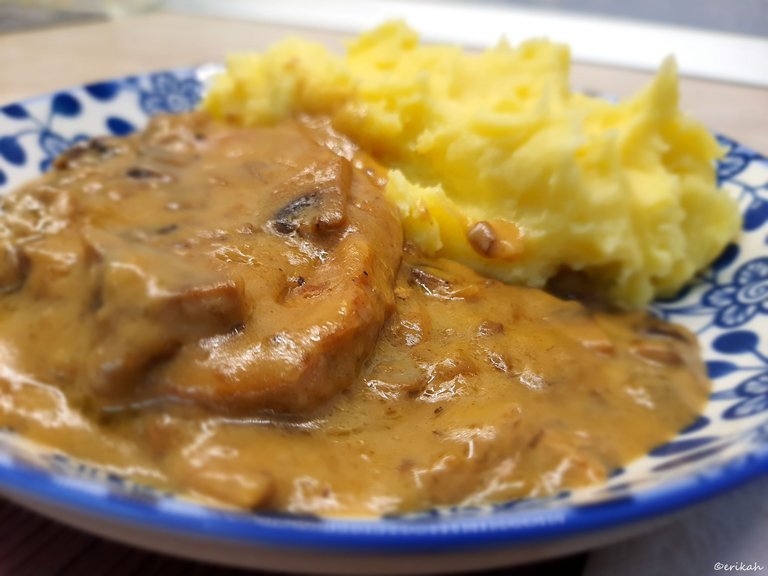 Jesus!!! Where are my manners, I forgot to ask, who wants some? 😂

If you're a newbie, you may want to check out these guides:

---
---