Nice Things At The Craft Fair And Some Funny Stories

Yesterday took place the first edition of the Festival of Transylvanian Crafts. The idea to organize a festival of crafts came from Hungary, where they have been organizing the event every year, and it is not at the 37th edition. So the municipality of Marosvásárhely (Targu Mures), decided to organize the first edition of the Festival of Transylvanian Crafts, to show people what traditional crafts the region has.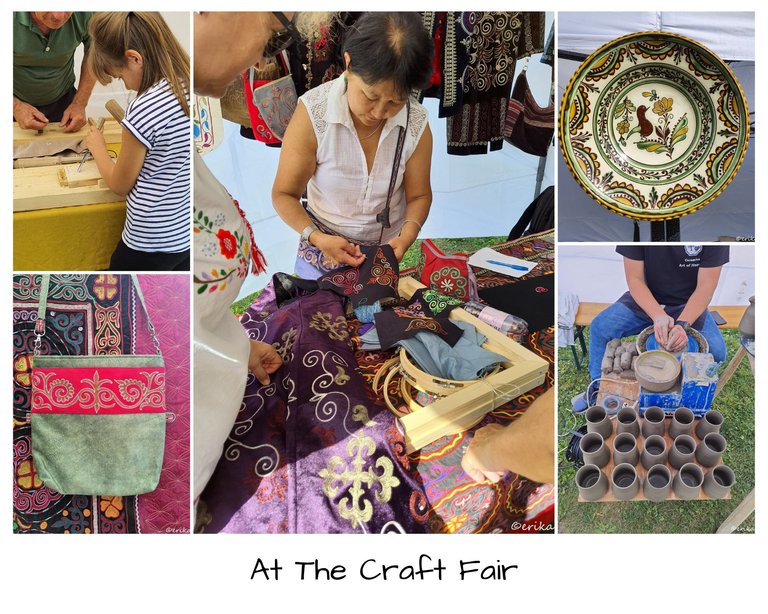 I wanted to attend at any costs as I knew it'll be interesting and I did. The fair exceeded my expectations and I'd like to share my experience with you as well, show you the beautiful things I saw there and tell you the stories as well.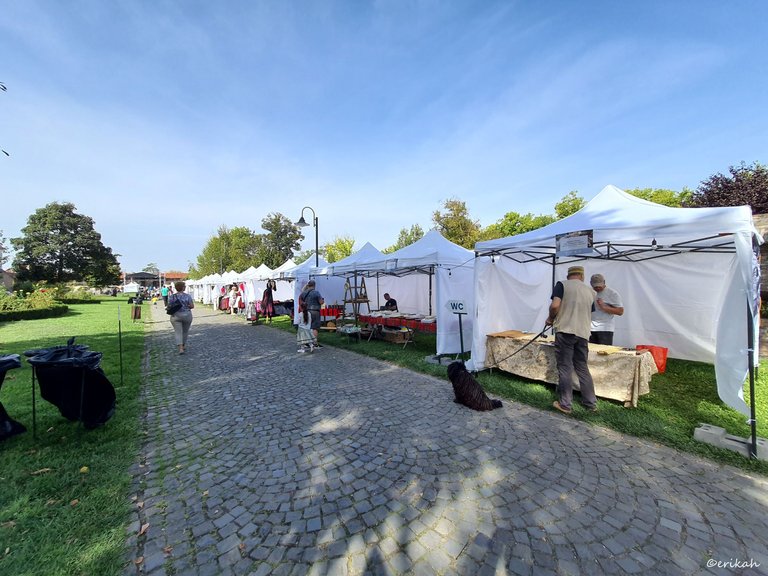 The fair was held inside the medieval fortress's wall, which is a perfect location for such events.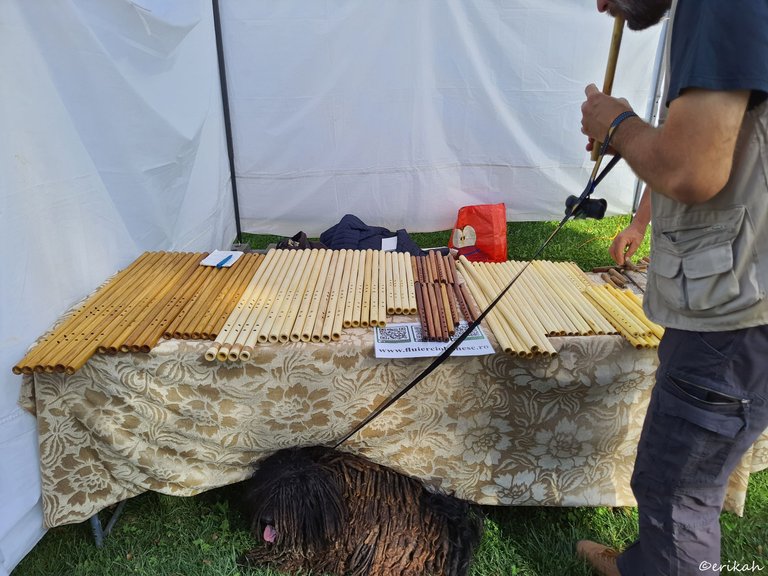 This was an interactive fair, where you could not only see what crafters have crated, buy their products, but you could also try out how those were made and this was the most important part in my opinion.
This man was selling flutes, which is a folk music instrument, which was especially used by shepherds. Kids like these flutes, parents not so much. The dog found its way under the table as you can see :)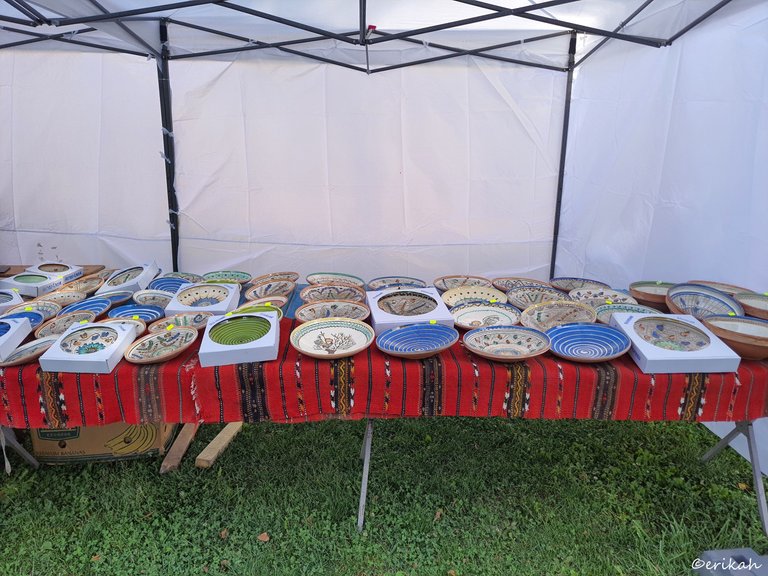 Ceramics can never be missing from any fair and I was surprised to see only a few crafters with ceramics. It's possible the number of each representative was limited, but still.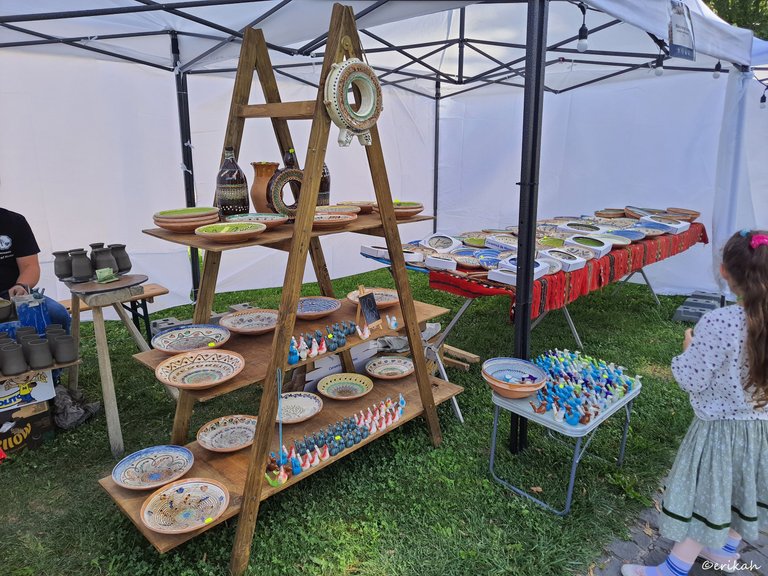 There was something for each age category, from the smallest, to the oldest ones, everyone could find something to buy for themselves.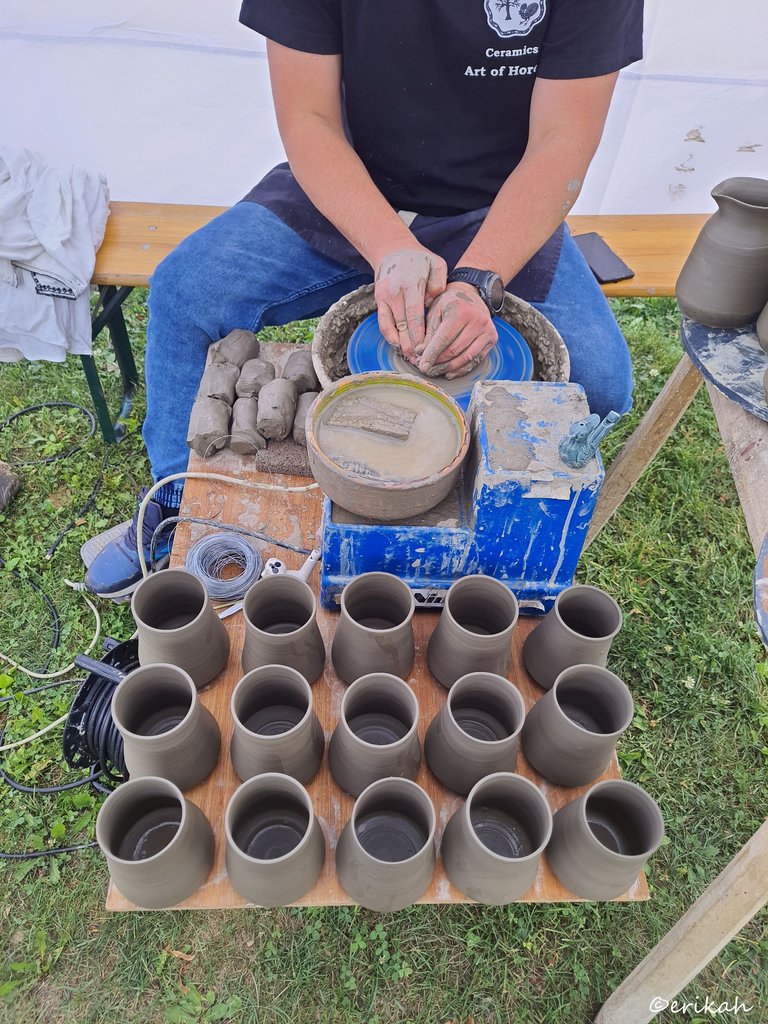 This is where the fair got valuable to everyone. Seeing the artisan working, watching how those beautiful items are made is priceless. I asked him if it's ok the take some photos and he said of course.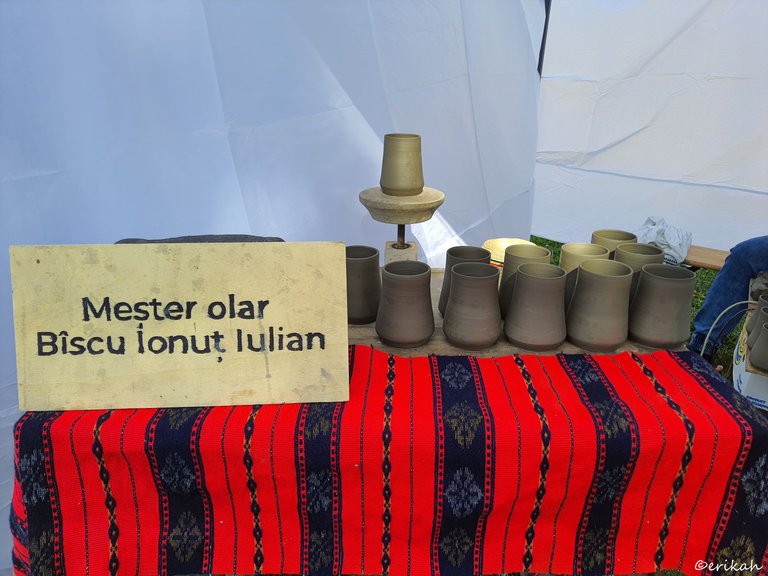 You can see those mugs or vases (at that phase I can't tell which one it was) ready to be enameled, burnt, painted and enameled again.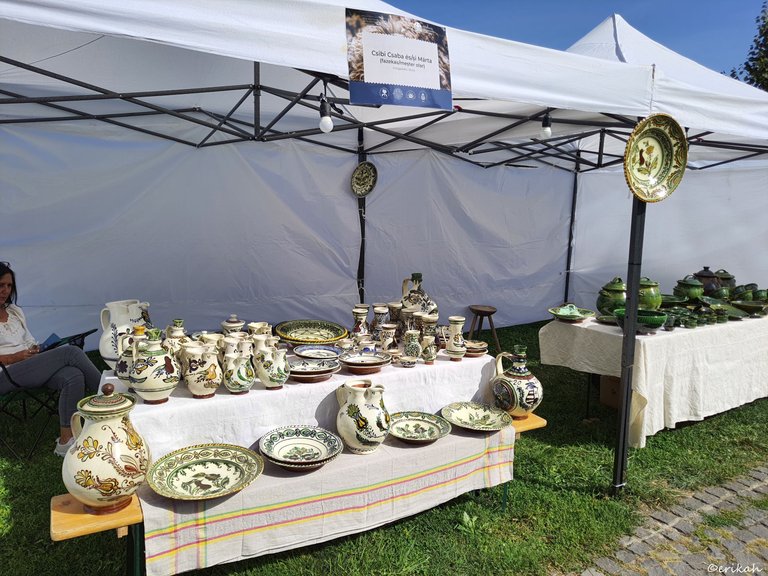 He wasn't the only potter at the fair and no, I'm not referring to Harry Potter either. There was this lady selling these nice items.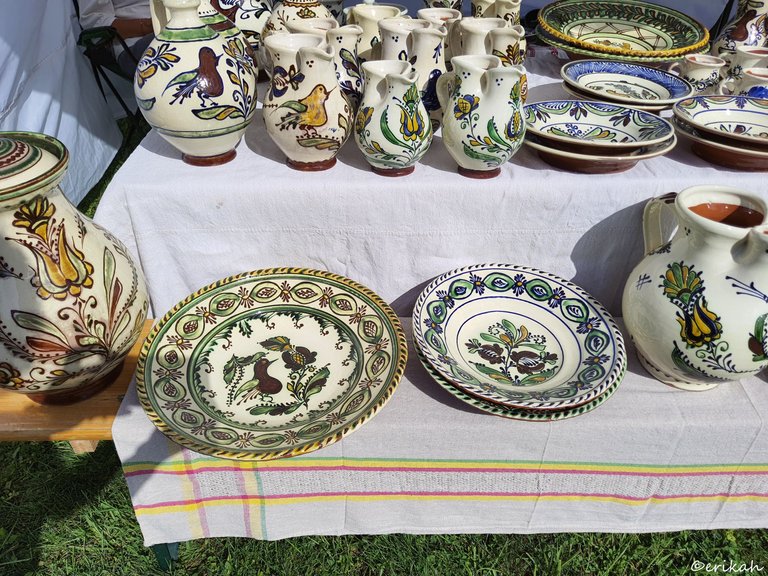 I had a chance to talk to her and she told me these items are not just for decoration, you can use them in your everyday life, as they do. I told her I bought a mug once, for tea and milk, but after filling it with hot tea, my desk got all wet. According to her, it was because the mug was not burnt at high temperature. These were, so it's safe to use them in the kitchen.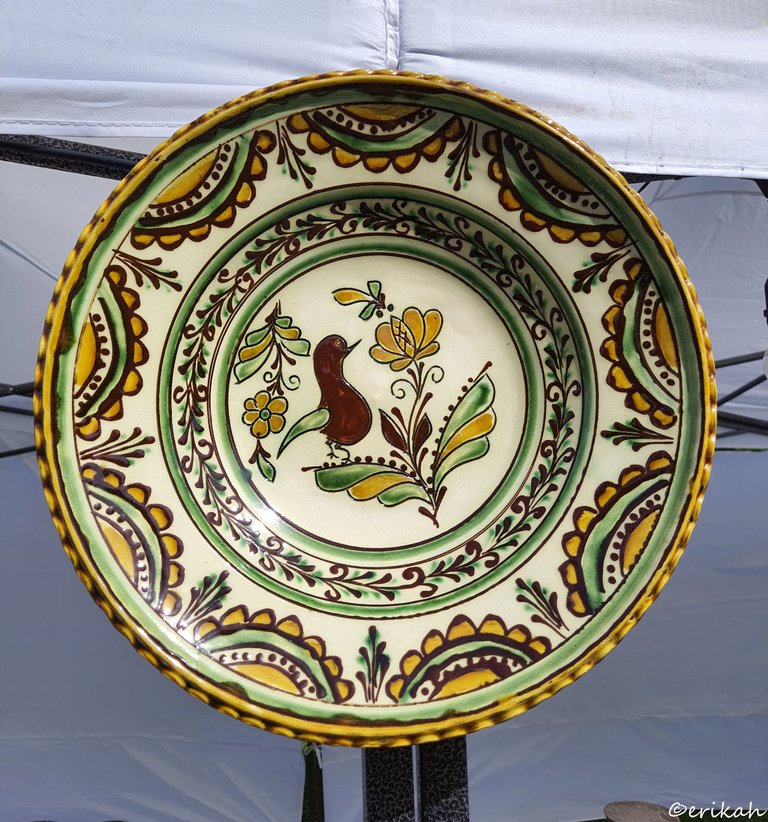 Who wouldn't want a plate like this? You could buy it this weekend for about 70€. One of the activities on my wish list is to try out painting ceramics. Most likely I would ruin the first few, but I think I could be good at it.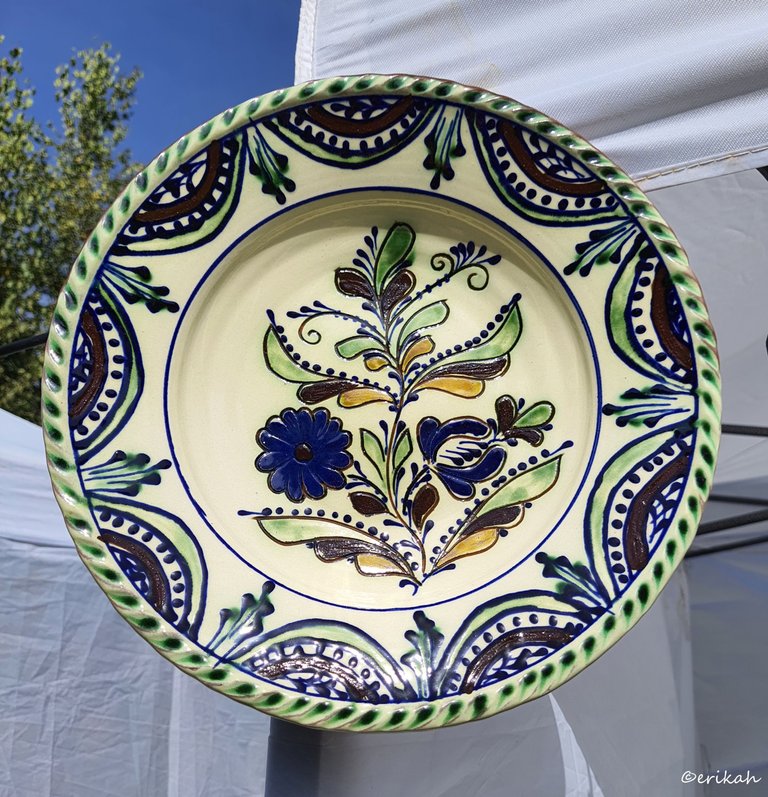 You can practice drawing on paper, then get used to adjusting the amount of paint on the brush and you're good to go.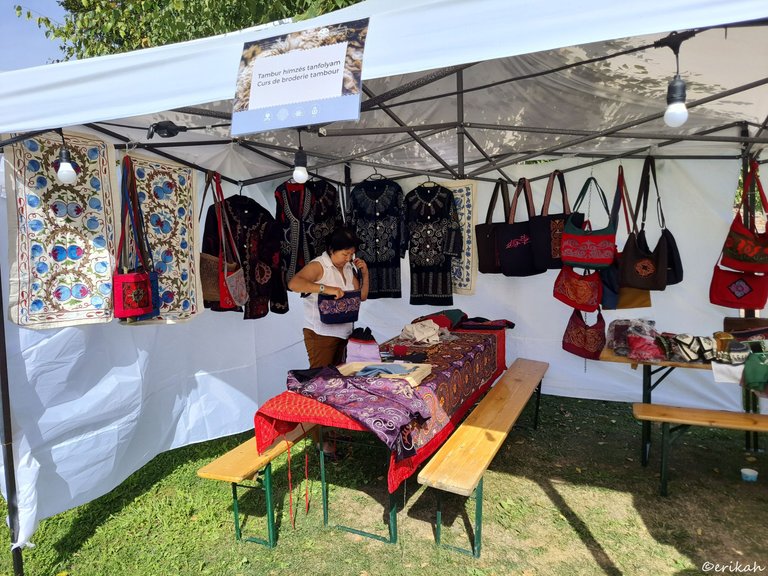 Here I had part of another surprise, quite big actually.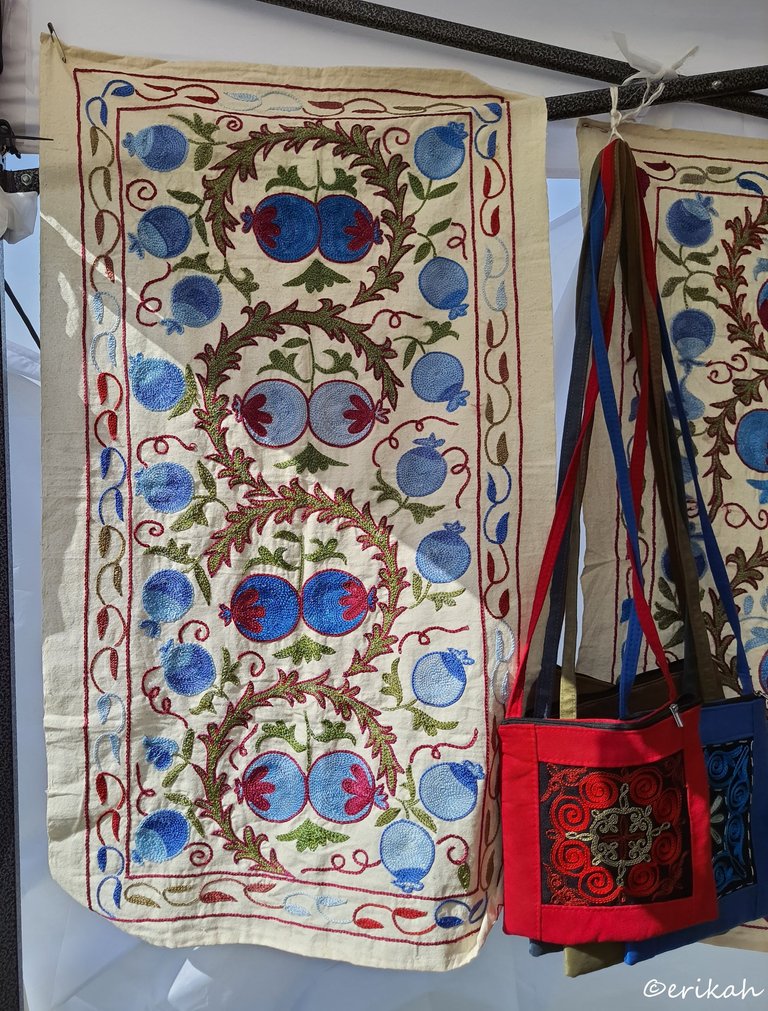 Even though these are nice works, the whole thing looked suspicious as I've never seen this embroidery before.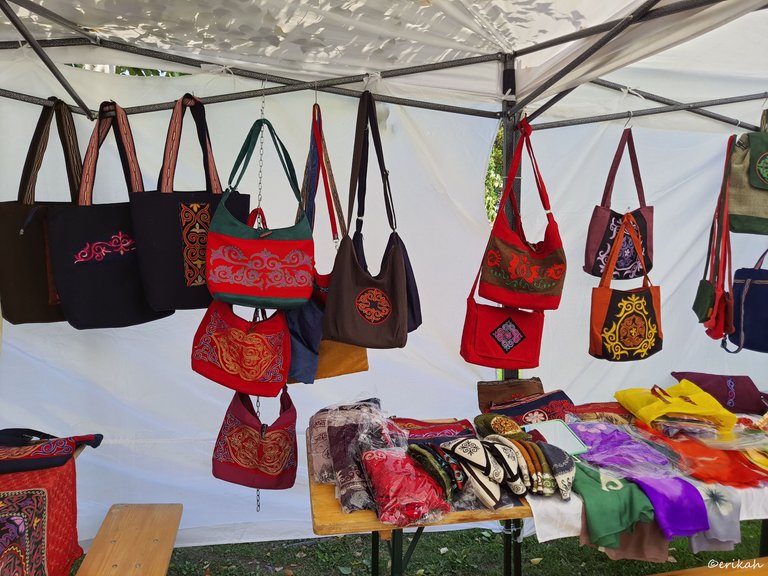 My suspicion just grew when I saw those caps on the table and heard the man talking. Those caps are not traditional in my country, nor in Hungary. The man was talking to some ladies who were interested in buying some bags and although he was talking in Hungarian, had a very strange accent I've never heard before. That was when I looked up to see where they were from and saw Kazakhstan 😲. The first question that popped into my mind was, what are they doing here? how did they get here? They were both busy with customers, so I did not want to ask them, but I suppose they came from Hungary.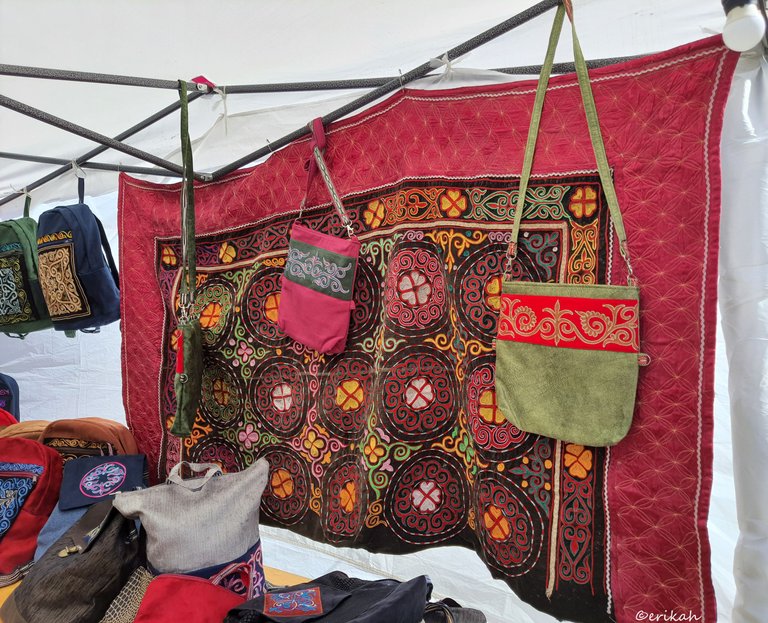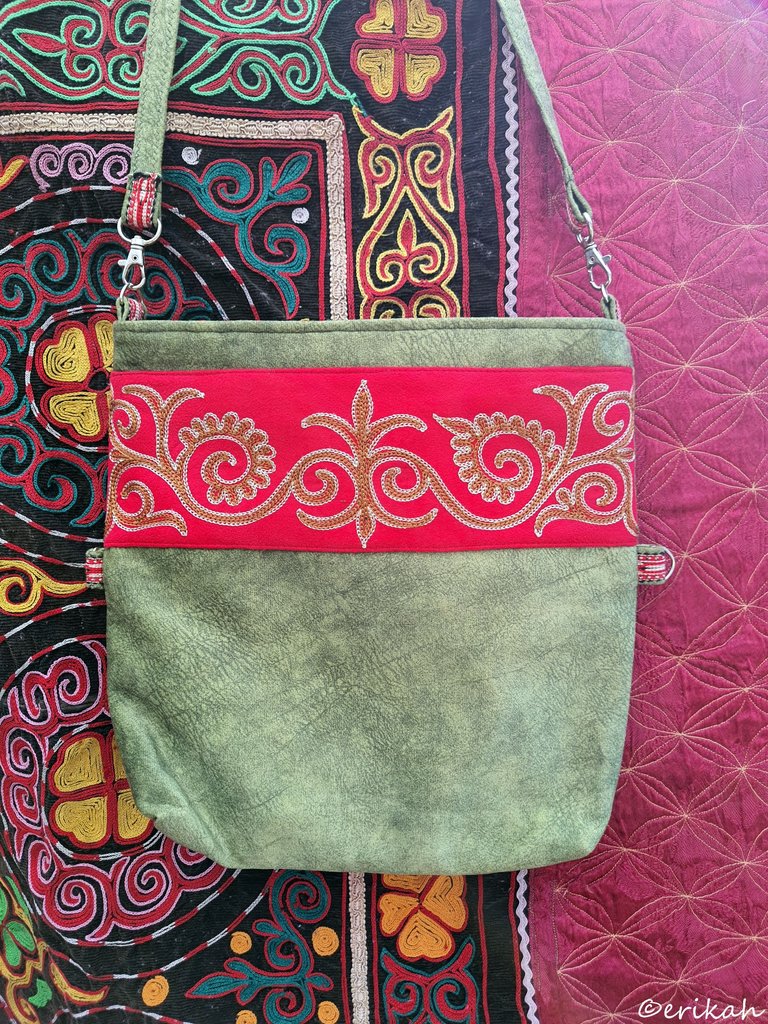 Although not my style, this bag looked nice. The technique is called tambur embroidery and here's a video for you to check it out how it's done.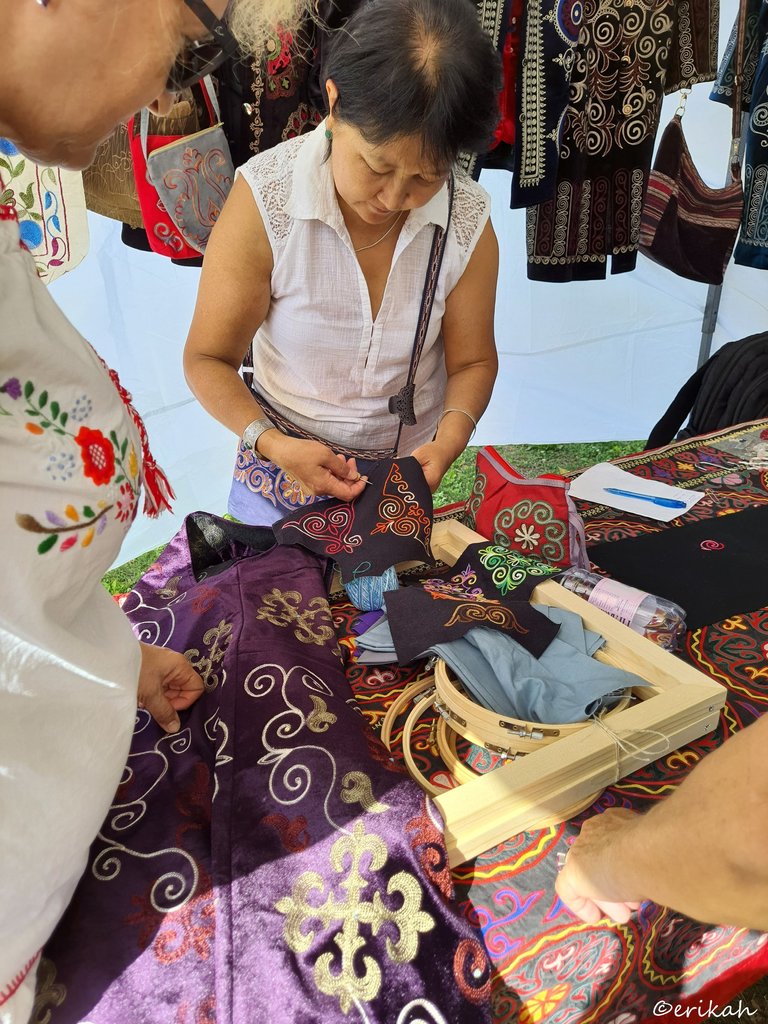 The lady was showing the other two ladies how it's done. I checked out the video and the technique itself is not difficult, but you need to learn not to shrink the material and keep the scale. It needs practice for sure, but it's an interesting and nice one.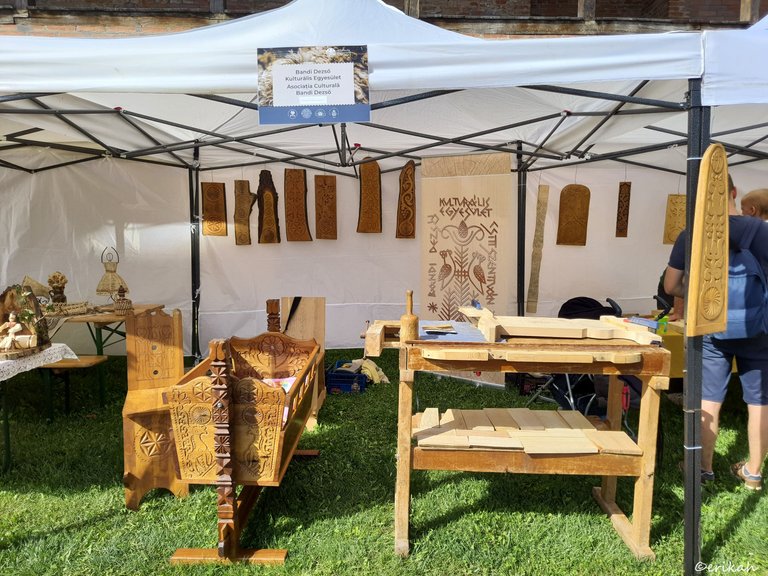 This was another nice one, wooden sculpture.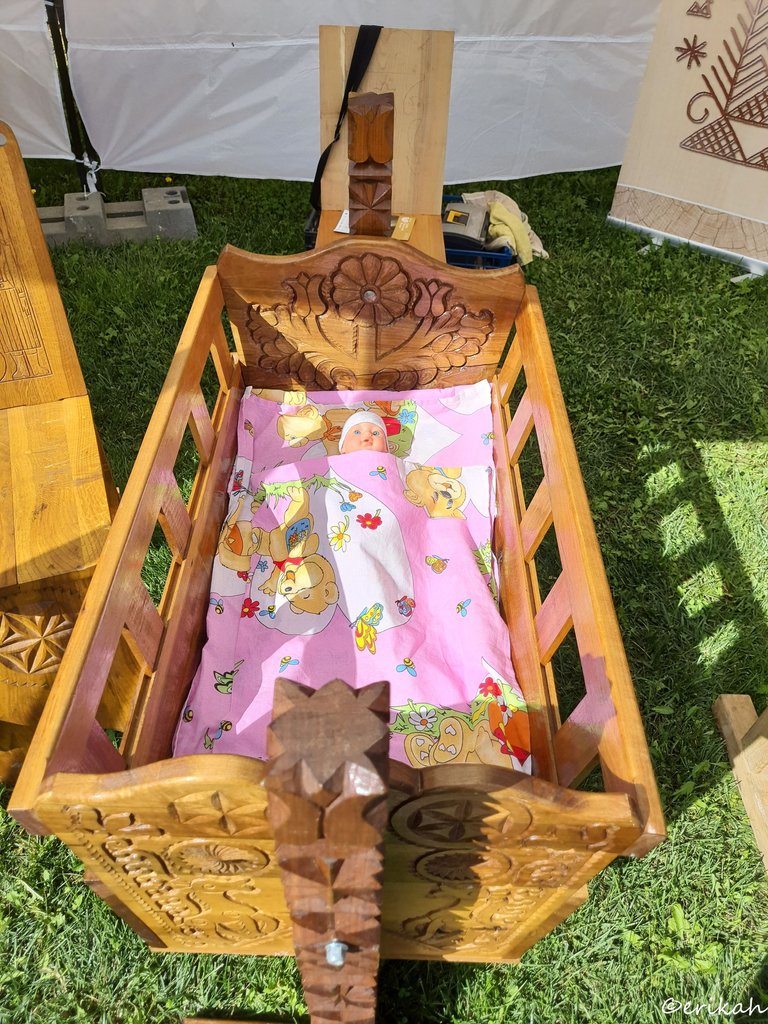 This cradle looks like a toy cradle, but in the past, this was what they used as babies bed.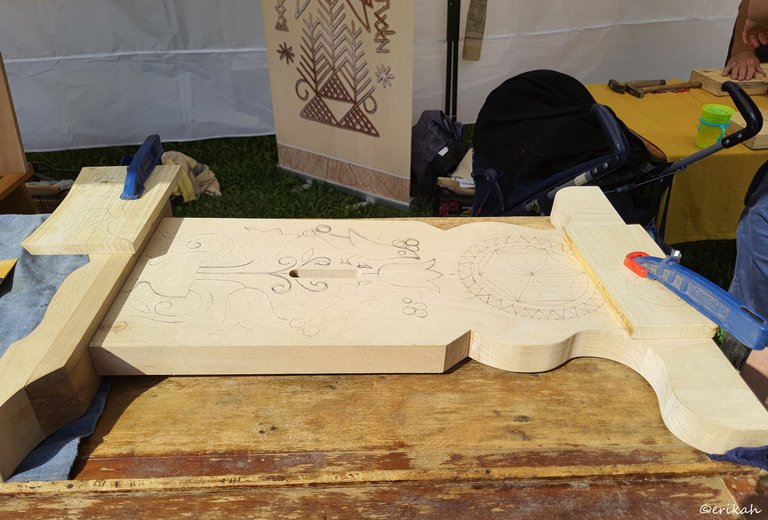 Most likely this was a piece of furniture, a chair back part I suppose. The drawing of the design was ready, so all it was needed the carving.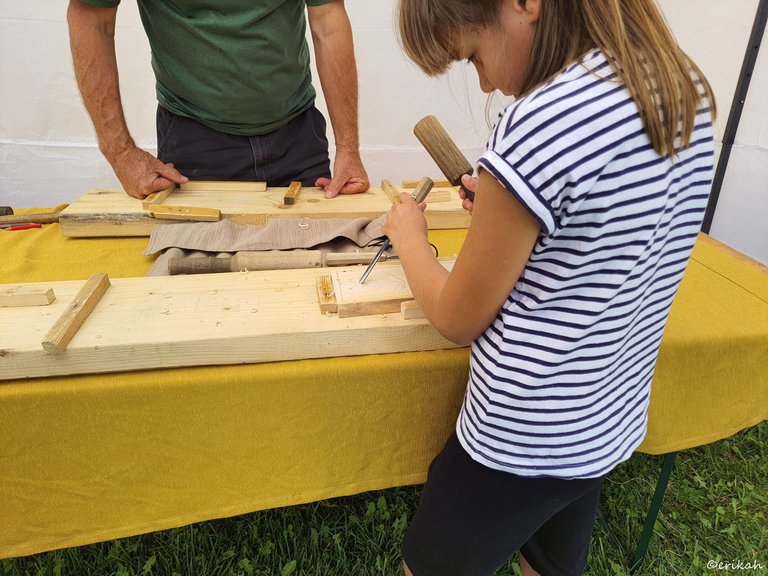 An this is where the magic happened. This young lady was taught how to carve the wood and she was quit good at it.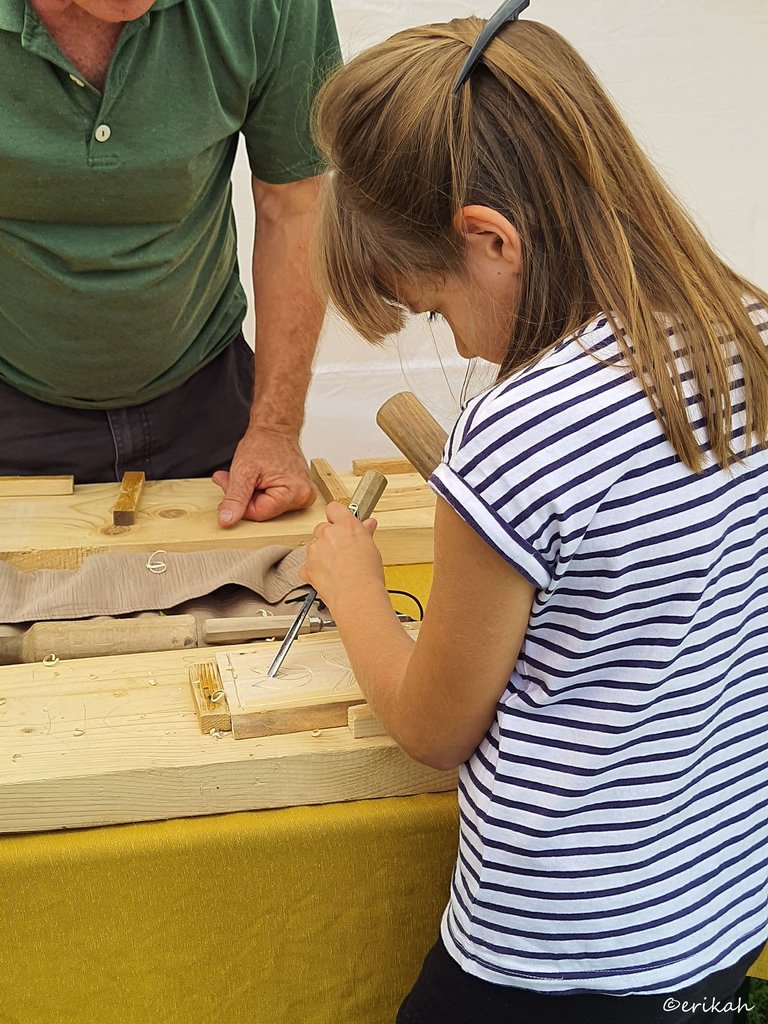 The master was telling her how to guide the tools and how to correct the mistakes. Imagine, experiences like this are priceless to these kids at that age.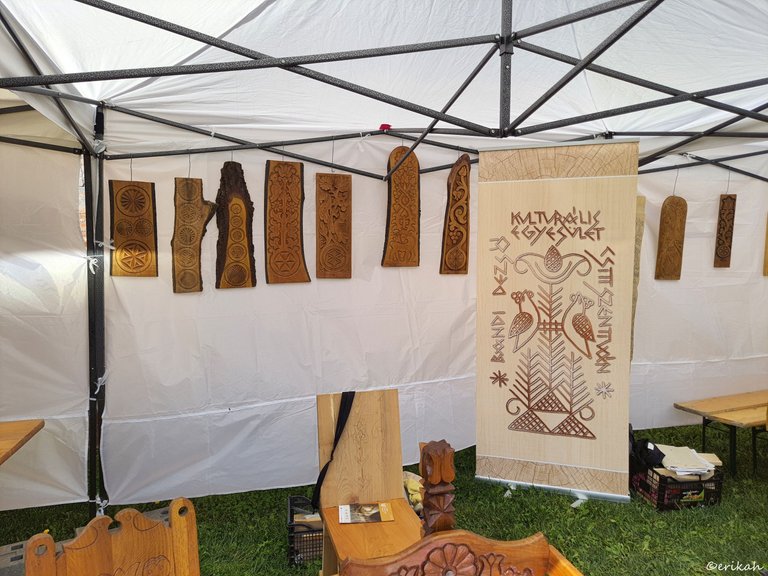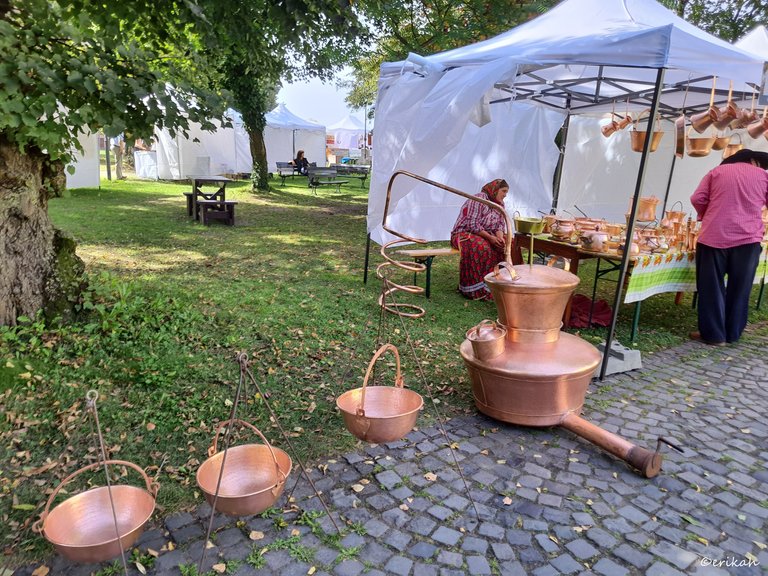 And this is where the most shocking scene happened, as the last story of the post. What you see here is a gypsy, or Romani couple selling copper items. They are famous for these products, but you don't see them everywhere, that's why I was surprised. In Transylvania I know they are in Bratei and Biertan, two villages one next to the other, where you can see them selling their items along the road.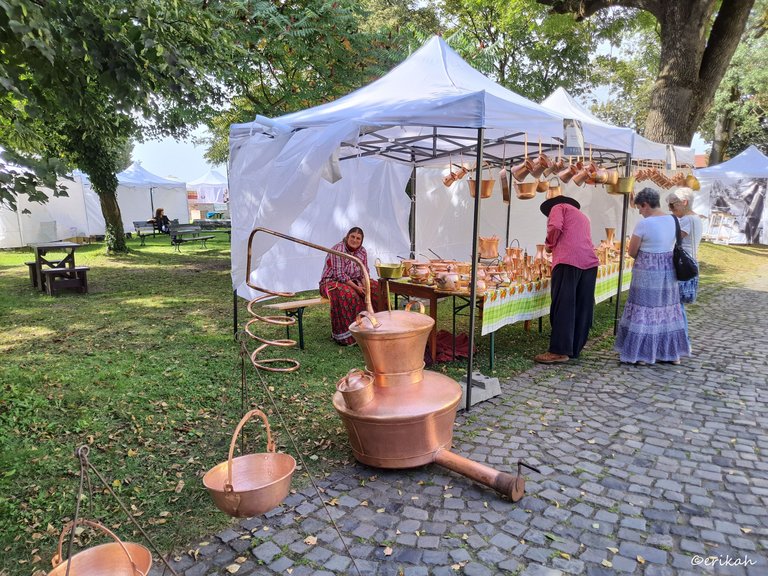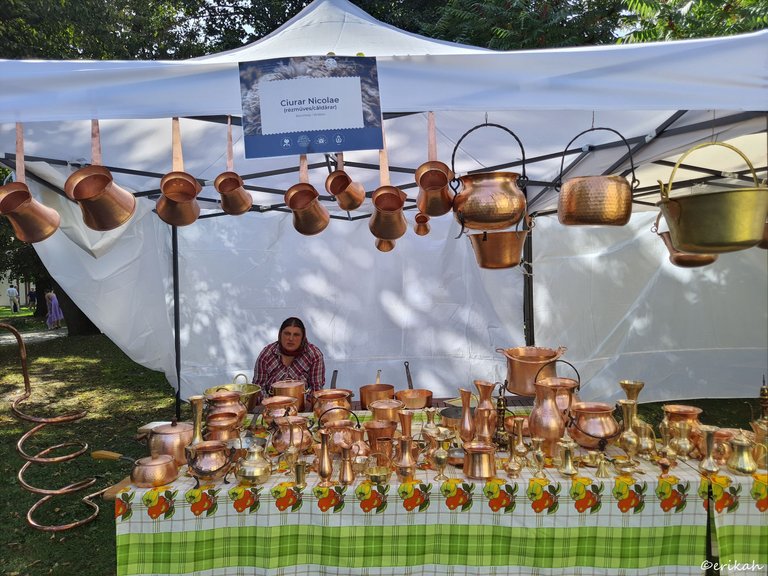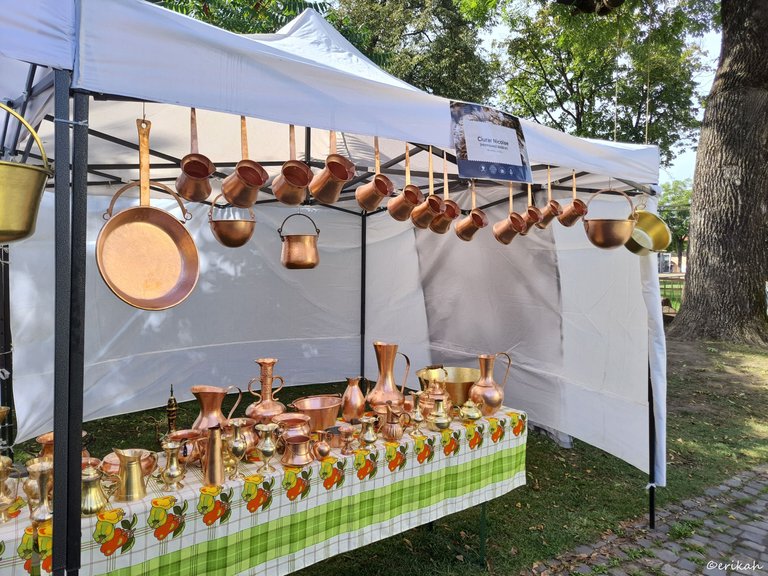 So what's the story here? As soon as I got closer to the table and took these photos, the man approached me. I was looking at the paper to see where they were from and saw Bratei, which is a village in Sibiu county. I told the man I've been there. To which he started telling me God bless you and your family, may God give you health and things like that. It seemed a bit weird as why would he tell me all this as we're not at the street corner talking to beggars. Usually they are the ones telling people these things, hoping you give them money, not that there are many here as begging is forbidden by law in Romania.
I wanted to be polite, so I said thank you, I wish you the same as what else was I supposed to say? To which he said You know,you're the first to take photos today and usually those who take photos are tipping me with the price of a coffee. 😲😲😲 WTF just happened? Did he just aske me to pay him for taking photos? Jesus! That's never happened to me. I was shocked to be honest, so I told him Good bye and left. Shocking experience as most people are happy when visitors are taking photos as that's free advertising for them. Not this guy though.

If you're a newbie, you may want to check out these guides:

---
---